2-in-1 Ford® F-150 Raptor™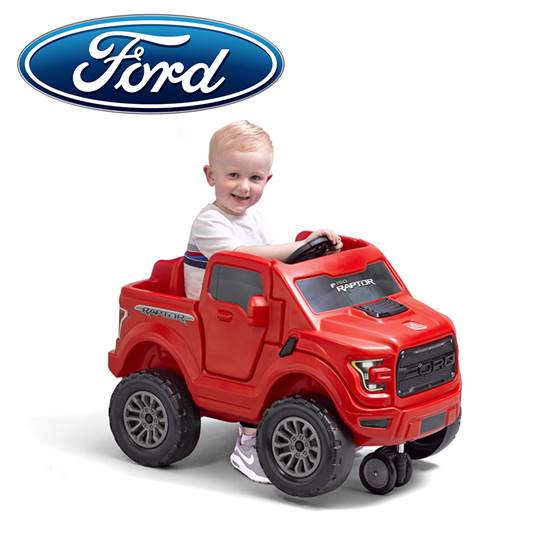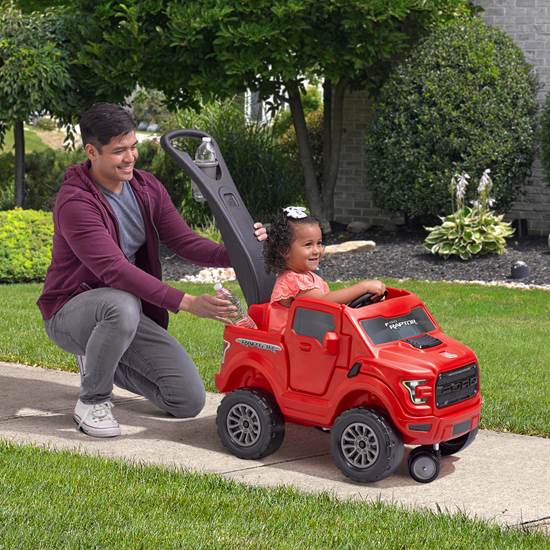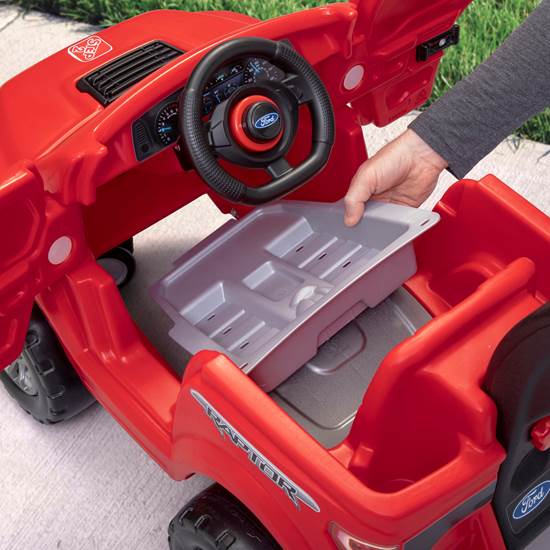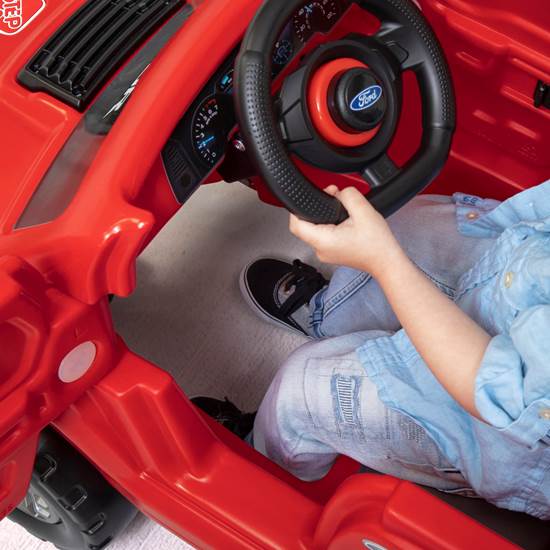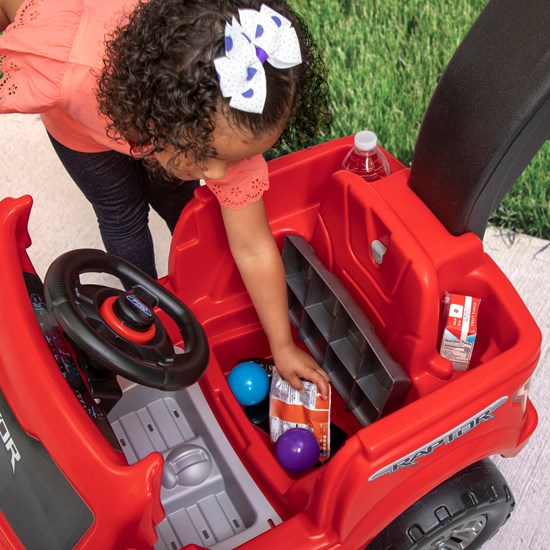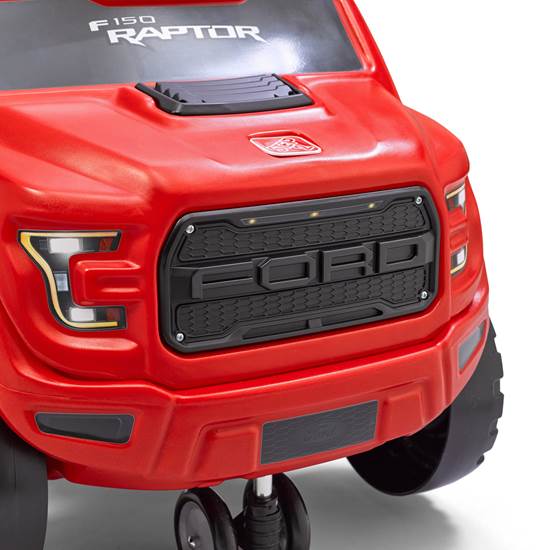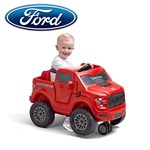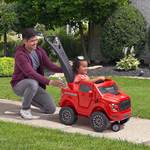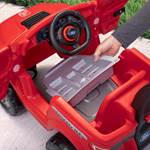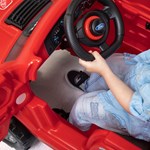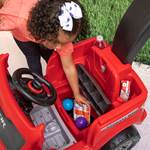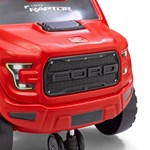 2-in-1 Ford® F-150 Raptor™
In stock
$109.99 $104.99
+ FREE Shipping! (via FedEx)
IS THIS A GIFT? DON'T SPOIL THE SURPRISE!
This item ships with an image of the product on its outer packaging.
Rated 5 out of 5
by
Anonymous
from
Can't get my kids out of this truck!
A huge thank you to Step2 for sending us the Ford F-150 Raptor as part of the Blog Ambassador program - we absolutely LOVE this truck!! It has been especially helpful for my daughter, who is 2 and has special needs. We actually used the truck in physical therapy yesterday as she practiced getting into and out of the truck from both sides! I love the push handle and it is so easy to push that my 4 year old son pushes his sister around the house with no problems. The removable floorboard is so great so that both kids can use it and my son can push himself while my daughter can ride. This has quickly become one of their all-time favorite toys!
Date published: 2014-09-12
Rated 3 out of 5
by
GoldKids
from
No seatbelt
This is very cute! Pros: great quality, great looking when built, kids love it! Cons: not easy to build, NO SEAT BELT, my son fell out and now has a huge red mark on his face. I have two other rode on vehicles from Step2, this one has no seatbelt. That's a huge problem. Front wheels are not functional. The front end depends on two small wheels and it is not easy to steer! I regret this purchase.
Date published: 2017-11-27
Rated 3 out of 5
by
Anonymous
from
Great Truck for my son but assembly was not easy
This is great for taking my kid on walks, playing in the backyard, etc. My son loves trucks and this was a great gift for him.Unfortunately, the assembly was difficult. From the instruction manual missing a part letter from the very first step, immediately followed by I needed a power drill to resize some of the holes so the metal poles would fit. I've built a few of these type cars before for my nieces. The difference was those were from a different brand and had great instructions and videos. They took 1 to 1.5 hour jobs.
Date published: 2017-02-09
Rated 5 out of 5
by
Anonymous
from
Great ride on for bigger kids!
The 2-in1 Ford Raptor is my son's new favorite toy! From the minute it arrived he has played with it almost every day. He is an average sized 4 year old, and while this fits him perfectly now, he has enough room in it that he can still use it for at least another year. The red color is true to the photos online, and with all the updates from our other ride on it is a great value. The working headlights and locking doors are a major plus for us, and having a large bed area in the back for toys and drinks is perfect!
Date published: 2014-10-07
Rated 5 out of 5
by
Anonymous
from
Two year old Grandson loves it.
My Grandson is 2 years old and he thoroughly enjoys this truck. I had to take the floor board out right away because he is in a "me do it" place in life. I had no trouble putting it together by myself. The thing that I would improve upon would be the lights - the tiny little button to turn them on is not obvious and is difficult for small fingers to manage. And I would have gotten it sooner so that I could push him around in it (before the "me do it" stage"). Seems very well built and I look forward to many years of use with Andrew and grandchildren yet to come.
Date published: 2016-10-29
Rated 5 out of 5
by
Anonymous
from
Incredible Kid Version of a Grownup Ride
As a Step2 Brand Ambassador, my first view of this truck was in the showroom at Step2 HQ - immediately striking me as a must-have for my kids (and I see A LOT of toys).The styling licensed by The Ford Motor Company is fantastic, a perfect representation of the truck at kid-size. The construction is also top-notch, and with some production/feature cues borrowed from other Step2 items (the removable handle and floor, swivel wheel on the front), it's a safe, durable vehicle for little kids, and I LOVE that the doors on both sides lock. The LED lighting is also a great touch that the kids feel the need to use constantly (it just looks cool).The only downside? Older kids beyond the weight limit want to use it! Yes, it's THAT cool.
Date published: 2014-09-28
Rated 5 out of 5
by
Logan & Amelia's Mama
from
Great Toy for Preschoolers AND Toddlers!
I'm a Step2 Ambassador and received this product for my honest review. As soon as my 4 year old saw the box, he begged me to build it right then and there. It took about an hour to build (by myself with 2 hyper kids running circles around me), and they haven't stopped playing with it since! The coolest part, for a mama of both a preschooler and toddler, is the 2-in-1 feature. You can use the car as a ride on push toy or it can be powered by foot when you remove the hand bar and floor panel. I love how Step2 thinks about how their toys can grow with their little customers. We also love the storage spot in the back for sippy cups or stuffed animals and the lights in the front of the Raptor really light up, which is a fun little detail!
Date published: 2014-09-12
Rated 3 out of 5
by
Anonymous
from
Not able to use for what I had I'm mind
Just got this today... It didn't have any trouble putting it together and the instructions were easy to follow the only problem is that it doesn't come with straps. In my opinion that's a pretty important feature and I likely wouldn't have bought this right now had I know it didn't have one. This was meant as a an upgrade from the little red push wagon because it has more cargo room. I use the little red wagon to keep my toddler entertained while I'm shopping or walking. He's toddler still so straps keep him from getting out while I'm out somewhere shopping or for longer walks. I will not be able to use this the same way without thoseeing straps to keep him safely put.I'm a little surprised they left this feature off on a product for children as young as 18m. Other than it not being usable for my own intended purpose my toddler does love playing with it. I recommend this if your just looking for something else for the kids to play on but not for a fun alternative to a stroller.
Date published: 2016-02-01
What is the weight limit for the truck?
The 2-in-1 Ford® F-150 Raptor™ has a maximum weight of 42 lbs. (19,05 kg.). Limit 1 rider.
Date published: 2020-10-20
Hi! I was wondering if this will be back in stock soon. I want to get one for my son's birthday in August
The 2-in-1 Ford® F-150 Raptor™ is now available.
Date published: 2020-08-07
Is there an option to pay for it to come assembled? 
No.  You have to assemble it.    Get your husband brother uncle next door neighbor to help you.    
Date published: 2020-02-10
Can I buy replacement stickers for my toddlers f-150 raptor?
Please contact our Consumer Service Specialists at 1-800-347-8372 Monday through Friday, 8AM -5PM Eastern Standard Time and we will be happy to help you.
Date published: 2020-07-20
I need a replacement handle for my Raptor ours is bent also a door lock one broke how do I go about ordering one
Please contact our Consumer Specialist Staff at 1-800-347-8372, Monday through Friday, 8am-5PM Eastern Standard Time for assistance.
Date published: 2019-10-04
Why are there no seat belts
Can I order a seat belt to install myself?
Date published: 2020-08-05
How easy is this to transport? I'm debating between this and the cruiser - I like that the cruiser has a seatbelt and has a folding handle, but I like the look of this one better!
The handle of the Ford® F-150 SVT Raptor may be removed with caution.
Date published: 2019-04-15
How do I get a replacement middle front wheel? Mine bent ?
Please contact our Consumer Service Specialists at 1-800-347-8372 Monday through Friday, 8AM -5PM Eastern Standard Time and we will be happy to help you.
Date published: 2020-07-20