2-in-1 Toy Box & Art Lid™ - Gray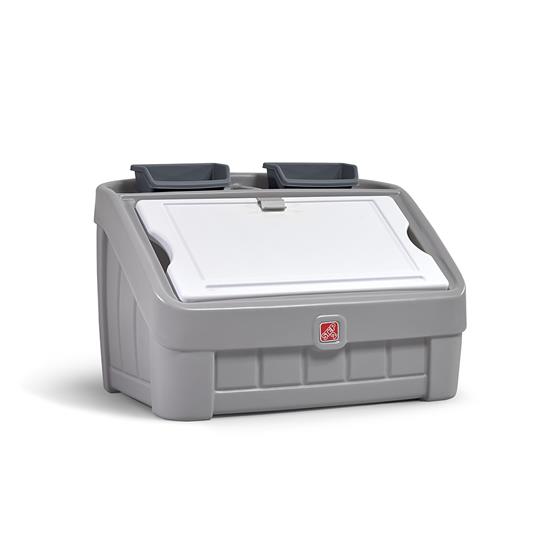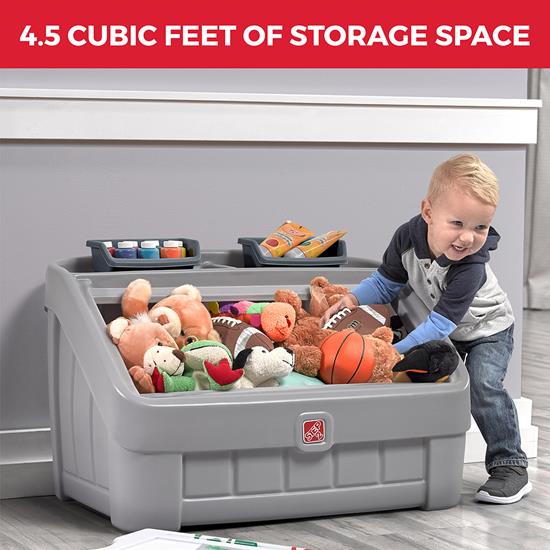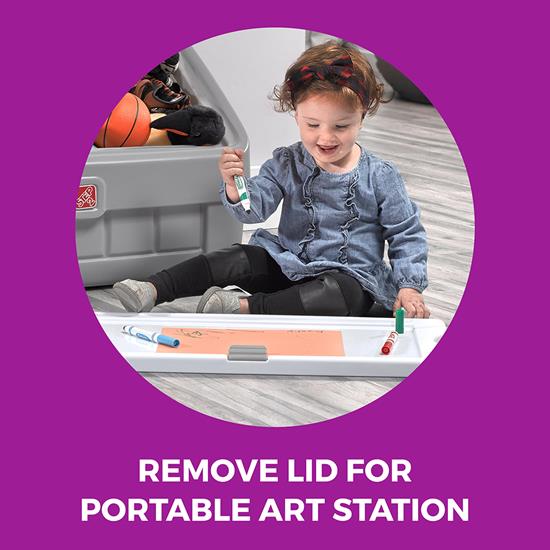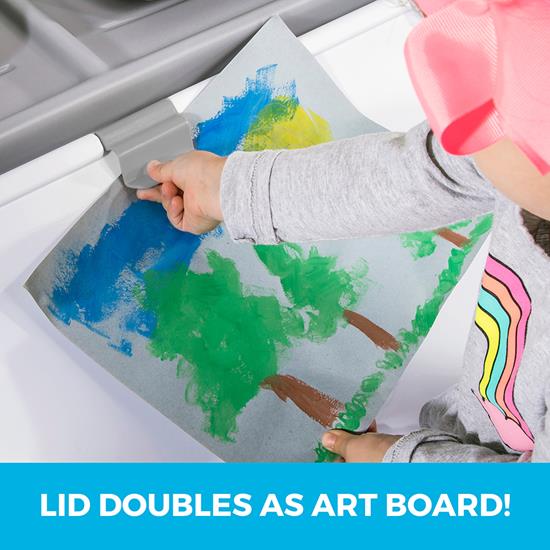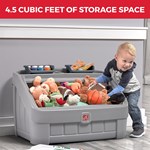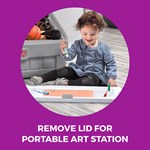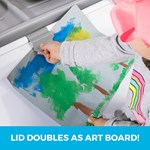 2-in-1 Toy Box & Art Lid™ - Gray
In stock
$54.99
+4.99 shipping (via FedEx) When will my item arrive?
Toddlers will love organizing their room with the 2-in-1 Toy Box & Art Lid - Gray by Step2.
IS THIS A GIFT? DON'T SPOIL THE SURPRISE!
This item ships with an image of the product on its outer packaging.
Rated 5 out of 5
by
Anonymous
from
Great for storage & play...
Purchased this for my 15 month old and his growing mound of toys. I was pleasantly surprised by how much it fits. And its a great way to keep a few favorites in the living room without looking out of place and will transition well to the play room downstairs once he can navigate stairs safely. The best bonus is my son loves playing with it. We use the shelf and containers on top for balls and other toys and he spends lots of time taking things down and putting them back up...highly recommend.
Date published: 2014-11-24
Rated 4 out of 5
by
Amanda010
from
Great storage
We are using the toy box for all of our pretend play kitchen food. It's nice to have somewhere to store the items where they aren't seen when company is over. It's the perfect size for my daughter to dig through. We aren't a big fan of the lid. It seems a little flimsy and my daughter isn't interested in using it as an "art lid." We currently have an easel that she uses for her artwork. It would be nice if the lid sort of locked in place instead of just sitting lightly on the top.
Date published: 2018-04-13
Rated 4 out of 5
by
Anonymous
from
Good size!
Great toy box! It's not overly big or too small. The lid doubles as an art surface but I do wish the lid was attached to the toy box in some way.
Date published: 2016-09-29
Rated 5 out of 5
by
Clarissa
from
Recommend this product to other parents
My 4yr old absolutely loved this toy box. It's a great size, holds plenty of toys, but doesn't take up too much space in her room.
Date published: 2016-09-01
Rated 5 out of 5
by
Min
from
Perfect first toy box
This was the perfect first toy box for my one year old. It's very roomy and dual purpose, it will grow with him through the years.
Date published: 2015-12-23
Rated 4 out of 5
by
Anonymous
from
I would not buy this again
Not a big fan of the cover. I didn't know it just sits on the top doesn't snap in
Date published: 2017-03-12
Rated 5 out of 5
by
Ldup03
from
Awesome toy box
I was looking at white wooden toy boxes to blend in with my coastal decor living room until I came across this one that matches that teal beach look perfectly. My 15 month old loves that he can easily reach in and pull out the toys he wants. It holds a surprising amount even with the angled top. It also arrived quickly, within a week all the way to CA and no assembly was a huge plus!
Date published: 2018-02-02
Rated 2 out of 5
by
RJ288
from
Design fail
It is an awful design. The lid is either on or off and there is no way to attach it. The lid even falls inside sometimes. It works as a toy box but the lid is a design fail. The baskets on top don't make sense either. It's like they just threw them in since they had leftovers from another product. They almost don't seem like they go with the toy box. Design fail
Date published: 2019-02-08
Rated 4 out of 5
by
Anonymous
from
Works for us
I purchased this for some additional storage, in our tiny home, for random objects that do not fit in, anywhere else, and so that my 28 month old can access them, unlike my other storage totes that have locking lids. I have all of my son's toys in plastic storage bins, separated by the type of items (trains, legos, etc). We take one box out at a time and then pick up/put away. This item came across in a pre holiday sale so I bought it after looking at reviews and comparing to Step2's Lift and Hide with bookshelf, toy box. I chose this one because of the price and size. The bookshelf toy box was much more costly for the additional 1 cubic foot ; bookshelf box was 5.5 cubic feet versus 4.5 on this one, bookshelf had a little shelf and this one had a little flat surface with 2 tiny bins.After reading other reviews, I did not like the idea of the bookshelf toy box coming in 2 halves, for the bottom storage section, and having to screw them together because that would be a stress point and possibly cause some issues in the future. This art toy box is 1 solid piece. Reviews on the bookshelf box said the plastic was thin and flimsy and in fact on this one, the same is true - I can see my hand through the thin wall but I wouldn't say it is flimsy or will fall apart under normal wear and we take care of things (ie, not for climbing or throwing or playing in. At first glance, when I opened the box, it appeared to be that double thick wall (like some of the outside toys made by step 2), where it wraps around and has an inch or so, space of air, between the inside and outside but that is not the case. The plastic wraps in for the lid support/lip and then stops. My son tries to get some trucks out of the box, and pieces, like the wheels of a truck, get stuck on that lip and he gets mad and frustrated. I guess the plus size is that not having that double wall is there is more internal space….give and take on all things.The lid just lays on top of the ledge/lip, so you can't have it over-flowing with toys and expect it to stay in place. I don't think we will use the lid as a coloring board because the back is not smooth/covered, just has lots of slots and lines of plastic to give it structure...would not be comfy in a lap, but maybe on the floor it would be good.The neutral color, I like. I was torn between this and the Thomas the Train version, as he loves trains, but opted for this neutral color. I figured he would probably out grow his love of trains and the bright little kid colors. This neutral coloring will fit in, even when he is 10 years old, as a little storage place for toys, and it will blend right in and not look childish.For the price, I like it and think it will last us for years to come.
Date published: 2014-11-29
Rated 5 out of 5
by
Cheflo
from
Awesome Toy Box!
All of my kids are extremely crafty and love to color. I love that the lid gives my youngest boy (22 months old) his own special place to color and paint. We use toy box part to store large bottles of paint, slime supplies, and lots of craft supplies. I originally thought my toddler would be the only one to use it but all 3 love this box.
Date published: 2018-04-09
Rated 5 out of 5
by
Mommy University
from
I absolutely LOVE this product!
Thank you to Step2 for letting me test this item as part of the Step2 toy tester program. I was so excited to set up this amazing 2-in-1 Toy Box and Art Lid. The baskets are perfect for holding school and art essentials such as crayons, pencils, glue, paint, scissors and more! The toy box is wide and deep making it perfect for holding puzzles, games, toys and other art supplies such as coloring books and paper.I used the 2-in-1 Toy Box and Art Lid to set up a learning center/art station to get my kids ready to go back to school. They each love having their own basket of supplies so they can create works of art right on the lid. The clip on the lid is great for holding up paper for coloring and painting projects. My son also loves taking the lid off so he can complete his projects while laying on the floor! The 2-in-1 Toy Box is perfect for getting organized AND getting ready for school! I highly recommend this product for families with young children!
Date published: 2014-08-07
Rated 5 out of 5
by
KatyAnne
from
This is GREAT
My 7 year old daughter loves this! She keep all of her stuffed animals in it and it is perfect for that! The lid is not attached so that makes it easy to get everything in and out. It also has a little clipboard at the top in case you want to use it as a drawing board or something like that. Everything about this is just perfect
Date published: 2018-04-09
Rated 5 out of 5
by
KASSIDY
from
BOY OR GIRL WILL HAVE FUN THIS BOX.
THIS IS A GREAT TOY BOX FOR ANY BOY OR GIRL. ITS VERY STURDY AND DEEP AND HOLDS LOTS OF TOYS BUT THE BEST PART IS THE DRAWING AND ACTIVITY BOARD ON FRONT. MY CHILD PLAYS FOR HOURS ON IT AND ACTS LIKE HES HEAD OF THE BOARDROOM. THE COST IS SO REASONABLE I THINK I MIGHT BUY ANOTHER. GREAT PRODUCT GREAT MANUFACTURE.
Date published: 2016-11-16
Rated 5 out of 5
by
Grandma Pat
from
Great for our grandkids
We bought this toy box for our grandkids and we're very pleased. Lid is easy for the boys to remove and they can easily reach inside to get their toys. They are just starting to color and the little bins on top hold the markers perfectly. This neutral color fits nicely with our decor.
Date published: 2018-02-15
Rated 5 out of 5
by
Bean67
from
Love this product
This product met my expectations and then some..it was a big hit with the 4 to 6 yr olds..its the perfect size for our playroom and easy to get into and the the added art TOP being the big hit...the kids love it and so does mom/grandma...I would recommend this product highly
Date published: 2018-04-11
Rated 5 out of 5
by
Anonymous
from
Easy Access
18 mo old granddaughter loves hers. we leave the top off...she has very easy access to all her stash!..she even will throw out toys and sit in it and play! Holds a LOT of toys..was easy to assemble. It is nice that the opening is low to the ground/just right for her size.
Date published: 2015-03-10
Rated 5 out of 5
by
Julies0428
from
Incredible quality!!
I love everything about this toybox! It is made from durable, high plastics and comes nearly fully assembled. It was a perfect addition to my daughter's bedroom, it helps keep her toys organized and she loves it as an art desk. This is such an incredible value
Date published: 2018-04-11
Rated 5 out of 5
by
KammMommy
from
Amazing product
We and my daughter absolutely love this toy box. My daughter loves the lid with the little clip that hold paper and a place for her pen to sit while she colors. It holds a large amount of toys because lets face it kids have tons of toys when they are little.
Date published: 2018-02-16
Rated 5 out of 5
by
Kristen
from
It's great storage and also fun!
It's a good size and holds a lot of stuff! My kids love the way the lid can hold their pictures for coloring. The holders are also nice for easy access for creating art! The lid is easy and light to take off and put back on. It's great and we love it!
Date published: 2018-04-14
Rated 5 out of 5
by
kskatie
from
Large, easy to use toy box!
I really love this toy box, from its size, colors, and ease of use. I wanted something my child could use to store his favorite toys, especially the larger sized ones, and also have something where he could write, draw, or play with friends, but space was an issue. This toy box met all the requirements I wanted, and more! It came preassembled already in the box, did not have to use any tools or apply any stickers, which is a huge bonus! My son and his friends all can play easily in front of it, grab their favorite toy out, or play a friendly game of tick tack toe! The ability to store the art stuff within reach, but still have it nicely contained is helpful too! I like that the lid completely comes off when not in use so no worries of pinched fingers, smashed foreheads, or limited toys that can be stored. It also is sturdy enough I do not have to worry about it tipping over, and wipes clean if any marker, sticky fingers, or dirt gets on it. It also looks old enough that it works for grade school kids too without looking babyish too.
Date published: 2018-04-19
Rated 5 out of 5
by
Pitbull mama
from
Love this toy box
This toy box has so much room in it, and I love the mint green color. We got this for our living room/play room for my youngest daughter and it can fit so many of her toys in there that it really helped to clear out the clutter. My toddler also likes that she can use the lid to hold her paper while she is drawing or painting. Another thing I really like about this is the material it's made out of it's super light weight, and very easy to clean. My daughter has been going through that the whole world is my art canvas stage and she colored all over it with her markers and i thought it was ruined. Nope it all washed off very easily with some windex on a paper towel. I will be getting another one for her bedroom. Only issue I have is that the grey containers that come with it to go on top are so small they can barely hold a barbie in it and look really unporportioned with the rest of the toy box, I also think they would look better if the were white like the art kid. Other then that this is a great toy box and would definitely recommend it.
Date published: 2018-08-29
Rated 4 out of 5
by
Julster2412
from
Great toy box!!
This product has been wonderful for our back porch! It is durable and easy to wipe clean. I like how easy it is for the kids to open and close. I especially loved the no assembly! I see us getting many years of use out of this product!!
Date published: 2018-04-19
Rated 5 out of 5
by
Happymom
from
Perfect
It hold lots of toys and doesnt take up alot of space. We will have this toy box for years to come. I've even thought about purchasing another one. My daughter loves it so much she climbs in and out of it all the time!
Date published: 2018-03-19
Rated 5 out of 5
by
Bgclus
from
Perfect for their playroom
This is absolutely the best storage for the kids playroom. They love being able to draw on the lid. What a great concept. It fits perfect in the room and it surprisingly holds a ton more than it looks.
Date published: 2018-04-10
Rated 4 out of 5
by
Gemarla
from
Awesome toy box
Thanks to Step2 for letting me test this toy box. It was a great toy chest, which will definitely withstand the test of time. Great tool for education with the art lid with numbers and shapes.
Date published: 2014-08-21
Rated 4 out of 5
by
Briele
from
Perfect Size
Product came within a week and a half. Is already assembled which is great. A lot of storage space which is great. Great for when kids are playing on floor, offers easy access.
Date published: 2019-03-28
Rated 5 out of 5
by
Snapp
from
Great 1st Birthday Present
Great product! Not too big or too little. The low front allows for my one year old to easily get toys in and out. She also likes to get in and out! Love the color!
Date published: 2018-03-16
Rated 5 out of 5
by
Jackie
from
Great Product!
This toy box is sturdy and well constructed. It is large and holds a great amount of toys. The cover is a great feature that makes it a great multipurpose item.
Date published: 2018-04-11
Rated 4 out of 5
by
Jessica1381
from
Great product!
I love this you box, it fits a good amount of toys. My only wish is that the kid was not removable, but I get why it is since they can use it to color, etc.
Date published: 2019-08-22
Rated 4 out of 5
by
Mommy24angels
from
Excellent toy box for a toddler
Perfect size for my 1 yr old daughter. She loves it. It holds just the right amount of toys.
Date published: 2015-07-28
Can the lid be used as a magnetic dry erase board ?
No, it cannot.  The lid is pretty useless, even as a cover.
Date published: 2019-04-26
Will you be getting more of the grey in stock?
Please fill out the Notify Me link below to be alerted by email when this item is available : https://www.step2.com/soldout?productid=2728
Date published: 2019-01-16
Is this toy box made in the usa?
The 2-in-1 Toy Box & Art Lid is made in the U.S.A.
Date published: 2018-10-31
Can this be used outside?
Yes. There is a drain in the bottom that would make draining any water easy, but I do not think it would handle extreme temperatures very well. Also, keep in mind that the lid is NOT attached, so high winds could equal a lost lid. Personally I use it for outdoor toys that are stored just inside the door (AZ heat would kill most of the toys otherwise).
Date published: 2018-08-20
Is this product durable enough for outside, all-weather, toy storage as well?
The 2-in-1 Toy Box & Art Lid™ is designed for indoor use.
Date published: 2018-03-26
So how easy will the paints, aka finger paints clean off the art lid? A little elbow grease or some type of cleaner would be needed? 2 clips might be even better on it, to cut down on the arguing of who's goes up on it. Just a thought
Please contact our Consumer Service Specialists at step2-company@step2.net or 1-800-347-8372 Monday through Friday, 8AM -5PM Eastern Standard Time and we will be happy to help you.
Date published: 2018-01-04
Do you ship to Australia?
Step2 Direct ships within the United States only. Thank you for your interest in Step2 product retailers in Australia. Specific products and quantities vary by retail location, please contact Little Smiles Pty Ltd. with your specific request. Little Smiles Pty Ltd. Suite 1404, Level 14, Tower 2 Westfield Bondi Junction Plaza 101 Grafton Street, Bondi Junction NSW 2022; Australia 1300 665 882 (p) 61 2 9389 6766 (i) 1300 665 883(f) Consumer website: <a href="http://www.Step2Direct.com.au" target="_blank">www.Step2Direct.com.au</a> Wholesale website: <a href="http://www.littlesmiles.com.au" target="_blank">www.littlesmiles.com.au</a> info@littlesmiles.com.au (e)
Date published: 2018-03-27
Will this toybox hold up outside?
The 2-in-1 Toy Box & Art Lid ™ is designed for indoor play.
Date published: 2018-03-27