2-in-1 Toy Box & Art Lid™ - Tan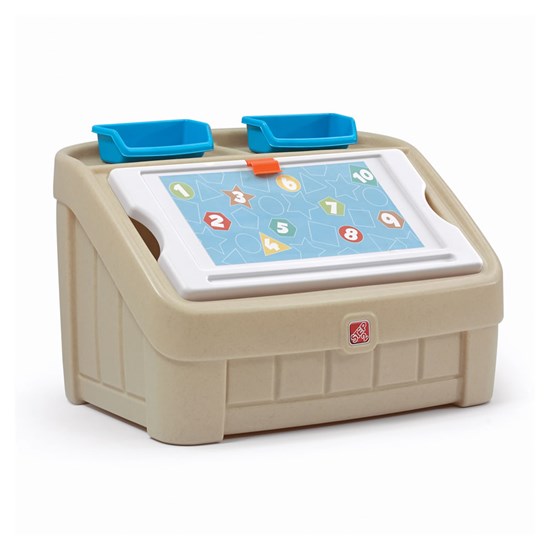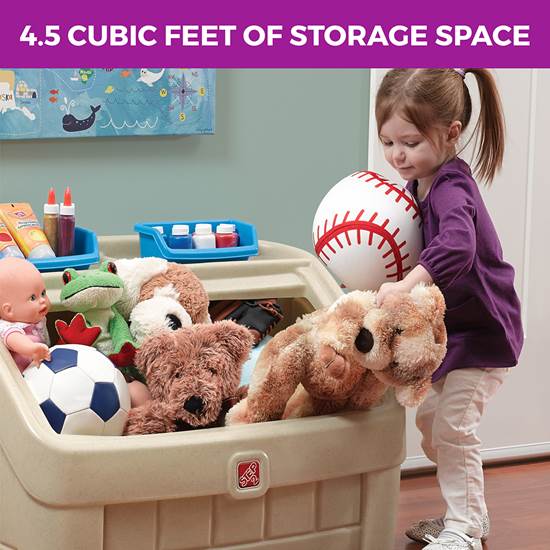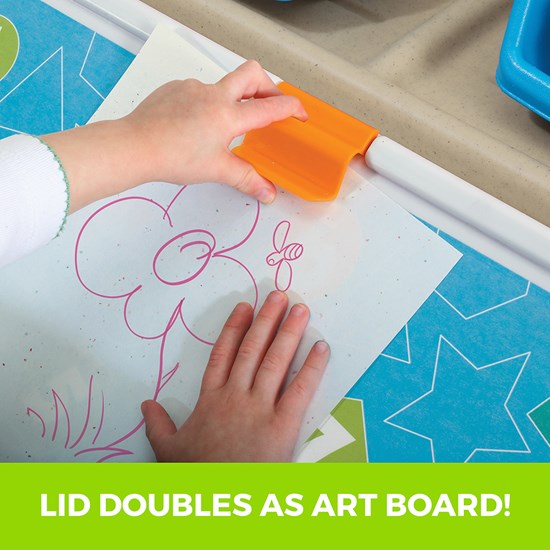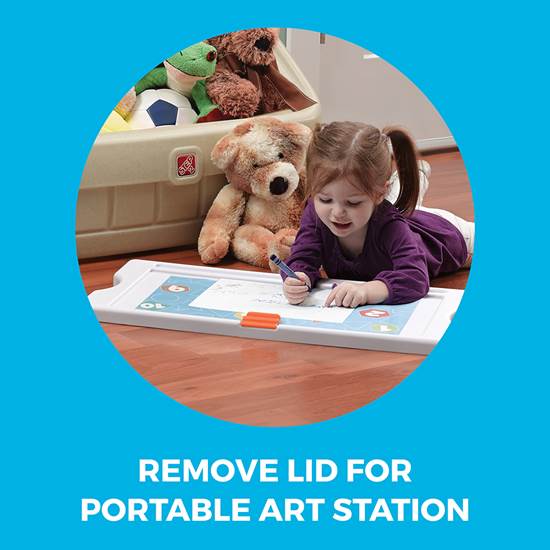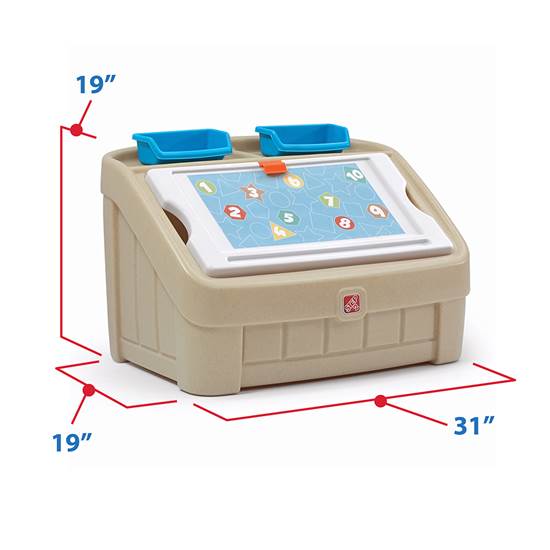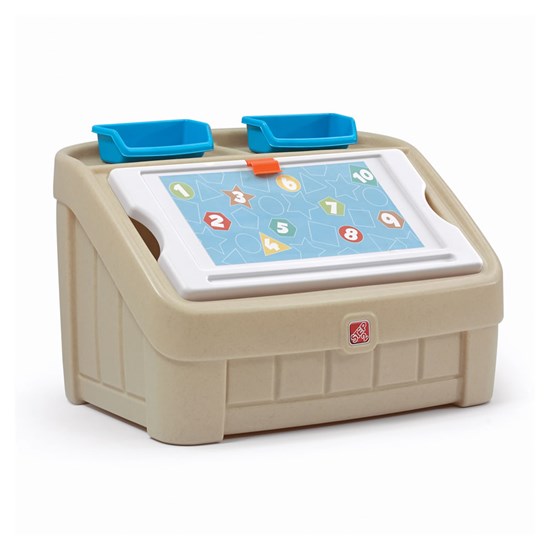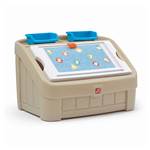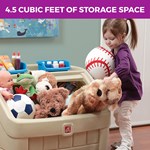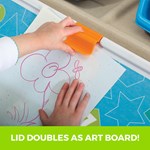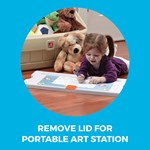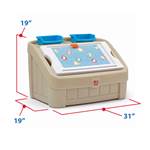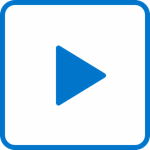 2-in-1 Toy Box & Art Lid™ - Tan
In stock
$74.99 $69.99
+$12.99 shipping (via FedEx)
IS THIS A GIFT? DON'T SPOIL THE SURPRISE!
This item ships with an image of the product on its outer packaging.
Rated 5 out of 5
by
Anonymous
from
Attention Grandpas
We purchased this toy box for our thirteen month old grandson to keep at our house. For his toys at home we bought a wooden toy box that matches his bedroom furniture and it cost considerably more! It was one that had to be put together(Grandpa's job), then had to be delivered to his home(again Grandpa's job) Now, my daughter-in-law wants to trade us and use the Step 2.This is the box I would have wanted for my son had it been available 47 years ago. It was inexpensive, easy to put together--I opened the shipping box, removed it and placed the Art Lid on the box & Walla! It holds toys and he can use the removable Art Lid to draw on.
Date published: 2017-01-03
Rated 2 out of 5
by
spcltchr
from
Durable, but needs improvements
We have had the 2-in-1 Toy Box & Art Lid for a week. The lid has been tossed to the side because it is not attached to the toy box itself. It came with 2 gray containers for art supplies to go into. These have been tossed to the side as well, because there is no way for them to stay in place. They can be randomly placed anywhere in your house. My 4 & 5 year old boys are tough guys and this toy box is VERY durable and spacious. An improvement would be to have the lid attached to the toy box, a secure area for the art supplies (so they don't dump all over) and maybe the art supplies that are recommended to work on the toy art lid itself.
Date published: 2018-04-15
Rated 5 out of 5
by
Anonymous
from
Oliver loves his new toy box!
My husband and I care for our three-YO grandson every afternoon. The small bin in our laundry room was no longer sufficient for his growing number of toys. I was overjoyed when I saw this toy box and knew immediately it would answer our clutter problem. Oliver absolutely loves it and we no longer have problems getting him to clean up and put away his toys when it's time to go home. I also like that the lid is not attached, allowing wide-open access and little chance of injury. The lid has not been used for art projects yet, but I'm sure when winter comes and playing outside is not an option he will find many uses for it.
Date published: 2016-08-29
Rated 5 out of 5
by
mom2wonderfulboys
from
My son loves this!
Thank you to Step2 for letting me test this item as part of the Step2 toy tester program! I'm so happy that my son and I were able to test this amazing toy box. I was so relieved that there was really no assembly just placing the art lid and pencil boxes on the top. My son loves drawing on the art lid and the lid is sturdy enough for a three-year-old to be excitedly drawing and stay in place. Even though it's very sturdy it is also lightweight. Plus, it's also super easy to wipe down. The box has so much room inside. I was amazed at how many items that we were able to store inside of it. We have a small apartment and it fits perfectly next to our couch and the mint color is so calming and perfect for spring. We all love it!
Date published: 2018-03-13
Rated 3 out of 5
by
Bbaity83
from
Good toy box
They toy box is good quality and sturdy as I love that this plastic last longer and is more stable than wooden ones the only complaint I have is make sure you look up the size and actually see what it would like bc it is a lot smaller than it looks or that I perceived so with a 6, 5 and 4 yr old I will need at least 2 more so they each would have there own to fit all there toys especially with Christmas in 1 more day but overall step 2 products past so you definitely get your money's worth. The other down fall is I wish the pad was attached and had a option to come off bc t just sits on so it's not secure
Date published: 2020-12-24
Rated 5 out of 5
by
kskatie
from
Large, easy to use toy box!
I really love this toy box, from its size, colors, and ease of use. I wanted something my child could use to store his favorite toys, especially the larger sized ones, and also have something where he could write, draw, or play with friends, but space was an issue. This toy box met all the requirements I wanted, and more! It came preassembled already in the box, did not have to use any tools or apply any stickers, which is a huge bonus! My son and his friends all can play easily in front of it, grab their favorite toy out, or play a friendly game of tick tack toe! The ability to store the art stuff within reach, but still have it nicely contained is helpful too! I like that the lid completely comes off when not in use so no worries of pinched fingers, smashed foreheads, or limited toys that can be stored. It also is sturdy enough I do not have to worry about it tipping over, and wipes clean if any marker, sticky fingers, or dirt gets on it. It also looks old enough that it works for grade school kids too without looking babyish too.
Date published: 2018-04-19
Rated 5 out of 5
by
JLDay0721
from
Perfect Toy Box!
This toy box is so adorable! The color is lovely! Even better/prettier in person! Especially for my two little girls. It's easy to clean and comes ready to go in the box! It's also not very heavy. I was able to carry it up stairs easily! My mom actually ordered from the website for my daughter's birthday. It came to our address no problem and super quick! It's a great size and the lid is also multifunctional! Dry erase and has a clip to hold paper for other crafts! Easy for my 1 year old and 2 year old to take off and get into. They like to throw the art holders at the top so they might not get used until they're a bit older. That's the only small recommendation I have is if step 2 added the ability to attach the 2 art holders at the top for younger kids. Still 5 stars though! I love it so much I'm getting the red and black one next for our upstairs. It's decorated in a University of Louisville theme so it'll match perfect and keep all the toys up off the floor!
Date published: 2018-01-09
Rated 5 out of 5
by
KimberlyInVA
from
Perfect For Busy Toddlers
This toy box is a great size for a little girl who has lots of treasures. There's plenty of room inside and I don't have to worry about hands getting stuck in an open/close lid. The removable art lid is a great bonus for my granddaughter who likes to color wayyyy outside the lines. The storage toy bins are great for art supplies but we store small play people and figurines in there instead. The material is sturdy and the toy box fits perfectly in our living room. The height is perfect for my busy toddler and I can see her having this toy box for many years to come.
Date published: 2018-04-10
Can this be used outside?
Yes. There is a drain in the bottom that would make draining any water easy, but I do not think it would handle extreme temperatures very well. Also, keep in mind that the lid is NOT attached, so high winds could equal a lost lid. Personally I use it for outdoor toys that are stored just inside the door (AZ heat would kill most of the toys otherwise).
Date published: 2018-08-20
Is this product durable enough for outside, all-weather, toy storage as well?
The 2-in-1 Toy Box & Art Lid™ is designed for indoor use.
Date published: 2018-03-26
So how easy will the paints, aka finger paints clean off the art lid? A little elbow grease or some type of cleaner would be needed? 2 clips might be even better on it, to cut down on the arguing of who's goes up on it. Just a thought
Please contact our Consumer Service Specialists at step2-company@step2.net or 1-800-347-8372 Monday through Friday, 8AM -5PM Eastern Standard Time and we will be happy to help you.
Date published: 2018-01-04
Do you ship to Australia?
Step2 Direct ships within the United States only. Thank you for your interest in Step2 product retailers in Australia. Specific products and quantities vary by retail location, please contact Little Smiles Pty Ltd. with your specific request. Little Smiles Pty Ltd. Suite 1404, Level 14, Tower 2 Westfield Bondi Junction Plaza 101 Grafton Street, Bondi Junction NSW 2022; Australia 1300 665 882 (p) 61 2 9389 6766 (i) 1300 665 883(f) Consumer website: <a href="http://www.Step2Direct.com.au" target="_blank">www.Step2Direct.com.au</a> Wholesale website: <a href="http://www.littlesmiles.com.au" target="_blank">www.littlesmiles.com.au</a> info@littlesmiles.com.au (e)
Date published: 2018-03-27
Will this toybox hold up outside?
The 2-in-1 Toy Box & Art Lid ™ is designed for indoor play.
Date published: 2018-03-27
What material is this toy box made of? I live in a warm climate and I was wondering if it is plastic and durable enough to be used and kept outside for toy storage? Thanks!
This product is made out of Linear Low Density Polyethylene. It is made in the USA.
Date published: 2018-03-27
Can this be gift wrapped before shipping?
We do not offer a gift wrapping service for Step2 Direct orders.
Date published: 2018-03-27
is this the same red as the corvette bed?
Yes, the red color used in our 2-in-1 Toy Box & Art Lid™ is the same color red as our Corvette® Toddler to Twin Bed with Lights™.
Date published: 2018-03-27