3 Piece Farmhouse Table & Bench Set™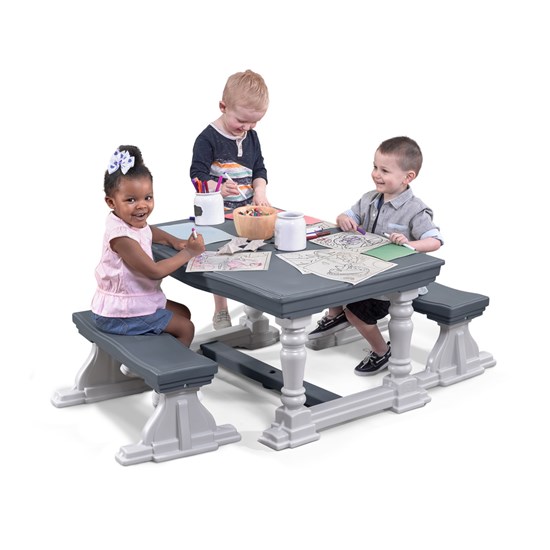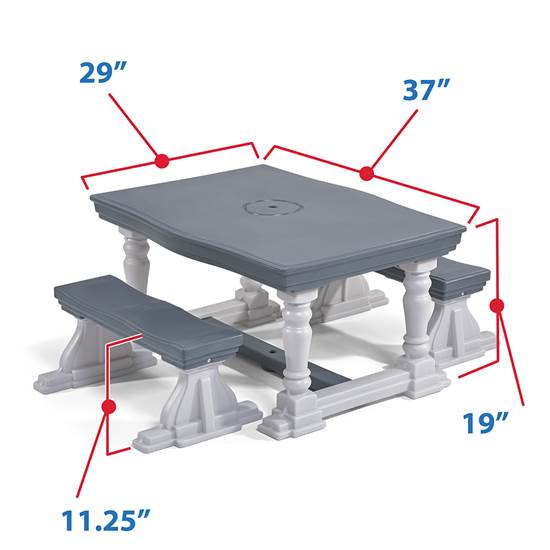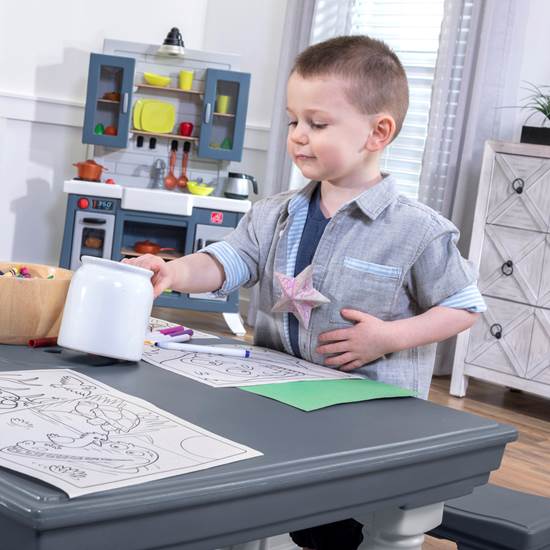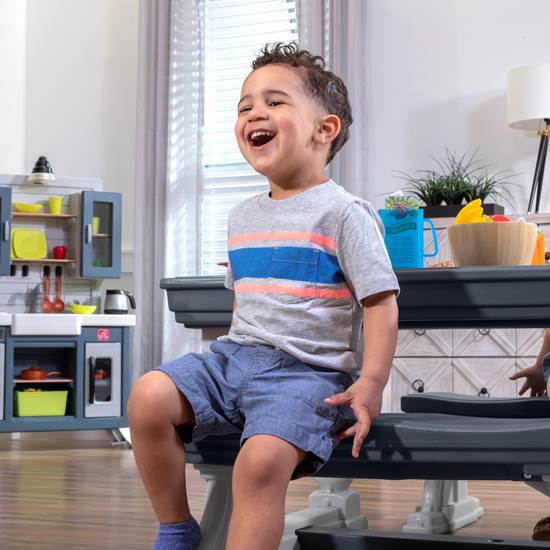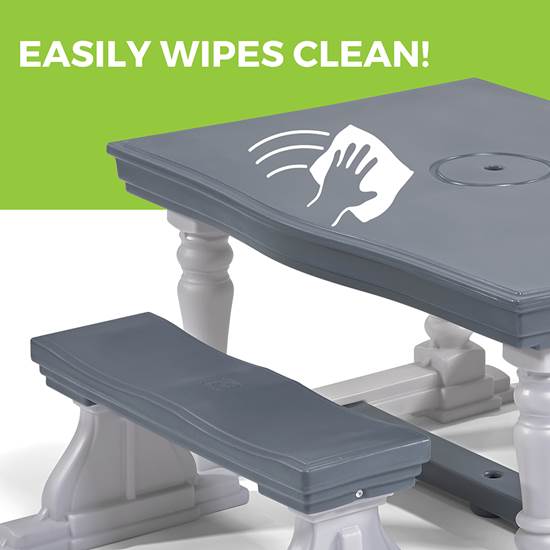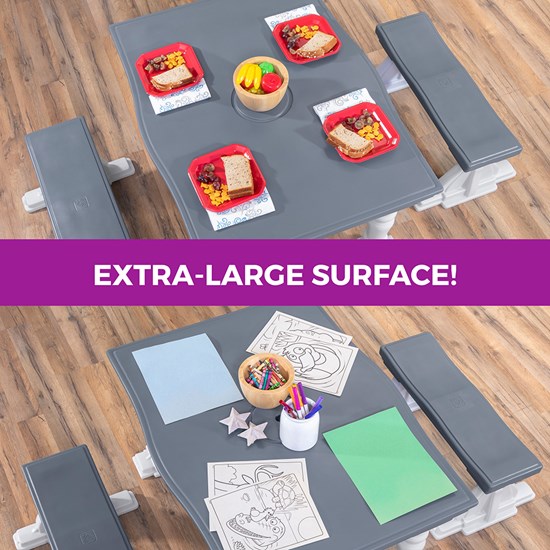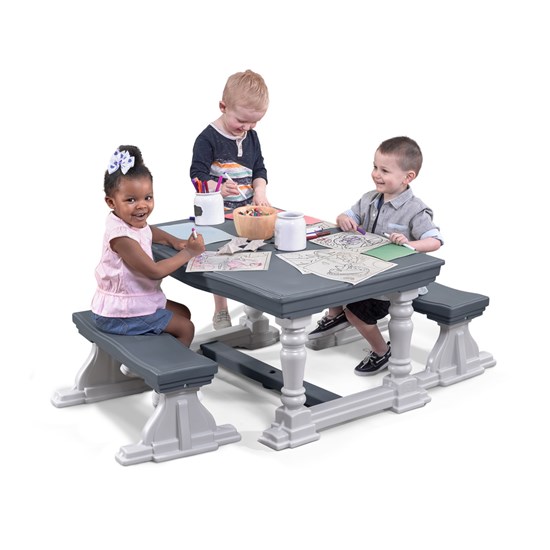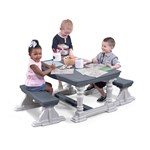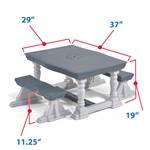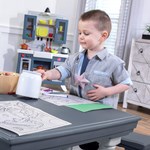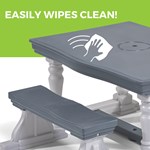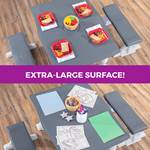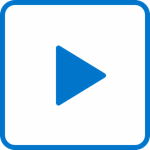 3 Piece Farmhouse Table & Bench Set™
Out of stock
$129.99 $119.99
+4.99 shipping (via FedEx)
Do more together with the extra-large table top and long benches in our 3 Piece Farmhouse Table & Bench Set™.
IS THIS A GIFT? DON'T SPOIL THE SURPRISE!
This item ships with an image of the product on its outer packaging.
Rated 5 out of 5
by
Katie12
from
Great looking multipurpose kids furniture
This is a great looking multipurpose piece of children's furniture. It looks great in any room of the house, which is good because it's been used in every room but the bathroom! It's plenty roomy for any activity and multiple children. The table is a perfect height for me to sit on the floor and participate with him in whatever he's doing. It cleans up great after a messy mealtime or art project. The benches are sturdy and stable and do not tip over even when my not so graceful toddler is monkeying around on them. Not that he cares, but it also nicely matches his Step Modern Chef Kitchen. Assembly was easy and under 30 minutes even with a toddler "helping". We love this product!
Date published: 2019-09-19
Rated 5 out of 5
by
NicoleR3
from
Awesome table!!
We received the Farmtable and Bench set about a week ago! We were extremely surprised by how fast and simple it was to assemble. My husband had it together in less than 10 minutes! My daughter is 18 months and completely obsessed with this table. She carries her snacks over to it just to eat at it. It is really well designed and constructed, even supports my weight (130lbs) to sit on one of the benches to play with her! I see this table being around for the next 4+ years for her and our little one on the way! Thank you Step2 for letting me test this item as part of the Step2 Toy Tester Program!
Date published: 2019-09-13
Rated 5 out of 5
by
mo_nica
from
Step2 Does It Right Yet Again!
As always, we love Step2's products. This table is everything and more! It is a beautiful neutral color and the benches easily slide under the table for easier storage. My daughter definitely loves how large the table space is as we do many things from eating, playing, coloring, you name it! All of her little friends love it too! Did I even mention how easy it was to put together?! This family has been buying Step2 products for years. We love the value you get for your money, the ease of assembly, durability, functionality, and most importantly how kids just love them!
Date published: 2019-09-21
Rated 5 out of 5
by
Lschuyler
from
Fun product!
My 4 year old is tall for her age- I was nervous this wouldn't be big enough for her- I was wrong! She loves sitting and playing with her toys, her tablet and coloring in her own space. An excellent table- indoor or outdoor!
Date published: 2019-09-13
Rated 5 out of 5
by
Shaynajo
from
Practical and pretty!
I have always wanted a little picnic table for my girls but I didn't want to have to re-stain a wooden table every year, and the plastic ones on the market in primary colors weren't my style. I was so excited to see this farmhouse plastic table- it's practical and pretty! When the box came, I let it sit in the box for a few days waiting for my husband to put it together because I am usually not good at putting our kids toys together. But I got impatient and decided to tackle it! It was way simple to put together and I got it assembled in less than 30 mins and my girls were so excited! I was worried my almost 6 year old would be too big for it, but it fits her great still! And it isn't too big for my 2 year old. They can both enjoy it together. And it fits the ascetics of my porch nicely. I wanted to let my kids use it for a week before I wrote my review. They used it to color on, eat dinner on, have snacks at.. they are soaking up the last of summer and love using their table outside. I am glad it's pretty because it is also great quality and it will be in our family for many years to come! It has a spot for an umbrella which my kids are begging to add! If you are looking for a kids table for outside or inside- this is it! Thank you Step2 for letting me test this item as part of the Step2 Toy Tester Program
Date published: 2019-09-17
Rated 5 out of 5
by
Chris
from
Durable and Adorable!
We love to host BBQ's and have a great outdoor patio area to do so. I recently purchased a poly farmhouse patio table with benches for the family. The 3 piece Farmhouse Table and Bench Set by Step2 matches so well and gives the kids their own space to sit and have fun at. This table set has dual purpose as we can use it outside when eating on the patio or bring it inside and the kids have a table to eat at or use for coloring, puzzles, games and more. I love that it is easy to clean and now I don't have to worry about crayons or markers on my kitchen table. Very easy to put together and we just love it. This product was received courtesy of Step2 for testing purposes. I found this product to be top quality with no sharp edges, strong enough to safely allow children to sit at and durable for children. Another great product by Step2.
Date published: 2019-09-03
Rated 5 out of 5
by
Kristenw19
from
Great table for indoor/outdoor use!
We just received this table a few days ago, and we've already had several picnics, made crafts and colored for hours. This is the perfect indoor/outdoor table for growing little ones. It's very sturdy and well made. Assembly took roughly 1/2 hour, though it did take some elbow grease to pop the screws through the plastic. I love the design and neutral gray color- it goes with any decor! My kids are 3 and 4 and will be able to use this table for several years. Thank you Step2 for letting us test this item as part of the Step2 Toy Tester Program!
Date published: 2019-09-09
Rated 5 out of 5
by
Anonymous
from
My son calls it his "baby table" but...
How stinkin' cute! I needed something for my 3 year old to eat on and do activities on that was his size but that could also accommodate my 7 year old if need be. The size surprised me as I expected to maybe be a tad bit smaller but this was a plus!! It's big enough to fit my two boys but small enough to fit in our kitchen without getting in the way. My 3 year old calls it his baby table because its on his level, but I love that my 7 year old fits on it no problem. They eat, do activities and we homeschool on this table. And the farmhouse bench look goes well with our farm kitchen theme. I'm very happy with it and the price point isn't so bad either! We have never been disappointed with any of our step 2 items and they've continued to be a trusted brand for us. oh! I forgot to mention how easy it is to wipe clean! That is definitely a plus! The boys can wipe it clean all by themselves , it's so easy and moms need more products like these! I love that I can use it indoor or outdoor with ease! Thank you Step2 for letting me test this item as part of the Step2 Toy Tester Program and for always making amazing products!
Date published: 2019-09-16
When will this be available again!? I want to order it and have it by Christmas!? :( been out of stock a few weeks now 
We apologize but we are currently out of stock and backordered on this item and several products. We are now running limited production as we were previously shut down due to the COVID-19 environment and unable to produce at that time. Our current production has been limited due to social distancing guidelines. We do not anticipate having this item & other products back in stock until late November– mid December. Please note this is an estimate as the timing could move back again based on demand, production schedule and retailer commitments. Continue to check our website daily for availability and updates. We apologize for any inconvenience.
Date published: 2020-11-13
can this be used outside?
Yes, this product can be taken outside.
Date published: 2020-06-16
What size umbrella fits this table? And What is the diameter of the hole? 
It is 1" in diameter.
Date published: 2020-04-09
States table top is 19. X 36, but the diagram shows 29 x 37. Could you please clarify. 
The table top of the 3 Piece Farmhouse Table & Bench Set™ is 29" X 37".
Date published: 2020-06-02
Is there an umbrella that goes with this? Can you purchase it separately? 
The 3 Piece Farmhouse Table & Bench Set™ will accommodate an umbrella, we do offer umbrellas separately.
Date published: 2019-10-18
Hi, is the maximum weight of 40lbs on each bench or for both together? Thank you!
The 3 Piece Farmhouse Table & Bench Set™ will accommodate up to four children and the weight limit per child is 40 pounds.
Date published: 2019-08-22
When will farmhouse table and bench be available?