42 inch Seaside Umbrella™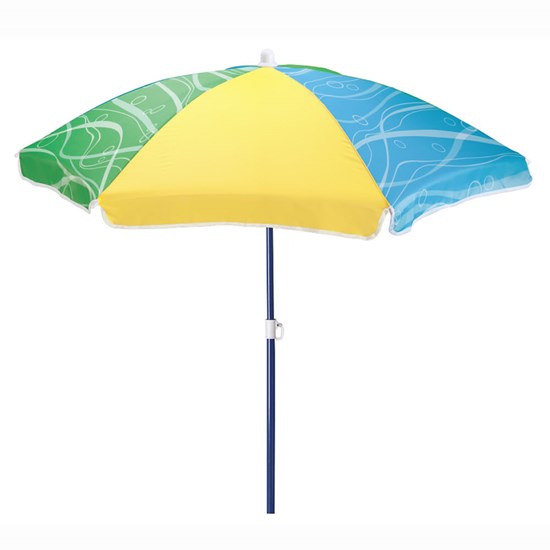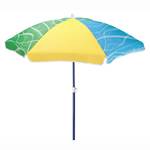 42 inch Seaside Umbrella™
In stock
$19.99
+2.99 shipping (via FedEx) When will my item arrive?
The 42 in Seaside Umbrella by Step2 provides kiddos with shade while they play with their activity table, picnic table or while hanging out at the beach.
IS THIS A GIFT? DON'T SPOIL THE SURPRISE!
This item ships with an image of the product on its outer packaging.
Rated 1 out of 5
by
CMR208
from
Too small and missing a piece
I hoped this umbrella would serve as a replacement for our Step2 water table, but the diameter is too small (it looks silly on the table and doesn't provide enough shade) and it doesn't have the round piece needed to keep it upright in the water table. It's a shame Step2 can't/won't provide replacement umbrellas for its products. The customer service has also been horrible. No communication from Step2, no receipt, no shipping confirmation, etc. and they don't answer their 800 number or respond to email or Facebook messages, so BUYER BEWARE if you're considering ordering from this website.
Date published: 2017-06-30
Rated 1 out of 5
by
Cbryant
from
Not good fabric
I have this umbrella it came with play and shade pool , the umbrella is not made of good material dry rotted and tore the pool and all other parts are awesome and made well as I expected from step 2 , I own many of their products and was ever so happy with the quality up until this point.
Date published: 2015-03-26
Rated 5 out of 5
by
Dottie
from
Children's table umbrella
Coming from up north all my life, I was not prepared for the devastation the Florida sun has on many items. I had purchased a small table and umbrella 3 years ago for poolside for m granddaughters. Chrery umbrella lasted all of 3 year before it was so rotted, I had to pitch it. Thanks to Step 2, I now have a new one that perfectly fits the table and my granddaughters and friends are under sun protection once again. Easy ordering, and when I emailed about a question, answer was by phone, quick and complete.
Date published: 2016-04-05
Rated 2 out of 5
by
CMR208
from
Too small, poor quality
I don't know why Step 2 can't be bothered to sell replacement umbrellas for their own products. I got this to go over our Step 2 water table and it's so small, it barely reaches the edges of the water table (and doesn't match). After 2 summers, the fabric was so bleached and brittle, you can rip it with your fingernail. And it's super annoying they charge $20+shipping when I can get high quality rain umbrellas for $4.99.
Date published: 2019-05-13
Rated 5 out of 5
by
Polly W
from
Nice replacement umbrella
I purchased the umbrella to replace the original one with the set. It is a nice size pole to give the kids clearance while playing and provides a decent amount of shade when needed. I like that I can just leave it in the holder when not in use. It was also handy during recent rain storms to poke into my small vegetable planter to keep from having the onions over watered! This is a nice umbrella!
Date published: 2020-03-26
Rated 4 out of 5
by
Anonymous
from
Good umbrella
Fine umbrella but hole for it in water table makes it too short even at full length. Wish there was a plastic ring you could adjust so it would be able to stop where you want it and. It fall all the way to the ground. Otherwise it's easy to open and close and adjust length.
Date published: 2017-04-04
Rated 4 out of 5
by
handywoman
from
replacement of pool umbrella
Haven't opened it and won't until spring - First one was demolished in strong wind - my bad - did not fold it down prior to leaving on a trip. Use this on the pool we have for our dog. Everything is substantial and well-built. I'm sure it will be a perfect replacement!
Date published: 2018-01-20
Rated 4 out of 5
by
Anonymous
from
Exactly What We Needed
Fits perfectly in the sand and water table. Only drawback is it doesn't appear you can adjust in within the hole in the table to make it higher or lower, however, that can be easily remedied by sticking a cinder block or something else underneath it under the table.
Date published: 2016-12-29
Dies this fit with the gray farm table? 
I can't imagine how it wouldn't fit. I see it has a hole in the center of the table and they must have made all the holes to fit their accessories. I don't have the grey table but it fits loosely on mine so I can angle it any way needed based on the sun's direction.
Date published: 2020-03-29
Does this 42" Seaside umbrella fit the Cascading Cove sand & water table? If not, which replacement umbrella fits that table? Thank you.
Yes, the 42" Seaside Umbrella will fit the Cascading Cove Sand & Water Table.
Date published: 2019-07-10
Is this table compatible with the tropical rainforest water table? 
Yes, this umbrella is compatible with the Tropical Rainforest Water Table™.
Date published: 2019-04-24
Is the 42 INCH SEASIDE UMBRELLA compatible with the Play and Shade Patio set? Thanks in advance.
We have the rectangular set and it works fine, I see no reason it wouldn't work with the more square shape set as well, maybe even better.
Date published: 2019-03-07
Will this umbrella work with the Rain Showers Splash Pond water table?
Yes, the 42 inch Seaside Umbrella™ will work with the Rain Showers Splash Pond™.
Date published: 2019-03-28
Does this fit the day at the beach sand and water table?
No. The umbrella is too short and too small around to serve as a replacement for any of the Step2 sand and water tables.
Date published: 2018-03-27
What's the diameter of the pole? I would like to use with a custom picnic table but can't find the pole size listed in the specs anywhere.
When measured straight across the pole is 3/8 of an inch.
Date published: 2019-05-24
Is this compatible with the sit and play picnic table?
Yes, but it wasn't as large as the original umbrella. We bought this as a replacement. It does the job!
Date published: 2018-03-27