Adventure Lodge Play Center with Glider and Sandbox Combo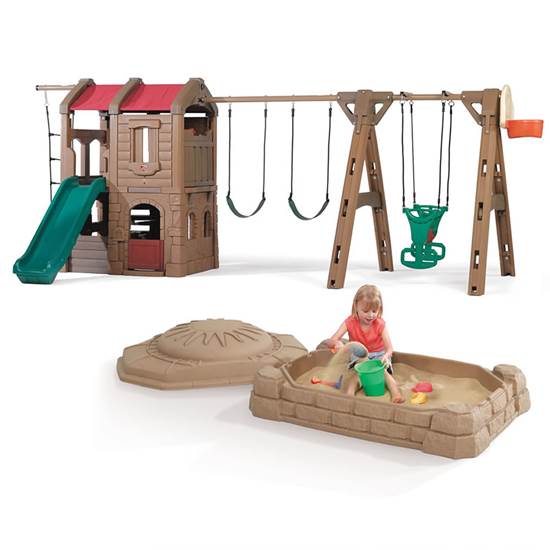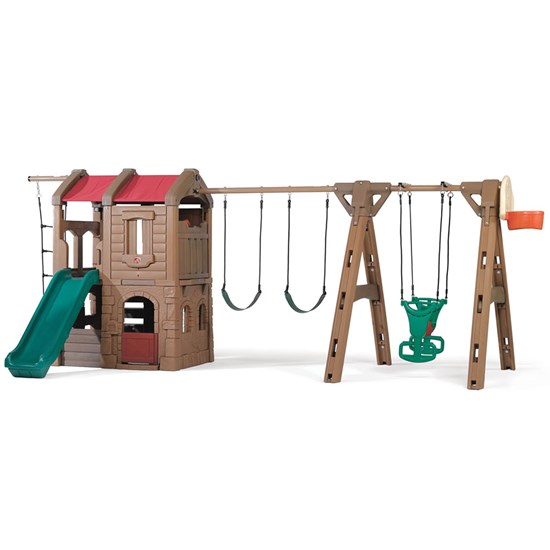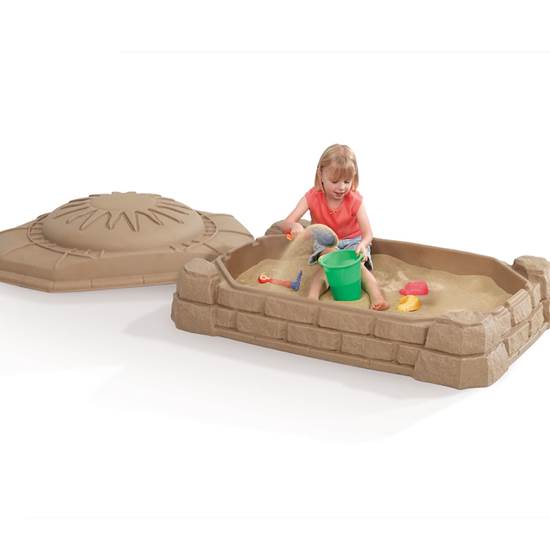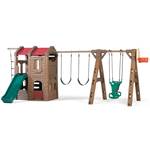 Adventure Lodge Play Center with Glider and Sandbox Combo
In stock
$1,174.98 $1,114.99
+ FREE Shipping! (via Truck) When will my item arrive?
With this swing set and sandbox combo, mini explorers will have plenty of different activities to choose from.
IS THIS A GIFT? DON'T SPOIL THE SURPRISE!
This item ships with an image of the product on its outer packaging.
Rated 4 out of 5
by
Anonymous
from
Some assembly required
Our toddler loves her new swing set and sandbox! It's great that it has so many different elements. It took many many hours to assemble though. The directions were not what they should have been, the pictures showing what to do were too close up so you can't see where they are talking about. No parts are labeled even though they have letters given in the directions. That would have been very helpful. So overall great product but better instructions could have saved my husband hours. Right now we have it facing west and it's getting too much sun in the afternoon making the slide too hot so we are needing to move it facing south. Something you might want to think about when figuring out if you have room for this in your yard as it is quite a large swing set.
Date published: 2012-08-29
Rated 5 out of 5
by
Anonymous
from
Easier to set up than I thought
After reading some reviews I though this would be hard to set up but it was easy. I put the lodge together by myself in 45 minutes very easy to do and I had never used a socket wrench before. My brother did the rest in 2 hours. Before I started I watched the videos on how to put it together which helped a lot to angle the pieces like the slide and the piece that goes under the slide to fit them in. I also took out all the screws and placed them in individual ziploc bags to make it easier to locate pieces.
Date published: 2012-04-22
Rated 5 out of 5
by
MomOf2!
from
Great SwingSet!
The swingset took two half days to complete by my husband and my father. They didn't complain too much, because I forewarned them of the time based upon other customer reviews. The swingset is extremely durable, but my only complaint is that my husband broke one of the anchors while hammering it into the ground. I called Step2 and they have already sent a replacement. We use this for a 3 year old and a (small) 5 year old. This is a fantastic product and we could not have made a better choice!
Date published: 2013-03-26
Rated 5 out of 5
by
Anonymous
from
Looks Great
I bought this item in the fall and will be keeping it packed up until this spring. So we haven't had a chance to play on it however I just wanted to comment now. Step 2 was a great website to buy from and the price was very cheap compared to other sites. They even offered free shipping. The product was even shipped very fast! I will buy from Step 2 again!!! Can't wait for spring to come now!
Date published: 2012-11-03
Rated 4 out of 5
by
Anonymous
from
I would absolutely recommend this product.
The product looks great, and is good quality for the money paid. The installation instructions were beyond thorough and super easy to follow. I had two pieces that were bent and did not connect properly. I did not want to wait for new pieces to come, and just used them anyway. Regardless, the set seems to be strong and well-built. I was incredibly impressed, overall.#sweepstakes
Date published: 2017-03-07
Rated 5 out of 5
by
Anonymous
from
Great play center
Everything about this play center is great. I have had this swing set for 5 years and my 2 kids 8 and 5 still love it and play on it much as possible.. It is also big enough for their friends to play as well.. It allows for imaginative play. The vynal covers on the ttop cone off easily and we will need to replace the ladder soon. Other than that it still looks new.. Great buy!
Date published: 2012-10-06
Rated 4 out of 5
by
Anonymous
from
Pretty good quality.
This is a great swing set with a couple disappointments. We have owned this swing set for three years and have had to replace the canopies over the playhouse twice and the glider once. Step 2 doesn't pay for those to be replaced you pay out of pocket for it all. I just ordered my third set of canopies today. Overall except for the few replacements it is a sturdy playset.
Date published: 2012-05-02
Rated 5 out of 5
by
MG
from
No need to go the playground now!
We bought this play yard for our soon to be 2 year old. Assembled it in about 5 hours total. Directions/Pictures could have been slightly easier but not bad at all. My daughter absolutely loves this. I am sure this will be used for years to come. I am extremely happy that we went with this set over a wood one. Shipping was free and extremely fast.
Date published: 2013-05-21
I have a 9 year old girl (tall but approx 54 lbs),6 year old girl (40 lbs) and 15 month old boy (24lb) would this be good for all 3? Or should I go with the big metal set that sams club currently has? I'd like something easy to move bc we plan to soon
Thank you
Date published: 2018-05-11
Hello ! can make the shipment of product towards argentina? Thanks 
Step2 Direct ships within the Contiguous United States only.
Date published: 2018-05-18
Can this be used at a preschool?
Yes, as long as you can anchor it into the ground. The anchors are included.
Date published: 2018-03-27
Does this set ship to Canada?
Unfortunately we do not ship directly to our Canadian consumers. A wide range of Step2 products are available at Amazon.ca, Costco.ca, Sears.ca, ToysRUs.ca, and Walmart.ca. Additionally, Step2 products are available at Toys-"R"-Us Canada, Target Canada, Costco Canada and Walmart Canada retail locations. You can also contact: Mini Circuit at 416-240-1988 Play Value Toys at 613-722-0175
Date published: 2018-03-27
When will this set be back in stock?
The Adventure Lodge Play Center with Glider and Sandbox Combo will be available again shortly. Please click on the "Notify Me" button on the right-hand side of the page to be notified when this item is back in stock.
Date published: 2018-03-27
How long is the slide?
The slide has a horizontal projection from the play house of 4'-6". It is about 4'-0" off the ground at the highest point. The end of the slide is roughly 0'-6" off the ground. The slide is fairly "steep", but not long enough to develop excess speed. My three year old daughter thoroughly enjoys sliding down and climbing up the slide.
Date published: 2018-05-10
How tall is the tallest point on this set?
The tallest point on this product is 7 feet four inches
Date published: 2018-03-27
How much weight will the glider hold?
My wife and I, both small adults, have swung on the glider with our 30 month old without it falling down. The most we have had on the glider is 175 pounds between me and the toddler. The glider seemed to hold up very well, I think I would be comfortable pushing it to 190 pounds and would have to see how it responds up to 200 pounds. I don't think I would go above 200 lbs. Keep in mind, that the intensity of the swinging is very mild. As you swing harder, I recommend reducing the weight at it imparts greater forces on all parts of the set.
Date published: 2018-03-27