Adventure Lodge Play Center with Glider and Sandbox Combo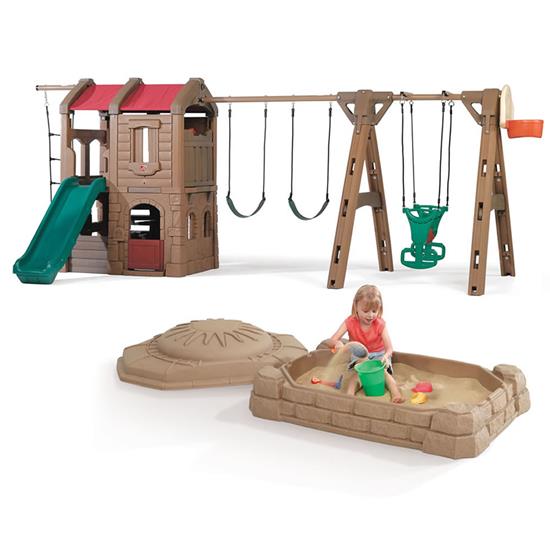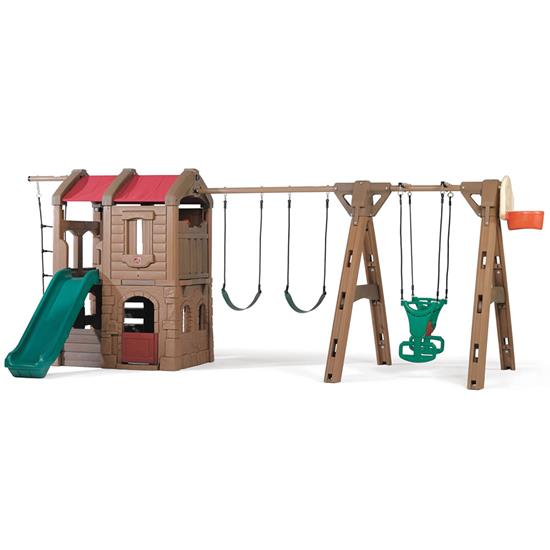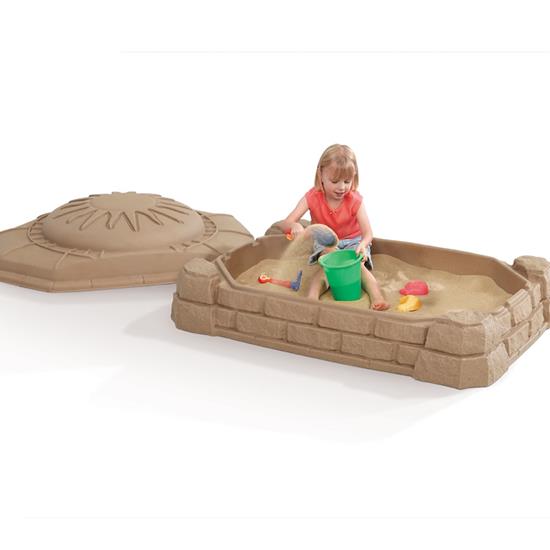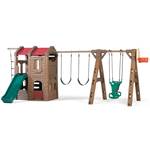 Adventure Lodge Play Center with Glider and Sandbox Combo
In stock
$1,169.98 $1,109.99
+ FREE Shipping! (via Truck) When will my item arrive?
With this swing set and sandbox combo, mini explorers will have plenty of different activities to choose from.
IS THIS A GIFT? DON'T SPOIL THE SURPRISE!
This item ships with an image of the product on its outer packaging.
Rated 5 out of 5
by
Robin the gramma
from
Love It!!!
My husband and I assembled this in about 5 1/2 hours not bad at all. The instructions were clear and easy to follow. Our Grandchildren are 5, 2, 1, and a 7 month old. Put baby swings on and they all love it. The neighbor kids love coming over to play on it too. Love it and would definitely recommend it over wooden swingsets.
Date published: 2013-05-01
Rated 5 out of 5
by
Reiner Chic
from
I would buy any step 2 product
The pipe that fits together between the swing and glider was way to tight fitting and we had real trouble with it. Other than that if you follow the directions step by step it is easy. Do not think you know what goes next without the directions because you will be doing it over. Great and safe product for your little one.
Date published: 2014-04-25
Rated 4 out of 5
by
Anonymous
from
I recommend this product
#sweepstakesGreat product. Very thorough, easy instructions. A couple of bent pieces that would not piece together properly. Altogether, a good looking, sturdy product that offers A LOT to do for the little ones.
Date published: 2017-03-13
Rated 5 out of 5
by
CuyahogaFalls
from
Good Product
This is a nice playset! Kids love it! There could be a little more head room in the castle part.
Date published: 2018-06-08
Rated 4 out of 5
by
Anonymous
from
Would Recommend
Kids (1.5 & 2.5) love this swingset. Seems sturdy enough to last a while.
Date published: 2015-05-24
Rated 5 out of 5
by
Anonymous
from
Great set; need better directions
Great swing set! A little harder than expected to put together.
Date published: 2012-10-03
Rated 4 out of 5
by
Ed Engineer
from
"Good set for toddler so far"
This is a fantastic swing set over all. We've only had it for a month or so. We'll see how it deals with the winter season through next summer... and the years to come. I imagine the plastic may discolor over time... but definitely wanted to stay away from a wood set b/c of the termites and carpenter bees in the temperate climate of Va Beach.This was not the easiest thing to assemble. I did it by myself -- it'd definitely be easier with a 2nd person. The instructions are not the best -- b&w and some tricky steps. I had to disassemble at several steps after doing something incorrectly, and I'm an engineer. Assembly took all day Saturday and a couple hours on Sunday to finish.Also, several of the ground anchors broke as I hammered them in with a sledgehammer (a regular hammer can't do it). Cheap metal composite. Need to get them replaced.My only critique so far on usage: the swing heights are not adjustable. Just one length of rope. Not chains like when we were kids. So right now my toddler cannot sit on the swings on his own (without being lifted). I wonder about the long-term durability of the ropes -- we shall see. I've seen from other comments that the canopy fabric will definitely rot (after a couple seasons?) -- I'll replace the canopy when that happens I suppose.My son, 3 1/2, can't get enough of it so far. He leans on the swings and swings on his belly right now. When he grows a bit more he'll be able to sit on the swings on his own. When his new brother grows older they'll be able to use the glider swing together. Right now my wife uses the glider swing with him.
Date published: 2012-10-19
I have a 9 year old girl (tall but approx 54 lbs),6 year old girl (40 lbs) and 15 month old boy (24lb) would this be good for all 3? Or should I go with the big metal set that sams club currently has? I'd like something easy to move bc we plan to soon
Thank you
Date published: 2018-05-11
Hello ! can make the shipment of product towards argentina? Thanks 
Step2 Direct ships within the Contiguous United States only.
Date published: 2018-05-18
Can this be used at a preschool?
Step2 climbers and swing sets are designed for backyard residential use. They are not designed to meet public playground standards. Please contact your local and state licensing agency for standards specific to your area.
Date published: 2018-03-27
Does this set ship to Canada?
Unfortunately we do not ship directly to our Canadian consumers. A wide range of Step2 products are available at Amazon.ca, Costco.ca, Sears.ca, ToysRUs.ca, and Walmart.ca. Additionally, Step2 products are available at Toys-"R"-Us Canada, Target Canada, Costco Canada and Walmart Canada retail locations. You can also contact: Mini Circuit at 416-240-1988 Play Value Toys at 613-722-0175
Date published: 2018-03-27
When will this set be back in stock?
The Adventure Lodge Play Center with Glider and Sandbox Combo will be available again shortly. Please click on the "Notify Me" button on the right-hand side of the page to be notified when this item is back in stock.
Date published: 2018-03-27
How long is the slide?
5 feet
Date published: 2018-03-27
How tall is the tallest point on this set?
It is about 8-10 feet. Taller than my husband but short enough that we can reach our jungle jane child when she climbs out onto the bar above the swing. Easy, Easy, Easy to assemble. My husband did 90% on his own. Easy to move, very light. Our child is 5 now and loves to play on it all the time. I don't like the seahorse, very unstable. We took it down and replaced it with a tire swing. She did a nose dive off it.
Date published: 2018-03-27
How much weight will the glider hold?
My daughter weights 135 and she plays with my son who is three on the slide
Date published: 2018-05-10