All Around Canopy Wagon™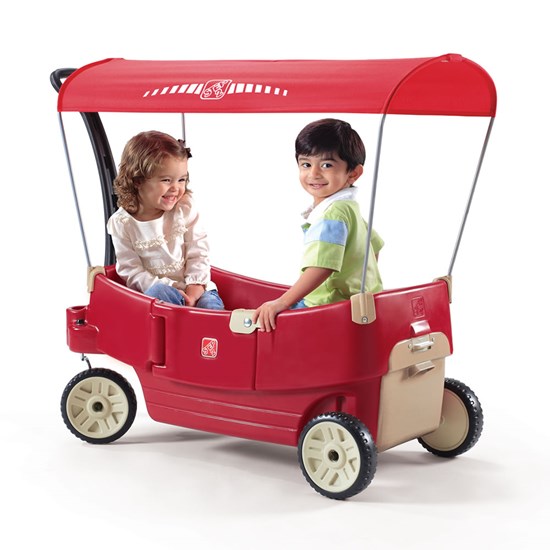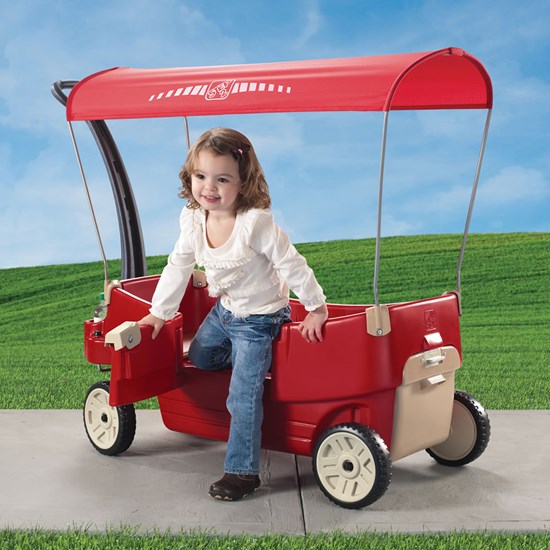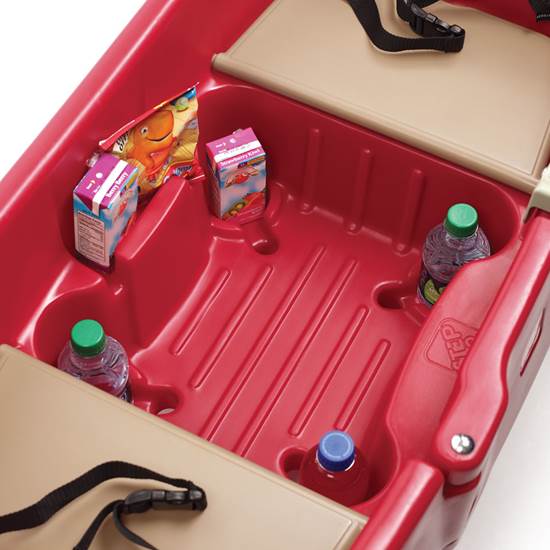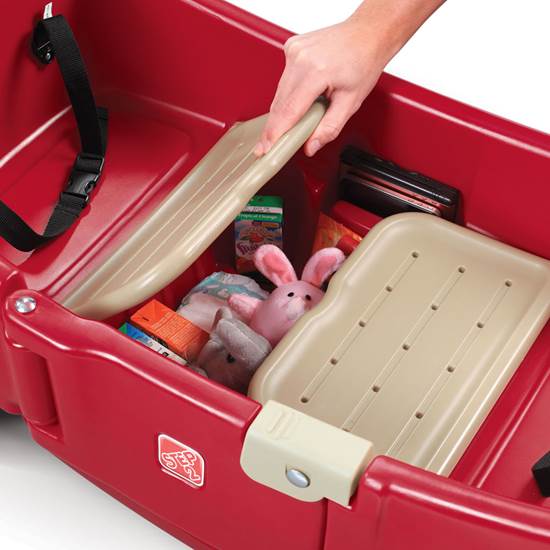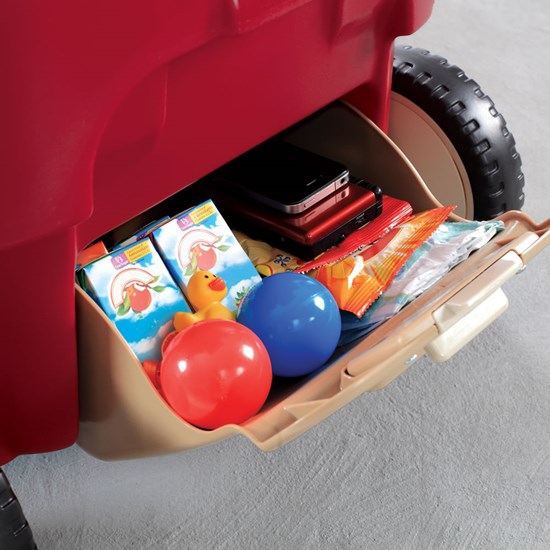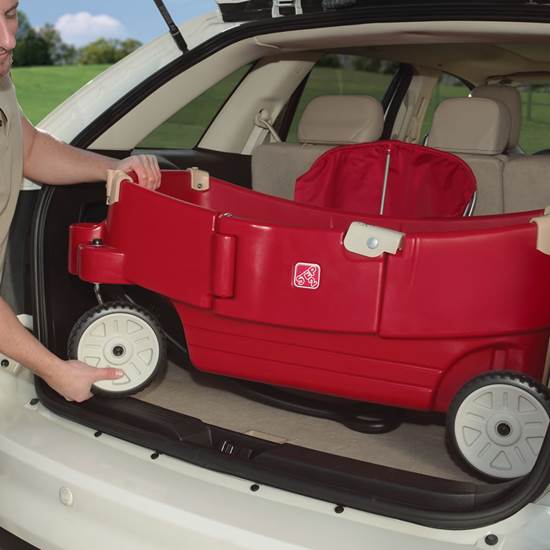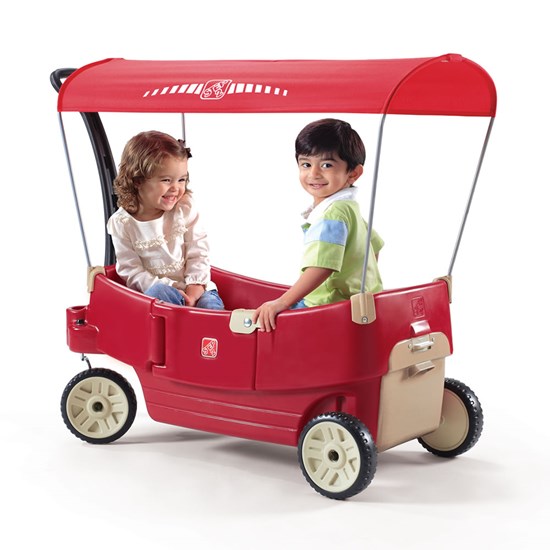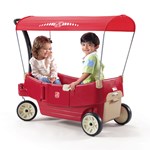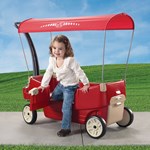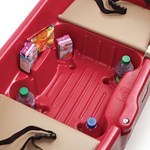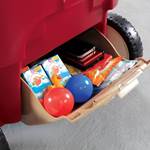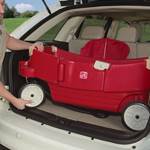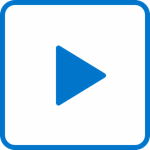 All Around Canopy Wagon™
In stock
$119.99 $109.99
+$12.99 shipping (via FedEx)
IS THIS A GIFT? DON'T SPOIL THE SURPRISE!
This item ships with an image of the product on its outer packaging.
Rated 5 out of 5
by
Anonymous
from
Nice
This was a gift I bought for my niece. I put it together myself in about an hour. The only thing I had difficulty with was sliding the axle into the molded plastic at the bottom of the wagon, which is meant to be tight I suppose, but it was almost deceiving because the plastic was not completely enclosed, as if you could just snap it in which, take it from me, doesn't work lol! And I'm glad I didn't try to force it because I would have damaged it beyond use. That was the only part of the instructions that was confusing to me. Canopy & compartment very nice. Has seatbelts & can flip seats to make a flat surface if needed. Love all the cupholders-inside & out.
Date published: 2016-06-20
Rated 2 out of 5
by
Anonymous
from
Worst directions I have ever read
The directions are very unclear on this wagon. The pictures are vague. The pieces aren't labeled very well and there are no words to describe what the picture is showing. My husband and I basically guessed how to put it together because the directions were terrible. Haven't used it yet but hopefully our experience will be better using it than reading the directions and putting it together. Very frustrating.
Date published: 2016-12-24
Rated 5 out of 5
by
Michael
from
My Daughter Loves It!
This product is very well designed! It does not feel like it is going to break or that the company tried to use the absolute cheapest parts. My daughter has such a great time riding in it. All of the cup holders and the snack pocket in the back are very convenient. We had one piece missing in our kit but I called the customer service and talked with Sandy. She was very kind and knowledgeable on my product and shipped the part to me. I am very impressed with this company. Only thing I would suggest would be for them to add an assembly video to their website to make the instructions crystal clear.
Date published: 2019-07-25
Rated 5 out of 5
by
mbernett
from
We Love Our Wagon
We love our wagon! We have two children who are now 3 and 1.5. Our eldest was gifted this from her grandparents for her 1st birthday and we get so much use out of it. The shade cover is awesome for events such as the town festival or the zoo. We love the storage space in the back compartment. We are able to put wipes, diapers, change of clothes, phones, keys and sunscreen in it so we can leave the diaper bag in the car. Last year we left our wagon unattended and it was stolen. We were so disappointed that we bought a new one the next week.
Date published: 2019-06-19
Rated 4 out of 5
by
Haridecisis
from
Solid quality & nice features
I love this wagon and so does my child, but I did have some difficulty with the assembly instructions. They were a little tough to decipher, as they have no words and the images are photos, not drawings. I think drawings would have been easier to interpret, as the photos are dark. Also, the trunk seems a little crooked, but it closes okay, so I'm not worried about it. My child likes getting in and out of it, and it's a pretty smooth ride. I like the parent cupholders and love the storage space. Fits well in my car. I would buy this again.
Date published: 2015-12-28
Rated 5 out of 5
by
StephS38
from
Wonderful wagon
First I need to thank Step 2 for giving us the opportunity to become a toy tester and test this wagon. My 5 yrs old daughter and 8 mo old son ride in this wagon and love it. I love how you can strap the kids in, the cup holders, the compartment at the bottom where my phone and keys can go, and how you can make it a flatbed with additional storage underneath. I also love the height of the handle so there is any awkward bending over to pull hem along. It is a wonderful wagon I would recommend to everyone. We can't wait to continue using this all the time. Thank you again Step 2.
Date published: 2015-09-23
Rated 4 out of 5
by
Camila
from
We love the Wagon!
My son loves his car!! the door is very convenient and the seat belts are strongly placed so my child is safely tucked in as I pull him around. Wheels are strong and the compartment in the front is very convenient to store things away. The only downside is the canopy, here in Miami we have a lot of wind and when the wind is strong enough, the parts that hold the canopy up pull it up and cause it to fall apart. It only happens during very windy days, though. I highly recommend this wagon.
Date published: 2016-09-16
Rated 2 out of 5
by
One Tot
from
Ehhhhh....Not what I was hoping.
We were very excited that our son's grandparents were buying him a wagon. They wanted to purchase a popular competitors wagon, but we talked them into the Step 2 trying to stay made in USA. We are regretting this decision. We had high hopes and feel the wagon has been a let down. We are tall people and the biggest problem is the handle. It is too short and so it is difficult to pull. We use it mostly for the zoo and walks around the neighborhood. I assembled it a couple weeks ago after it sat in the box through our long winter. Assembly took me 2 hours and I have a degree in furniture design. The parts seem cheap and now one of the back wheels is squeaking after not much use. I looked into returning the wagon, but I believe there is a 20% restocking fee, plus the shipping, it just wasn't worth it. Super bummed that we don't enjoy pulling our toddler around. One good thing I can say was that when we ordered it the customer service rep was very pleasant.
Date published: 2014-08-04
Sunroof broken.. can 1 have new one??
I'm not sure. I would contact step2 and ask them.
Date published: 2021-04-30
Hi do you do international shipping to Australia. I would like to buy a canopy wagon but the Australian stockist is out of stock. 
Thank you for your interest in Step2 products. Step2 Direct ships within the Contiguous United States only.
Date published: 2020-08-06
Can this wagon go over rocks and gravel easily?
Yes it can! It just makes for a bumpy ride!
Date published: 2020-07-23
Is there an English Instruction Manual? 
You can find an English instruction manual on Step2.com, under the "Assembly" tab.
Date published: 2020-06-16
Just got my replacement canopy, but the poles on the old one are stuck in the wagon, any advice to get them out?
Please contact our Consumer Specialist Staff at 1-800-347-8372, Monday through Friday, 8am-5PM Eastern Standard Time for assistance.
Date published: 2019-10-03
Should there be holes in the wagon to secure the canopy clips? Otherwise, you are just screwing right into the wagon...Thanks.
Please contact our Consumer Service Specialists at 1-800-347-8372 Monday through Friday, 8AM -5PM Eastern Standard Time and we will be happy to help you.
Date published: 2018-08-06
I have purchased the step 2 all around wagon, and am wondering if I can purchase the canopy separately, as an add-on. Please advise 
Please contact our Consumer Service Specialists at step2-company@step2.net or 1-800-347-8372 Monday through Friday, 8AM -5PM Eastern Standard Time and we will be happy to help you.
Date published: 2020-04-25
Can you use the handle to push the wagon instead of pulling?
The All Around Canopy Wagon-Red™ is designed to be pulled.
Date published: 2018-05-10