All Around Easel for Two™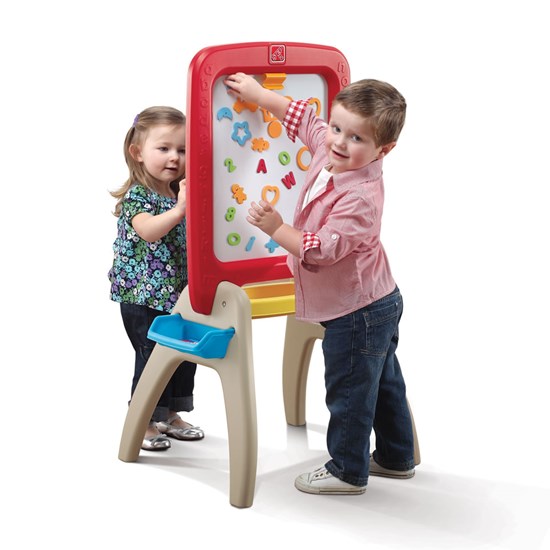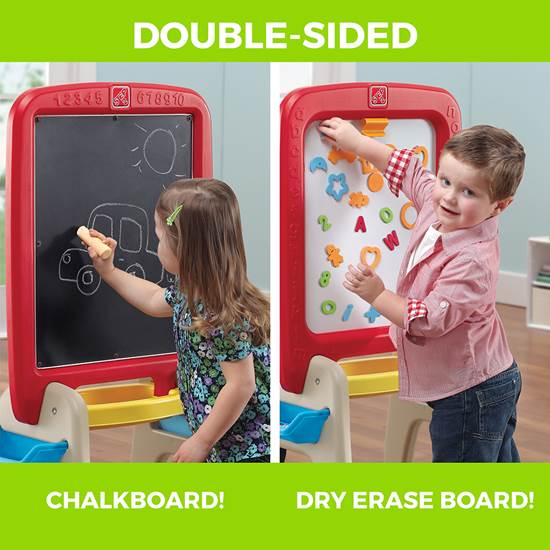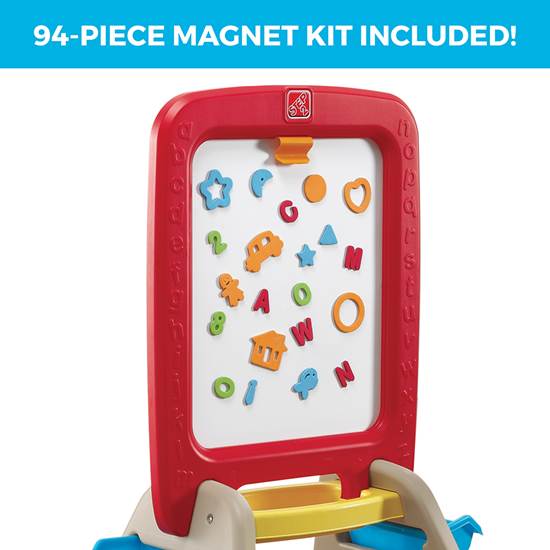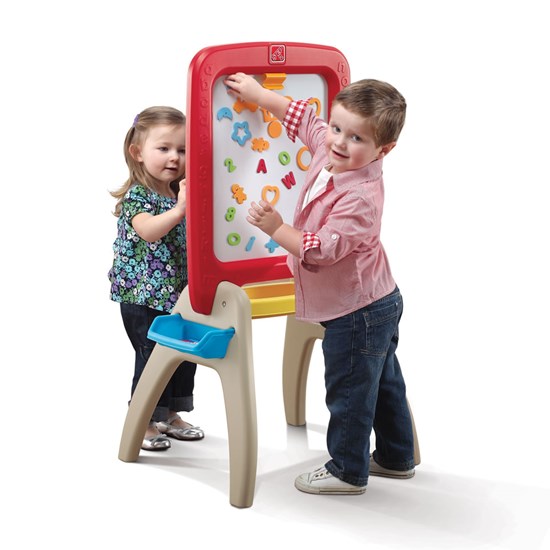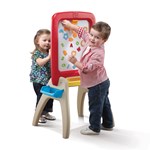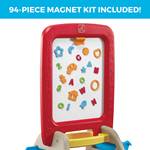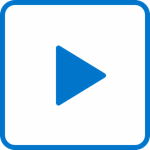 All Around Easel for Two™
In stock
$54.99 $49.99
+$5.99 shipping (via FedEx)
IS THIS A GIFT? DON'T SPOIL THE SURPRISE!
This item ships with an image of the product on its outer packaging.
Rated 4 out of 5
by
shopwithmemama
from
My Kids Love This!
This is a great and entertaining easel for your kids. My kids are 6 and 4 and they use this easel all the time. We love that it has a front and back that can be used at the same time (no fighting from the kids!). It was very easy to put together and is sturdy and strong feeling. If I have to move it around, it is light enough to do so, from room to room. It did not come with chalk, as it has a chalk board, so that was the only thing I would have to say I did not like. Otherwise, it has cute magnets and fun things for the magnetic side of the board and my kids love using both sides!I received this product to review, all opinions are my own.
Date published: 2012-10-11
Rated 5 out of 5
by
Anonymous
from
fun and educational gift for a child
As a homeschool mom, I'm always on the lookout for items that can be used time and time again, in new and creative ways, and this writing, drawing and playing easel from Step 2 is perfect!Now, with the two sides both available for play, a big and little brother can both have a "piece" of Easel. very sturdy. The Easel is simple to clean, with smooth plastic and storage bins that come off to clean as well. It is lightweight and can be moved from one room to another for use easily.A nice addition to a childs room or toyroom.I am a Step2 Review Mom and I received this easel for review.
Date published: 2012-12-13
Rated 4 out of 5
by
Susan
from
Our granddaughter loves it
Our 18 month old granddaughter loves this chalkboard and also the magnet board side. Have not introduced her to dry erase markers yet due to her age. Very easy to assemble. A word of caution. I picked it up by the chalkboard to move the hole thing and it fell apart entirely. The pieces slip together but do not lock. Makes for easier storage I guess. Just wish the parts locked somewhat into place.
Date published: 2018-06-17
Rated 5 out of 5
by
Mrodriguez0426
from
Amazing Easel
Bought this Step2 All Around Easel for Two for my nieces who are 2 and 4 and I cannot express how thankful I am to Step2. The easel is perfect for them because it allows them to learn to share while learning at the same time. The easel comes with two sides, one for chalk and the other side is magnetic/dry erase, perfect to teach them to count and their ABCs. Using this easel has definitely helped them with their motor skills. The easily removable trays makes cleaning a breeze. The easel comes with a 94 piece foam/magnet letters and symbols, very good for teaching and sharing. The easel is made with great quality materials and the design and functionality is just perfect for children of all ages. Highly recommend it.
Date published: 2020-03-21
Rated 5 out of 5
by
Nona 2 six
from
Great alternative to the Computer for 3 year old!!
Sent this to my grandson for his 3rd Birthday. He loves it that he can use whiteboard markers and magnets on one side and it has a chalk board in the other side that he can "chalk" and ERASE!! Nice to have the trays on the ends for the chalk and markers, too!
Date published: 2019-02-25
Rated 4 out of 5
by
Anonymous
from
recommend this sturdy easel
After checking numerous reviews I purchased this for my children, ages 3 & 5. It may look a bit little tike"ish" for an older child but it is very sturdy.My husband used a hammer to get it in place; it won't be going anywhere. It is not compact, but doesn't take up much space (we have a small house).My children love to draw and this saves paper.The magnets include a lot of smaller pieces that could be a choking hazard to an infant.
Date published: 2013-12-30
Rated 1 out of 5
by
Kennedy
from
Very hard to assemble
The tray that goes in middle doesn't snap in like it says then if you push down on the easel part the whole thing collapsed.
Date published: 2019-08-21
Rated 5 out of 5
by
Anonymous
from
A great toy for kids
I encourage creativity in my kids whenever possible. This easel is perfect for that. Whether the kids want to draw, color, practice writing, tracing or playing school they can. I love the chalk on one side and the dry erase on the other side. Plus the dry erase side has a magnetic board. My girls love to play with the magnetic foam pieces. They like to make shapes and practice copying the repeat the shape the other makes.
Date published: 2012-09-20
Hi so it does cones wit any supplies
This does come with a 94-piece soft foam magnet set.
Date published: 2021-01-19
Can I buy the letters separately? My husband has misplaced them.
I would assume any magnetic letters, numbers etc. would work fine. 
Date published: 2020-11-03
Has anyone purchased easel paper for this product? If so, what size and where did you purchase it? Thanks.
I just ordered Melissa & Doug Easel Paper Pad (Top-Bound Pad, Premium White Bond Paper, 2-Pack with 50 Sheets, 17 × 20 inches from Amazon. Hope it fits
Date published: 2019-12-16
What are dimensions of the whiteboard, if looking for sketch paper to clip in that's about the same size?
The whiteboard of the All Around Easel for Two is 22" in Height X 20 inches in Width.
Date published: 2019-11-27
Hello, Where can I buy a missing piece for easel? My easel's screws on both side missing. My kids loves this easel. Where can I buy this from? 
Contact step2 customer service. They can send the missing parts and probably won't even charge you.
Date published: 2019-09-28
Hello, my white board side of the easel is detaching from the back side. It is making noise when my child draws on it. Is there anyway to fix this? 
Please contact our Consumer Specialist Staff at 1-800-347-8372, Monday through Friday, 8am-5PM Eastern Standard Time for assistance.
Date published: 2019-08-21
Is this heavy metal, pthalate, pvc free?
Step2 products are third party tested and are compliant to the CPSIA phthalate and heavy metal requirements per ASTM F-963 Toy Safety Standards as well as EN71 - Part 2 and 3 for UK chemical requirements. Our products do not have vinyl, pvc or bpa
Date published: 2019-05-13
Is there a way to disassemble it?
Yes it is very easy. Most pieces snap into place and you can snap it out of place just as easily.
Date published: 2019-02-27