All Around Wagon™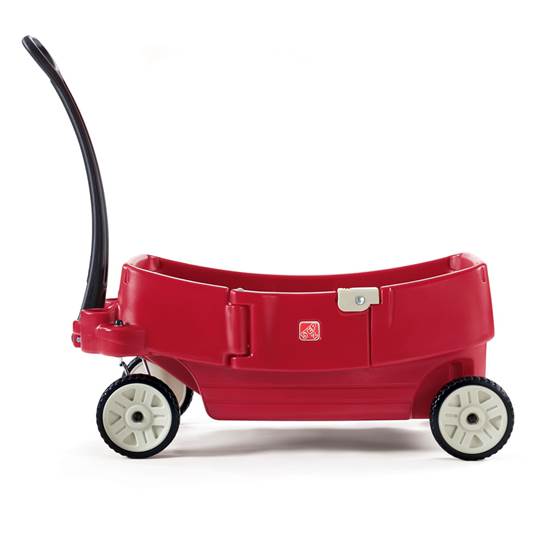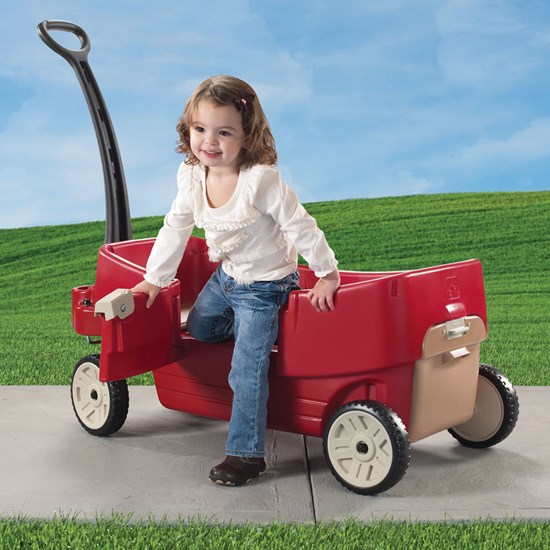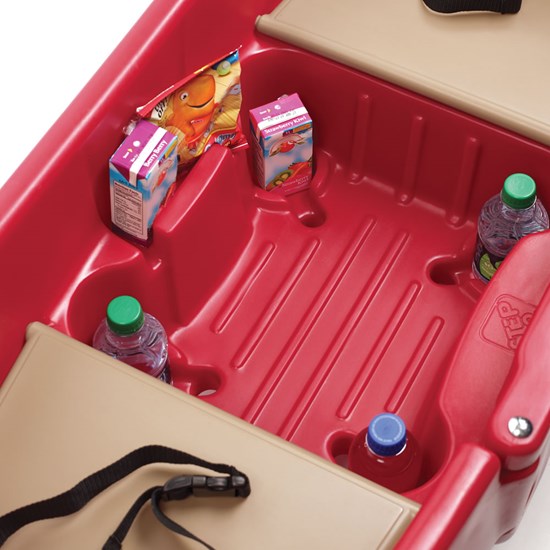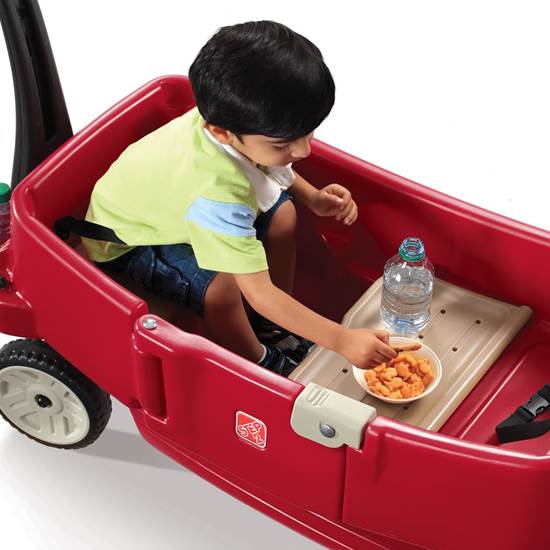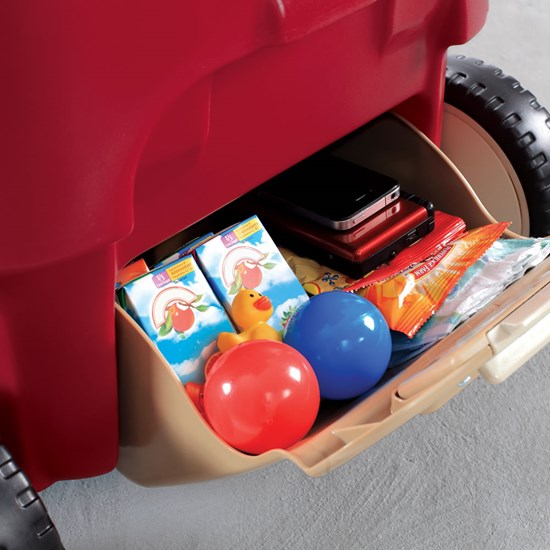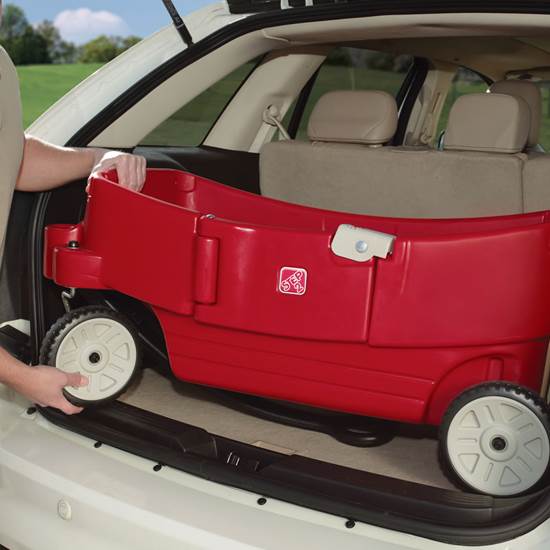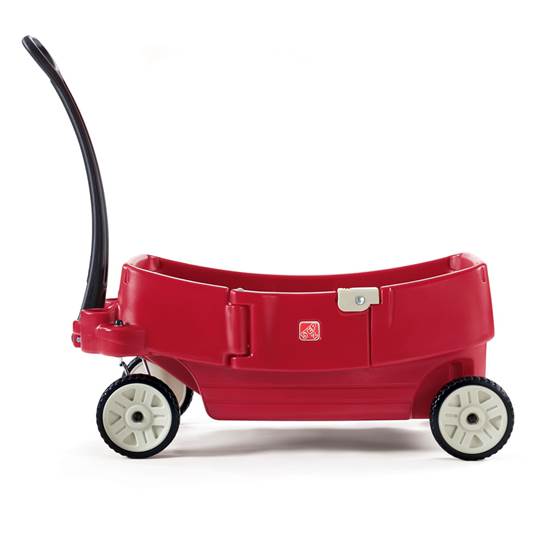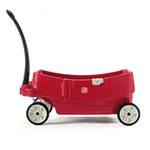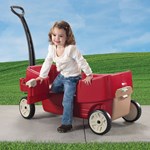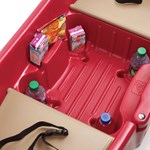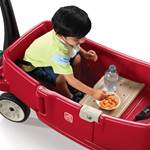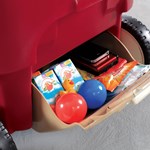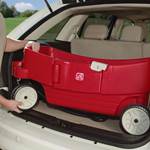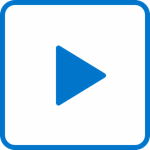 All Around Wagon™
In stock
$104.99 $99.99
+$12.99 shipping (via FedEx)
IS THIS A GIFT? DON'T SPOIL THE SURPRISE!
This item ships with an image of the product on its outer packaging.
Rated 1 out of 5
by
Abby
from
NOT Easy to Assemble!!!!
First off, we had to go to a hardware store to buy tools to assemble this wagon. There were 4 tools total needed. Second, the instructions consist of only pictures, no descriptions whatsoever. Third, be prepared to use a ton of elbow grease, as you have to physically force all of the pieces in place, using two people, and a hammer. Fourth, there is no way for a person to put this together alone. A minimum of 2 STRONG and patient people are needed in order to assemble this wagon. I see no reason for this not to come assembled. This took us entirely too long to complete, and we have been putting together toys for ages. Our advice: BUY ONE USED!
Date published: 2014-11-30
Rated 5 out of 5
by
Anonymous
from
Assembly Instrux needs WORDS!
Difficult to assemble probably isn't the right way to put it, because it was pretty easy to assemble, once I figured out how to interpret the instructions. The instructions were basically black-and-white pictures with arrows pointing to parts of the wagon. So while assembling this wagon wasn't terribly difficult, figuring out what the directions were trying to tell me was. That said, the wagon works great, and my 1 year old daughter and her cousins absolutely love riding in it.
Date published: 2013-04-29
Rated 5 out of 5
by
M&M Mommy
from
Great wagon, Very sturdy
We received this item as a gift for my 1 yr olds birthday from my mother in March. We have very many trips out with it, using it for my 1 yr old & 3 yr old & love it. We love it so much, we got rid of our double stroller. It's very easy to move & the door is a fun convience for the kids to get in & out. The storage seat is great for keys, wipes, a couple diapers, and a couple of snacks to get you through your trip. My oldest (9 yrs) & our neighbor's kids have played hard with this & is has survived where other toys have not as they are really rough. The only thing I cannot comment on was the assembly as my mother assbeled it for us. Over all a great product that we will enjoy for years to come.
Date published: 2016-09-21
Rated 5 out of 5
by
Anonymous
from
Best wagon, so happy we picked this one!
This is the best wagon we have ever had! My daughter loves the built in cupholders, and I love the extra storage space under the wagon. The seats can fold flat, so the wagon can be used for so many different purposes. My daughter is 2, and will definitely be able to use her wagon for many years. The plastic is high quality, and the wheels are very sturdy. You can also add a canopy for extra shade- which will be helpful during our hot florida summers. I will be recommending this wagon to all of my friends.
Date published: 2016-09-06
Rated 2 out of 5
by
Cares about quality
from
Very poor engineering and instructions
This item is easy to put together once you figure out the incompetently made pictures and figure out the materials in the plastic bags. That is, of course, after you get the .Pdf file because the manufacturer is too cheap to put a piece of paper with instructions in the box that has written directions and pictures. The steps for putting the rear axle together are not explained well, but do it you place a lock nut/washer (j) in the l piece and pound it d, the axle itself into (j). These items are nice to look at, and I hope they have fun, but seatbelts? Are you serious? I refuse to put seatbelts in a wagon, if a child falls out it is a part of childhood, if you fear for your child wrap them up in bubble wrap before putting them in the wagon. I still have a metal wagon from years ago and it still works and is easier to put together than this. I hope the wagon will last for many years. I doubt it.
Date published: 2017-11-03
Rated 5 out of 5
by
Anonymous
from
Great Product.
I bought this when my daughter was two, to move away from the coach. She is 4 1/2 now and dealing with ASD. This product has been constantly used for 2 1/2 years and appears to have many more to go. With her autism, she has been completely safe. So much easier to care for her and all the items she requires, when we are on the go, versus the coach. She absolutely loves this wagon. I would purchase this again.
Date published: 2016-07-13
Rated 4 out of 5
by
Kcs_mommy
from
Good Wagon, unintelligible Instructions!
My six year old son got this wagon as a gift for his 6th Birthday (In June 2012) he is a SMALL 6yr old, but this wagon is already almost too small for him; when he sits in it his knees almost go to his chin. My age suggestion for this would be 1-4 maybe 5 or 6 if your children are small. This wagon will probably only last about a year (if even that) and then he will be way to big for it. So I would suggest this for wagon for children 4/5 and under.Other than the wagon being almost too small for my son absolutely LOVES it. He loves putting his stuffed animals in it and wheeling them around. He also likes to pull his little cousins around in it too.The worst part about this wagon was putting it together! I have put hundreds of things together and this was the biggest nightmare of anything I had ever put together. The wagon itself goes together easy enough, once you can understand the pathetic excuse for directions/instructions they have. I think my son is right when he calls them constructions because the directions/instructions are just black and white dark pictures with letters and numbers and arrows pointing at stuff, there is no wording to go with them (other than repeat steps 24 and 25). My son helped me put the wagon together but the pictures are very confusing and we accidentally put the front wheels on backwards, and had to take it to [@] so they could remove the wheels for us so we could put them on right, and we had problem getting the back shelf thing on too and had to remove another of the wheel caps to get it on. Then we ended up short on wheel caps and had to order some more. So just be very careful when putting on the wheels because once those caps are on, they don't come off!!
Date published: 2012-07-18
Rated 5 out of 5
by
Carrie with Children
from
Our New Favorite Mode of Transportation
My girls, ages 2 and 4 have fallen in love with this wagon. My oldest especially loves it because it's pink! My youngest has Down syndrome and the side door has made it much easier for her to get in and out of the wagon on her own. It's easy to steer and I love all the extra storage and cup holders.Thank you to Step2 for letting me test drive this item as part of the Step2 Test Drive Blogger program.
Date published: 2013-04-16
Does the step2 wagon roll good on sand at the beach? 
We take it to the beach every year. As long as you don't overload it, you can roll it by lifting up on the handle a bit so the front wheels don't dig in and turn sideways. With most of the weight shifted to the rear wheels it goes pretty well.
Date published: 2020-06-10
Can you add a trailer to back of wagon?, I have a caboose that can attach to a wagon. Which wagon do you suggest that can have attachment added?
We off the Choo Choo Train™ Combo, this is the only current wagon that may have an attachment (Choo Choo Trailer™) added onto . Please view the following link : https://www.step2.com/p/complete-choo-choo-train-combo-usa-edition
Date published: 2019-04-03
Where could I possibly purchase a replacement door latch. Thank you
Please contact our Consumer Service Specialists at 1-800-347-8372 Monday through Friday, 8AM -5PM Eastern Standard Time and we will be happy to help you.
Date published: 2018-12-03
I got this wagon without the canopy, but I would really love it if it came with and its final sale. Incas wondering if the canopy be bought seperatly and still be able to get attached to the wagon?
We now offer replacement parts online, please view the following link:https://www.step2.com/parts/p/all-around-canopy-wagon Here you will find the hardware and canopy for the All Around Canopy Wagon™.
Date published: 2018-05-21
Is this wagon quiet when pulled or does it makes noise on concrete?
The All Around Wagon™ features Whisper Wheels™ and is quieter than most wagons.
Date published: 2018-04-17
Is it possible to purchase replacement parts for your wagons ??
We do offer replacement parts for our current wagons. Please view the following link to order online : https://www.step2.com/parts/c/kids-toys/ride-ons-wagons/ Or you may also contact our Consumer Service Specialists at 1-800-347-8372 Monday through Friday, 8AM -5PM Eastern Standard Time and we will be happy to help you.
Date published: 2018-03-26
Is there a canopy sold seperate for this wagon?!
We do offer a canopy separately from the All Around Wagon™. Please contact our Consumer Service Specialists at 1-800-347-8372 Monday through Friday, 8AM -5PM Eastern Standard Time and we will be happy to help you.
Date published: 2019-05-07
Where does the safety strap with the red end go? It looks like it fastens on a seat belt and has a loop at the end of it. I'm just curious if it supposed to go somewhere
Please call toll free 1-800-347-8372 Monday - Friday, from 8-5 ET and we will be happy to assist you further with this request.
Date published: 2018-03-27