All-Star Sports Climber™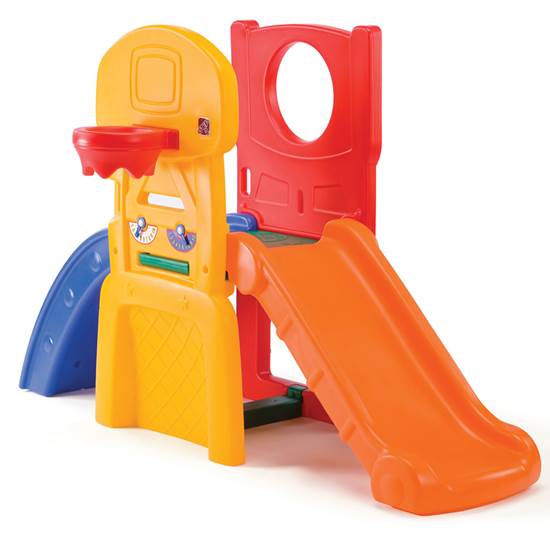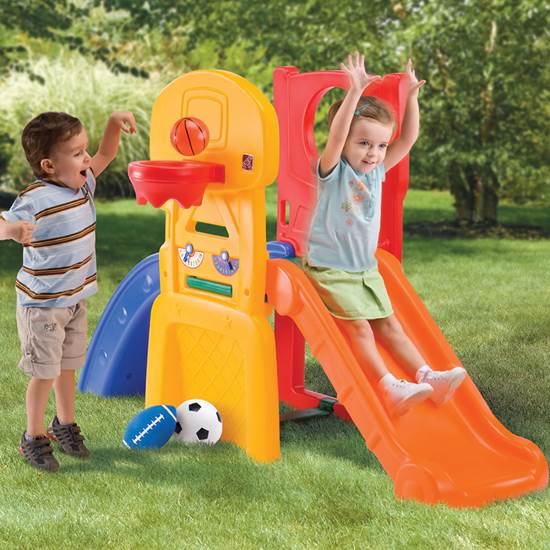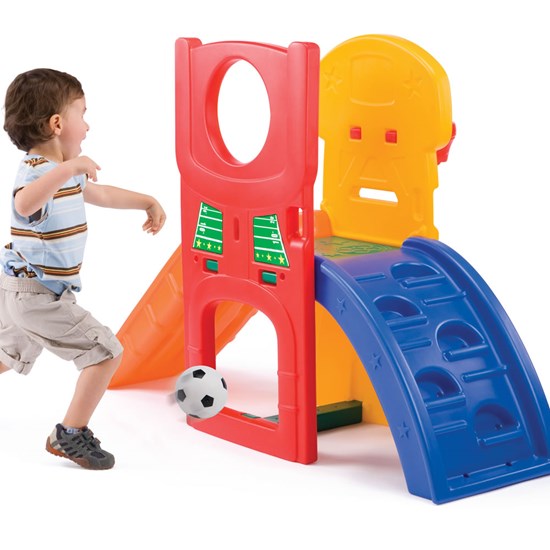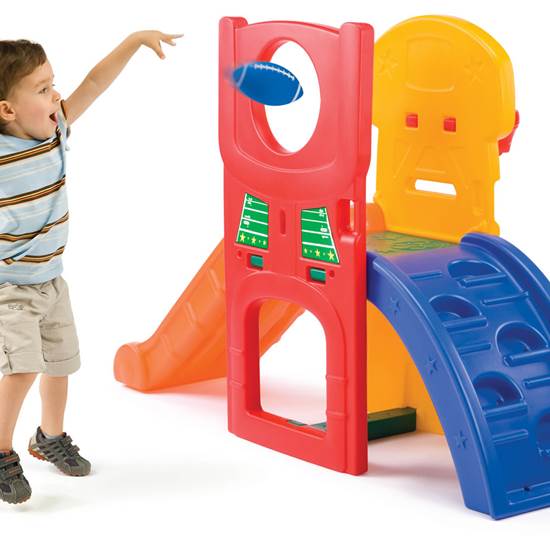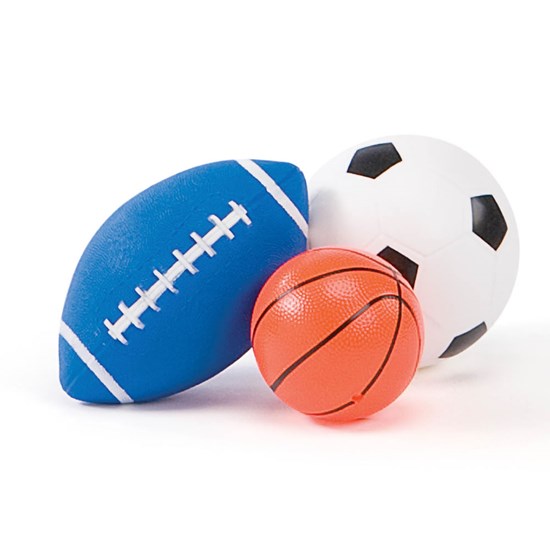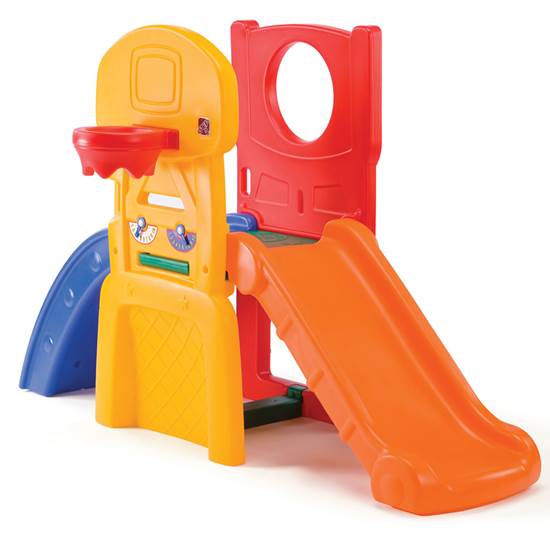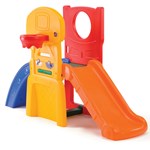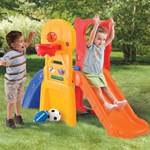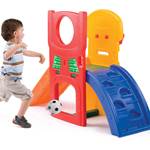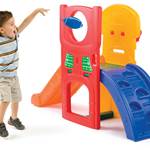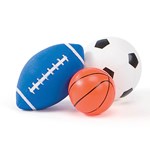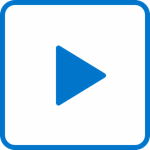 All-Star Sports Climber™
In stock
$106.99
+$12.99 shipping (via FedEx)
IS THIS A GIFT? DON'T SPOIL THE SURPRISE!
This item ships with an image of the product on its outer packaging.
Rated 4 out of 5
by
Happy Auntie
from
Loved it:)
Purchased for my nephew for his birthday. He is only 1 years old, but he is already enjoying it. WITH ASSISTANCE he was able to climb the steps and go down the slide. A great toy to play together on. He also loved playing with the balls that came with it! Im hoping he will continue to love it as he grows! I was very pleased with how easy it was to put together and how sturdy it was. There is a large hole at the top, so even as he grows older, this is a toy that he will need to be closely monitored on, but that is okay, because it will be wonderful toy to play together on, inside or outside)
Date published: 2011-04-26
Rated 5 out of 5
by
Nathan's SAHM
from
We love it!
We love this climber and so does our 13 mo old! When he figured out he could climb on things around our home we decided it was time to purchase something he could safely climb on. It took him an afternoon to figure out how to climb up and a little longer to work up the nerve to slide down by himself. He now does the whole process on his own and loves it! He can just reach the basketball hoop and really likes that. We have it in his room right now, but plan on moving it outside when the weather gets nicer. I have no complaints about this climber. I put it together mostly by myself - just needed a little husband muscle. We're very happy with it. A great buy!
Date published: 2009-01-08
Rated 5 out of 5
by
kalexander
from
Perfect for a little explorer!
We bought this for our (then) 9 month old who seemed to have a serious climbing bug. After a few days, he was climbing up and sliding down all by himself. It was so neat to see how quickly his skills improved and how proud he was of himself. It was super easy to assemble and has such awesome features. Our little guy also loves to roll, throw and kick balls, so the football, basketball and soccer ball were great additions. He just turned one, and it is still one of his favorite toys. I would highly recommend this to any parent with a little explorer.
Date published: 2019-08-07
Rated 5 out of 5
by
ALF
from
This was an excellent choice.
The sports climber was a perfect choice of gift for my grandson's 2nd birthday. His Dad had absolutely NO problem assemblying it. So far my grandson is using it indoors, but it will be used outdoors when the weather is warmer. He absolutely loves the various activities on it. He especially loves the climbing and the slide, which is very safe. He enjoys throwing the ball into the hoop too. I must say that it keeps him active and well occupied for a long time considering his age. Also, he seems to love playing in the box with his dad. NO WASTE! I highly recommend the 2 Step Sports Climber as a great toy for young children.
Date published: 2009-03-15
Rated 1 out of 5
by
Anonymous
from
Disappointed
I have several Step 2 toys and climbers and chose this item for my youngest Grandson based on the quality I thought their products had. However I am very disappointed in the design and flimsy nature of this climber. It can easily be tipped over by a child under 2 years simply by rocking on the platform. I will have to purchase something else and don't know what to do with this one as I can't even give it away with a clear conscience. I think Step 2 needs to re-evaluate the design and safety of this product
Date published: 2008-04-15
Rated 4 out of 5
by
ksmom
from
All-Star Sports Climber
My 19 month-old son and son's friend love it. Love that it has different activities.He likes climbing, sliding, scoring balls in the basketball hook and hiding underneath the climber. Encourages play groups, imagination and physical activities. Enhances gross motor skills. The only criticism is the basketball hook. I wish it was a little bigger so all balls could fit. Also, make sure that you snap in the hook to the wall very well, otherwise it'll be loose and can fall on your child's head. For that, you need to position the all-stars climber horizontally and snap the hook in the yellow wall.
Date published: 2011-04-18
Rated 4 out of 5
by
Mama Grace
from
sturdy and fun
We bought this for our almost 18-month-old daughter. She has been playing with it since the first day we assembled it. Especially when winter and raining season is coming, it's good to know that she can play indoors with this safely and happily. As a petite woman, I found it needed too much strenth to assemble it, and I had to ask my hubby to help me step on it or push it. Other than that, it was easy to assemble the parts. One little complaint: How come the basketball is so much smaller than the soccor ball? The soccor ball is too big in proportion and cannot go through the basketball hoop.
Date published: 2009-10-12
Rated 5 out of 5
by
Anonymous
from
Great for Twins
My 14 month old twin boys love this climber. It took them a few weeks to figure out how to climb up and then sit down on the slide. At first they liked climbing and standing at the top, not realizing they couldn't just walk off. Now they climb and slide over and over again. It tires them out for those days we need to spend indoors. They also like to crawl through the soccer spot and throw things through the basket. Well worth the money. Only con was assembly, I had to really "muscle" the slide and climber wall in. I'm sure it would have been much easier for my husband.
Date published: 2009-03-20
Can the basketball hoop be lowered?
The hoop to the All Star Sports Climber™ is not adjustable.
Date published: 2020-08-07
Can I purchase just the balls? Dog popped the original balls for the climber set I purchased
Yes - Replacement parts and decals can be ordered by calling our Customer Service team at 1-800-347-8372, Monday - Friday, 9:00 am - 3:00 pm EST. Please have your product close by during your call so that we may quickly assist you to answer your question, find a resolution and or provide product or part pricing and lead-time(s). Various replacement parts and decals can now be ordered on line. Check our website at www.Step2.com and refer to the replacement part section located at the bottom of the website page and shop parts by category or look up your product(s) pertinent replacement part choices.
Date published: 2021-06-10
How do i get replacement parts?
You can call The toll free number 1-800-347-8372 for replacement parts 
Date published: 2020-07-16
Are the two football field and two scorekeeper stickers available for replacement ? 
You can find replacement parts available for sale on Step2.com, or contact our Consumer Services team at 1-800-347-8372 Monday - Friday, from 9-3 ET and we will be happy to assist you further with this request.
Date published: 2021-07-04
I dont see any where for the screws to go any pictures?
It doesnt require screws
Date published: 2019-12-27
What's the footprint dimension after assembly?
Once set up, the All-Star Sports Climber™ the dimensions are 43.00 in Height X 63.00 inches in Width X 30.00 inches in Depth.
Date published: 2020-10-02
Once assembled can this be disassembled and still go back together properly?
The All-Star Sports Climber™ may be disassembled and reassembled with caution to not enlarge the holes where the screws attach.
Date published: 2019-06-11
I cannot get the bottom piece snapped in?
Please contact our Consumer Service Specialists at step2-company@step2.net or 1-800-347-8372 Monday through Friday, 8AM -5PM Eastern Standard Time and we will be happy to help you.
Date published: 2019-05-02