Art Easel Desk™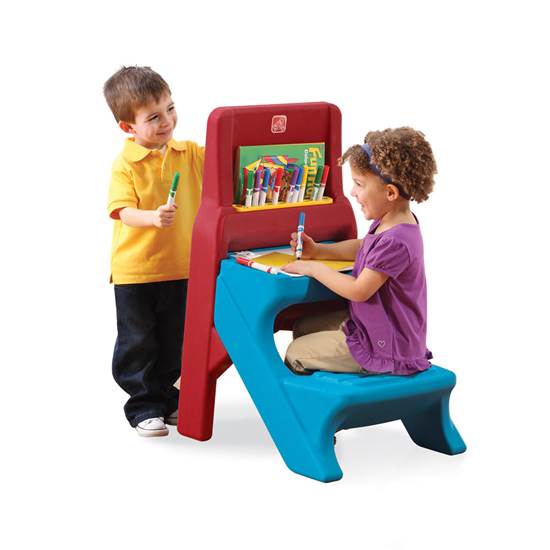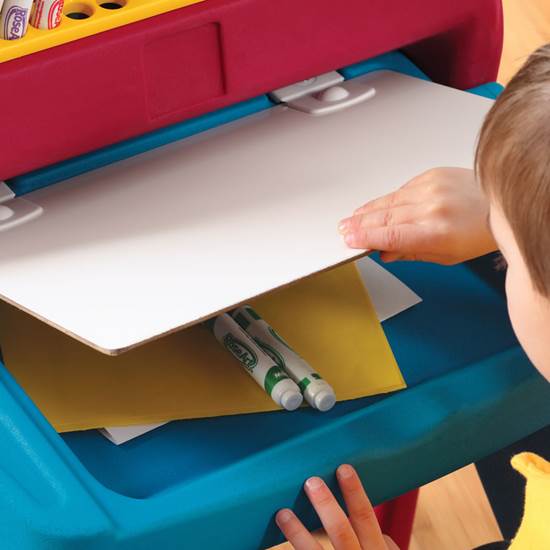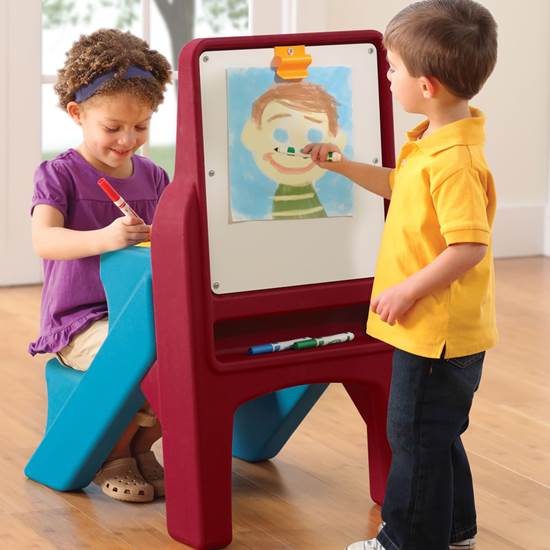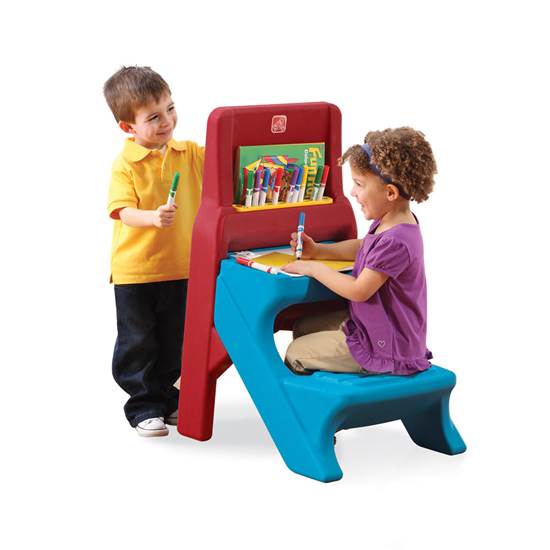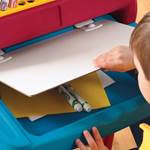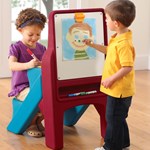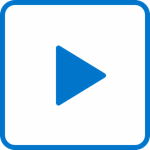 Art Easel Desk™
The Step2 Art Easel Desk is the perfect place to create a masterpiece with room to share!
IS THIS A GIFT? DON'T SPOIL THE SURPRISE!
This item ships with an image of the product on its outer packaging.
Rated 4 out of 5
by
Avrinov
from
Great for almost two year old!
My daughter loves to color and I wanted some place she could do so, that was easily accessible to her. This fit the bill she can either sit or stand depending on her mood and she can get up and down easily from it. While my daughter greatly enjoys this I wish the desk was a little bigger to more easily accommodate coloring books. Also that there was a crayon compartment so she could grab crayons and put them back as she was coloring. The storage under the desk is too hard to access while in the middle of a project. Overall it's good for the price and my daughter enjoys it immensely. She uses it everyday. It was easy enough to put together I did it while she was waiting.
Date published: 2014-04-09
Rated 4 out of 5
by
Anonymous
from
Daughter loves it!
Overall, very easy to assemble and use. The bench comes in very handy as our daughter seems to prefer sitting down to draw instead of standing up (She is 2). Only complaint that I would have is that the white board material seems a little cheap. Sometimes hard to clean with all the marks unless you really scrub hard (we are using Dry Erase crayons and not markers). Doesn't seem to be your typical white board that can be easily wiped. I'm sure using markers would make things easier, but with our daughter only 2, we don't want stains from markers :)
Date published: 2012-03-12
Rated 5 out of 5
by
MAKAYLA
from
Our Favorite Art Desk
I really wanted to get a high quality/fun easel for my daughters 2nd birthday, and I'm so happy I chose this one. My daughter absolutely loves that she can sit on the built in seat and color or stand and draw a larger picture. The art easel desk comes with 2 dry erase boards that color/clean easily, and a clip so we can attach paper for drawing. There is lots of space for storing dry erase markers and extra paper. I love how sturdy the desk is. It's clearly made with high quality plastic and will last for years to come.
Date published: 2016-09-06
Rated 1 out of 5
by
Anonymous
from
Art Easel Desk
This product lacks flexibility. You can only draw. There is no chalk or magnetic board. The unit is very small for the price. It does not come with markers so trying to figure out what markers work best is hit or miss. I have been trying to contact customer service since Xmas, the line has been busy for every attempt.
Date published: 2015-12-29
Rated 5 out of 5
by
MommyRamblings
from
Excellent for 2 children to be creative.
The only problem we had was my husband needed to use a longer screw for the easel clip because the one provided was two short, once this was done, all was good and we informed the company so they should be addressing that. It is great for my 2 and 4 year old to paint, color, do workbooks etc. It is easy to clean and light that I can take it out on the deck on a nice day for them to paint or color outside. Love it!!!
Date published: 2011-07-26
Rated 4 out of 5
by
Crystal [@]
from
Perfect for Creativity!
My children love using the Art Desk Easel for drawing, writing, reading, etc. It's large enough for my eight year old and small enough for my three year old. Two of my children can be working on it at one time which is a huge plus. One can sit and draw on the table part and one can stand and draw on the easel part. The only negative was that the white board easily chips around the edges.
Date published: 2011-08-14
Rated 5 out of 5
by
Anonymous
from
I would highly recommend this product and purchase it again.
My grandchildren absolutely love their Step2 Art Easel and use it to create artwork and practice letters. What's really fantastic about this easel is that they can both share it at the same time. My 5 yr old granddaughter uses it like a desk and pretends to send out letters and bills. I love its durable plastic that can stand up against a rambunctious overactive 3 yr old!!
Date published: 2016-12-09
Rated 5 out of 5
by
MeghanC
from
Love it!
Perfect size for my 18mo old daughter. She loves to draw and paint, but we didn't really have a space set up for her to easily do this. I like the step seat because I don't have to worry about her pushing a chair over.
Date published: 2018-12-20
What is the size of the white board part?
The large white board size is 14.25 inches wide by 15.5 inches long.
Date published: 2018-03-27
Are Step2 toys bpa free?
can you use washable markers on dry erase board or must you use dry erase markers?
Date published: 2018-03-27
Does the desk fold up in any way, or does it have to stay as shown?
The desk is stationary and does not fold up. The desk has a fold up desk top.
Date published: 2018-03-27
Is the board magnetic? I really like this one but I want one my son can stick his letter magnets on since he plays with those a lot.
No
Date published: 2018-03-27