Best Chef's Kitchen™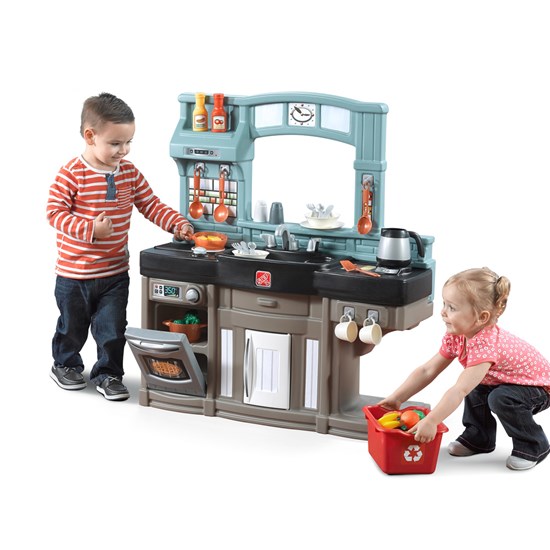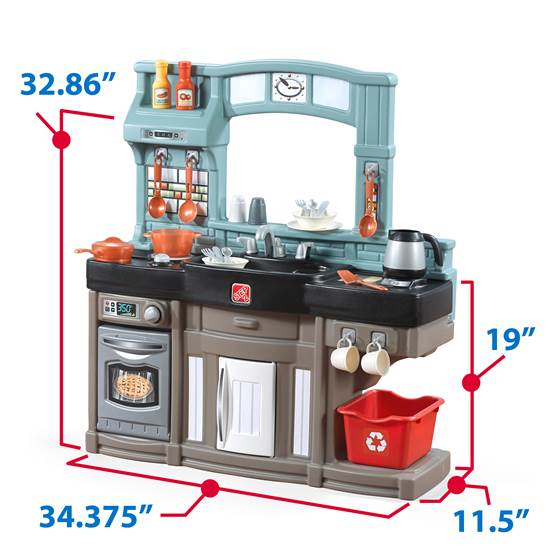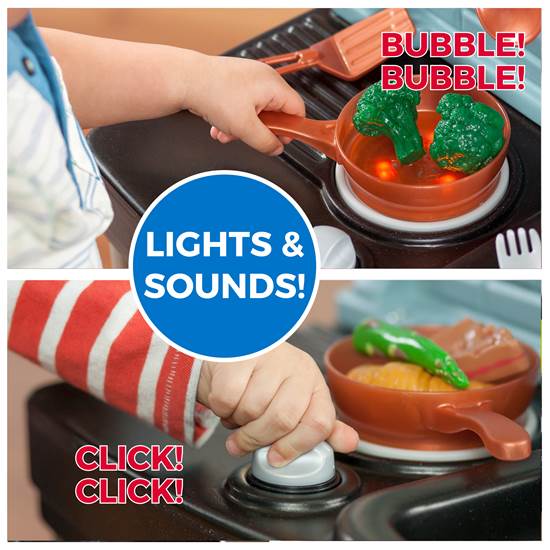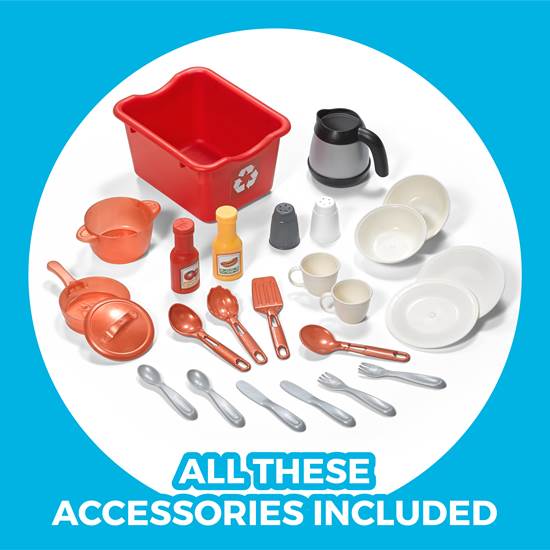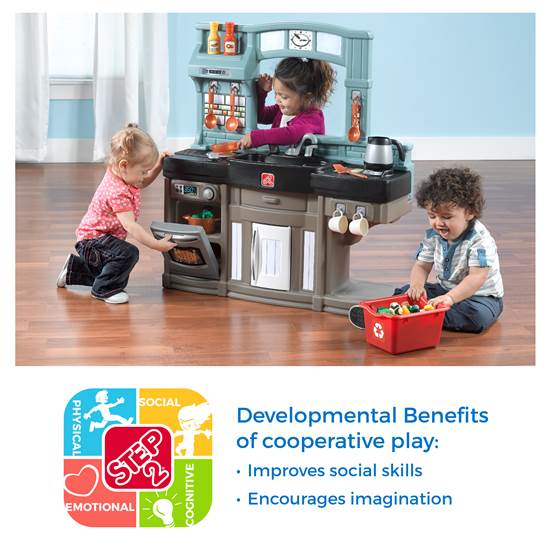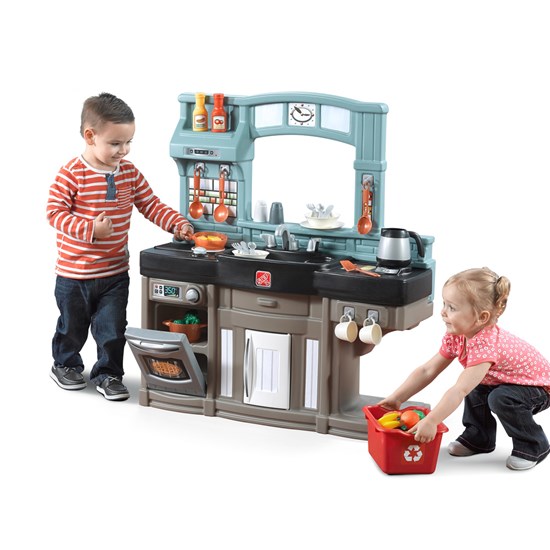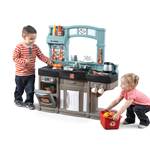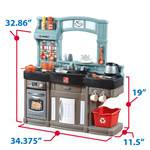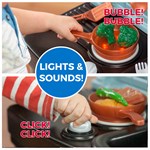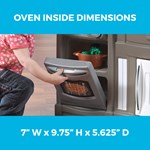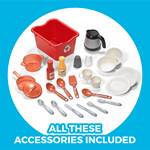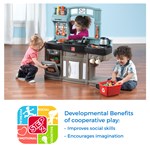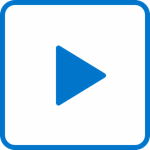 Best Chef's Kitchen™
In stock
$99.99 $89.99
+$12.99 shipping (via FedEx)
IS THIS A GIFT? DON'T SPOIL THE SURPRISE!
This item ships with an image of the product on its outer packaging.
Rated 5 out of 5
by
Jenn @ Friendspired
from
Love Compact Chef's Best Kitchen
Thank you to Step2 for letting me test this item as part of the Step2 toy tester programWe loved that this kitchen was compact yet packed with so much fun educational play. Our daughter and niece love playing with the kitchen at their sitter's house everyday, that we wanted to be able to provide them with that play at home. We have a smaller townhouse so we don't exactly have all the room for multiple toys. We loved that this kitchen was compact enough and didn't take a ton of room in our living room.The girls love that it is interactive, has cute little sound and lights, and especially love the little hooks.
Date published: 2014-09-07
Rated 2 out of 5
by
Cheryl
from
Frustrating assembly
It looked easy coming out of the box, but quickly noticed NONE of the six holes were pre-drilled. The box said only a screwdriver would be needed. We eventually located a drill and ended up putting it together, but I'm thankful this wasn't an assembly needed for Christmas morning since you don't anticipate needing a drill. The hooks were almost impossible to snap in, we had to use a screwdriver to make them bigger. The product is nice and seems durable once it's put together, just not sure the frustrating assembly was worth it.
Date published: 2017-11-28
Rated 4 out of 5
by
STM2Be
from
Great intro kitchen set
Bought this for my (almost) two-year old son for Christmas and it is still one of his go-to toys. It was smaller than many of the other kitchens that I looked at, which was good for us since space is always an issue.I do wish there were more electronic features with this set. Besides the "sizzling" burner, the only other movable pieces are the stove and refrigerator doors and some knobs (which are extremely difficult for him to turn). I have purchased some additional play-food items to be used with his kitchen...which have kept him interested and using it.Overall, I would say that this is a good intro kitchen for a young toddler. The price and size were right at the time, but I do anticipate having to upgrade to something a little more robust as he gets older.
Date published: 2015-03-19
Rated 4 out of 5
by
Anonymous
from
Would buy this again - basic but great
My son is 23 months and loves the kitchen. It's a bit on the small side but he is short so it's perfect for him. He loves to make the pots bubble. The only downside was the assembly. We had to drill holes and make some bigger where they should have been ready from the start. Overall I would buy this again and recommend it to parents who are looking for a cute kitchen at a great price that doesn't take up too much space
Date published: 2017-04-05
Rated 5 out of 5
by
Anonymous
from
Perfect Size and Price for Our Family!
Thank you to Step2 for letting me test this item as part of the Step2 Ambassador program. All opinions are 100% my own.My girls are LOVING this new kitchen! We upgraded an older play kitchen and they couldn't be happier with the new features - lights and sounds on the stove burner and clicking knobs. They love the Accessories that are included and Mom loves that they are learning to recycle at a young age!This kitchen has transformed their play room into a working cafe - inspiring lots of imaginative, cooperative play!
Date published: 2014-07-29
Rated 5 out of 5
by
V-dub
from
My kids love this but it arrived with scratches
I have always wanted to purchase something of this brand for my kids. The products look good and I didn't know how it maintains.. yet I bought this Best Chef Kitchen for my 2 year old son and essentially for my 5 year old as well. They don't usually play together so I was hoping it would encourage them to do so and to start to learn to clean up for themselves and cook as well!! The only downfall was the scratches but that's ok. I was hoping this would have came with food but the stove top makes a fun sound.
Date published: 2017-06-04
Rated 4 out of 5
by
MOJO
from
If only it came assembled..and without scratches
While I think this kitchen is adorable and my grand kids will love it, assembly is horrible...no holes for the screws..the hooks don't go in easy at all! Scratches on it just out of the box. Getting the batteries in...good luck. you have to try to get tiny screws OUT and they're set very deep, to get batteries in, can't imagine that feature will last long without stripping the screws I would recommend it, but be prepared, assembly is frustrating especially for the price
Date published: 2017-12-23
Rated 5 out of 5
by
kate212
from
Great Kitchen
This is a great little kitchen for my daughter, she loves it and it was very easy to put together!
Date published: 2020-08-12
What are the measurements of the box this comes in?
The packaging dimensions of the Best Chef's Kitchen™ are as follows: 23.75 x 13.25 x 34.75 in / 60.3 x 33.7 x 88.3 cm
Date published: 2020-12-09
I've bought this kitchen from a friend but I need the accessories it comes with. Where can I purchase them?
Replacement parts and decals can be ordered by calling our Customer Service team at 1-800-347-8372, Monday - Friday, 8:00 am - 11:00 am and 12:00 pm - 5:00 pm EST. Please have your product close by during your call so that we may quickly assist you to answer your question, find a resolution and or provide product or part pricing and lead-time(s).
Date published: 2020-09-11
Is there any way that I could purchase the 25 piece accessory pack that's included with this best chef kitchen as I need to replace some parts?
Please contact our Consumer Service Specialists at 1-800-347-8372 Monday through Friday, 8AM -5PM Eastern Standard Time and we will be happy to help you.
Date published: 2020-08-07
Can this be used outside as a mud kitchen? How do you think it would hold up?
Yes!!!!!  My son has used it to everything from mud  to slime . The only part I wouldn't recommend is having the battery burner with battery it stop working with him putting water on it 
Date published: 2020-06-26
This keeps tipping over on my child. Is there something I'm missing to stabilize it ?
Our Customer Service Department would love to chat with you further about your question. Please call us at 1-800-347-8372 Monday - Friday, from 9-3 ET and we will be happy to assist you further with this request.
Date published: 2020-06-16
What is the height of the assembled product? From the floor to top. (Not counter height) Picture said 32.86 but the detail is 35.8. I have a very specific place to fit in.
The dimensions of the Best Chef's Kitchen are as follows : 38.5 inches in Height x 34.375 inches in Width x 11.5 inches in Depth.
Date published: 2019-12-02
does the coffee pot make noise or have lights?
To further clarify... where the coffee pot shows to be sitting the kitchen set does nothing. It makes sound on the burner where the pot and pan go. I hope that helps. 
Date published: 2019-06-05
Do you ship it to Japan ? 
Thank you for contacting Step2. We apologize but we do not. Regards, Step2 Consumer Service
Date published: 2019-01-29