Big Bubble Splash Water Table™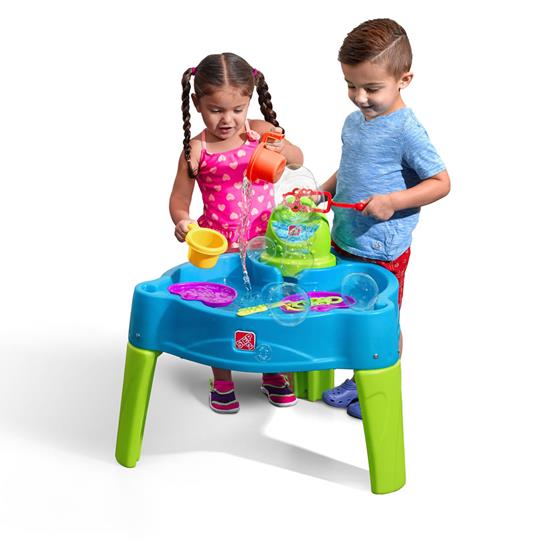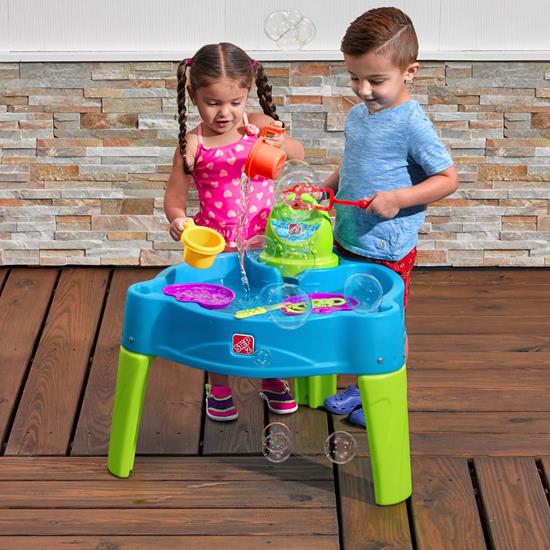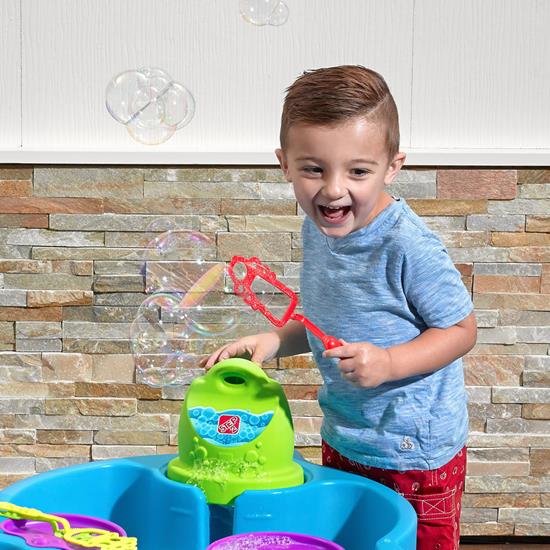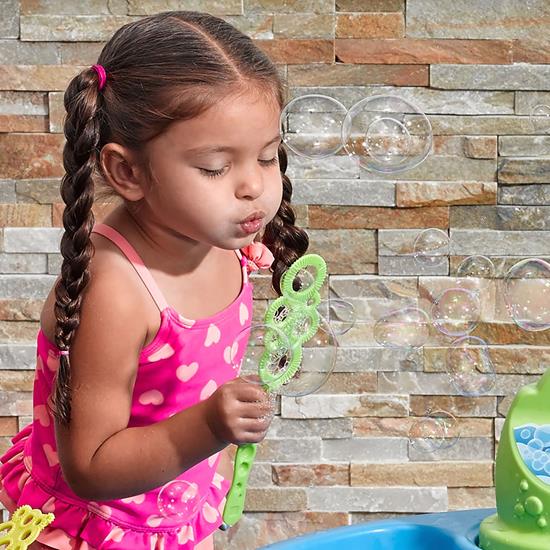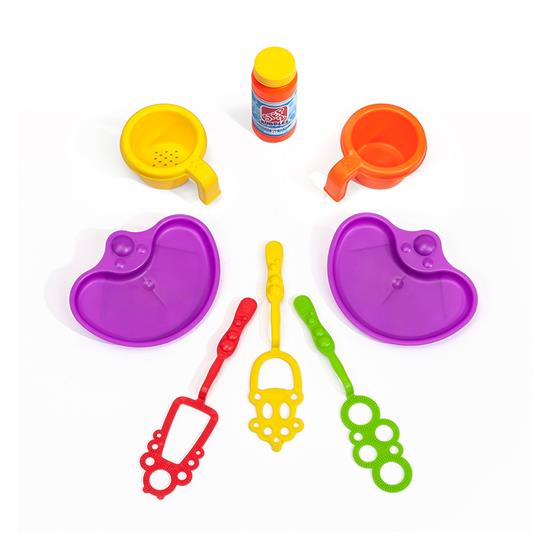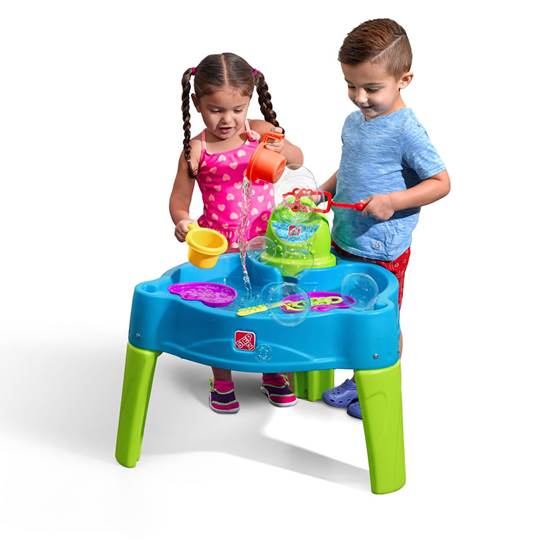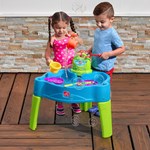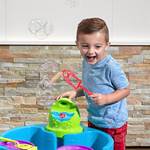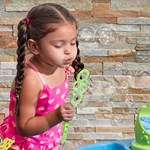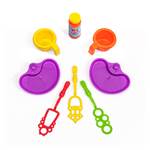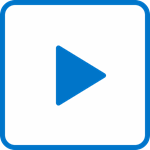 Big Bubble Splash Water Table™
In stock
$39.99
+4.99 shipping (via FedEx) When will my item arrive?
Kids will have a blast blown' bubbles galore with the Big Bubble Splash Water Table by Step2.
IS THIS A GIFT? DON'T SPOIL THE SURPRISE!
This item ships with an image of the product on its outer packaging.
Rated 3 out of 5
by
Anonymous
from
Tons of Splashes not so much Bubbles
We purchased this as a Spring gift for our two youngest children (who was 11 months and 2.5 at the time of purchase). They tend to use it more for a the water table aspect then help with blowing bubbles. We are overall pleased with the durability and its ability to accommodate two small children. The product could be enhanced by having an automatic bubble blower instead of the air blower that comes with it. My kids were not impressed with that feature and at 15 months and a month shy of 3 are still are not impressed and the bigger water table (prior to this purchase) we have gets much more use than this toy.
Date published: 2016-07-20
Rated 4 out of 5
by
Anonymous
from
Familiar, yet Different...
Everyone has heard of or played with a water table, but it's shocking that we haven't ever seen a "bubble table" until now. Sent to our Toy Testing Facility (our house) for review from the folks at Step2, this is one of the first outdoor toys that we've had outside this season, and it was an immediate hit.It's simple, with the bubbles poured into the table or trays, and then played with either old-school style, or by placing a bubble wand in front of the included blower.The only criticism is that the blower is screwed to the bottom, so this needs to be stored inside (or covered) to prevent the elements from damaging the battery-operated machine.Overall, a prime example of a new spin on some classic fun that never goes out of style.
Date published: 2016-04-07
Rated 2 out of 5
by
Anonymous
from
I would not buy this product again
I am very disappointed in this water/bubble table. I was under the impression by the description, that the machine blew bubbles, not that the children had to sit there and hold the wand over it to get it to go. I only found out that's what you have to do by reading people's comments. Otherwise, I would have thought the machine was broken. I bought this for my grandchildren to play with and my almost 4 year old thinks its boring. I will not recommend this to anyone because I think it's pretty useless. I can blow bubbles by myself without the machine.
Date published: 2016-05-30
Rated 4 out of 5
by
Anonymous
from
Fun dual purpose water table!
We ordered this table for our 4 year old, but soon discovered that our older children love it as well. Bubbles are such a mess and the kids usually spill the bottle on the ground when they play in the backyard. I love the bubble trays that snap into the table. I fill them up and the kids can play for quite awhile before needing a refill. The battery powered bubble blower is great for younger children who aren't quite skilled enough to blow with the wand. We used the bubble solution that came with the table, but also used some homemade bubble solution and it worked great! HUGE bubbles. My 4 year old doesn't like having dirty or sticky hands so she liked having the table filled with water to rinse her hands while playing with bubbles, haha. This table is smaller than some of the water tables we've had in the past so it doesn't take up a lot of room and is great for smaller backyards like ours. Highly recommend!
Date published: 2016-03-21
Rated 5 out of 5
by
Anonymous
from
Hours of bubble blowing fun!
I'm a Step2 Ambassador and Step2 recently sent us their new Big Bubble Splash Water Table and it was an immediate hit with my 2 and 5 year old. The table comes with a battery powered bubble blower, wands, water cups and bubble solution. The bubble blower spits out air so kids just have to place their wand near it and it'll blow bubbles. So awesome for kids that haven't quite mastered their bubble blowing skills!Once my kiddos grew tired of bubble blowing, I loved that they could use the bubble table also as a water table. You could also use the table as an indoor sensory table during snowy winter months (or hot summer months if you live in Arizona like us). I can see this table getting a lot of use, even more so than a typical water table. As far as assembly goes, it was just a few screws and the kids were happily playing within 15 minutes. Word to the wise, pick up a package of AAA batteries with the table. You'll need four for the blowing machine. So fun and in my opinion, one of Step2's best toys yet!
Date published: 2016-04-06
Rated 2 out of 5
by
Anonymous
from
Would not recommend
Love step 2 products but not impressed with this. The blower barely blows and the little plates that you put the bubbles in sit in crooked so bubbles spill all over. Definitely rather just stick with a water table.
Date published: 2016-07-20
Rated 4 out of 5
by
Anonymous
from
Great Buy Watch the Dogs
Very low for the child to stand up comfortably with but the husky will get into it and drinks the water. I have to make sure the dog doesn't play in it. But overall-great buy.Kimberly JonesBabciaBay City, MI
Date published: 2016-09-02
Rated 2 out of 5
by
Anonymous
from
I would not buy this water table again
Bought this for my niece and was.disappointed in many of the features. I have purchased many step 2 products and none have been as unengaging as this one is.
Date published: 2016-08-16
Can the step 2 accessories attach to this water table?
Please contact our Consumer Service Specialists at 1-800-347-8372 Monday through Friday, 8AM -5PM Eastern Standard Time and we will be happy to help you.
Date published: 2019-05-21
Where do you put bubbles in the bubble blower?
Nevermind. Too little sleep. No bubbles go in it. It helps blow the bubbles.
Date published: 2018-03-27