Big Builders Playhouse & More™ 100 Piece Building Set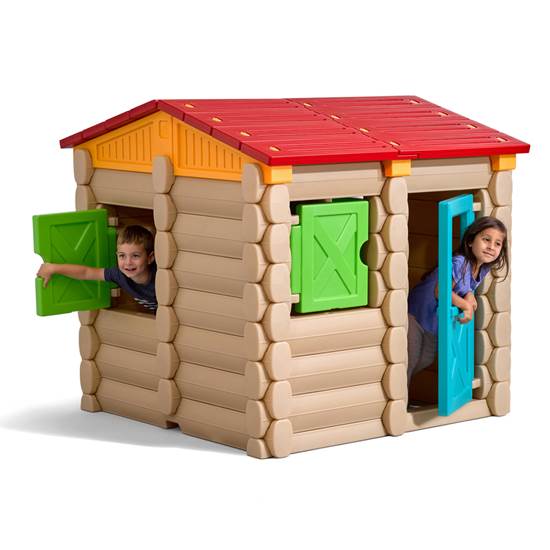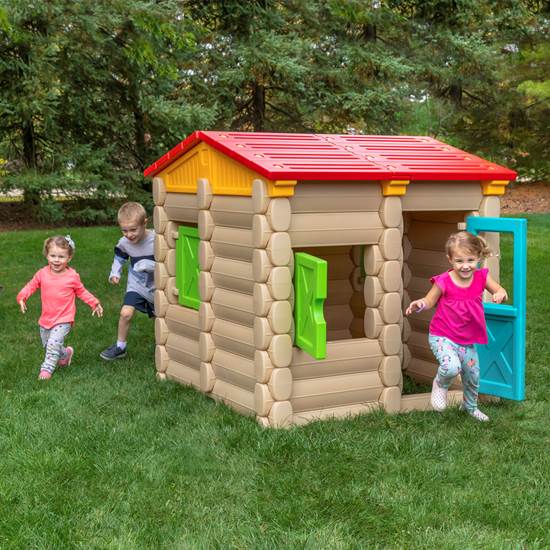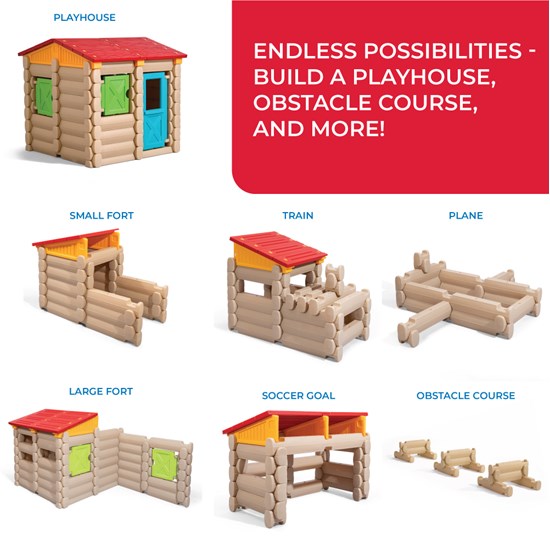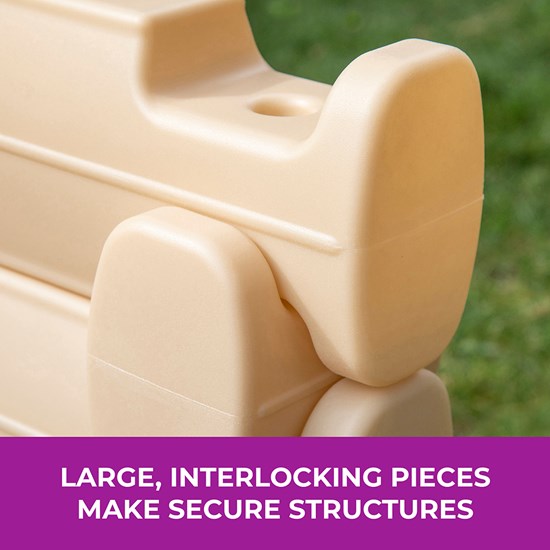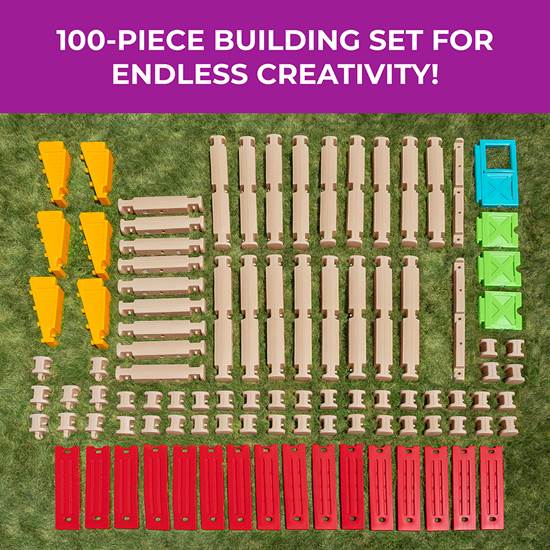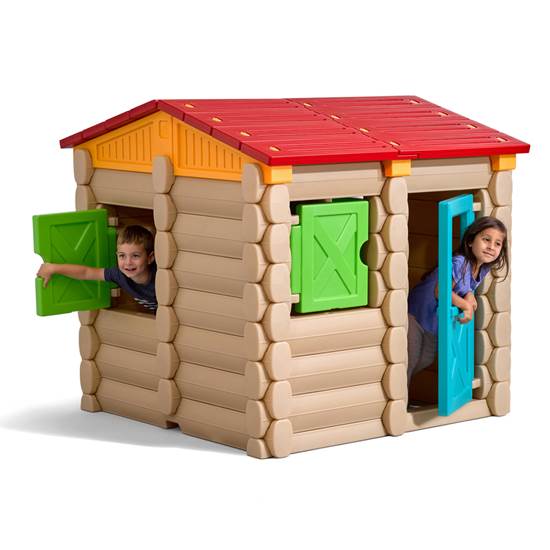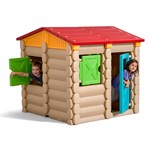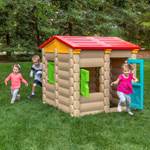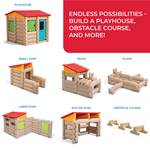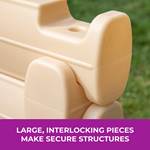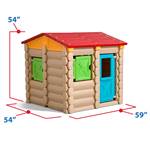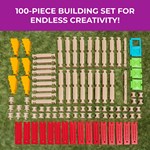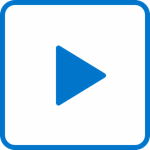 Big Builders Playhouse & More™ 100 Piece Building Set
Out of stock
$939.99
+$29.99 shipping (via FedEx)
Unleash your little builder's creativity with the Step2 Big Builders Playhouse & More™ 100 Piece Building Set!
IS THIS A GIFT? DON'T SPOIL THE SURPRISE!
This item ships with an image of the product on its outer packaging.
Rated 5 out of 5
by
Brookzie
from
Hours of entertainment
We have a neighborhood full of kids of varying ages and thought this would be the perfect outdoor activity. The kids have loved using their minds and teamwork to think of different things to create. Children from toddler age to six years old have loved playing with the playhouse. The playhouse has plenty of room for multiple children to play in and not feel squished. The pieces are light weight so no one will get hurt during the building process. Every day the kids and their friends have asked to come build and play with the house. It has hours of open ended play for all. As you can see it works well in all weather! The best part is, it's as much fun to destroy it as it is to put it together. We all recommend others getting the Big Builder Playhouse!
Date published: 2021-03-02
Rated 5 out of 5
by
Preschoolteacher
from
Fantastic for a school setting
Our students absolutely are in love with this product. With this new addition they've been able to use their imaginations even more with this play set. We are a Reggio based school, and think it's very cool that it's essentially giant linkin logs. Our students have pretended to be construction workers and have rebuilt the house and tables a few times. We've used the tables on their own to have outdoor classroom spaces. There's plenty to do with this product and ways to use it in a school setting. Thank you Step2 for letting me test this item as part of the step2 toy tester program!
Date published: 2021-02-23
Rated 4 out of 5
by
dbishop
from
The Children Love It!
Thank you step2 for letting me test this item as part of the Step2 Toy Tester Program! Our preschoolers love the new playhouse. They enjoy keeping it built and being able to play in it rather than building it and tearing it down. They were trying to figure out a way to keep the roof on since it gets windy here, so the children decided to keep half the roof on and tape the other half to secure it, which gave them great opportunity to problem solve. I think it's a great idea for the children to have the choice to build it to use critical thinking, problem solving and motor skills as they work together. However, it would be great to be able to somehow secure what they are building if they choose to keep it that way. Thank you for the great opportunity to test this item!
Date published: 2021-03-15
Rated 5 out of 5
by
Ann317
from
Great for the kids
I am so happy we got the Big Builders Playhouse Table and More my kids love it. This is such a fun and creative set. There are so many things that can be built with the set. From a train, house, table, to even an obstacle course. All that you need is an imagination and a plan and the possibilities are endless. We went with the play house and tables. Building it was very easy. The instructions are very clear and the piece's just connect with one another. My six year old and two year old twins have been playing in it every day and have already had lunch in the tables a couple of times. I really like that the tables also double as storage bins for the yard toys. I am very happy with the Big Builders set and expect it to provide the kids with lots of years of fun.
Date published: 2021-05-05
Rated 5 out of 5
by
Debrac29
from
The Big Builder Playhouse was a hit!
I was a little worried about the assembly of the big builder playhouse , but when we received the product it was so simple to assemble the preschool classrooms were able to help.The instruction were simple and easy for the teacher to follow. While assembling the playhouse they were able to see it come to life which increased their need to explore it. We allowed both our toddlers and preschoolers to enjoy the experience of the playhouse. It was a bit more comfortable for the toddlers because they are smaller , and had a little more room to move around and bring things into the playhouse. The preschoolers enjoyed the playhouse as well that didn't have as much room to move around but enjoyed it as much. I heard one of the preschoolers say " Now the big bad wolf can't get us" another child opened the window and said " what kind of ice cream would you like". Not only was the playhouse a hit so was the tables. The play house really gave the children another avenue to be creative. It was a hit and the children are eager to play in it everyday.
Date published: 2021-03-17
Rated 5 out of 5
by
tanyela87
from
Highly recommended!
I loved this Big Builders Playhouse Tables & More. It is very easy to assemble, it is just to follow the instructions, it is of excellent quality, my daughters loved it, they really like to play in the playhouse, they have a lot of fun and spend hours playing in it, it is waterproof, the parts are very light and the girls can carry them very easily, I live in arizona where it is very hot and I like that the material does not heat up and my daughters can play in it at any time! my daughters and I pretend to be construction workers, and we build any building we can think of, like a hospital, a house for our dogs, a vet ... I really recommend this big builders playhouse tables & more, if you want your little ones to spend hours having fun and playing, this is the one for your kids to get started and use their imaginations to build.
Date published: 2021-05-12
Rated 4 out of 5
by
abs6032
from
A Product That Can Grow With Your Child
I am an educator and mom of a 22 month old. I was asked to review this product with my son. He had a wonderful time playing peek-a-boo with me by opening and shutting the doors and windows. He also enjoyed taking the pieces off the tables and putting them back together. We even used the top red pieces to make a balance beam for him to walk across. I feel like as he gets older this product could grow with him. The pieces remind me of giant Linking Logs. He could use them to make his own life-sized creations or try to put together the product on his own. The instructions are simple to follow. Although, I feel the steps could be highlighted a different color or shade so it is even easier to see what part to add next. Another thing to keep in mind is that the product is quite large. I think it would be best used outside or in a large indoor area. It would make a great product for a daycare or group setting as it is very durable and easy to clean. Thank you Step2 for letting me test this item as a part of the Step2 Toy Tester Program!
Date published: 2021-02-24
Rated 5 out of 5
by
Sam31
from
Super fun!
I built this house with my students, age ranging from 5-10. We had a great time buying this as a little team. The instructions were super easy for them and myself to understand. I also appreciate how light yet sturdy all of the pieces are. It has been a great addition to our room! Thank you Step2 for letting me test this item as part of the Step2 Toy Tester Program!
Date published: 2021-02-24
Looking for approximate price.
At this time the Big Builders Playhouse & More is a Kaplan exclusive. Here is a link to view: https://www.kaplanco.com/store/trans/search.asp?tbSearch=Step2&submitSearch=
Date published: 2021-02-26