Boy's Loft & Storage Twin Bed™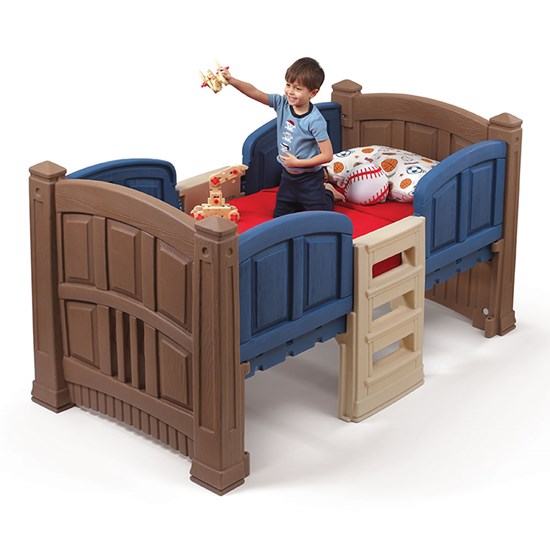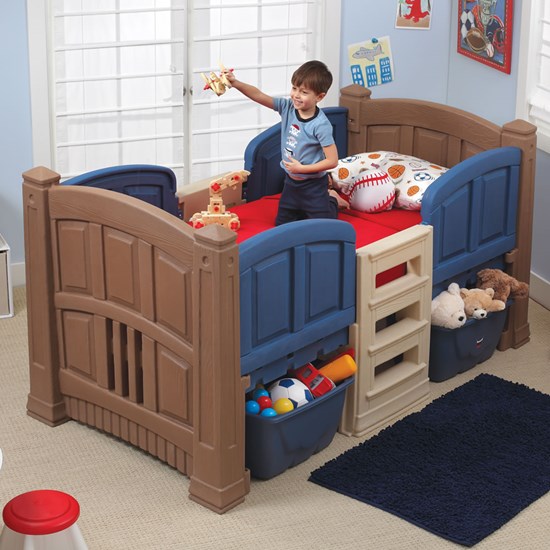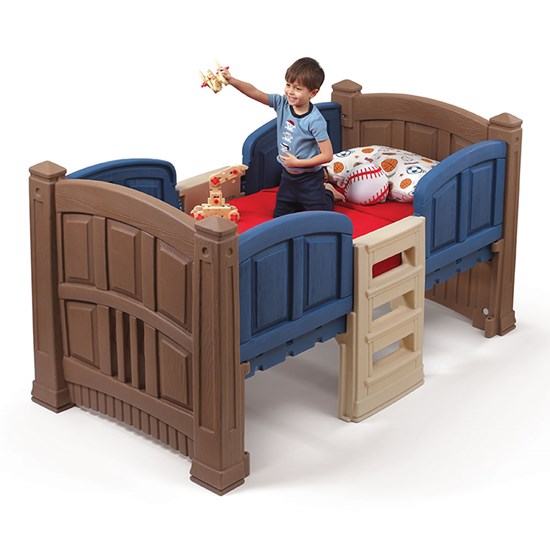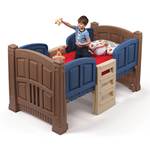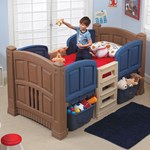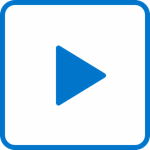 Boy's Loft & Storage Twin Bed™
In stock
$404.99 $399.99
+79.99 shipping (via Truck)
Your little one will love sleeping in his own bedroom during bedtime with his blue and brown Boy's Loft & Storage Twin Bed by Step2.
IS THIS A GIFT? DON'T SPOIL THE SURPRISE!
This item ships with an image of the product on its outer packaging.
Rated 1 out of 5
by
Winkles076
from
Unfinished and Ugly
We purchased two of these beds for our 5 and 4 year old boys last March. We are now getting ready to move our youngest into his first big boy bed. I went online to purchase a third one since all my boys will be sharing a room. I was shocked to see that the doors have been removed and replaced with totes. The new bed looks unfinished and ugly. I do like the new added color but I prefer the natural look better. I think you should have the option of doors/totes and a color option.
Date published: 2013-09-03
Rated 5 out of 5
by
Anonymous
from
I would recommend this bed
I love this bed! As does my three year son. He can climb in and out and feels like a big boy! I'm happy to not have to deal with side rails and know that he won't fall out.Assembly was easy. I did most myself - had my husband help with a couple screws that were a touch angle.It's very sturdy. My seven year old loves going on it with him and it will hold me as well.
Date published: 2016-11-03
Rated 5 out of 5
by
Funmom
from
GREAT BED
This bed is great !!! Brown and blue colors are really nice too. The kids love to go underneath the bed. I also bought the matching toy box. If your kids like to jump get the support board - there is 2 wooden boards and 2 plastic supports that you pound in that come with the bed. The missing doors are not a problem - since kids like to lay underneath it like a cave. I did add a bed tent to mine from Walmart. Just adds to the fun. The twin flannel sheets are from Amazon - brown and blue plaid. They match perfectly to the bed and toy box.
Date published: 2018-09-10
Rated 5 out of 5
by
Anonymous
from
Great choice for growing young boys
This is a great bed for our 3-year-old. He sleeps better in it than he did in his toddler bed.Assembly was straightforward and intuitive, and it's sturdy enough for his rough demeanor. Plus, we don't have to worry about buying a guardrail to keep him from falling out.We do wish it still came with the doors (you can see a place for them on the lower part of the frame), but that does not diminish from its value.
Date published: 2017-04-03
Rated 4 out of 5
by
Ekdolfan
from
Cute bed
The bed is much longer than it looks so bed could be used until 8 or 9 years old. The materials used are strong and sturdy, very good quality. Really cute! The bed arrived around the time I expected it.
Date published: 2016-02-04
Rated 1 out of 5
by
Anonymous
from
Looks awful
I was so excited for this bed to come when I ordered it. I saw online that the bed did not come with doors but was expecting it to come with atleast the totes. It doesn't. After the bed was put together I stepped back and took a good look and thought for sure there were missing pieces. The front looks unfinished and upon doing some research online I found it was because the item doesn't come with doors. If I would have know the finished product would look like it does, I would have never purchased it! Very disappointed. I will not be recommending this to anyone.
Date published: 2013-11-13
Rated 4 out of 5
by
Anonymous
from
Great looking bed for a toddler and big enough for adult.
Love the bed as it is sized for a toddler and big enough for an adult. Very safe as it is impossible for a child to fall out. A little challenging to change sheets but better than bunk beds and Great for storing toys. Would like to see the option of having the doors to hide the toys and kids loved hiding under it too!
Date published: 2016-08-31
Rated 5 out of 5
by
ChiefStone
from
Phenomenal Product
Phenomenal, high quality product. I purchased 2 for my 3 1/2 year old twins and they love their "Big Kid Bed".
Date published: 2017-09-03
Do you sell replacement dowels for this bed. The 8 Hs to secure the bed together?
Go to there replacement page . They have part for there most popular products. I've gotten parts for other step 2 products . 
Date published: 2020-07-13
Can this bed be ordered in all brown no blue ? With storage doors like the lifestyle design ?
No, this product is not available in that color combination.
Date published: 2020-06-16
I've seen pictures of storage bins that go under the bed. Where can I find them?
I bought them at Christmas Tree Shop. Different sizes and prices were good.
Date published: 2020-01-09
Do you deliver to England?
Step2 Direct ships within the Contiguous United States only. Thank you for your interest in Step2 product retailers in England/Ireland. Specific products and quantities vary by retail location, please contact Saber International Ltd. with your specific request. Saber International Ltd. Unit 1004, Great Bank Road Wingates Industrial Estate Westhoughton Bolton BL5 3XU 0844 8800 915 (p) 0844 8800 916 (f) sales@saber-international.co.uk (e)
Date published: 2019-09-25
Can I just order the support board that goes underneath bed? 
The Loft & Storage Twin Bed™ Requires a bunkie board (support board) size: 38 in (96.52 cm) x 74-1/2 in (189.23 cm) x 1-1/2 in to 4 in (3.81 cm to 10.16 cm) which may be found at stores that offer mattresses.
Date published: 2019-05-31
In the picture above, are the blue things on the side "rails" or "doors"? I'm assuming they are rails, and the bed comes with those blue rails. Is this correct?
They are rails. They do not open.
Date published: 2019-05-13
Does a twin xl mattress fit on this bed ? A twin size mattress is 75inches in length and the twin xl is 80inches in length so would the twin XL fit ?
No. It is made to fit a regular twin mattress only. 
Date published: 2019-01-11
What are The dimensions and weith ok The boxes tris comes in?
The Boy's Loft & Storage Twin Bed™ packaging dimensions are as follows : 46.75 inches in Height x 45 inches in Width x 24 inches in depth.
Date published: 2018-08-22