Busy Ball Play Set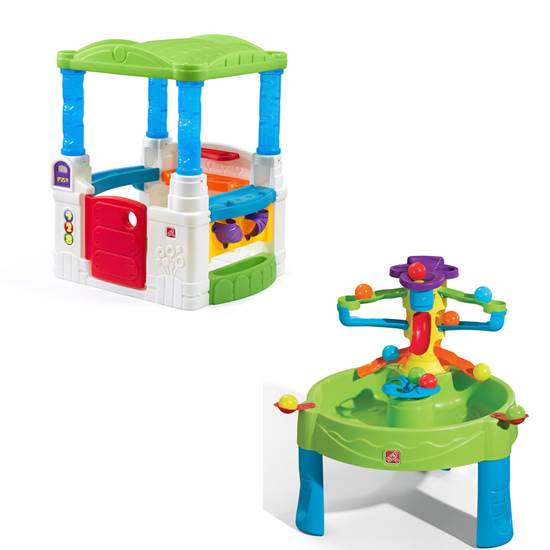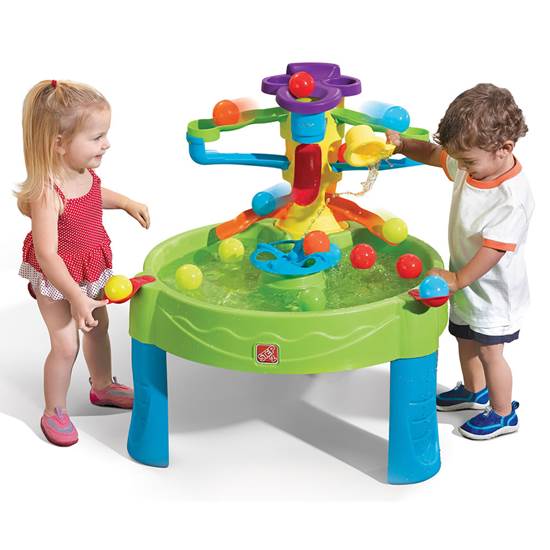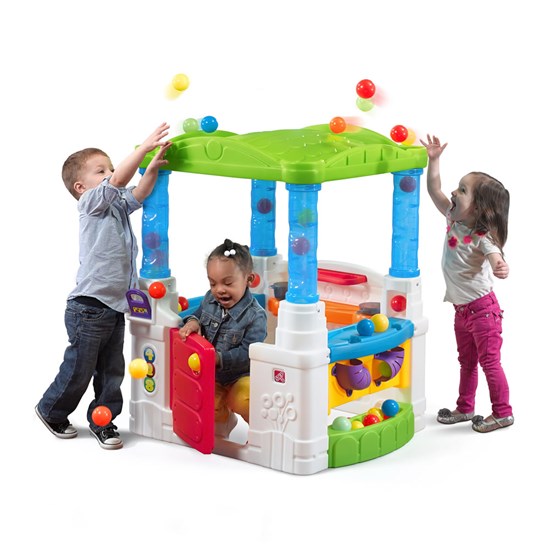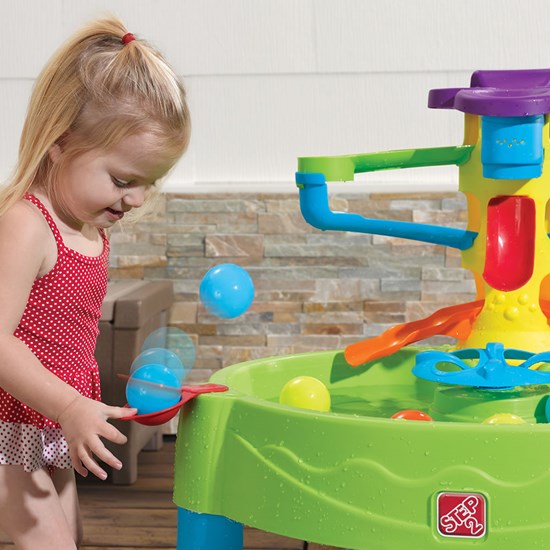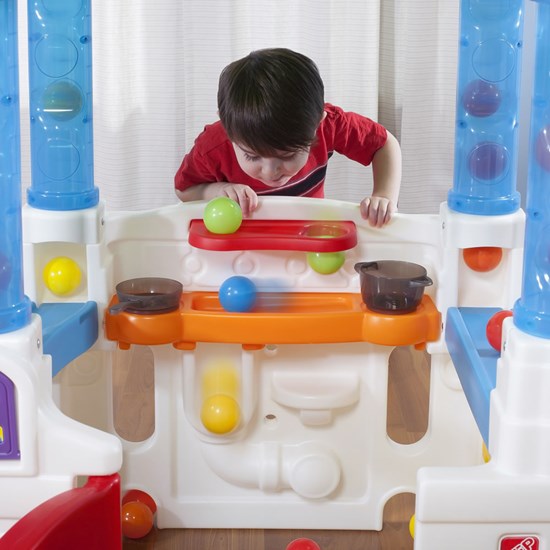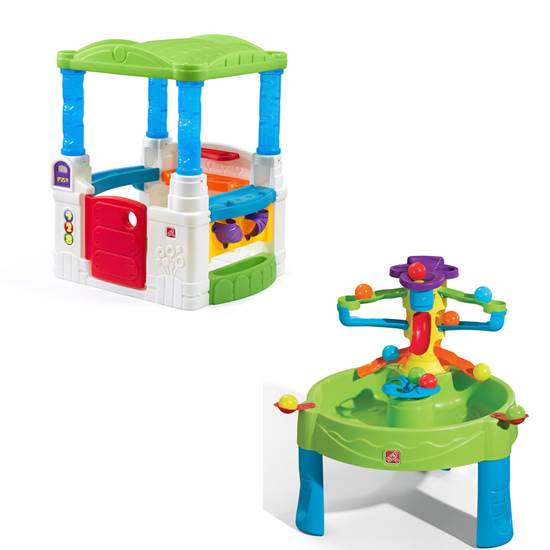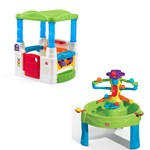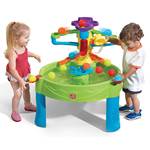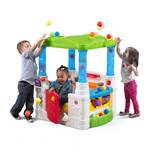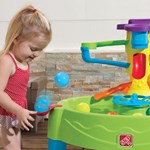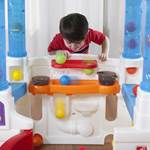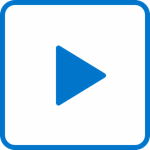 Busy Ball Play Set
Out of stock
$199.98 $169.99
+ FREE Shipping! (via FedEx)
IS THIS A GIFT? DON'T SPOIL THE SURPRISE!
This item ships with an image of the product on its outer packaging.
Rated 3 out of 5
by
Anonymous
from
Ideal for ages 2-4
Older children can enjoy throwing the balls on the roof and watching them go down the tubes but by the age of 4-5 most children would be too tall to really enjoy the house. Overall, these toys are easy to put together and the house is well built. The water table flippers can easily be torn off and the tower does not stay put with rigorous play.
Date published: 2017-02-13
Rated 5 out of 5
by
Love, Mrs. Mommy
from
2 Great Items For Maximum Fun!
I received this set as part of the Step2 Ambassador Program. All opinions are my own.These two toys complement each other perfectly! My daughter went from one to the other and then back again every time she played. The colors are bright and cheerful and both toys are engaging. They teach cause and effect with placing a ball in any of the different tubes and seeing where it goes. This is such a fun way to learn! She loves going in and out of the house and moving balls from one play toy to the next. And of course, the splashing! What water table doesn't inspire at least some splashing! She got quite the kick out of spinning the wheel that holds the balls and making them fly off into the water. All in all, this is a wonderful set that my daughter has already gotten hours of playtime with and I foresee many more!
Date published: 2015-10-23
Rated 3 out of 5
by
Janice
from
busy ball table
my Granddaughters seem to like it except there are not enough balls included.
Date published: 2018-03-18
Rated 5 out of 5
by
Anonymous
from
A Winning Bundle Deal
With 2 smalll daughters (age 1&3) I have to be mindful when I buy toys. Yes I try to carter to their age range but most toys are shared between them anyway. This bundle deal of play sets was Perfect!! Something for in the house and outside. Tall enough for most toddlers to fit in & play! Easy to set up with a nice amount of balls included!! Thank you for this Amazing deal
Date published: 2017-04-10
Rated 5 out of 5
by
Anonymous
from
fun time
This is going to be so much fun for his birthday.
Date published: 2017-04-04
Rated 5 out of 5
by
Anonymous
from
fun
i love the colors and how much it is going to be
Date published: 2017-04-04
How long till stock need both asap
Thank you for contacting The Step2 Company. We are currently out of stock and backordered on this item and several products. We do not anticipate having this item & other products back in stock until late - June. Please note this is an estimate as the timing could move back again based on demand, production schedule and retailer commitments. We are now running limited production as we were previously shut down due to the COVID-19 environment and unable to produce product. Continue to check our website daily for availability and updates. We apologize for any inconvenience.
Date published: 2020-06-16
My daughter recently moved and has lost a piece of their playhouse. Is it possible to buy a replacement?
Please contact our Consumer Specialist Staff at 1-800-347-8372, Monday through Friday, 8am-5PM Eastern Standard Time for assistance.
Date published: 2018-02-26
How hard are the balls
The balls that are included with the Busy Ball Play Set are hollow inside and soft.
Date published: 2017-11-03
How many balls come with this set?
I believe there were 18 included. I did not count them all as my grand daughter was ecstatic as we opened the box and could not wait to hold them.
Date published: 2018-03-27
How soon does this ship?
Unfortunately, The Busy Ball Play Set is currently unavailable. Please view the following link and we will notify you when it becomes available : <a href="http://www.step2.com/soldout.cfm?product_id=2372" target="_blank">http://www.step2.com/soldout.cfm?product_id=2372</a>
Date published: 2018-03-27
Can this be used for outside?
Yes, both the Busy Ball Play Table™ and the Wonderball Playhouse™ may be used outdoors, however if the temperature should drop below 32 degrees F (0 C ) plastics may become brittle and crack.
Date published: 2020-04-04