Cascading Cove Sand & Water Table™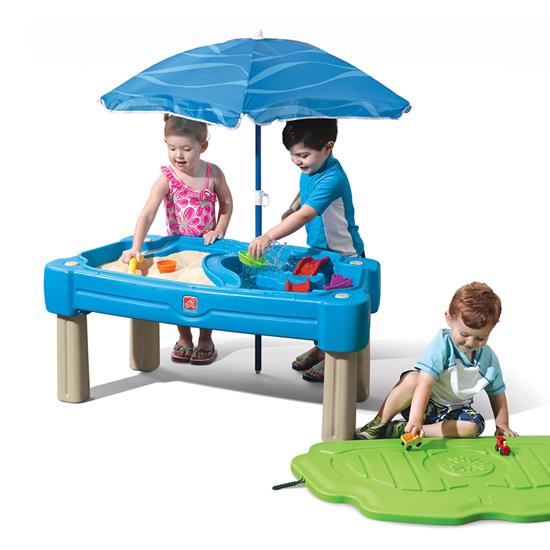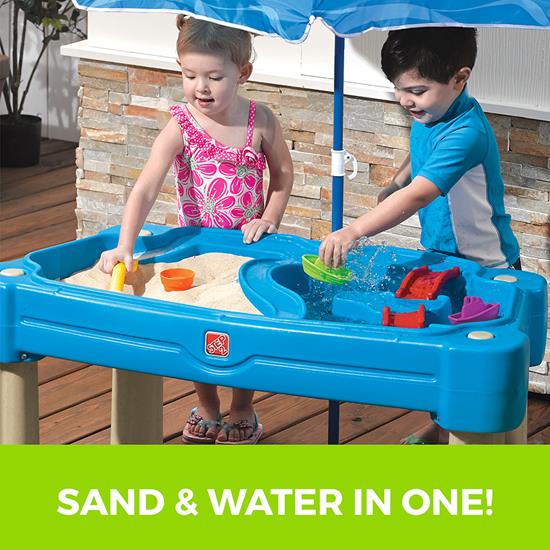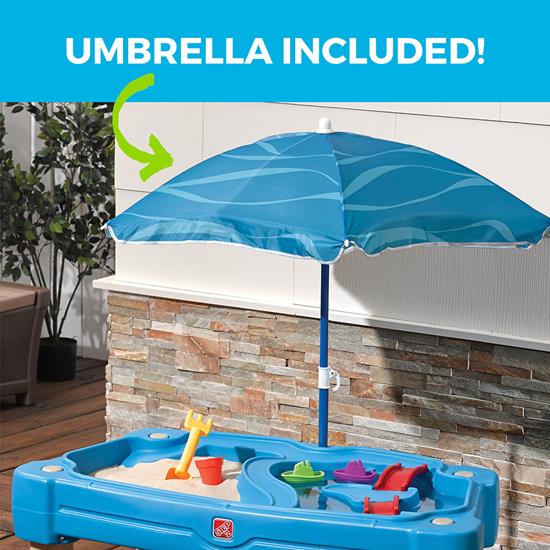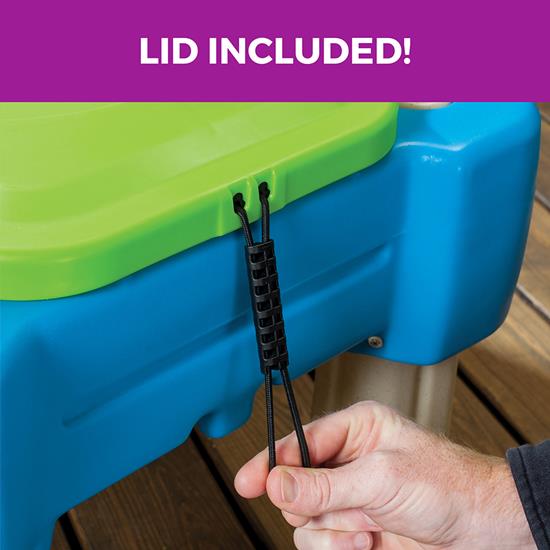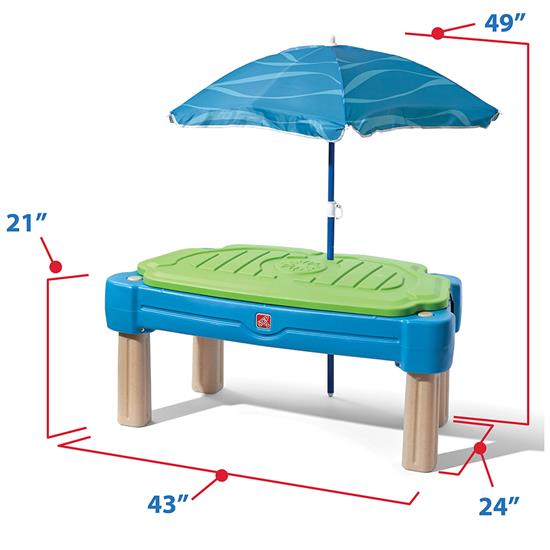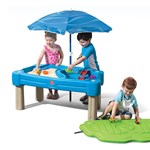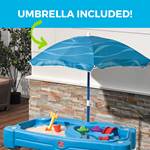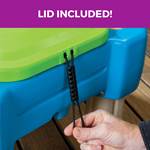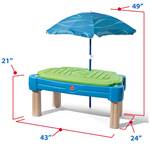 Cascading Cove Sand & Water Table™
In stock
$89.99 $79.99
+4.99 shipping (via FedEx) When will my item arrive?
With this Step2 Sand & Water Table, children can make believe they're sailing the Seven Seas and then arrive on an island to dig for buried treasure!
IS THIS A GIFT? DON'T SPOIL THE SURPRISE!
This item ships with an image of the product on its outer packaging.
Rated 2 out of 5
by
Anonymous
from
Changed Design
I am very disappointed that Step 2 changed the design of the Cascading Cove Sand & Water Table.I thought I was getting such a good deal by buying through the manufacturer directly. However, the reason it was $25 less than other stores is because the table now has a half lid, instead of a full lid, and does not have the bungee tie downs. That was one of the main reasons I chose this particular sand & water table!Also, the umbrella looks smaller.Buyer beware! Please inspect the photo carefully and not be fooled by the reviews, which are for the old design.I'll be returning this table and paying the extra money for the old version.
Date published: 2016-12-22
Rated 5 out of 5
by
Quaijai
from
Outstanding Company - GREAT Customer Service
Our Grandson absolutely Loves his Cascading Cove Sand and Water Table. We watch him 3 days a week and one day after going in for lunch, we came back outside to find the Umbrella and top gone. It was a very windy day and I looked all over and could not find them. I contacted Step2 and they are replacing the top and Umbrella so the our Grandson can continue to enjoy his table. The Umbrella was Extremely helpful keeping the sun off him since he has eczema. We have multiple Step2 products which he enjoys greatly and I will continue to purchase Step 2 products as he grows. Thank you!
Date published: 2017-06-01
Rated 3 out of 5
by
Anonymous
from
somewhat disappointed
I purchased a similar water/sand table several years ago for my grandchildren. I was disappointed when I saw how small the new one is compared to my original one. My 16 month old grandson was able to tip the table over on himself. Before this happened, I would have recommended this to others.
Date published: 2015-05-28
Rated 5 out of 5
by
Shortjess
from
Excellent Design!
The Cascading Cove Sand & Water Table was a gift for my son's first birthday after he fell in love with our friebd's. We plan to have this outside in the summer, so the kid was necessary. Many tables with more complicated designs don't offer any sort of lid. My child has very light skin that burns easily, so I love that the umbrella provides some extra protection. Because the design is more simple, it allows my son to be extra creative in his play! He could stand at this for an hour or more, and that says a lot!
Date published: 2018-07-15
Rated 5 out of 5
by
The hygienist
from
We would purchase this product again
We bought this for our 2 year old and 15 month old and they enjoy it so much. It's not only for sand and water, we use it for sensory beads indoors for now until summer rolls around. It holds up nicely with all the roughness of my 15 month old boy.
Date published: 2017-01-15
Rated 5 out of 5
by
MeMaw
from
Great entertainment
Bought for 20 month old grandson who loves water, rocks and messes. We put water on one side and rocks on the other as he's not wild about sand. He loved throwing rocks into water and make a huge splash. He used shovel that came with the set to pickup rocks and put them back into rock pile. kept him occupied. I like umbrella for shade and the cover keeps pollen, tree debris etc out of both areas. It's perfect!
Date published: 2018-04-30
Rated 5 out of 5
by
Mayra
from
Best Buy Ever!!!
We bought this table for my 2 year old son, he absolutely loves it! It's perfect hight, specious, sturdy. Also has plugs on the bottom to let water or sand out! Best of all the price on step2 website was better than any where else!!! We are very pleased with the purchase and so is our son!!!
Date published: 2017-03-03
Rated 5 out of 5
by
Anonymous
from
Grandkids love it!
This is the third one I have purchased. Each one for a grandchild. My granddaughter is one, and my grandsons are 2 and 5. They love it! My 5 year old grandson has had his for 3 years and still enjoys it. Well built and easy to assemble. #sweepstakes
Date published: 2017-03-15
Where does the locking ring with the screw in it go on the umbrella? The instructions seem to show it under the table which doesn't make any sense.
Above the table. 
Date published: 2018-09-21
Are you suppose to fill the legs with anything it looks like it has a spot to fill them to make it more sturdy but the instructions do not specify?
The table is actually very sturdy once assembled. More so when you fill with water and add the sand. No need to fill the legs with anything.
Date published: 2018-06-30
Can I purchase a whole lid. The picture on the box when I bought it has a whole lid with the pull cords. The table came with half a lid. Which is stupid.
That was probably a mistake! Mine came just as pictured. 
Date published: 2018-06-10
Can a lid be purchased for other side?
No the lid does not cover the whole table. it is only half the table. The picture shows a whole lid,. it is only a half. its stupid and I would not of purchased this item with half a lid. that doesn't stay secure.
Date published: 2018-06-04
I'm looking for a sand/water table that's a good size so there's plenty of space to play...it appears to be quite small...my daughter is 4 years old...what are your thoughts about the size?
The table is actually 19" tall and not 23" as stated in the description. It's fine for the 16 month old but awfully low for the 3 year old.
Date published: 2018-04-07
Leaking at plug?
I have never had a problem with the plug leaking. I had it, in my kitchen, for an evening, when it was too cold and dark outside. I did put a dish pan underneath, to drain when done. I have had it 2 years and the plug is still good, no leaks.
Date published: 2018-03-27
What type of plastic is it made from?
This product is made out of Linear Low Density Polyethylene. It is made in the USA.
Date published: 2018-03-27
How tall/high is the table when assembled?
18.5" w/o lid, 19" with lid
Date published: 2018-03-27