Charming Cottage™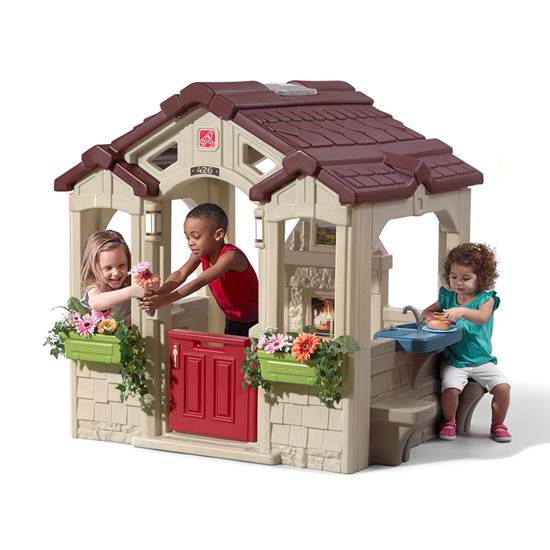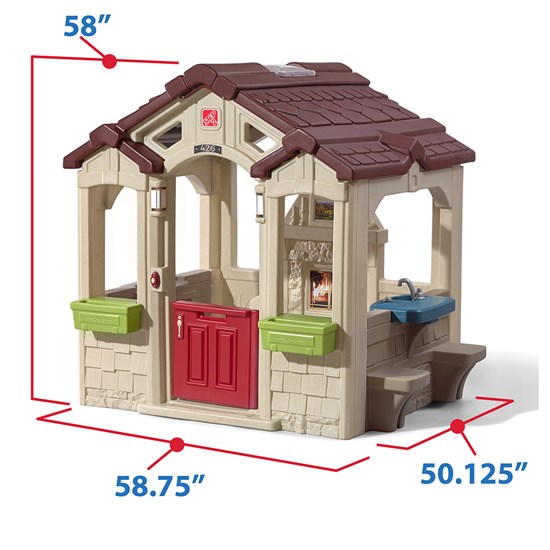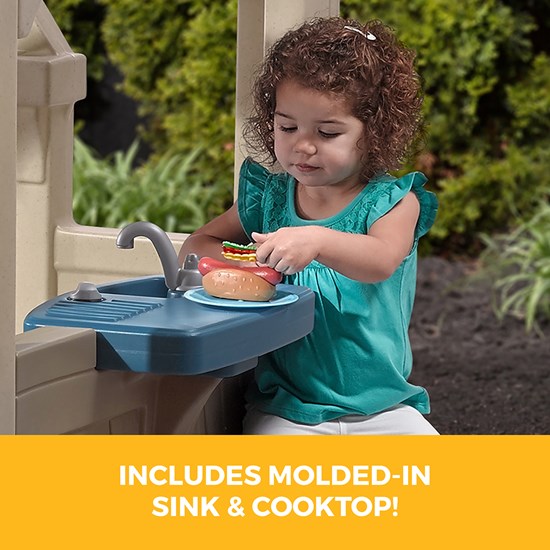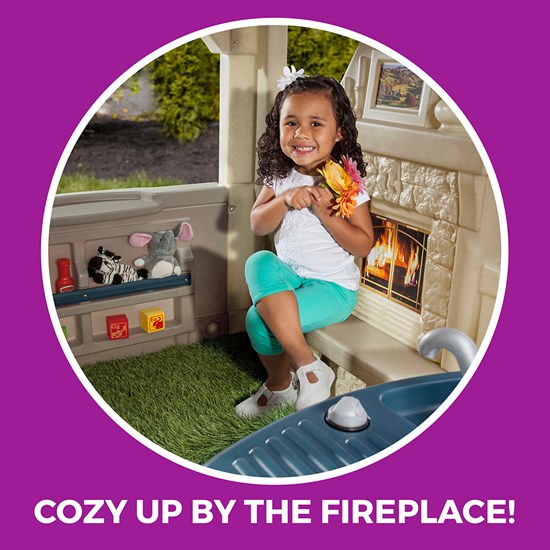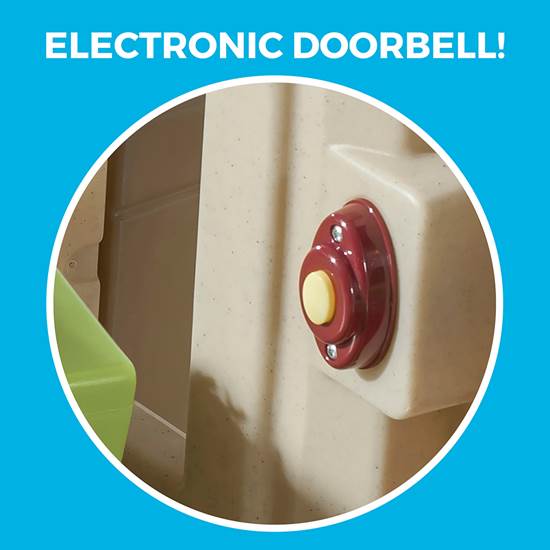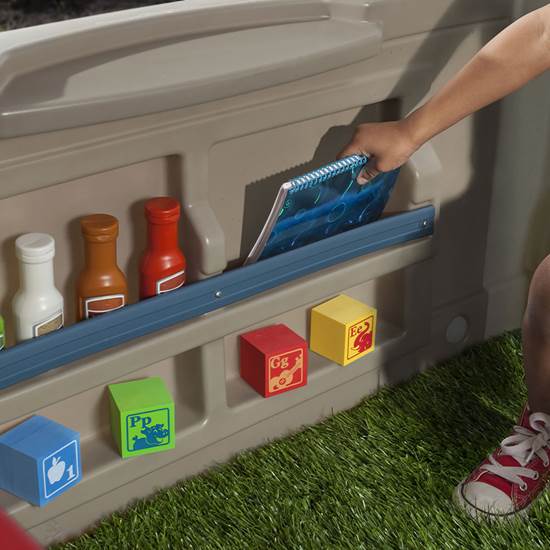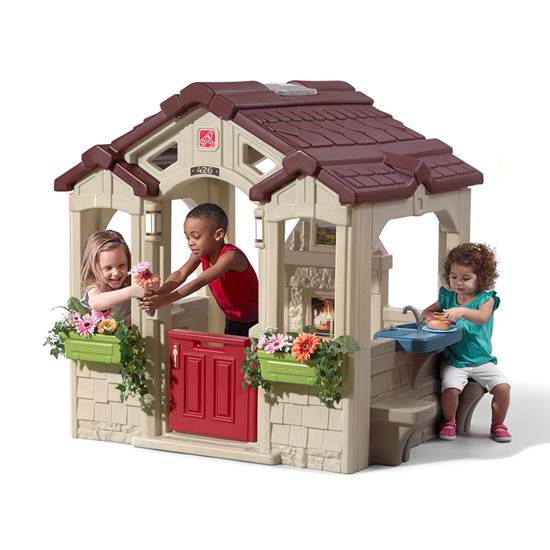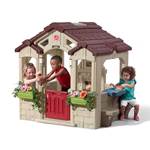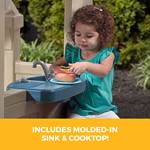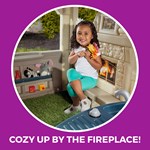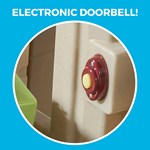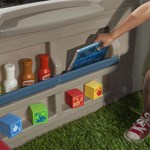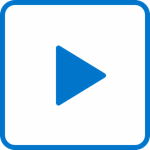 Charming Cottage™
In stock
$349.99
+79.99 shipping (via Truck)
Kids can "own" a cozy home of their own with the Step2 Charming Cottage™.
IS THIS A GIFT? DON'T SPOIL THE SURPRISE!
This item ships with an image of the product on its outer packaging.
Rated 5 out of 5
by
Uncle Matty
from
Fantastic Playhouse!
Thank you to Step2 for allowing us to test the Charming Cottage as part of a sampling program. Our daughter absolutely loves it. She always rings the doorbell on her way in to the house. It is such a fun detail to include on a playhouse. She also loves to pretend she is washing her hands in the sink. She likes to take orders and treats the big windows like she is at a drive through restaurant. I love the window boxes because they are just like the ones we have on our house! The Charming Cottage is our daughter's favorite place to spend her time these days, even if she is just sitting on the fireplace hearth.
Date published: 2016-08-31
Rated 5 out of 5
by
Lakecity1
from
Great Playhouse - Inspires Creativity!
The Step2 Charming Cottage provides non-stop entertainment for my 4yo and 2yo. It took less than an hour to put together with help from my 4yo. She loved putting on her own address sticker! The working doorbell is a huge hit, and the flower beds in the windows have drainage holes to grow flowers (we decided on fresh herbs). My kids love to play house, and this cottage provides so many real life features (the sky light is one of our favorites). There is a storage area for crafts, pretend food, or any other ideas my kids can dream up! I am amazed with the durability and how well my Step2 products hold up to wear and tear, I would absolutely recommend this product to a friend. I received this product as part of the Step2 toy tester program. The reviews and opinions expressed are my own.
Date published: 2016-12-07
Rated 5 out of 5
by
starsmed
from
BUY IT – you and the kids will love it!
Okay, this is such an amazing playhouse for my children and for me! From a looks perspective, it the perfect size for kids and it's adorable – from the sticker decorations, to the doorbell, a skylight (I mean so cute right!?) and the potted plant holders for fake flowers – nothing is left out. Assembly is a breeze – quick (10 minutes), light pieces and simple to put together. The quality is great – it's sturdy and can withstand kids banging on it and extreme outdoors temperatures. The ordering/shipping process was easy too; it was delivered by a freight shipper due to the large box size. Even still, shipping was seamless – the freight shipper called and scheduled a time when I could be home to receive the delivery. Surprisingly, the box was light enough for me to push through my tile house to the backyard (yay!) and flip over to pull the pieces out. My kids (and our neighbor's kids!) gleamed/screamed with delight when they saw the house… they walked right in and began playing. We've already had picnics and tea parties in it… BBQ's are next.  What I love the most – it's a place for the kids to practice imaginary play instead of sitting behind a TV, tablet or smart phone. Get it – you'll love it too.
Date published: 2018-04-20
Rated 4 out of 5
by
CGem
from
Spectacular Playhouse
This playhouse is beautiful and my daughter love it! Room enough for two or more children inside and it's tall to play for years. The only thing that I don't like are the decals. Some of them are taking off.
Date published: 2019-03-05
Rated 5 out of 5
by
kris39
from
Great Product and very durable.
The Charming Cottage was purchased for a child care center. The children love it! They are having fun with all the special features. Four preschool aged children can play in it at a time. The teachers like the open window concept so children can always be observed. My only complaint is the stickers are not sticking very well.
Date published: 2018-06-18
Rated 5 out of 5
by
Tonia the Toy Tester
from
Charming Cottage supplies hours of fun!
I am a staff reviewer and received this item as part of a sampling program. The Charming Cottage is exactly that, adorably charming! My nephews, ages 3 and 5 were very excited to see it arrive and eager to help put it together! It was easy to put together and we had it done within a few hours. The instructions were easy to follow and the 5 year old helped the whole time. Their favorite part of the house are the awesome doorbell that actually works. They love the ledge that they can sit on next to the fireplace and the little ledge on the outside by the sink. Their mom loves the wide windows that she can easily reach through to interact with the kids. The tall roof is a great feature, because she can get inside without feeling too claustrophobic. There is ample room inside to play and the book holder is awesome to store books and toys. This cottage is adorable and we highly recommend it!
Date published: 2016-08-31
Rated 5 out of 5
by
#1 DAD
from
MY 5 YEAR OLD LOVES IT!
If my daughter could go on HGTV and build her own home, it would definitely come out looking like the Charming Cottage! I am a staff reviewer and received this item as part of a sampling program. A++
Date published: 2016-08-31
Rated 4 out of 5
by
Emily
from
Adore, love, obsessed
Adore, love, obsessed. The only thing that stops me from giving 5 stars is that I wish the little cabinets under the sink actually opened and allowed for storage. My 4 year old just wanted to open them so badly. I should probably also note that I wish the planters had holes in them to put real plants. We may drill holes but I'm hesitant. It took my hubby about an hour to put it together! Very easy. I love the size. I go in and sit down with my kids. Multiple little kiddos can play inside and hang out on the little side table.
Date published: 2020-05-04
hello Can you ship this item to the UK. how much would it cost? thank you,
We shipped ours to the Bahamas through a freight forwarder. They then put it on a boat to the Bahamas. I have not received our bill yet but we have the freight charges plus a stamp duty plus a VAT tax to pay on it, somewhere around 45%. You would have to contact a shipping company to get an approximate price and add in your government charges plus a brokers fee. As a side to your question, my granddaughter loves her 'cottage'. 
Date published: 2020-06-30
When will the cottage be available?
Thank you for contacting The Step2 Company. We are currently out of stock and backordered on this item and several products. We do not anticipate having this item & other products back in stock until late - June. Please note this is an estimate as the timing could move back again based on demand, production schedule and retailer commitments. We are now running limited production as we were previously shut down due to the COVID-19 environment and unable to produce product. Continue to check our website daily for availability and updates. We apologize for any inconvenience.
Date published: 2020-06-16
Is it supposed to come with condiment toys? If not, where can I get them? 
@justjudy, It does not come with condiment toys. Just the basics like the stickers and the shadow boxes. Not sure which pieces your looking for exactly
Date published: 2019-11-17
Is there a wall that I can put a small kitchen on? Just for extra fun.
Please contact our Consumer Service Specialists at 1-800-347-8372 Monday through Friday, 8AM -5PM Eastern Standard Time and we will be happy to help you.
Date published: 2019-08-30
How many children can sit on the inside bench and what is the weight limit?
Please see below for information regarding the weight limit on the bench of the Charming Cottage™. Limit: 1 child on seat. 1 child sitting on hearth/ledge of fireplace. Maximum weight per user: 35 lbs. (15,88 kg)
Date published: 2019-07-19
What are the inside dimensions of the cottage?
Please see below for the inside dimensions of the Charming Cottage™ : Middle of the roof to the floor : 52 1/2" Lowest point of roof to floor: 42" Front door to fire place: 33" Side wall to Front of seat: 36" Side wall to table/sink: 38 1/2".
Date published: 2020-05-18
Does this playhouse have a phone inside?
The Charming Cottage™ does not include a phone.
Date published: 2019-06-06
How can I stop water from accumulating in the flower boxes and sink. It makes a mess. It fills with dirty water. Is there any way to let it drain on its own?
I purchased the charming cottage for our child care center and yes it does the same thing. The flower boxes lift off and can be dumped. The sink does collect water. We drilled a small hole to allow water to drain. We need to make a bigger hole because it still does not drain well. We have to towel dry the sink after each rain.
Date published: 2020-01-31