Choo Choo Trailer™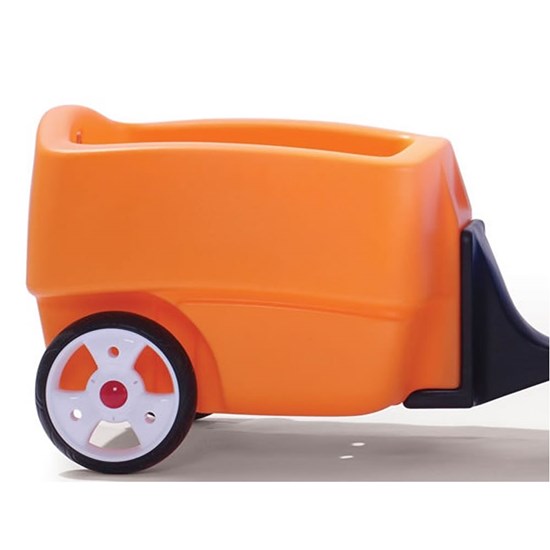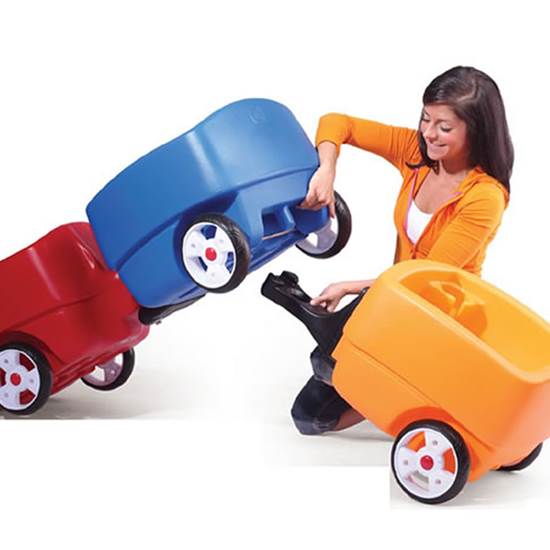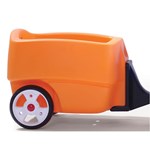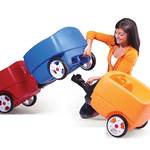 Choo Choo Trailer™
In stock
$64.99 $59.99
+$5.99 shipping (via FedEx)
Make outdoor play even more fun as you carry additional little passengers or more cargo with the Step2 Choo Choo Trailer!
IS THIS A GIFT? DON'T SPOIL THE SURPRISE!
This item ships with an image of the product on its outer packaging.
Rated 5 out of 5
by
Teacher Heidi
from
2 more Choo Choo trailers makes 5 cars!
I already had a three car Choo Choo wagon for my daycare. When two more kids arrived we ordered two more cars. They assembled very easy, and clipped on very nicley. The kids are thrilled! Teacher needs to start working out more! It is heavy, but should be expected with five cars and five kids. We are in a fairly flat town, so it is not too bad. NOT FOR HILLY AREAS, unless you feel really strong. We have only been out in it once, because of rain. We had every car staring at us, and people loved it. I like that my daycare is being seen so positivly. It is easier to pull 5 than to pull 3 and have 2 walking next to. Glad to have it.
Date published: 2012-03-21
Rated 4 out of 5
by
Daycare Kathryn
from
Love my choo choo wagon
I bought this wagon so I could get all my day care kids safely to the park each day. I have 5 day care kids and for me this was the best solution our there. I like others mentioned it would have been nice of the trailers came in other colors besides orange. I bought some plastic stickers from the dollars store to help spice them up a bit and for the kids to know which car is their car. So no fighting or who's care is who's. It is a little heavy and takes time to get use to but it is a dream for me and my day. I agree it would be nice to have storage under all seats, but all in all we are very pleased with the choo choo.
Date published: 2012-04-20
Rated 4 out of 5
by
Anonymous
from
Fun, Fun, Fun.
My husband and I purchased two of these to go with our Choo Choo wagon. We have two year old triplets who absolutely love this wagon. I love the fact that each of the girls have their own space with a cup holder. The Choo Choo can get a bit long with tons of cars and you may have a difficult time turning. Our wagon has 4 cars and we make really wide turns, but it is worth it.There is minor assembly which is effortless. Attach the seatbelt, wheels and hitch and you are ready to go within 30-60 minutes. My husband and I tag teamed the effort and it took less than 30 minutes to assemble 4 cars.
Date published: 2011-04-18
Rated 5 out of 5
by
Debster
from
Worth the wait!!!
The Step 2 wagons and trailers that we purchased are perfect! Easy to maneuver, everyone has their own space, lightweight even with the children, drink holders and storage for first aid kits. I saw them a few years ago and decided then they would be the perfect addition to our program. This time I got it right - they are without a doubt the best spent money. Our 9 toddlers who are too "big" for the stroller but too young to walk on the sidewalk are able to get out and go go go!!! I would highly recommend these wagons to anyone who has toddlers and likes to get outside.
Date published: 2010-11-01
Rated 3 out of 5
by
KYMomOf4
from
Trailers
We ordered 2 of the trailers, and when we opened them, they are both the same color. With having four kids, it would be nice if they each had their own designated different colored cars. This would not be as big of an issue if the front two cars were able to be separated and then we could alternate colors every other car. We haven't even used the wagon yet and we've already had battles over whose car is whose with the 2 like color cars being back-to-back. I guess that's one of the "joys" of multiples! ;)
Date published: 2011-05-23
Rated 5 out of 5
by
Anonymous
from
The cutest wagon!
I was debating whether to get this because of how much space it would take to store especially in the winter, before my nanny went ahead and got it for the twins (16 months). It arrived on morning of Christmas Eve (2 day ship by FedEx) so we were able to seat the twins in individual wagons + the presents in the 3rd trailer, and walk over to our relative's house for the celebration. It certainly drew a lot of attention on the street and we all had a good laughComments:- Assembly instructions were poor / generic.- All 3 cars were able to fit inside the elevator- the wagon was the cutest thing ever! sure to get a lot of attention!- Kids loved the individual, spacious seating- loved the individual cup holder- easy to clean- easy to pull although may get a bit heavy with 2 kids + things; might be easier with just 2 seats
Date published: 2011-12-24
Rated 5 out of 5
by
Bethpurk
from
Great Addition
I bought the wagon and needed more cars so I bought two more cars. They latch right on with no issues. My son and I were able to put them together easily. I just wish you could choose another color besides orange. Otherwise, great product. Love the cup holders. It would be nice if more of the seats lifted up for storage. My husband pointed out that most sippy cups have two handles and they should have made the cupholders to hold them. Just saying.
Date published: 2011-04-04
Rated 5 out of 5
by
Anonymous
from
LOVE
I bought this product along with the choo choo trailer it was a great addition to my childcare business. This wagon is easy enough to load the kids on for a trip to the post office, down to the park, or just for a ride around the neighborhood. While I do have 2 double strollers this makes life so much easier to have everyone in one area and to have the flexibility to add more choo choo cars onto the trail makes this a wonderful product
Date published: 2012-05-30
Can you hook these up to four wheeler or tractor?
It would be a dangerous idea.
Date published: 2021-02-09
Does this TARILER Car can be sent to Overseas? And the wheels has replacement components? thanks!
Oh I'm sure it could be sent over seas. Replacement pieces well, I've never had to buy any. I've had my wagon for well over 25 yrs and never had I bought replacement pieces. 
Date published: 2020-10-22
Can I buy a choo choo trailer any where in canada?
Hi. Amazon USA sells these. I suggest trying amazon Canada. If not there then maybe Walmart Canada or you may need to purchase from amazon usa. :-)
Date published: 2019-11-26
Will this attack one of the regular wagons
I haven't found a regular wagon this will attach to. I believe it will only attach to the choo choo wagon
Date published: 2019-01-31
Will this fit on the step2 pedal tractor 
No it wont. Everything i!have researched is the choo choo trailer is just for the choo choo wagon. They used to make a trailer for the tractor but discontinued it a few years back.
Date published: 2018-06-08
Can you attach more than one trailer together to make the Choo Choo 4 cars?
The Choo Choo Wagon™ is designed to allow up to three Choo Choo Trailers allowing up to five passengers.
Date published: 2021-05-07
Is this trailer compatible with any other wagon besides the choo choo wagon
The Choo Choo Trailer™ is compatible with the Choo Choo Wagon™ only.
Date published: 2018-02-28
I have the older version... red, white and blue but need two more trailers. Can these work?
I have the red, yellow and blue version and added two additional yellow cars. My husband pulls it and doesn't complain.
Date published: 2018-03-27