Choo Choo Wagon™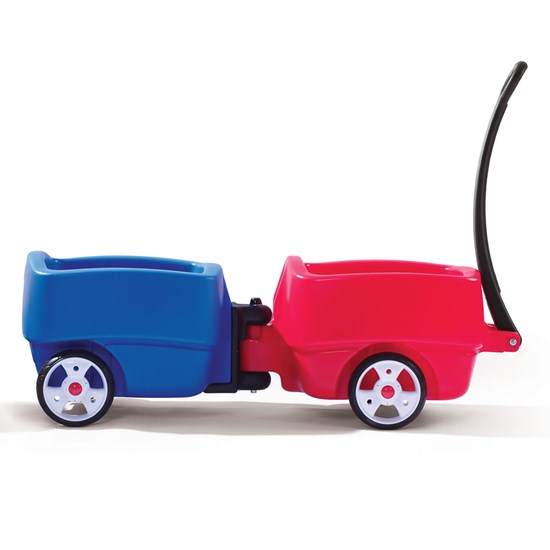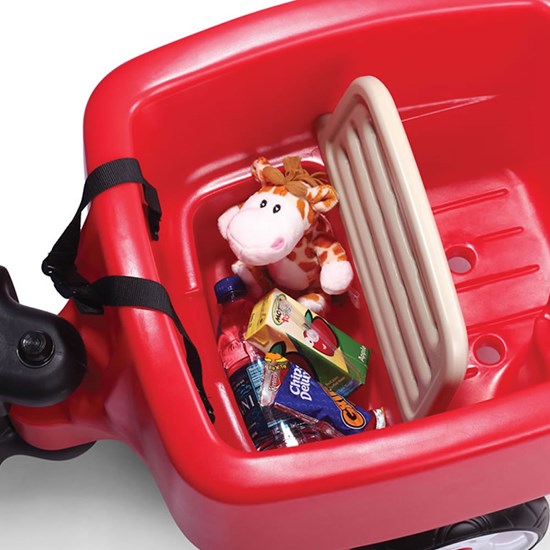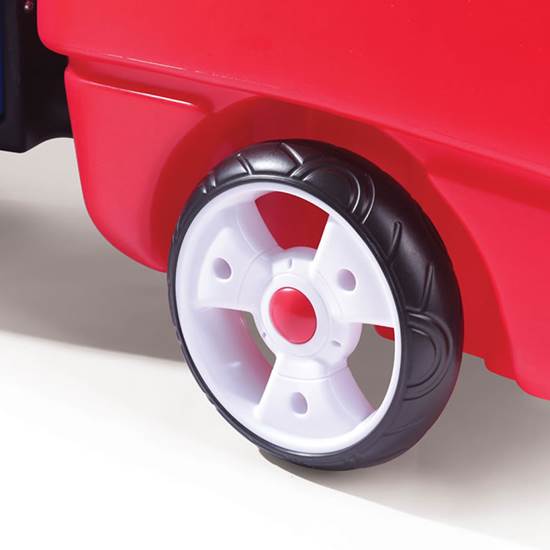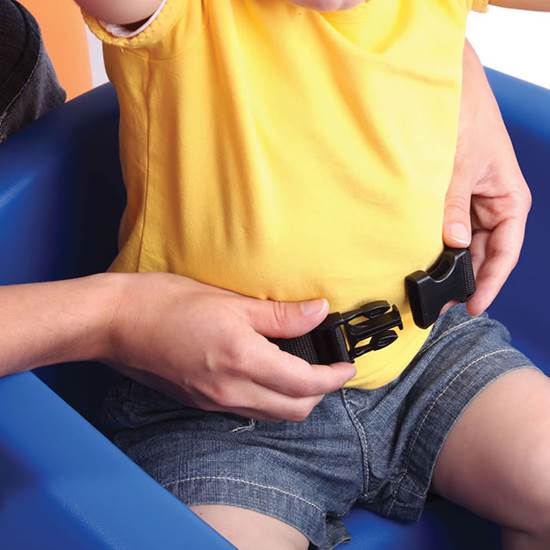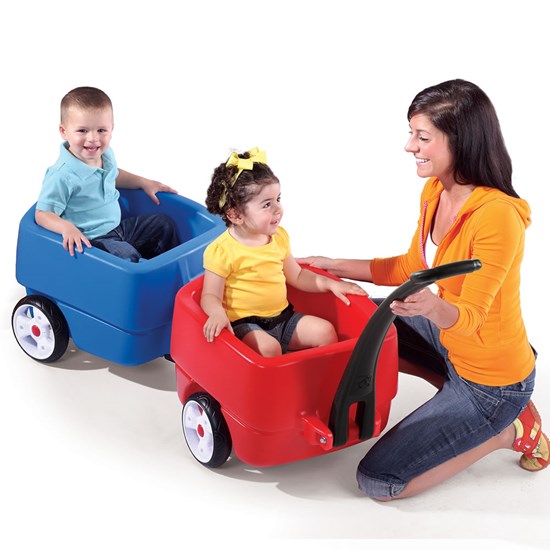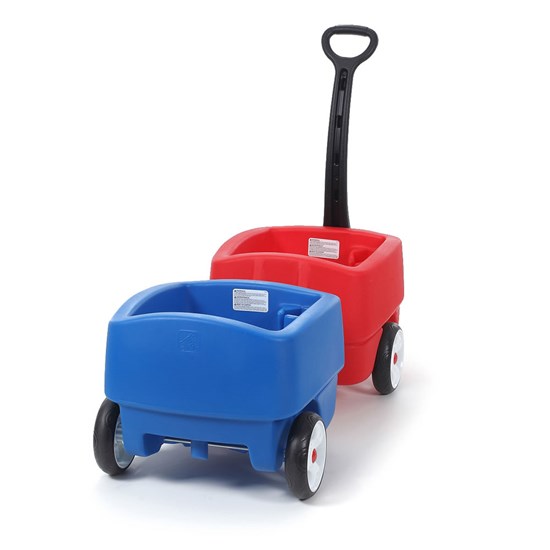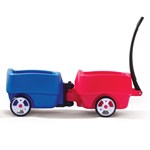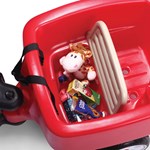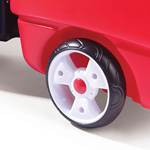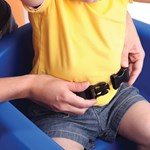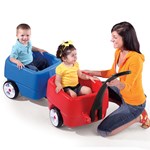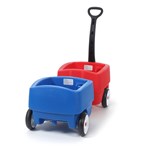 Choo Choo Wagon™
In stock
$104.99
+4.99 shipping (via FedEx) When will my item arrive?
Catch the eye of your neighbors with the fun and colorful Step2 Choo Choo Wagon!
IS THIS A GIFT? DON'T SPOIL THE SURPRISE!
This item ships with an image of the product on its outer packaging.
Rated 5 out of 5
by
Anonymous
from
Love Love Loooove It!!!
I have wanted this wagon for my childcare program for a long time. When I saw it was finally available again I jumped on it. I have the wagon and two trailers. I am thinking of ordering another trailer. I am so happy with this wagon! The children love going to the park and on field trips in it. It DOES attract a lot of attention but that isn't necessarily a bad thing when you are a daycare provider. (I am looking for a new family to replace one who moved away.) If you have several children to haul around and don't want to use a big stroller this is PERFECT!The only con is the handle doesn't fold under the wagon. This makes it harder to put in my van for field trips. Oh well, I can make it work anyway!
Date published: 2010-11-08
Rated 4 out of 5
by
Anonymous
from
We love our Choo Choo!
We are really happy with our choo choo wagon. We are a 4 child family including 2 and a half year old triplets. This has completely replaced our triple stroller. The kids LOVE riding in it and it is surprisingly easy to pull - even with all three of them in it (we have the orange trailer as well).If you are a family of multiples this product lives up to the hype! We have to remove the trailer to put it into our trunk, but once you get the hang of it, that's no big deal. We love that the red car has a lift up seat for storage but wish the blue one and orange trailer had it too. No place for us to put a diaperbag, shopping bags etc unless you purchase another trailer...Overall we are VERY pleased with this purchase!!
Date published: 2010-10-29
Rated 4 out of 5
by
JKmomof3
from
a Multiples MUST!
Love using this wagon and the trailer with our 11 month old triplets. It is easy to pull and they LOVE riding in it. The buckles keep them secure and I love the cup holders that I can use for sippy cups or to put finger foods in. I love the new colors versus the original wagon. However, the handle on the new wagon is placed differently than the original wagon making it "shorter." I am 5'9" and the handle feels slightly too short for me. I manage fine with it, but when going downhill, the front wheel does comes up off the ground a bit. Other than that, LOVE IT.
Date published: 2011-06-21
Rated 5 out of 5
by
SallyOK
from
Choo Choo Wagon Rocks!!
As a mother of toddler triplets, finding a wagon to fit all 3 comfortably was a problem. I had heard about the first, discontinued Choo Choo Wagon from other triplet families, but I was not thrilled with the idea of spending hundreds of dollars to acquire one.Iwas so excited when the reissue came out. The day the Choo Choo arrived was like Christmas Day! I was dancing and singing and couldn't wait to go for our first walk! The triplets LOVE it! They don't want our outings to end. My son actually cried and tried to buckle himself back into the wagon when our walk was done! My friends think it is the coolest thing they have ever seen. I am so excited for all of our adventures in the Choo Choo...the zoo, Halloween, the park...endless possibilities!
Date published: 2010-10-29
Rated 5 out of 5
by
Cass mom is twins and baby
from
Great!! Love this with added on trailer
I bought this because I have twin 2 yr olds and a 7 mo old....I needed something that i could use to pull all of them at once. And this was great!!! Its perfect for walks and they love it. It was hard to get my 2 yr olds to get and stay in a stroller anymore since they're out growing that stage...but they like to get in the wagon. Not easy to put in a small SUV if the trailer is attached...and theres no way to take it back off easily once you add the trailer on. Would recommend to anyone with anymore than 2 small children. Love it!!
Date published: 2012-04-20
Rated 5 out of 5
by
TripletsMOM
from
EXCELLENT WAGON
Best Wagon out there...Must have for parent of multiples or for ANYONE with two or three kids!! I have triplets and watch my niece and nephew during the week, Everyone gets their own space..own cupholder... I take an extra trailer even when I only have my 3 for extra storage..balls, jackets, blankets...etc.I also have other wagons...The safari by step2, and one radio flyer, and one by little tikes....ALL the STEP2 wagons are very sturdy and durable... I wish I could say that for the other wagons I own...BUT I CANT :)
Date published: 2011-09-06
Rated 5 out of 5
by
Mom to Minions
from
I love this wagon!
I am the mother to an almost 4 year old autistic son, a 2 1/2 year old and a 20 month old. My husband has Cerebral Palsy and I am pregnant with our 4th child. So when we are out, I am the one to keep track of the kids. I was told good things about this by a triplet parent. I decided to go ahead and order the wagon with a trailer to hold all 3 kids while we went on walks or at summer festivals. I LOVE IT! The seat belts are a wonderful addition.I admit, it is bulky and will not fit into a car, this is to be expected though. It can also be a little hard to turn with the trailer attached. This too is to be expected given the length. None the less, I am able to pull it about at festivals and not be to sore at the end of the day. The boys love it. There is plenty of room in it.
Date published: 2011-05-20
Rated 4 out of 5
by
MC3
from
Great wagon for mutliples!
My husband and I got this wagon and one trailer attachment for our triplet girls for their first birthday. They LOVE taking walks each day around our neighborhood in it. I can see that the individual wagons will come in handy as they get older. Each has her own space and cup holder! Perfect for planned trips to the zoo, vacations as well as everyday walks. My only complaint is that my neighborhood doesn't always have sidewalk cutouts, so the lack of air-filled tires makes it more difficult to get up curbs.
Date published: 2011-04-26
Rated 5 out of 5
by
Katie's Kids Child Care
from
Great product for the money!
This is a great product for the money! I run an in-home child care center and looked at 4-6 child strollers, but the cost was going to be $400+. With the choo choo wagon I can transport up to 5 children (with the additional attachments) and spend less than $300 to do it. The kids LOVE riding in the choo choo and ask to go on walks all the time because of it. The only down side is that it doesn't fold up like some stollers so it is large to store. It could also use some type of shade and more storage.
Date published: 2011-04-28
Rated 5 out of 5
by
GreenBambini
from
Our Favorite Purchase....EVER!
We have three 2 year old kiddos who can't stand being restrained in their triple stroller. We waited and waited for this to come out and couldn't be more happy with it!! We have used it daily since it got here...for the zoo, the grocery store and for walks. We love that there are holes in the bottom for the rain water to escape! It's super easy to wipe up and unlike our stroller, we aren't worried about spills as they wipe up in a snap!By far one of our favorite purchases as parents!!
Date published: 2010-11-04
Rated 4 out of 5
by
Anonymous
from
Choo choo wagon
I use it to take children on walks whether my grandchildren or kids in my little church morning pre school. They love it! They pretend they are rowing a boat, flying an airplane and of course in a train! Sometimes I have more than 5 kids and we double up ( still within weight limits) that's the hard part. I'll have one push but of course they get tired fast! So that's why I wish the seats were a little wider. It also would be fun for them to be able to face each other.
Date published: 2010-11-04
Rated 5 out of 5
by
Anonymous
from
All aboard! for an excellent ride!
We are in love with our Choo Choo Wagon! Everyone has a space- no more grabbing the wrong cup, stepping on toes, or arguing over which end to sit on this trip. The seat belts are a wonderful feature! (wish all wagons came with them!)Very lite to pull- even with extra cars attached and a toddler in each one!Only feature we would suggest to add, is more storage under each seat.. with four infants/toddlers at our house- all in diapers- storage space is always lacking!
Date published: 2010-11-08
Rated 5 out of 5
by
Anonymous
from
The Choo Choo Wagon is a great buy!!
My kids love this wagon. Its great for almost any outdoor occasion. We took it to the mall for the first time and numerous people had inquired as to where I found this wagon. I am a mother of 19 month old triplets and this is a very practical wagon for multiples. They are much happier in the wagon vs the stroller. The only con I found so far was it was a little hard to fit in the back of my minivan. Its a tight squeeze, but if you remove the trailer it works.
Date published: 2011-03-12
Rated 4 out of 5
by
Mother of 2 year old Triplets
from
Fun, multi-children wagon
We have triplets and this is a great value for transporting triplets. They love having their own space as their triple stroller has them closer together and they tend to pull hair or otherwise pester each other. It is hard to reverse and needs quite a bit of space to turn, so you wouldn't want to use it in a store, museum, etc. It's also large and hard to put into a vehicle. Overall, the kids love it and it is much cheaper than our triple stroller.
Date published: 2011-04-24
Rated 5 out of 5
by
anpeppi
from
Great for multiples.
Love the wagon. I have 11 month old twins and a three year old. I purchased an additional trailer and all three boys ride comfortably. Even the three year old doesn't mind riding. I wish each seat had the storage compartment and that there was a clip to hold the handle in place when not pulling (be careful not to bonk the kid in the front seat with it). Great product and fits in the back of my Sienna with a double stoller and a single stoller.
Date published: 2010-11-18
Rated 5 out of 5
by
Anonymous
from
The best wagon for mulitples!!
I have triplet boys and the choo choo wagon saved my life! It made grocery shopping and all kinds of activities possible for me through the toddler and preschool years. It fits perfectly in a minivan and is so easy to use! I am so glad that you brought this product back! If I had a dollar for everyone who has stopped me and asked where I got it!! This is a wonderful product and my boys still like to ride in it even though they are almost five!
Date published: 2010-12-10
Rated 4 out of 5
by
Anonymous
from
KIDS AND I LOVE IT!!
I use this wagon in my child care and we love it! The children and I love that they get their own space, I like the storage under the seat, but wish all wagons had the storage instead of just the first one. It is a bit bulky and takes up quite a bit of storage space, but I still think it was worth the money :) It doesn't turn as sharp as I would like, but again, I still overall love this choo choo and have already recommended it to others!
Date published: 2011-05-02
Rated 4 out of 5
by
marinamom
from
Good but the older one was better
Awsome wagon. I always get comments on it. We have all 3 cars, even though we have 2 kids. I had the older model and upgraded b/c of the seat belts and the quiet wheels. My youngest was wiggling out of the old one and you could hear us a mile away b/c the wheels made so much noise.I feel that the older model had a better turning radius (i could make a look on our wide sidewalks, can't do that anymore). Also the handle had a better pulling angle. I could pull both kids on our 1 mile walk with no strain in my arm. With the new one after a few blocks I need to trade off with my husband.In addition I had 100 lbs of kid in our old wagon and it was very very easy to pull, didn't really feel the kids, with the new wagon I can feel all 50 lbs of kids that i'm pull. This may be a funtion of the handle design.Overall I love it and my kids love it.
Date published: 2011-01-14
Rated 4 out of 5
by
3littlewonders
from
Just change the name to Triplet Wagon!
This is my second Choo Choo Wagon and although it is still awesome the original is still my favorite. The reason I say that is this one does not turn as tight as the older one I bought in 2007. It is much stiffer and harder to navigate. Also the design change of the handle made it longer which makes it very difficult to fit in the trunk of my van. The older model fit perfect. It still is an awesome wagon and I would highly recommend it!
Date published: 2011-04-29
Rated 4 out of 5
by
four kids under 2
from
Love this product..so glad it's back
love this wagon. my husband and i bought it for the kids for christmas. it was perfect timing for trick or treating. only problem is having some place to store it when not in use b/c we don't have garage. being the parents of a toddler and triplets, we need different ways to get out and about and this is perfect. have been looking for it since we found out about the multiple pregnancy. thanks for bringing it back
Date published: 2010-11-12
Rated 4 out of 5
by
Bentley
from
Love, Love, Love it!!!!!
We love this wagon! We have had it for a while and we take frequent walks around the neighborhood. We have also taken it to the zoo and occasionally to the mall. Everywhere we go we have people asking us where they can get one. Our triplets also like this much more than the stroller and it is much more easily maneuvered. It also has much more personal room than the stroller and I like the individual cup holders.
Date published: 2011-09-09
Rated 5 out of 5
by
Grama Sue
from
Love the Choo Choo
We love the choo choo wagon. This is our second one not because the first one wore out but because we have a new set of twins. The first choo choo is still being used by their 2 1/2 year old triplet brothers. It's great each child has their own seat with seat belt and cup holder. I really think the only con is all the attention you get from others but when you go out with our crew you come to expect it.
Date published: 2010-10-31
Rated 5 out of 5
by
Mom of 4 crazies
from
Wonderful
I have two year old twins and a one year old...this product makes it possible for us to get out and about...so thankful they put this back on the market. The kids absolutely love it!!Only wish there was a storage compartment under each seat, not just the first seat. Also, it is a tad bit of a workout to pull all 3 up hill in the wagon/trailer, but on a flat surface it is very easy to pull and maneuver!!
Date published: 2010-11-16
Rated 4 out of 5
by
Anonymous
from
Triplet Wagon!
My husband and I enjoy the Step 2 Choo Choo Wagon. It is great for our two year old triplets. All of our neighbors enjoy watching us pull the girls around the neighborhood. Although I do not pull the wagon myself, my husband suggests it gets tiring. We purchased the Choo Choo Wagon plus two additional cars (totaling 4 cars) to provide each of the girls their own seat while having an empty car for diaper bags, ice chests, etc. We absolutely love the wagon. If only it came in better colors :)I know some of the other reviews did not like the fact that you had to assemble some of the parts, but my husband and I put the Choo Choo Wagon plus two additional cars together without a drill in less than thirty minutes. It was rather simple and neither of us are what you would call handy!This sure beats a stroller for long walks around the neighborhood! Plus, my girls never want to get out of it.
Date published: 2011-04-18
Rated 5 out of 5
by
Englishgirl
from
I would buy this all over again
I am the grandparent of a 3 year old & 18 month old set of twins...the choo-choo wagon is the perfect wagon for my 3 grand babies...their mother can walk all 3 at once on the Air Force Base they live on and they have their own cart to sit in...they outgrew the other step 2 wagon...I was on the waiting list & it was worth the wait...they love it..perfect gift from Gran Ma...thank you
Date published: 2010-10-29
Rated 4 out of 5
by
Moms of triplets
from
It's a one of a kind; MUST for multiples
This is a great wagon! I was quite surprised by how smoothly it rides and pulls. My kids love it and we can now take them for walks in the mall, the zoo, etc without breaking out all the strollers.There are definitely some things that could be better, but they aren't dealbreakers in my opinion. Adding a couple inches between cars (while this thing is already massive, that might be a tough sell...) might help the turning radius. Which right now is about the size of a football field. I'd also like to see storage in each car. And it could come a bit more assembled. I don't think sending it out with the wheels and seat belts attached would really increase shipping size that much. Assembly was a bit more burdensome than I felt necessary. Particularly because of it's size and awkwardness, it requires a large space and quite a chunk of time.But, overall, I was really excited about the wagon, and wasn't disappointed!
Date published: 2011-03-13
Rated 5 out of 5
by
Anonymous
from
I love this product I bought!!!
I use my Choo Choo Wagon and trailer everyday. I am a Licensed Childcare Provider in Colorado and I take my childcare children out for a walk daily. My little children love to ride in the wagon and it holds all 5 of of them. Each child has their own space and their own cup holder's. When we go out for our walk, people who drive by have to stop and look and smile at the kids.
Date published: 2011-06-26
Rated 5 out of 5
by
Anonymous
from
Great for our triplets!
I bought this as soon as I heard it was available again. Our triplets are almost 2 and it's so much nicer for them than the triplet in-line stroller we were using. They have more freedom and can see a lot more. It's really lightweight (that is until you add in the children :-) I just wish we would have had it over the summer, since snow is already falling here in Michigan.
Date published: 2010-11-06
Rated 5 out of 5
by
Anonymous
from
Dont know what I'd do without it!
I run a small in-home daycare. I dont know what I would do without it. I cant find a wagon that will hold the kids I have without buying a daycare stroller - and the are SUPER Expensive! This was priced within my price range and I love that I can add more trailers to it! Highly recommended. We put the entire thing together and one additional wagon in 30 minutes.
Date published: 2011-03-29
Rated 4 out of 5
by
The crazy lady
from
This is a great wagon
My two littles love this wagon, they love saying chugga chugga choo choo as we walk along. My youngest is 14 mos and doesn't have a problem sitting in it. I really like that it has a safety belt. The storage under the front car's seat is really nice too bad that the second car doesn't have some too. This is a fun and easy to pull wagon that my littles love.
Date published: 2011-06-21
Can the red choo choo train be used only? Or does it have be use with the blue also? I'm planning to use one wagon. Is that possible? 
The Choo Choo Wagon is designed to use it with at the very least 2 cars and we do not recommend using one only.
Date published: 2019-12-16
I am buying a choo choo with 2 seats it's the older model I believe being the light green and light purple, do all of the seats have the ability to hook on something behind it?
Please contact our Consumer Service Specialists at step2-company@step2.net or 1-800-347-8372 Monday through Friday, 8AM -5PM Eastern Standard Time and we will be happy to help you.
Date published: 2019-10-09
Is there a canopy for the choo choo wagons
The Choo Choo Wagon™ is not designed for a canopy.
Date published: 2018-05-21
Can this be made longer then 3 seats? 
The Choo Choo Wagon will tote up to three Choo Choo Trailers.
Date published: 2018-04-27
Can you advise the package dimension and weight? Thanks.
The packaging dimensions for the Choo Choo Wagon™ are as follows : 51.75 x 18.75 x 17 inches weight 27.75 pounds
Date published: 2018-02-15
Do you send to Republic of Moldova ?
Step2 Direct ships within the Contiguous United States only.
Date published: 2017-11-08
I see on google that there can be different colours, wondering how I can order more of the girly colours please and thanks 
The colours found on google for the Choo Choo Wagon are possibly vintage and are now retired. Please know that all step2 products are sticker friendly and this may provide an option for you.
Date published: 2017-08-14
Can I order the choo choo train combo and add 2 additional trailers?
Yes, the Choo Choo Wagon™ is designed to accommodate up to three Choo Choo Trailers.
Date published: 2018-03-27