Clubhouse Climber & Sandbox Combo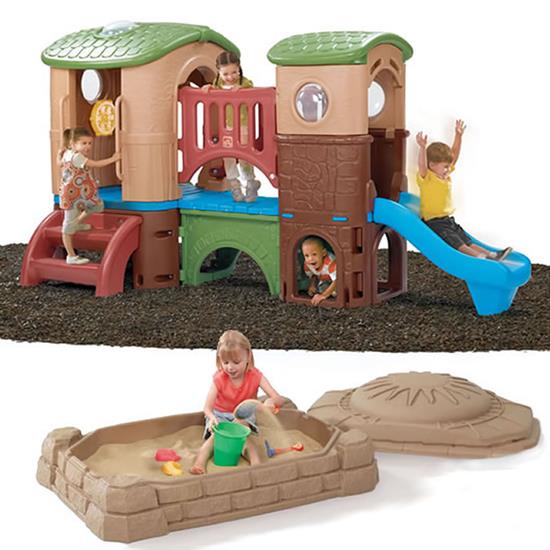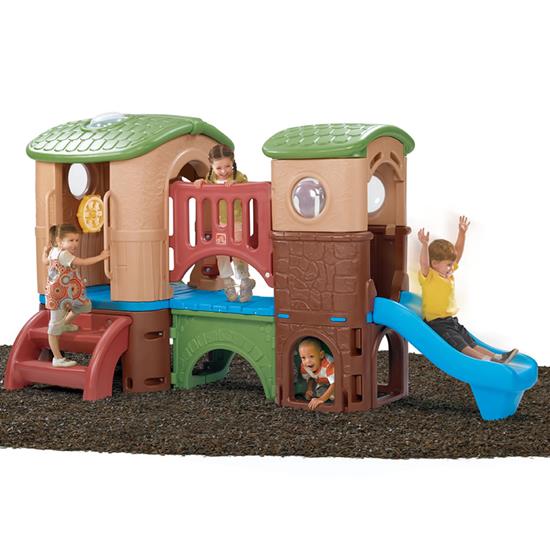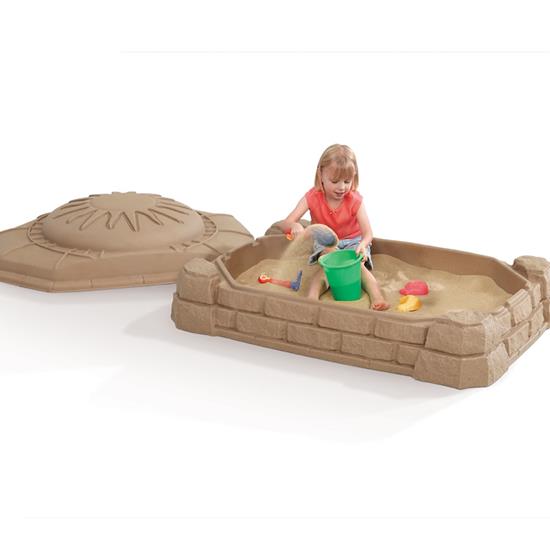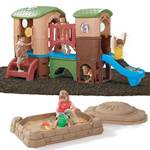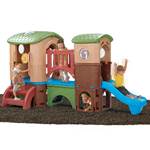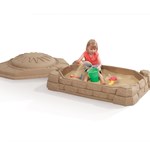 Clubhouse Climber & Sandbox Combo
In stock
$854.97 $769.97
+ FREE Shipping! (via Truck) When will my item arrive?
The Clubhouse Climber and Sandbox Play Set by Step2 encourages mini adventurers to get out and get active!
IS THIS A GIFT? DON'T SPOIL THE SURPRISE!
This item ships with an image of the product on its outer packaging.
Rated 5 out of 5
by
Esaw
from
Clubhouse Climber
We absolutely love it. Great size and the kids really like the bridge part. I like that I can still easily reach the children if they have any issue while they are on the climber. I have a group of 5 ages 1 - 3.5 and there is plenty of room and area for them all. Sand box is also a favorite. They enjoy sitting in the sand. Two fit comfortably inside the sandbox but they all can play together if they sit on the corner seats. Sides are a great size to keep most of the sand in but low enough that they easily can sit on grass outside and reach in for play.
Date published: 2018-05-25
Rated 5 out of 5
by
Mommy2Lexi
from
i 100% recommend this amazing product
I would 100% recommend this product. It is very sturdy and just the right size size for my 14 month old, and she has plenty of growing room on it, so I know she will get alot of good use out of it. The only bad thing (which,wasn't a big deal) was we couldn't get two of the bolts to go on correctly, but its still sturdy.
Date published: 2013-03-14
Rated 5 out of 5
by
Anonymous
from
Quality at it's best!
I have both of these items and love the quality! When my granddaughters come over they have hours of fun! I also have the swing set. The sandbox is the best, it does not leak ever when covered. I only buy step2 for my grandchildren, I know I'm getting a quality product.
Date published: 2012-03-30
Rated 5 out of 5
by
Juri
from
Great quality.. hours of fun for the kids
I just purchased this combo for my kids ages 3 and 1. My son loves to climb on this everyday and loves to hang out and play with his trains in it as well. Keeps my kids busy and active. It was pretty easy putting it together which was a plus. Sandbox was also a great size and keeps grossness out because of the lid. There hasnt been a step2 toy i havent enjoyed.
Date published: 2017-04-27
Rated 5 out of 5
by
Anonymous
from
Great products!
We have two toddlers . 1.5 and 3. They both love both of these products. They play on it everyday and don't get bored with it. They also enjoy the little window/skylights and like to play peek a boo using them. They both love the sandbox as well.The set wasn't terribly difficult to put together , took some time but so worth it. It's very sturdy as well.
Date published: 2016-04-23
Rated 5 out of 5
by
GMAX
from
AWESOME!!! Good quality!
This came quickly and it looks awesome!!! My son loves it and its super easy to clean. We've only had it for a few days but we love it. Also it was a package deal and came with a sand box. My son really enjoys playing in the sand and its fun watching him learn.
Date published: 2013-02-07
Rated 5 out of 5
by
Sassafrass
from
love it
Just wish the wheel would turn. Also wish the edge of the sandbox was sturdier for an adult to sit on it without squishing it. The overall size of everything is perfect. I wish I were small enough to play on it too!
Date published: 2013-07-12
Rated 5 out of 5
by
Anonymous
from
What a wonderful play structure!
We purchased this structure for our Toddler Playground. The children are so excited and it has been a wonderful addition to our Children's Center. It took two people to assemble, but it was so worth it!
Date published: 2012-06-04
the delivery date, I need for May 7 or 8 the latest
Please contact our Consumer Service Specialists at 1-800-347-8372 Monday through Friday, 8AM -5PM Eastern Standard Time and we will be happy to help you.
Date published: 2019-04-29
I need to anchor the climber to the ground, are there anchor points installed in the climbers?
Yes, there are.
Date published: 2018-08-15
i AM LOOKING FOR THE TELESCOPE AND THE TABLE TOP FOR OUR CLIMBER. NO NUMBERS ON IT . SO ALL I CAN TELL YOU IS YOU CLIMB UP ONE SIDE THERE IS A STEERING WHEEL AND SUPPOSE TO BE A TELESCOPE THEN A BRIDGE TO A SPOT FOR THE TABLE CAN I GET THIS?
The Parts you are describing are for the Naturally Playful® Clubhouse Climber. Please not that this unit has been retired and we no longer have the parts you have mentioned.
Date published: 2017-07-13
One side of the roof didn't come with mine. Can I order it?
Please call toll free 1-800-347-8372 Monday - Friday, from 8-5 ET and we will be happy to assist you further with this request.
Date published: 2018-03-27
I got a step to play set from a friend. At one and you climb up into a little area with a little telescope then you can walk across the bridge, which underneath is a tunnel, into a little area with the slide. When assembling this do you need to add sand into the place it or do you just snap it together and go ?
Just screw together and go......not more than a 2-3 hour project to assemble this unit pictured. We do not have sand under ours and have never had any issues ...... users are three boy from 2-4 and one girl age 2.....never felt they were in danger of falling off and unit still looks brand new. They still love it!
Date published: 2018-03-27
In 1994 I had a pool&slide. The slide was 3 1/2 -4 ft tall. It hook on to the pool. The pool was green. The kids LOVED IT!!! I'm not finding anything like that! Do you have a slide&spool combo???
Unfortunately, we do not currently offer a slide & pool combo.
Date published: 2018-03-27
Can this be disassembled to move without breaking any components?
Yes! And so long as you don't loose the screws, it's easy to put back together again!
Date published: 2018-03-27
How well does this hold up against sun fading and how is the durability?
Hasn't faded or weathered at all! Looks new
Date published: 2018-03-27