Clubhouse Climber™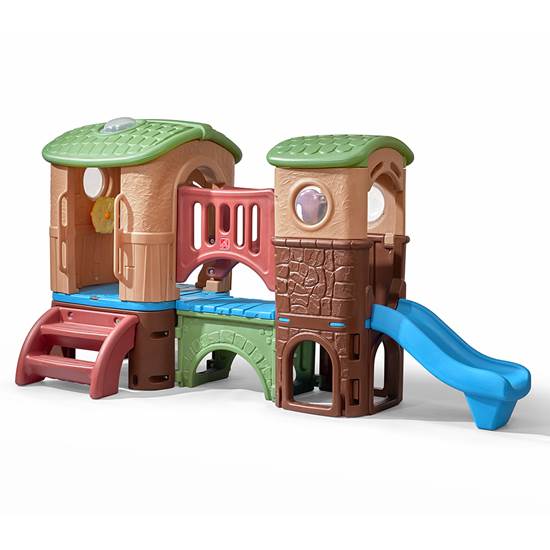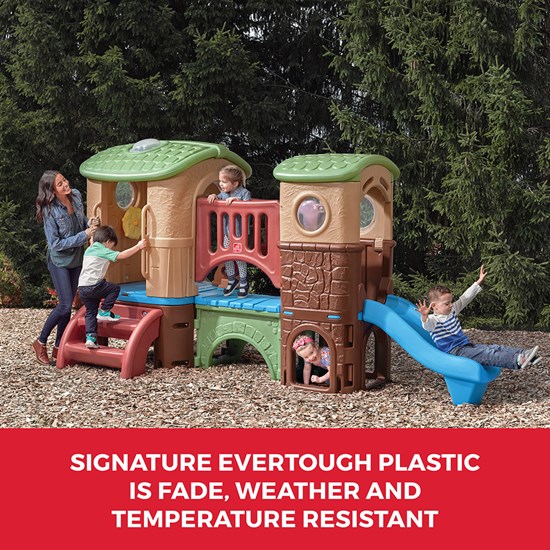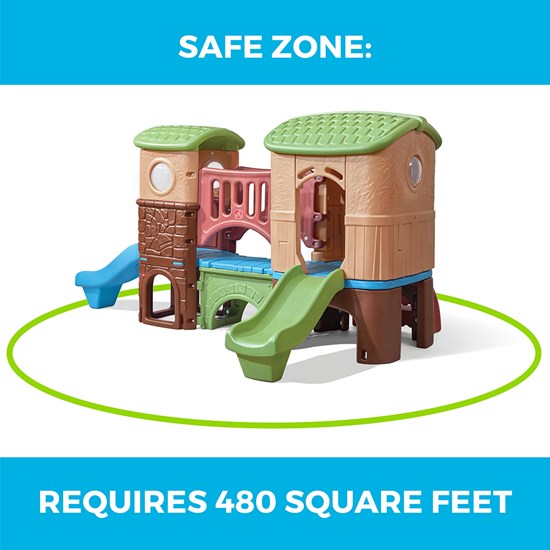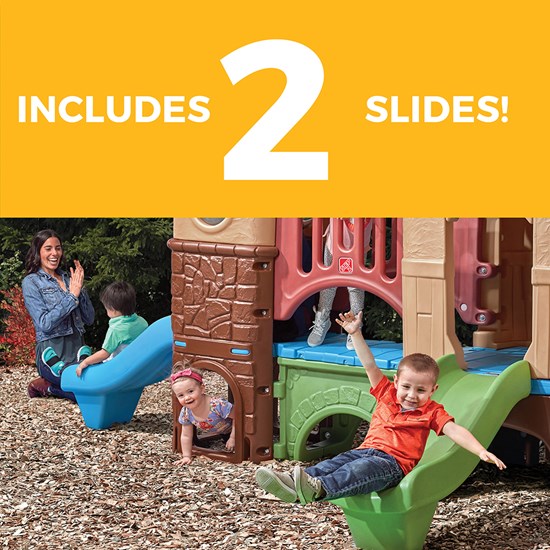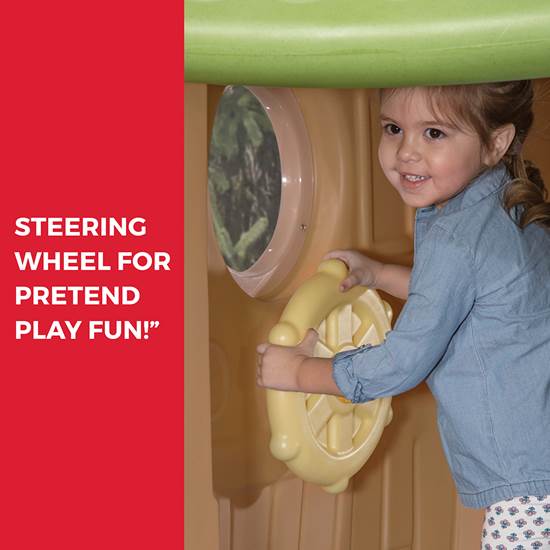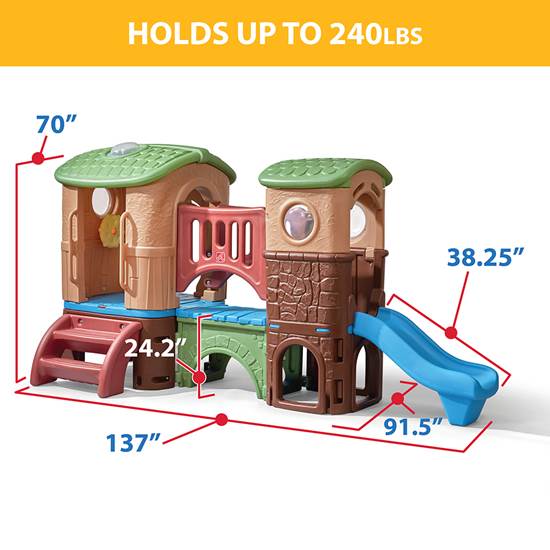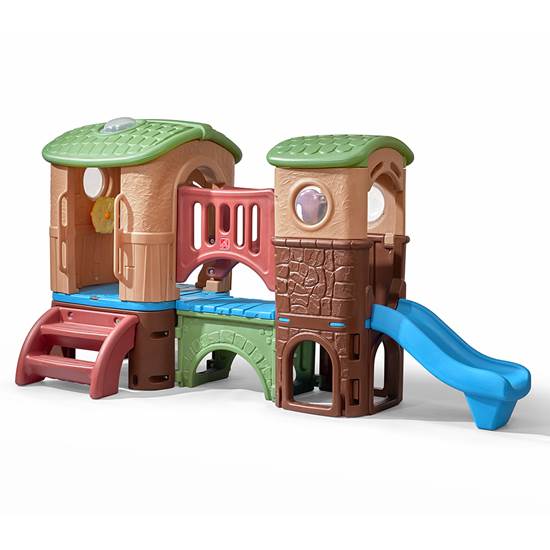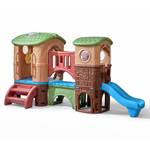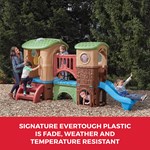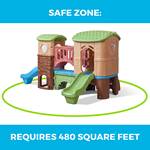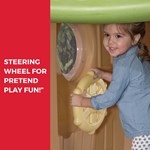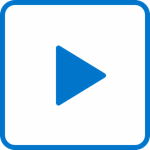 Clubhouse Climber™
In stock
$939.99 $854.99
+$99.99 shipping (via Truck)
IS THIS A GIFT? DON'T SPOIL THE SURPRISE!
This item ships with an image of the product on its outer packaging.
Rated 4 out of 5
by
Anonymous
from
Fun and sturdy
This product is easy to assemble (under 3 hours for my husband and I). I was concerned the ceiling/doorways would be too low, but my daughter can walk around without ducking easily. The base of the clubhouse is about 3 feet off the ground, so the slide is somewhat on the short side, but bigger and steeper than the Kangaroo Climber. My daughter is 2 and can easily climb in, under and around this. She loves the electronic phone and "telescope". It is sturdy (and large) enough for me or my husband to sit in the clubhouse with her, but anyone over 150 might make the floor sag. An 8-year-old would probably only play on this with a younger sibling.
Date published: 2010-01-14
Rated 4 out of 5
by
Jenny in the west
from
"Very safe product, I love safety"
This is a wonderful playset for our 2 year old son. He loves being able to climb on it without any help along with going down the slide. The clubhouse climber is in our backyard and the only problem is that we don't have a fence due to the yard being over an acre so when we get bad weather it did blow away. My husband and I did anchor it down, but it would of been nice to see that on the directions or fill the sides with sand to hold it down. The climbing wall part was difficult for us to connect with the other pieces, but I guess you have to get a little western with it! Other than that, our son is playing on it all the time, which is great!
Date published: 2009-07-08
Rated 4 out of 5
by
Parent of one
from
climber
We bought this for our daughter's 1st birthday. She's crawling very well and walking somewhat. She loves to climb the steps with help and slide down. She crawls inside and out of the openings on the bottom and across the bridge. The unit is a bit smaller than I had envisoned, but very appropriate in size to my little one. The side rails on the bridge section have an arch design on the bottom that is too high however - when she crawls across the bridge, she can easily crawl beneath the rail and off the edge. I imagine this will solve itself when she is a bit older and more reliable - - she'll be able to climb beneath the rail with no trouble.
Date published: 2010-07-29
Rated 5 out of 5
by
Anonymous
from
Great for my toddler
I bought this for my 21 month old son, who loves to climb on everything. He loves climbing into the clubhouse and underneath in the tunnel. I put almost the whole clubhouse together by myself, only needed my husband to help with a couple of screws. The only problem we have had is that the slide and the climbing tower do get pretty hot in the sun. We will be buying some sort of cover to put the clubhouse under before summer gets here. My son promptly fell off the climbing tower but because it isn't too high off the ground, he didn't get hurt at all and hasn't fallen off since. All in all it is great for younger children.
Date published: 2009-04-23
Rated 5 out of 5
by
Anonymous
from
a snap to put together
this product was very easy to assemble. went together in about 90 minutes. put it together on christmas afternoon while my son napped. when he finally saw it after waking up, he could not contain himself. although it is on uneven ground in the backyard (thanks to three dogs), it is very sturdy. my son has had it for about 2 weeks and always wants to go outside to play on it. he loves to run all over and under it. this product has been a godsend in keeping him entertained. the only think missing a a swing component. but i like this product so much that i am seriously considering purchasing one of the swing sets later this year.
Date published: 2010-01-05
Rated 5 out of 5
by
CDM
from
Amazing climber
My 18 month old son is obsessed with this climber. So much so that I had to purchase additional locks for the back doors because he is constantly attempting to go outside on his own to play. The first several mornings we found him letting himself outside in his pajamas as the sun was coming up to go play. As if he was dreaming about it all night long. Its the first thing he goes for after nap or getting back home from being out with Mom.Now, a month into having it set up, he is still completely obsessed. Its his preferred place to be rain or shine. Looking forward to the endless days to come watching him and his friends playing.
Date published: 2017-04-26
Rated 5 out of 5
by
Anonymous
from
Your Child/Grandchild Will Love This!
If I could, I'd send one to every grandchild's home. The colors are not brash, but beautifully in harmony with garden colors- neighbors close by will appreciate that! The quality is like the old Little Tykes toys...tough blown plastic. The (2)slides have a gentle, short ride. Best of all, the foundation will not kill your lawn, as there are sturdy legs hitting the grass, versus the entire base touching the ground. Once assembled, it may take three adults to move it...it is not flimsy nor lightweight! My grandson now squals: "House? House?" when I come over and we run out back to play! We love it. Thanks, Step2.
Date published: 2011-01-29
Rated 5 out of 5
by
Cmsmith217
from
Best purchase to date!
Our daughter loves this Clubhouse Climber. It wasn't difficult to put together if you have a drill or power screwdriver. I can't imagine putting this together without either of those and the directions should be modified to require this. This provides hours of fun and is very sturdy. I feel safe letting our daughter play independently on it. This is easily the best purchase we've made to date and provides a lot of fun for our little one.
Date published: 2017-11-20
What is the height from ground to bridge?
From the ground to the blue bridge walkway is 23 inches. 
Date published: 2021-06-09
Is this clubhouse climber expandable? Can you add swings etc
No, it is what it is
Date published: 2021-05-23
What is the age limit for this? I have twins that will turn 3 in August
Our grandkids are where 2 and 1 when we purchased this for them. We put a fish net type safety net on the bridge so they could not fall off. They love it. 
Date published: 2021-05-01
Is there a payment plan option?
I wish. This price is so out of reach for many families. Ridiculous. 
Date published: 2021-04-17
Is it possible to purchase box #2?  Amazon only sent me one box and then didn't want to come and get and told me to keep it. Like what am I going to do with half a play set?!?
I think if you wrote step 2 they would be able to get you what you needed!
Date published: 2021-04-11
Who is the shipping carrier used for this item in the domestic US? 
Step2 works with several carriers. Please contact our Consumer Service Specialists at 1-800-347-8372 Monday through Friday, 8AM -5PM Eastern Standard Time and we will be happy to inquire as to what carrier is used in your region.
Date published: 2021-02-26
The roof does not align well. I have assembled it the right way. The screws are not fitting well. Is the roof a defect ? It's the edge of the green roof that is right on top of the slide. 
Please contact at us 1-800-347-8372 Monday - Friday, 8:00 am - 11:00 am and 12:00 pm - 5:00 pm EST, and ask for a Customer Service representative who will assist you in order to find a resolution to your satisfaction.
Date published: 2021-02-24
I am just wondering if this will be in stock before Christmas. I have a special needs 5 year old who would adore this playyset.
We apologize but we are currently out of stock and backordered on this item and several products. We are now running limited production as we were previously shut down due to the COVID-19 environment and unable to produce at that time. Our current production has been limited due to social distancing guidelines. We do not anticipate having this item & other products back in stock until late mid– late December. Please note this is an estimate as the timing could move back again based on demand, production schedule and retailer commitments. Please note that this product and many others may not be available on our website and only available and sold by Walmart or Amazon. Continue to check our website daily for availability and updates.
Date published: 2020-11-24