Clubhouse Climber™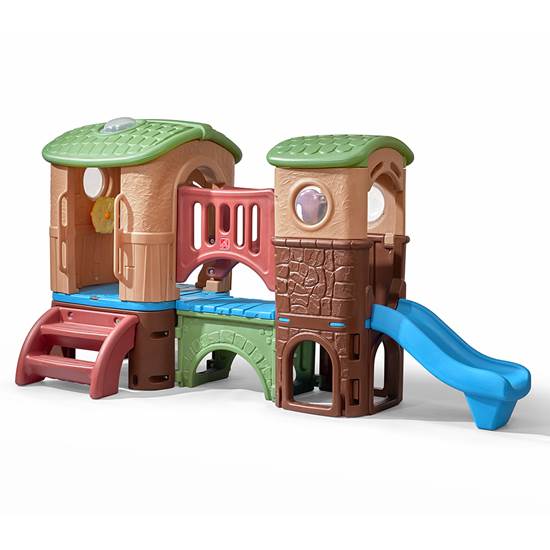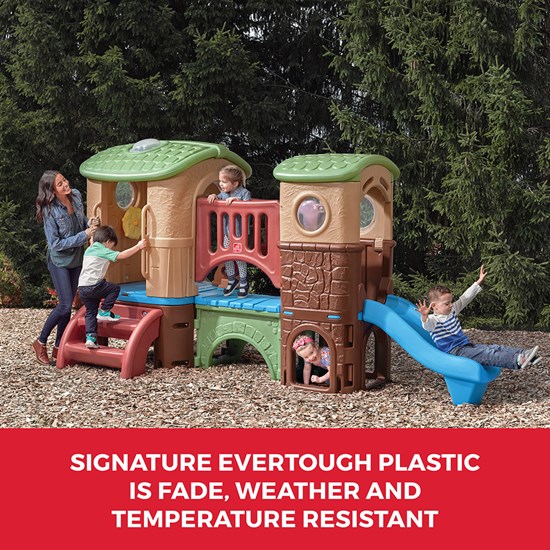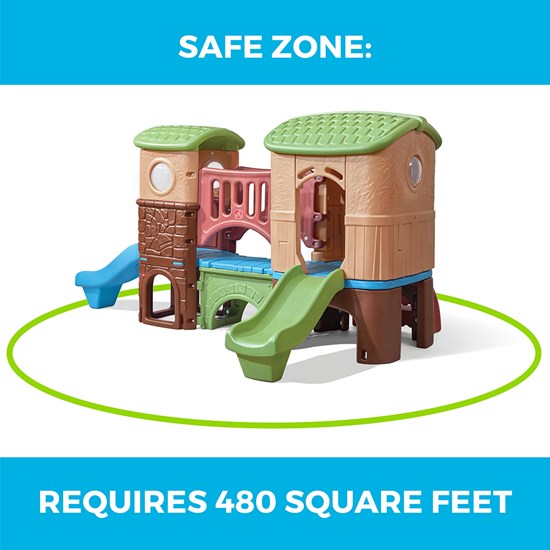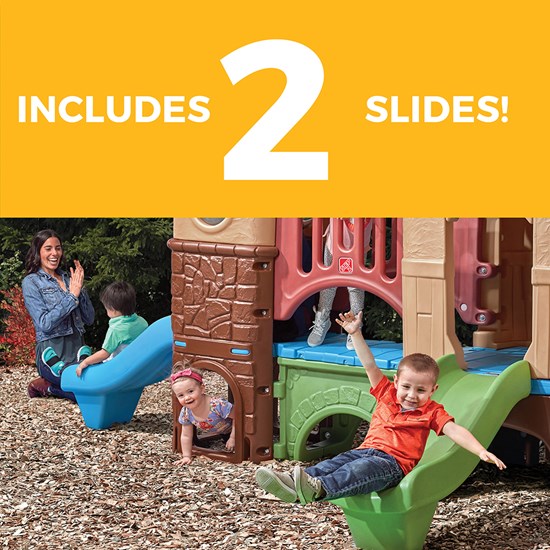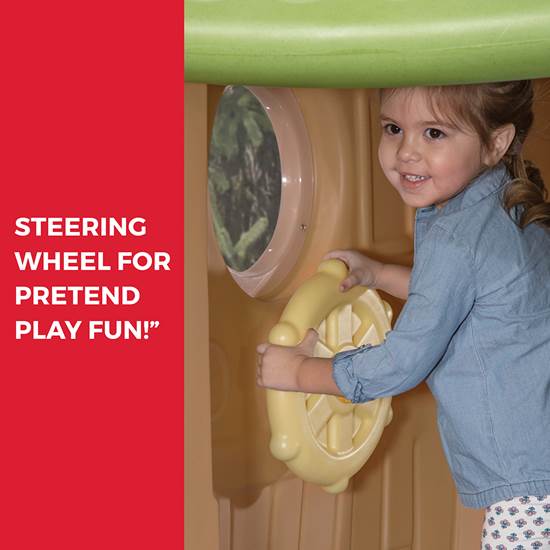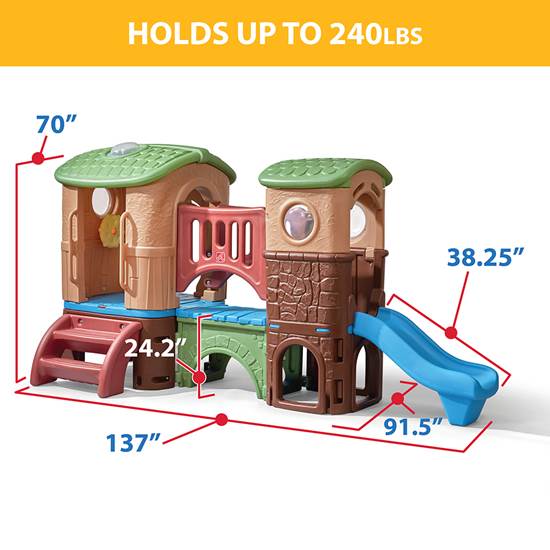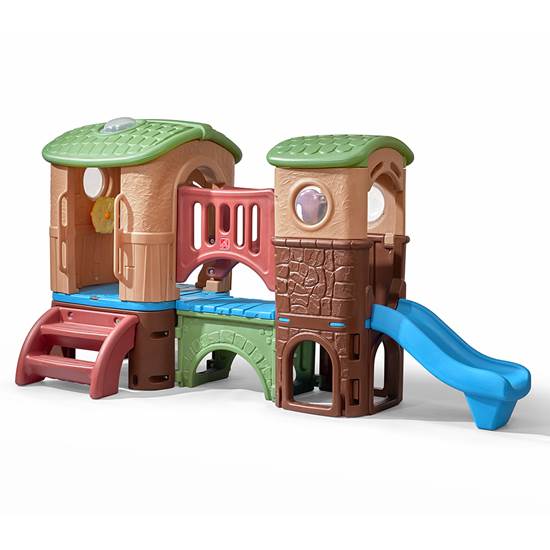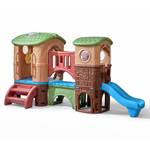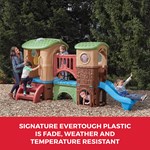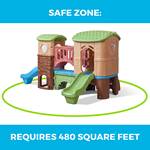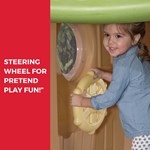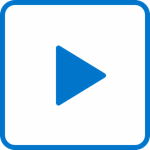 Clubhouse Climber™
In stock
$754.99 $749.99
+99.99 shipping (via Truck)
IS THIS A GIFT? DON'T SPOIL THE SURPRISE!
This item ships with an image of the product on its outer packaging.
Rated 5 out of 5
by
Grandma Julia
from
Naturally Playful Clubhouse Climber
This was a gift for my 2 yr. old grandson. He helped his mom put it together by bringing her the parts she needed. He loves to play outside and loves to run and climb on things so this was the perfect gift. It's sturdy and can be used by 5 or 6 kids at one time. Great for large muscle co-ordination skills, developing imaginatiion and will keep his interest for at least 4 more years.I first saw this clubhouse climber at a pre-school for 3,4,and 5 yr. olds while subtitute teaching there. The children enjoyed running through it and around it, climbing on it, and pretending with it. That's when I was sold on it!
Date published: 2010-05-08
Rated 4 out of 5
by
AZsunsetGurl
from
Can't Outgrow
We originally bought this product almost 6 years ago for my son. It has survived 2 cross country military moves, my two children and a home daycare. I absolutely love this product! i have been able to crawl around the thing myself and be interactive with the children and allow them to play safely from crawling to school age. My only complaint is that wherever you put it, it has to stay. You can never move it to mow or trim around it, and it collects spiders and critters. I had to treat it with appropriate spray routinely. I also had to leave it this last time for my neighbor because it is so bulky there was no room for it in the move... I and my kids miss it terribly!!!
Date published: 2009-03-09
Rated 5 out of 5
by
Momma of 5
from
Amazing!!!!
We first assembled it in the house because it was too cold out still and we have 3 very active young boys, a 3yr old and 18 mo old twins.. It has been a long winter and they were getting bored. My husband put it together in about 2 hours. Our kids love it!!! I can't wait to take it outside because the thing is HUGE!!!! It was way bigger than expected.Ordering directly from Step2 was great. It costs less than odering it from anywhere else [...], how could i buy from anywhere else. Our climber was here in a little over a week!!! Amazing!! I cant wait to see them playing together on it during the summer months!!!!
Date published: 2011-04-18
Rated 4 out of 5
by
Dad wants a new Toy
from
Nice product
I really like this product. My only gripe is that the plastic could be 1/8 inch thicker and that would make it much sturdier. I read most of the reviews, so I was expecting the size it came. It really is for Toddlers. The main platform came a little warped and is bowing in the middle and like I said, a little bit thicker plastic on most of the parts would fix this.My 20 month old son loves it so far after 3 weeks and runs to the door every morning or when he knows we are going outside. It does not take the place of the park jungle gym, but it is low to the ground and is safer. It definitely saves us time and we know he is safe. It will be well used in his toddler years.
Date published: 2010-03-14
Rated 5 out of 5
by
Alex
from
This thing is awesome
This product has made life so much easier in the 2 days it's been here. We have a little boy who loves being outside and climbing all over stuff. It arrived off a fright truck with two HUGE boxes. Once in the back yard we (my 11 year old and I) starting to put together. The holes are not predrilled, for me no biggie just an annoyance. As soon as it was deemed "child safe" we allowed my 17 month old free on his gift and he just climb all over it. And ran across the bridge multiple times. The last two nights we have stayed out till the sun goes down, then come in and he right to sleep. It really wears him out. I was expecting it to be a little smaller but I'm glad it wasnt and this should last till hes in grade school. So glad I made the investment.
Date published: 2020-01-02
Rated 5 out of 5
by
TXCindy
from
LOVE IT!
We got this for our 17 month old son who loves to play outdoors. The first time he played on it he went back and forth across the bridge with a huge smile on his face. He loves going to the windows and looking out and points to the skylight. When we are in the house, he goes to the back door and lets us know he wants to gos play on it. It's hard to get him back indoors when he is playing on it. It was definitely a good purchase. I think the price is a little steep, but as long as it holds up for a few years it will be worth it. I'm sure he will enjoy it for a long time!Oh, and it's not too hard to move around for my husband to mow around and under it.
Date published: 2010-06-19
Rated 5 out of 5
by
Cmsmith217
from
Best purchase to date!
Our daughter loves this Clubhouse Climber. It wasn't difficult to put together if you have a drill or power screwdriver. I can't imagine putting this together without either of those and the directions should be modified to require this. This provides hours of fun and is very sturdy. I feel safe letting our daughter play independently on it. This is easily the best purchase we've made to date and provides a lot of fun for our little one.
Date published: 2017-11-20
Rated 4 out of 5
by
Anonymous
from
Great Product
We bought The Clubhouse Climber for our two year old daughter. She can't wait to get outside every day to play on it. She has a vision disability known as Optic Nerve Hypoplasia and can't see very well, But she has no problem with this toy. I feel that it has even built up her self cofidence too. We also have the Storybook Cottage by Step2 and some other Step2 products and She has had no problem with any of them. The Clubhouse Climber isn't as big as it looks from the photo, But it's not small either. I would recommend this product to families with small children, Around the ages of 2 to 6.
Date published: 2007-04-19
Rated 3 out of 5
by
JacksonM
from
Great concept but small, won't be used past 3 or 4
I ordered based on many positive reviews but after putting it together and seeing my 20 month old son play, I wouldn't purchase again. My son hits his head on all doors with the exception of one that he has about an inch of clearance remaining. The tunnels underneath are VERY small, he struggles to crawl through them with a truck and not bump his head. I thought I would get multiple years of use but it doesn't appear that is possible seeing how tiny everything is. It is also extremely overpriced for a toy that will probably only get a couple seasons of use at most. Just disappointed...
Date published: 2020-05-27
Rated 3 out of 5
by
Debra the Director
from
Preschool Director Review
We really liked this playscape upon seeing if for the first time. Good quality. Went together easily but took my staff several hours to screw in the screws since most of the places where screws needed to go were not drilled out properly and had to be made with a screwdriver although a drill would have helped the process. Everything was on time, intact, and generally easy to assemble. We used the picture on the box more than the instructions....and a little common sense. Would have preferred that the delivery driver bring it onto the playground instead of leaving it outside the playground where staff had to manage moving the heavy boxes from the school parking lot.
Date published: 2012-05-24
Rated 4 out of 5
by
Anonymous
from
Very Sturdy
We received it for my daughters first birthday and she loves it!! She loves to climb and to slide. I wish that we were able to add a swing set or a larger slide. I am disappointed that the clock handles come off so easily, which could of been a choking hazard for my 18 month old. The phone only worked the first time she used the set. I think that the stools should be able to anchor to the floor or safer chairs should be provided with the set. I have to say honestly my daughter does not to mind these things because I can never get her off the set once she's on. I am very happy with the sturdiness of the set and looking to purchase additional Step2 outdoor products.
Date published: 2008-03-13
Rated 4 out of 5
by
stayathomemom
from
Great climber-the kids love it!
This product is great. The only problem we had was with the assembly process-there are so many pieces and 10 screws for every section. So be prepared-this isnt a quick project.Definately would not recommend this product to anyone that doesnt have a perfectly flat yard. We have had to level out our yard with mulch-which its a good idea to mulch underneath anyways otherwise the ground below becomes a mudpit-which the kids crawl through in the tunnel.Our kids love this playset! Its also nice because of the roof-you dont have to worry about the sun beating down on them so much. The neutral color is great as well.
Date published: 2007-05-26
Rated 4 out of 5
by
Anonymous
from
Great playhouse
We've only had it a little over a week, but love it already. I put the whole thing together in about an hour & a half by myself & am female. So that should tell you it's very easy to put together. My daughter immediately climbed up the rock wall, explored everything, went down the slide, etc. She's 2 & can do it all by herself. She loves to just sit in the clubhouse & "talk" on the phone.My biggest complaint is how hot the plastic gets. Right now she won't touch the rock wall or slide in the afternoon it's too hot. We have to put her in the clubhouse & get her down when she's done. We're working on building a shade canopy over it so it won't get so hot.
Date published: 2009-05-13
Rated 4 out of 5
by
Anonymous
from
good buy
Plastic is thinner than the toys we purchase 8-10 years ago. The older toy an adult could get on it with the kids. But this one feels like it would bend a little where you seat. We have a home child day care and the they love it. Use it on the inside. Have children who are 2 1/2 years and under. My daughter is 8 years old (she 63 lbs), and we don't let her and her friend play on it because they are to heavy, but they have no problem with the ones outside that are about 8 years old. I would have paid more money for thicker plastic on the floors. But it is realy good for what we use it for, children under 40 pds
Date published: 2012-01-08
Rated 2 out of 5
by
Upset Momma
from
Expensive and not worth the money
I purchased this for my 2 year old daughter. She loved it but then it got blown over by the wind apparently and we had to take it apart and reassemble it. The ladder, slide, and flooring from the bridge have all come off. This has happened twice now. For spending hundreds of dollars, one would expect to receive a sturdy, well made climbing toy. This isn't the case. When I called to ask what I could do I was told to add sand to the walls - then I wouldn't be able to move it to mow since the item is so heavy - or buy an anchoring kit. I spent enough money on the toy that this kit should be sent with it.
Date published: 2008-06-30
Rated 4 out of 5
by
Anonymous
from
keeps my 2 yr old in one place!
We've only had the clubhouse climber for a few weeks now, but so far it is a huge hit with my VERY ACTIVE 2 yr old!! It appears to be weathering the elements well, but I don't dare rate that quite yet. It is big enough and has enough things to do on it that it keeps him entertained for longer then any other toy we've ever had! My only concern is the size, I'm not quite sure how well he'll fit in and out of it next year, but it will be worth the money even if it only keeps him busy this year! I would highly recomend this product, we did a lot of shopping and Step 2 really gave the best product for the money.
Date published: 2007-06-22
Rated 5 out of 5
by
Anonymous
from
Great climber and easy to assemble
Ordered this for my small granddaughter who is getting around enough to climb and slide already. Assembly took a few hours by myself with the only real need for help coming during the attachement of the roof section on the step end. There is a video somewhere that I watched before assembling and it was useful. I used battery powered drill with a clutch setting to put in the screws to keep them from stripping and had no problems. Do not use a drill unless it has a clutch setting. Be advised that these are large boxes when delivered. They were not very heavy but bulky to handle alone. #sweepstakes
Date published: 2017-03-22
Rated 5 out of 5
by
Anonymous
from
My Two Sons Love It !!!
I purchased this for my son who turned one, it took him a bit to understand how to get up there..but it was just his age now at 2 you can't get him off of it..He absolutely loves it and my other 1 year old can't wait till he can climb and play...Money spent well...Once purchased and assembly has been complete don't try to move it as one big piece- 1. Heavy 2. Will try to seperate in the middle at the bridge...but it was our fault...However, in perfect shape and hold color good from fading...we have no trees where it's at and no fading at all in 1yr 1/2...I love it and I'm sure you will too. Good Luck!
Date published: 2008-12-30
Rated 5 out of 5
by
Nana Candi
from
Double the Fun!
My twin grandsons, age 19 months, couldn't wait for the final screws to go in. They were all over it in seconds. Two towers makes it great for two little ones. They love running back and forth between the two and fighting over who can climb up first! It doesn't appear that children much older than 3 could use it. Height would be a factor going into the clubhouses & weight could make it come apart at connections. The only drawback is the footholds fill with water from rain and don't drain out. Recommend you redesign them with holes for drainage. We'll probably just drill them out ourselves.
Date published: 2009-05-05
Rated 5 out of 5
by
Jon N
from
Great playset for toddlers
My 20 month old loved her big gift from Santa. It's pretty big, comes off a truck in 2 very large boxes. Assembly was not as challenging as I had though, maybe a couple of hours if you're pretty good with basic tools and directions. Power drill/driver is a necessity. I have it on a brick surface, and will probably put some artificial grass rug under it so she can crawl around without getting too dirty. Someone has warned me that the plastic will get very hot in the summer FL sun, so maybe also some sort of shade will need to be put up.
Date published: 2018-01-04
Rated 5 out of 5
by
M Ols
from
Great BackYard Playground!
I bought this as a surprise to my two children; ages 3 and 1. They both love it! It has a great range for entertainment for the preschooler and the toddler.It took me approximately 4 hours to assemble, with no help! I planned to have friends come over on the weekend to help, but as I was laying the pieces out I realized that I could do it myself! Towards the end of the assembly- there was certain bolts that did not line up correctly with the holes which made it frustrating. But with a little adjustment of the playground, they worked.I recommend this to any parent that is looking for a piece of play equipment in their backyard! It is well worth the money...safe...and enjoyable for the kids.
Date published: 2012-05-24
Rated 4 out of 5
by
Anonymous
from
garage sale buy..;-)
well lets see i have 7 grand babies who just love this climber.. i actually got it at a garage sale the owners were moving and it was layng against there garage all full of dirt she asked if i wanted it they didnt want to drag it with them .. i said sure how much she said how bout 20 bucks.. lol i said okkkk.. and her husband actually delivered it free.. my husband paid him a little extra just for the gas we cleaned it up soaped it down and my grandkids love it they range from 1-8yrs old.. garage sales are awsumn... hahah and it looks brand new... you just never know what you will find.. ;-)
Date published: 2008-08-17
Rated 4 out of 5
by
twistiek
from
We love this climber!!!
My mom and I assembled this together, we had to work and push and pull on some of the pieces but it didn't take long at all. The kids LOVE it! They are between 1 and 4 yrs of age so I think older kids wouldn't like it as well. Its perfect for them. They climb up, over, under and enjoy every inch of it. The only con is how pricey it is but that's just how these climbers are. For the price, compared to other climbers and brands its considered reasonable. Its very stable, easy to move over to mow, doesn't hold rain like some of the others do and is big enough for 6 preschoolers to enjoy at once.
Date published: 2008-09-01
Rated 5 out of 5
by
Reagan
from
Great investment for hours of fun!
This is a great playhouse. My husband assembled it alone in 45 minutes. We keep it in our basement so we can play on it during the long cold winters. My 3 yr old loves it and plays all sorts of games on it. However she prefers to play on it with friends rather than when alone. We have had playmates from age 14 months - 8 yrs old play on it ... though it best suited for the under 5 crowd. It is smaller than the picture shows - I was surprised how small the lady and the kids in the picture must be.My 3 yr old does have to duck to go into the the house part where the table is.I was also pleasantly surprised that I can move it no problem to vacuum under it.Overall, I think it is worth the money.
Date published: 2009-07-10
Rated 5 out of 5
by
Proud Army Wife
from
great product, very easy to put together
I love this playhouse. It took my friend and I less than an hour to unpack and put together. My kids love it! I thought my 5 yr old wouldn't like it as much as my 18 month old, but they both enjoy it. The only thing I don't care for are the stools inside. I thought they would screw down, but do not. They aren't stable at all and my boys are constantly falling off of them. It is a bit smaller than I thought, but since we are a military family and move alot, it's not a bad thing. I would suggest watching the instruction video online first. I watched it at work, and when I got home I barely needed to look at the directions. Two of the screws didn't line up, but it's all plastic, so I made my own hole.
Date published: 2010-06-04
Rated 5 out of 5
by
Anonymous
from
Although Pricey, Great Product!
I think this product is a bit steep in price[...]. However, with that said, the product is very attractive, durable and it keeps my son entertained for hours. It dismantles and assembles quite easy, allowing us to set it up in our basement during the cold months and then move outdoors once the weather is warm. If, like myself, you like the product but are concerned about the price prior to purchasing, it is very helpful to know that these re-sell as used play yards like hot cakes on websites like [...] You will definitely be sure to get back some of your money if you try to resell.
Date published: 2010-05-10
Rated 5 out of 5
by
Michel Deslatte
from
This Playset is Absolutely AWESOME...
We purchased this for our 2 y/o for her birthday & it was instant success. she loves it more than we anticipated. and we almost cannot get out of bringing her outside EVERYDAY to play on it because she KNOWS it's out there! It has so many things wrapped up into one, so she doesn't get bored, since children are so easily distracted. We love it! I even climb in it & draw on the chalk board with her, crawl through the tunnel underneith(though a bit cramped for me). Bottom line, it's definately worth the price. Took my husband maybe an hour to assemble. Easy, easy directions. [...]
Date published: 2009-06-22
Rated 1 out of 5
by
Busy mom in Ontario
from
NOT WORTH THE MONEY
We bought this for our son. He, at the time,was 18mos old. We bought this soley on the picture & other reviews (don't believe everything u read). Product was WAY smaller than pictured. All it is is a big, expensive slide. I could have bought a stand alone slide for WAY LESS and spent the rest on a real swing set. What a waste of plastic! They must have used REALLY short kids in the picture too. The "Ultimate" climber is not so ultimate.
Date published: 2008-07-10
Rated 4 out of 5
by
Claire's Dad
from
Our Daughter's Favorite Activity
Our 2 year old daughter LOVES her new playground. It took dad and grandpa 35 minutes to assemble it and it couldn't have gone smoother. The only change would be to put drainholes in the bottoms of the footwells for the climbing wall. Water collects in each after a rain and makes for soggy sneakers if not attended to. This is easily remedied with (1) 1/8" hole drilled in the bottom lip of each foothole and (3) 1/4" holes drilled along the bottom of the wall itself. A great toy to build imagination and develop healthy habits but still an expensive investment for a big piece of plastic.
Date published: 2009-06-11
Rated 5 out of 5
by
Anonymous
from
Love it!!
My son absolutely loves this. He loves everything about it. So do we. He will get a lot of years out of it. My husband put it together in about 1-2 hours. Best to use an electric screwdriver. My son was already going down the slide and climbing through the tunnel before he completed it. It fit perfectly in our backyard. We were afraid it wouldn't given the dimensions that were stated. The slide and climber gets very hot when it is very sunny and hot outside. The holes in climber part catch water from the rain. Best to drill small holes at the bottom of each to let the water drain. We bought a tarp to put over it to protect it when the winter season comes. Overall a great product. Way to go Step 2!!!
Date published: 2010-06-03
I am just wondering if this will be in stock before Christmas. I have a special needs 5 year old who would adore this playyset.
We apologize but we are currently out of stock and backordered on this item and several products. We are now running limited production as we were previously shut down due to the COVID-19 environment and unable to produce at that time. Our current production has been limited due to social distancing guidelines. We do not anticipate having this item & other products back in stock until late mid– late December. Please note this is an estimate as the timing could move back again based on demand, production schedule and retailer commitments. Please note that this product and many others may not be available on our website and only available and sold by Walmart or Amazon. Continue to check our website daily for availability and updates.
Date published: 2020-11-24
What is the size of box the toy is packed in? I'm checking on shipping size limitations by different shipping company. Does length extend beyond 3m? Are they in 2 separate boxes?
The Clubhouse Climber™ ships in two separate cartons/boxes. Please see below for the packaging dimensions: Pack Cube Weight Box 1 44.32 ft3 / 1.26 m3 99 lbs / 44.9 kg Box 2 44.32 ft3 / 1.26 m3 115 lbs / 52.2 kg PACKAGING DIMENSIONS (H x W x D) 71.25 x 22.75 x 47.25 in / 181 x 57.8 x 120 cm 71.25 x 22.75 x 47.25 in / 181 x 57.8 x 120 cm
Date published: 2020-10-20
Is this toy astm certified...
The Clubhouse Climber™ complies with the ASTM F1148 backyard residential use standard and is not designed nor comply with the public ASTM F1487 playground standard.
Date published: 2020-10-08
How long will it take to deliver Greenwood, Indiana? 
Once your order has been placed it would take 7-8 business days to receive the Clubhouse Climber™ in Indiana.
Date published: 2020-09-14
What size allen wrench is used for assembly?
The Clubhouse Climber™ requires a 3/8 inch allen wrench for assembly. If you need further assistance please contact our Consumer Service Specialists at step2-company@step2.net or 1-800-347-8372 Monday through Friday, 8AM -5PM Eastern Standard Time and we will be happy to help you
Date published: 2020-08-20
Do you guys price match? Because I have seen multiple different prices on different websites 
Thank you for contacting Step2. We do not price match. Regards, Step2 Consumer Service
Date published: 2020-07-28
Can I install this playhouse in my basement?
Thank you for contacting Step2. We recommend this product to only be placed outdoors or proper surfacing to prevent child injury. Regards, Step2 Consumer Service
Date published: 2020-07-28
Dimensions and weight of the BOX (Unassembled) please, I'm planning to ship it to my home in Puerto Rico from Florida, thanks. 
You can find this on our website under the product features at www.step2.com
Date published: 2020-07-27