Coffee House Kitchen & Café™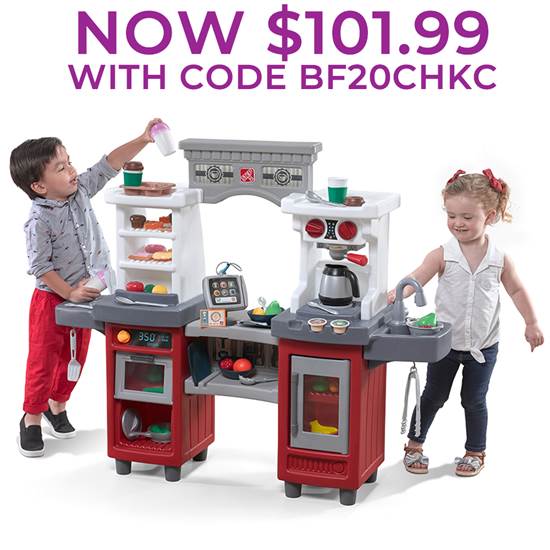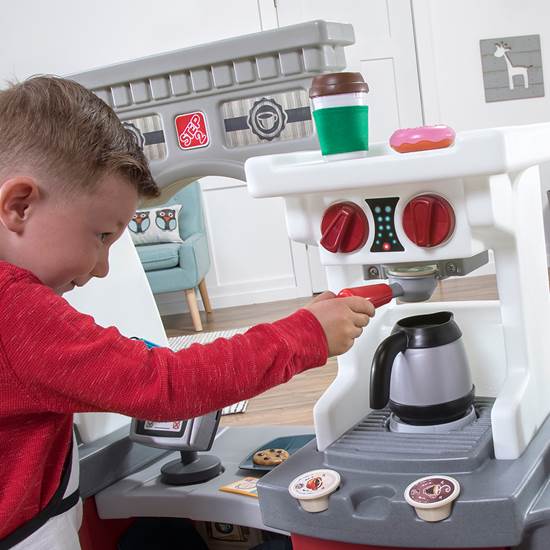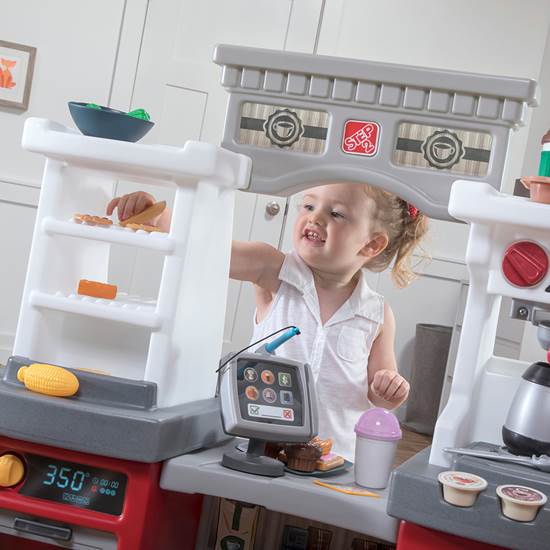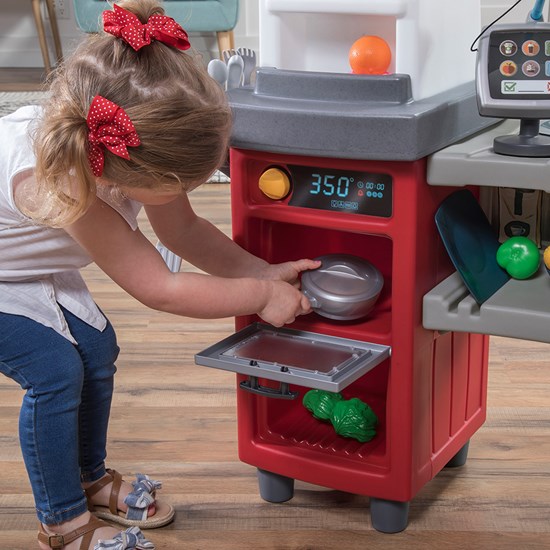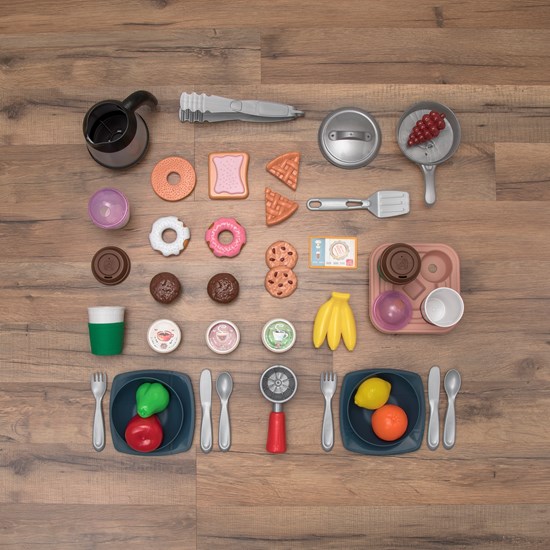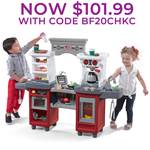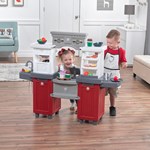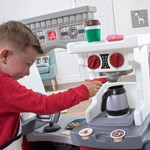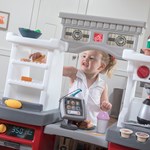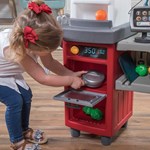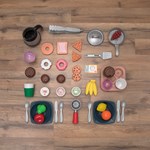 Coffee House Kitchen & Café™
In stock
$129.99
+4.99 shipping (via FedEx)
Little coffee lovers will love taking orders and preparing snacks for their pretend customers with the Coffee House Kitchen & Café by Step2.
IS THIS A GIFT? DON'T SPOIL THE SURPRISE!
This item ships with an image of the product on its outer packaging.
Rated 5 out of 5
by
TierraTwinMom
from
Endless Fun!
Love this kitchen! It has provided hours of endless fun for my 2 year old twin toddlers. They love "making the coffee", serving up plates of food, and using the kiosk. It has plenty of storage space for all the pieces. Plus, it has some fun/entertaining sound effects. My toddlers love naming the fruits and pastries. I am also very confident that this kitchen will grow with them for many years to come. Thank you Step2 for letting me test this item as part of the Step2 Toy Tester Program!
Date published: 2018-08-23
Rated 5 out of 5
by
Nan12
from
Love it!
I loved this Coffee House! I honestly have never seen another product like it on the market! My daughter and I had so much fun playing together! (Unfortunately, my son was feeling sick when we put this together and played with it the first time, so only my daughter is in the pictures.) It has the cutest items included, like coffee cups and pods. My daughter didn't even want to eat lunch because she didn't want to stop playing. The Coffee is fairly simple to put together. However, I had to break out a power drill. The instructions only call for screwdrivers, but it is tough to get the screws in place using only a screwdriver. Using the power drill really sped up the process and saved my arms! My kids and I LOVE this product! I know we will be using this for many years to come, as it is very sturdy! Thanks Step2!
Date published: 2018-08-05
Rated 5 out of 5
by
Echo
from
Real Life Mini Coffee House!
The Coffee House Kitchen & Cafe is the best! I would highly recommend this product. It is definitely worth a 5 star review. My 5 year old & almost 2 year old love it & so do I! This product allows for a ton of creativity within your child/children. This is a product that will literally keep them entertained for hours. It is a real life mini coffee house, with all the bells & whistles you can think of included. It isn't the fastest product to assemble, especially when your child/children are too excited to play with it, but once you get it done, you are good to go, & so are they. It took about 45 minutes to an hour to assemble (with 2 girls in the mix of it all). It could probably be assembled quicker without interruption. Thank you Step2 for letting me (& my children) test this item as part of the Step2 Toy Tester Program!
Date published: 2018-08-15
Rated 5 out of 5
by
SamSim
from
Sturdy, Multiple Sound Effects, Many Accessories!
Thank you Step2 for letting me test this item as part of the Step2 Toy Tester Program! I received this Step2 Coffee House Kitchen & Cafe for free in exchange for my honest feedback. Overall, my 3 small children and I love it! PROS: ~Once assembled, it feels rock solid. I have 3 kids under 6, and I still expect that this will last for years. ~Instructions for assembly are straightforward and easy to understand. Everything you need for assembly is included except for screwdrivers and batteries. ~The Coffee House Kitchen & Cafe comes fully "stocked" with everything pictured (on the toy) on the box, which was a pleasant surprise. There were far more accessories than I expected, including, but not limited to: assorted toy fruits, 2 plates, 2 bowls, assorted toy cutlery, a play "debit card" for paying at the point-of-sale, a skillet with a lid, a coffee carafe, assorted toy pastries (donuts, pie, etc.), and 4 coffee cups with 2 different types of lids. There are even a couple of go-cup sleeves, which I thought was a nice touch! ~This kitchen is delightfully interactive! The carafe and the skillet each interact with the "burner." When you place the skillet on the burner, there is a sizzling sound. When you place the carafe on the burner, it sounds like it's percolating. The point-of-sale makes sounds as well! ~The knobs are not easy to remove, so I don't have to worry about my kids pulling them out and losing them. They feel like real knobs when you turn them, making clicking sounds, and the fridge and microwave doors are sturdy and function well. ~My kids now bring me lots of pretend drinks, then wait expectantly for me to "taste" them and tell them how delicious the coffee is. CONS: ~Assembly was a lengthy process. I would advise people to allow 2-4 hours (2 if you're good at assembling things, and 4 if you're like me and accidentally put parts on backward, then have to remove and reattach). I also recommend using a drill instead of a manual screwdriver to speed up the process. On the other hand, this is why the Coffee House Kitchen is so sturdy, so it's worth it. You only have to assemble it once, but the kids play with it over and over. ~The instructions mention that you need 3 AA batteries for the "burner," but there is no mention at all of the 3 AAA batteries needed for the point-of-sale. This was a bit frustrating, as I didn't have enough batteries charged once I had it assembled because I didn't know I would need 6. ~The instructions also make no mention of the 2 little circular contact-point pieces that snap onto the bottoms of the carafe and the skillet. My husband and I had no trouble figuring out what they were and where they belonged, though. (These are what initiate the respective sound effects, so you might want to test them on the burner before snapping them onto either the carafe or the skillet.) ~The lids for the toy coffee cups snap on tightly, which is good except for the fact that my two younger children (ages 18 months and 3 years) have trouble removing the lids. My 5-year-old has no trouble with this, though. ~My kids now bring me LOTS of pretend drinks, then wait expectantly for me to "taste" them and tell them how delicious the coffee is.
Date published: 2018-08-04
Rated 5 out of 5
by
Daisy
from
The Designers of This Set Must Be Perfectionists!
Thank you Step2 for letting me test this item as part of the Step2 Toy Tester Program! When I first saw this double-sided Play Kitchen and Cafe online, I thought that it was adorable, but once it arrived, I realized that it is even more versatile than I originally thought and that the attention to detail is amazing. I'm convinced that the designers must be perfectionists and have their own children because there are so many notable features My children spent hours and hours playing with this set. Everyone in our family enjoys being their "customers" and I am now certain that this will be a part of my children's happy childhood memories. Let's start with my youngest (a toddler) and the fact that he is extremely curious. He wants to open every door, push every button, and experience everything that is around him. Of course, this is a natural toddler instinct, but not exactly safe in the real world. The Step2 Coffee House Kitchen & Cafe rocks his little world because he is allowed to touch everything without limitations. He loves to organize everything for us to visit and then take our orders. The payment device is clever because he is able to tap on the screen with the stylus and swipe our cards. It responds to taps and card swipes with cute noises. Another popular feature for his age is that he loves to "cook" on the stovetop that makes noises and lights up. He also loves moving inventory around between the fridge, microwave, cup holder tray, and different shelves. He serves our food on little plates or in bowls. There is truly a combinatorial explosion in the number of scenarios for him to act out thanks to the nice design of the play center and the 40 accessories. My old son similarly loves this set. This actually surprised me a bit because I thought that it was best suited to my toddler. However, they seem to both equally love it. They overlap in some of the ways that they use it, but then my older son uses it in some extra ways. In addition to everything mentioned above that my toddler does, my older son practices his writing by writing down our orders and then delivering them to us. (This is awesome because the practice writing is valuable!) Another difference is that he loves sorting things by nutrition details. Finally, he has been using fabric and stuffing to sew new foods for the Coffee House Kitchen & Café. He has a blast doing this and says that he wants to be a toy designer when he grows up. I love that he is so creative. I also love knowing that since my children have a large age gap, my youngest son will most likely use this set for many years to come! It really is quite versatile that it keeps both of my children happy and engaged despite their large age gap! Finally, let me comment on the installation and quality. My husband and I assembled the Coffee House Kitchen & Café together. We used a timer to record how long it took from opening the box to assembling everything and turning it over to our children. It took us 33 minutes. My husband owns a drill, so I'm sure that this made it quicker, but I think that it would have also been very manageable with just a screw driver too. We found the instructions easy to follow. Since we assembled everything on our own and watched our children play with it, we were able to examine the quality of the product. We think that it is excellent and anticipate that it will hold up to our energetic boys. As I mentioned earlier, it seems like the designers of this set are perfectionists that may have children of their own because the design and quality is so nice. In summary, the pros of this product are that it has an excellent design such that it is versatile for both of my children who have a large age gap between them. It keeps them engaged in ways that surprised me! I also think that the product is top quality. I am certain that the Coffee House Kitchen & Café will be part of their happy childhood memories.
Date published: 2018-08-04
Rated 5 out of 5
by
AmberB
from
The Most Creative Step2 Kitchen Yet!
I am blown away by this kitchen set! We love all of Step2's kitchens, but this one is extra special because my kids know how much I love coffee (and they're with me all the time at the Caribou drive-thru) so they really enjoy playing with it. Assembly was fairly simple and as soon as it was set up the kids had to play with it. The accessory set that comes with this set is HUGE and has so many different items-from pastries, donuts, pie, a coffee pot, to adorable coffee cups! The cooler cups and hot coffee cups are so cute-I love the detail of the little sleeves, too. The electronic credit card reader is something I've never seen on a Step2 kitchen before and our kids are obsessed. They can run the credit card, push buttons that make noise, and even pretend to sign their name. A couple other noise-making features are the coffee pot and frying pan-SO cute! The espresso maker with coffee pods is a great detail also, and our kids are constantly making coffee while they cook something up in the oven. We absolutely love this coffee house kitchen set! Highly recommend!
Date published: 2018-09-01
Rated 5 out of 5
by
Mary Kate
from
Interactive and engaging for hours!
Thank you Step2 for letting me test this item as part of the Step2 Toy Tester Program! When I received this in the mail, the item came with all parts to the kitchen, along with play food, coffee cups, silverware, and dishes. Looking at the picture provided on the website of accessories, I did not have the strainer/colander or two of the large serving spoons in the packages of accessories. I particularly like that the coffee cups come with "sleeves" for hot drinks like actual coffee shops. I enjoy that Step2 paid attention to detail and made all items realistic and the play food is INCLUDED! I assembled this by myself using a screw driver. It took me just under two hours to complete. If I were to do this again, I would have used a drill to speed the process up (and save the wrist soreness the next day). The directions were easy to follow, all parts were easily identifiable. I did measure the screws they provided and sorted them into piles to make sure I didn't mix up the different screws when assembling. My overall impression is this is a highly interactive play kitchen. I particularly like that it is two sided, allowing more than 2 kids to play at once. My toddler loves to interact with all the knobs, doors, credit card machine, and coffee burner. I knew he would love playing with those items. My initial thought was my 5 year old would not be interested in this given her age. I couldn't have been more wrong! She loves to take orders, make pretend coffee and serve pastries to anyone around! This is a fantastic play kitchen that provides countless hours of creative play. I highly recommend this for your children!
Date published: 2018-08-08
Rated 5 out of 5
by
Jamie
from
Engaging & Interactive
My family's overall impression of the Coffee House Kitchen & Café is that it is interactive and engaging. I love that it can be used by a variety of age groups because we have a difficult time finding toys that can be used by all of our kids. We have four children who play with the kitchen & cafe (ages 1-7 both boys and girls), and they all love it! When the children pretend to be the customer, they love the credit card machine…my 1-year-old especially loves that it makes noise while my other children like that it is attached so the baby cannot walk away with it :). I personally like that I do not have to worry about small parts that would be choking hazard. The kids also like that someone can prepare food and there is still room for another person to help the customer. My experience with the Coffee House Kitchen & Café was positive. It is a sturdy kitchen that has the space for my children to play together. It is a fun and interactive play element in our children's playroom. Although I did have a positive experience with the kitchen & café, I did experience some minor difficulties with the assembly. It took me roughly 1.5 hours to assemble alone (with 3 "helpful" children :)). The most difficult element to screw together were the feet. Also, one piece was easy to assemble backwards (piece A), which meant that I had to take apart half of the kitchen in order to correct my mistake. Although not a big deal, the directions did not mention that 3 AAA batteries were needed to operate the credit card machine. Finally, the burner element in our kitchen & café did not work … I even changed the batteries twice. Thank you Step2 for letting me test this item as part of the Step2 Toy Tester Program!
Date published: 2018-08-11
Installing the part "H" on page 3, Step 2, Attaching H to E and F. Two 2.5" screws on the back. BUT... No mention of the 4 screws on the bottom of "H". Which screws are used for that? Step 4,5, & 6 CLEARLY show the holes to attach to parts "E", and "F".
Please contact our Consumer Service Specialists at step2-company@step2.net or 1-800-347-8372 Monday through Friday, 8AM -5PM Eastern Standard Time and we will be happy to help you.
Date published: 2019-06-06
Help! The burner doesn't work! I even had it replaced, put in brand new batteries and still nothing. What am I doing wrong? There's no way the one I bought was broken, and they sent me a replacement that was broken as well!?!
Please contact our Consumer Service Specialists at step2-company@step2.net or 1-800-347-8372 Monday through Friday, 8AM -5PM Eastern Standard Time and we will be happy to help you.
Date published: 2019-04-11
I have this set but have lost some pieces. Can I buy replacements?
Thank you for contacting Step2. Replacement parts and decals can be ordered by calling our Customer Service team at 1-800-347-8372, Monday - Friday, 8:00 am - 11:00 am and 12:00 pm - 5:00 pm EST. Please have your product close by during your call so that we may quickly assist you to answer your question, find a resolution and or provide product or part pricing and lead-time(s). Various replacement parts and decals can now be ordered on line. Check our website at www.Step2.com and refer to the replacement part section located at the bottom of the website page and shop parts by category or look up your product(s) pertinent replacement part choices. Regards, Step2 Consumer Service
Date published: 2019-02-01
When will these be available to purchase at Target? 
We expect Target to offer the Coffee House Kitchen & Café™ the week of 9/23/18
Date published: 2018-09-20
Hi, When will it be available to purchase?
Please pardon the delay in response. We expect Target to offer the Coffee House Kitchen & Café™ the week of 9/23/18
Date published: 2018-09-20