Coffee Time Kitchen™ - Red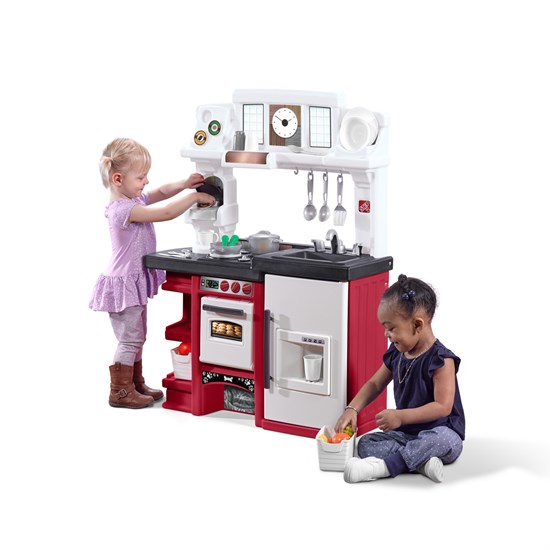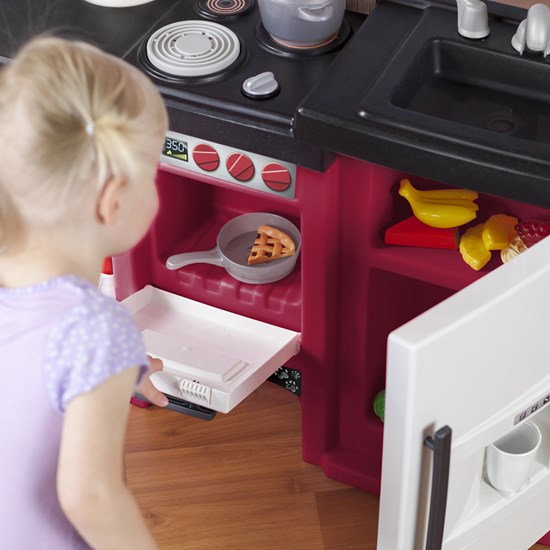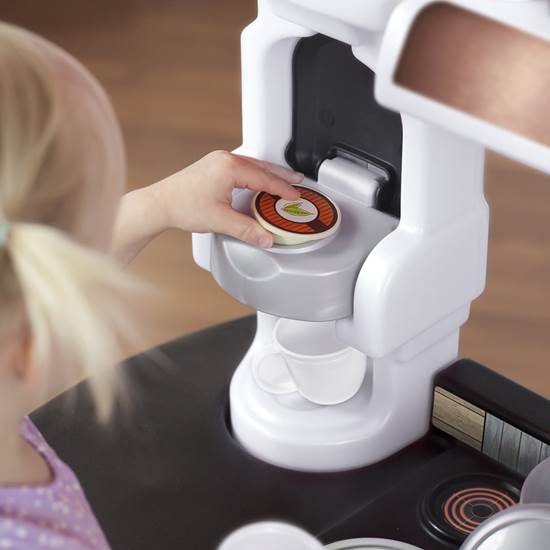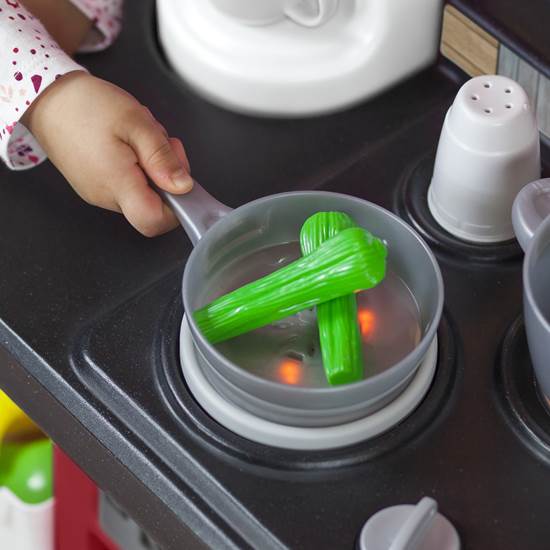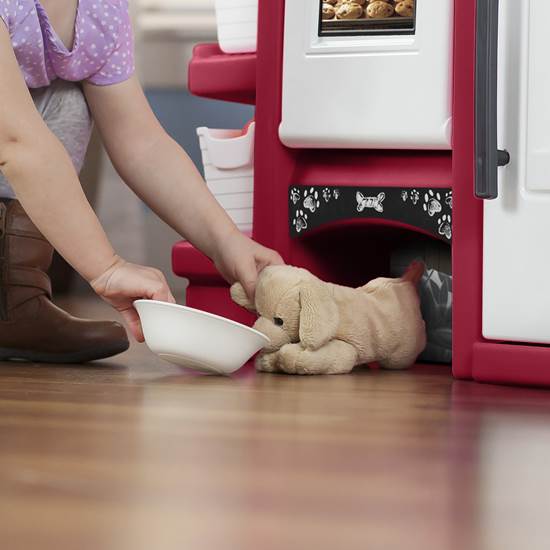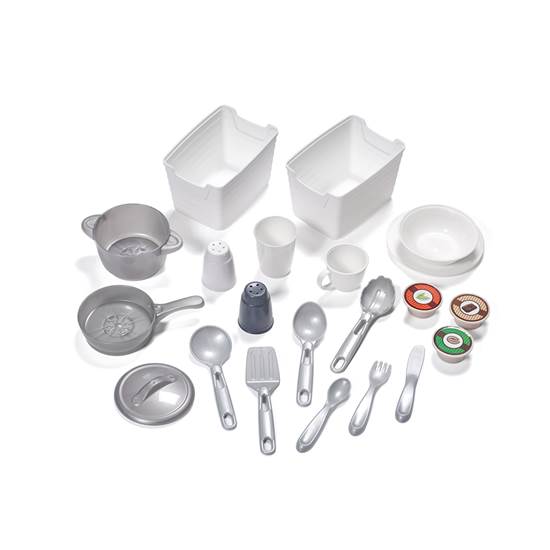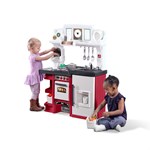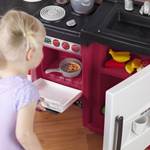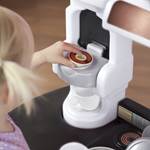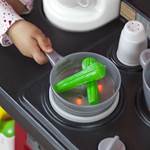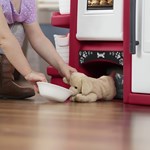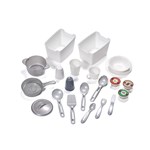 Coffee Time Kitchen™ - Red
IS THIS A GIFT? DON'T SPOIL THE SURPRISE!
This item ships with an image of the product on its outer packaging.
Rated 4 out of 5
by
PAIGEus6
from
Great Product for tots and older children too!
The product is great, our 1 1/2 year old son loves to play with it, especially the pot and skillet because they make different sounds on the stove (genius idea :0)). I gave it four stars because there were no prefabricated valves for the screws to slide into, which would have been nice because I had to use a significant amount of force to get them all screwed in securely. Nevertheless, they were not a whole lot of parts and extras to deal with so that was a win. Overall, it is a great product for all ages, we all enjoyed playing with it. Thank you to Step2 for letting me test this item as part of the Step2 toy tester program!!
Date published: 2017-10-06
Rated 4 out of 5
by
HSinclair
from
Amazing Customer Service - Step2!
I received this product and my son opened it for Christmas. Unfortunately, we were missing all the pieces that came with it besides the base, literally so you can only image how his reaction was. The reason I am giving this review 4 stars is because the customer service from Step2 was amazing. I purchased this product from Walmart, and their response was we can issue a refund. I contacted Step2 and within just TWO days I had every missing piece arrive at my door step with no questions asked. It was amazing. My son loves this kitchen so far and I have no complaints now that we have all the pieces! Going forward, I will definitely be purchasing products from Step2.
Date published: 2018-12-29
Rated 5 out of 5
by
Anonymous
from
I would absolutely recommend this kitchen
I ordered this coffee time kitchen for my granddaughters birthday. MY son and i put it together with ease.When she awoke for her second birthday and saw this she had the biggest smile.This kitchen is perfect .She was in awe listening to the sound of her food cooking and when she saw the hanging utensils,she would take them off and put them back.making the coffee and replacing the pods was more excitement. I would highly recommend this product for the quality and enjoyment of young children. It is perfect.
Date published: 2017-04-28
Rated 4 out of 5
by
Jhammond
from
Just right for us
This is a small plastic kitchen, and for what it is, it's great. The price point is right on and it gives my daughter a kitchen complete with a few burners (one that makes sizzling sounds when a pan is on it), a sink, oven, and refrigerator. The most fun part, though, is the coffee pod maker. She loves making me coffee! An added bonus is the two storage bins that come with it. It also includes some spoons and plastic pans/dishes. The hooks along the top are a nice touch too for hanging pots/pans/whatever else. We are using the top shelf to store canned goods we bought to go with it. Also the little bowl area underneath is adorable! All in all, this kitchen packs a big punch into a small package. It's perfect for those of us with limited space or limited desire to spend big bucks an a huge, wooden kitchen. (We purchased the silver pots in the pic separately.)
Date published: 2018-01-15
Rated 5 out of 5
by
Anonymous
from
Excellent Value
My daughter is a younger 3- this is what we love about this kitchen set.1. It was the tallest one on the market and I felt my daughter would grow into it/play with it longer.2. My daughter loves the coffee maker!3. We like the real life boiling and frying sounds.4. I like all the storage/organization of this kitchen but wish it held more items.5. The colors are perfect for her room.6. Perfectly priced! I didn't have to agonize over the price point, it was an easy purchase.7. Shipping was good and arrived very timely!
Date published: 2017-03-09
Rated 5 out of 5
by
norrislkay
from
An excellent product that leads to hours of fun!
A few months ago I decided to buy my kids a play kitchen and went the route of buying a beautiful handmade, hand painted wood kitchen from a local buy, sell, trade site. My kids were so excited to receive it, but upon further investigation we learned that the craftsmanship wasn't quite up to par. It didn't even make it 24 hours before it fell apart. My children and I were both very disappointed. It was around this time that I discovered Step 2. I loved the look of all of the play kitchens they had to offer, and they all looked so much sturdier than what I had previously purchased! When the opportunity to try the Coffee Time Kitchen presented itself, I was beyond excited, and when it actually arrived I wasn't disappointed. My children have been playing tirelessly with this kitchen from the time it was assembled. The day we set it up, they literally played for hours. They have made imaginary popcorn and shrimp, cooked countless pizzas, played house, and so much more. Speaking as both a mother, and former preschool teacher, play kitchens are a classic toy for a reason; they encourage in depth imaginative play that is fun and has virtually endless playtime possibilities. Children learn best through play, and it has been very enjoyable observing my children as they come up with elaborate plots and games involving this kitchen, and knowing what an enriching process play like this is for their overall development. There are number of things that make this kitchen set stand out when compared to similar models. Perhaps most noticeable is the modern take on a classic toy. The coffee maker is a Keurig-style, complete with pods. The stovetop lights up and makes sounds. The refrigerator has an ice maker, and water dispenser. Another thing that I really liked about this is the storage potential. Cooking utensils can hang on the hooks provided, while additional cookware, play food, etc, may be stored in the stove/fridge or on the shelves. My oldest son's favorite part is the little dog/puppy area near the bottom of the play kitchen. This area is a little smaller than I had anticipated, but my son has a number of small stuffed animals that fit perfectly. He has even taken the time to set up a little dog bowl and bed nearby. I haven't seen anything like this on another play kitchen, and it really is a neat idea. Before recieving this I was worried I would have trouble assembling it. I have literally never assembled anything like this before, but I was determined to tackle it on my own. I was a little nervous when I first opened the package and realized the holes weren't predrilled. My worries quickly dissipated, however, when I actually began assembly. The instructions were clear, and with a couple of screw drivers and a little muscle, I was able to easily put this together in less than a half hour, despite my complete and utter lack of experience. After watching my kids play with this I am quite certain it will last. My boys have moved it around, played excitedly (and admittedly a bit rough at times), and even dumped a cup of water in the sink (because they wanted to "wash their dishes"). Despite this, it still looks as great as it did the moment I finished assembling it. I have also been impressed with Step 2's commitment to quality. As a company, they really seem to compare about the experience and opinions of their customers. All in all, this is an excellent product, from a great company. The Coffee Time Kitchen is sturdy, and versatile. I would highly recommend it to anyone thinking about purchasing it. Thank you to Step 2 for letting me test this product as part of the Step 2 toy tester program. My children and I have genuinely enjoyed this product, and are happy to have had the opportunity to play with it. I know this will bring a lot of happiness to my kiddos, both now and in the future. :-)
Date published: 2017-09-29
Rated 5 out of 5
by
Knr2017
from
Wonderful Product!
This kitchen has provided many hours of fun for my girls! My oldest enjoys playing restaurant and makes me my favorite meal. She loves that when you place the pan on the burner that it lights up and has sound effects! My youngest loves the area for the dog. She makes her dog food and then puts him to sleep in his bed. It was very easy to assemble! My girls even helped me put it together! This is an amazing product and doesn't disappoint! Thank you to Step2 for letting me test this item as part of the Step2 toy tester program.
Date published: 2017-10-03
Rated 5 out of 5
by
sandralyn
from
I would buy and recommend to others to buy step 2.
I bought this kitchen for my nieces birthday gift. I've been buying step 2 items since my girls were in their toddler years. Till this day I still have my daughters rocking chair. I purchased it when she was a year old and a slide when she was three yrs. old. My daughter is now 23. Step 2 items never fade and are very sturdy. We love your products!!
Date published: 2017-05-07
What are the dimensions of the box in which the toy is shipped. I need to check this in as luggage on a flight. Thanks.
The dimensions of the Coffee Time Kitchen™ carton is as follows : 25.5 x 17 x 33 inches
Date published: 2019-06-28
is the width listed with the doors open or closed? trying to pick a kitchen that will fit inside a play house
this would be with the doors closed. Hope this answer helps. It is a nice kitchen set. I am not sure if this will fit in the play house. It is pretty tall.
Date published: 2018-12-15
I'm missing a second sheet of stickers how can I get them?
I would send Step 2 an email and let them know you have not received them and they should send you a second sheet of stickers or give you a discount. I hope this helps.
Date published: 2018-05-25
DOES IT COME IN A DIFFERENT COLOR I DEED TO BUY JUST 1 KITCHEN ONE FOR MY GRANDSON AND GRAND DAUGHTER
I think it comes in brown my granddaughter loves it shes two you should probably direct this question to the company though Im just a customer so I really dont know about their stock
Date published: 2018-11-29
What's the height to top of counter?
The countertop of the Coffee Time Kitchen™ is approximately 20 inches in height.
Date published: 2017-10-23
Are the accessories sold separately also?  We got the kitchen 2nd-hand but it came with nothing else.
Please contact our Consumer Specialist Staff at 1-800-347-8372, Monday through Friday, 8am-5PM Eastern Standard Time for assistance with replacement parts.
Date published: 2017-08-21