Complete Choo Choo Train Combo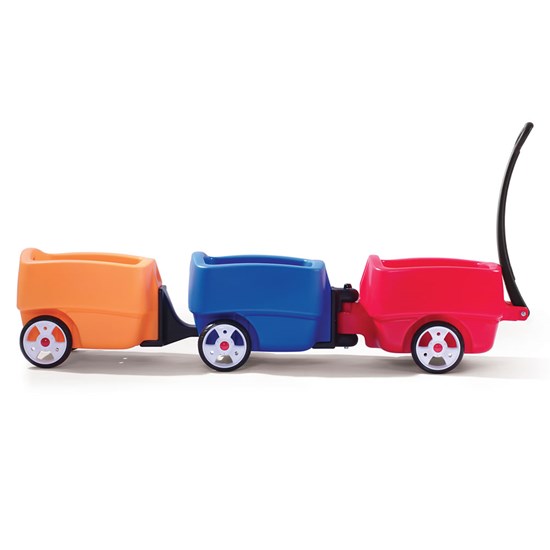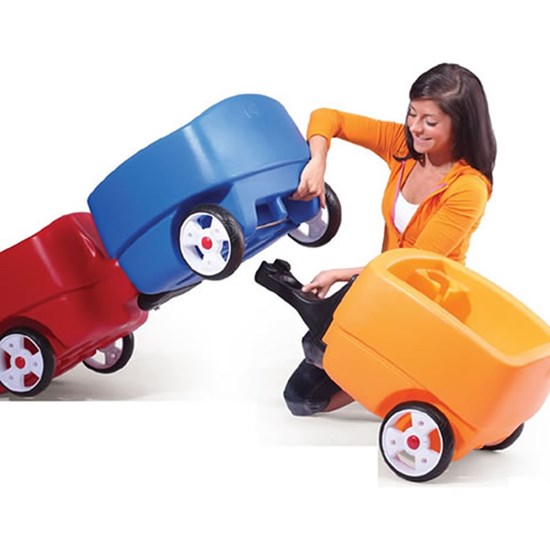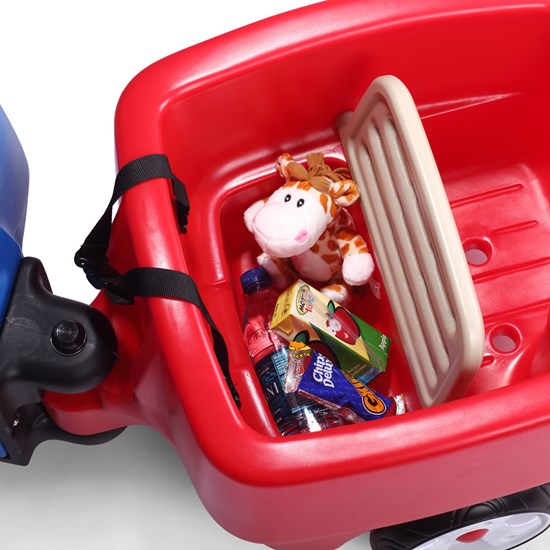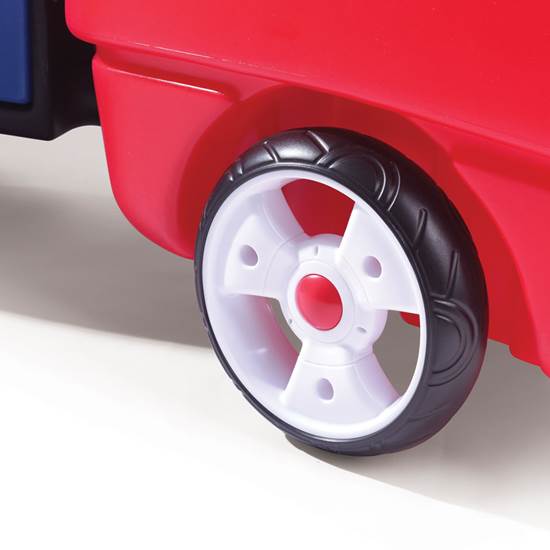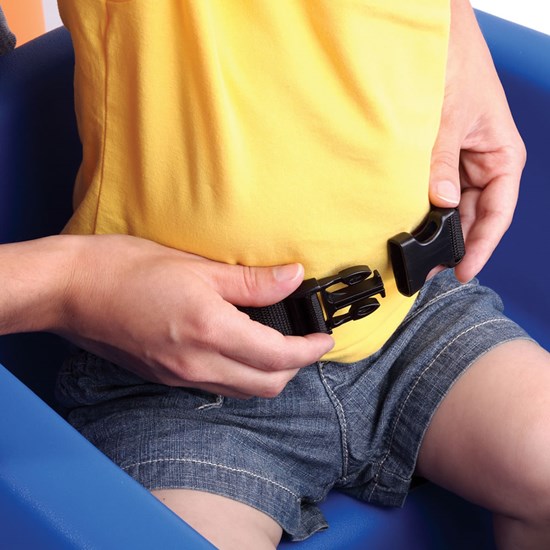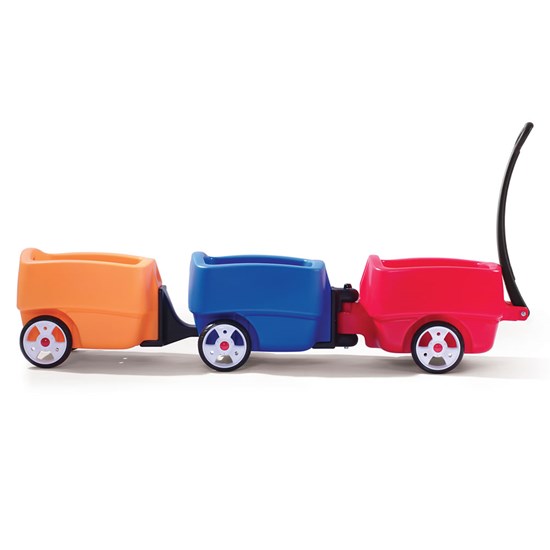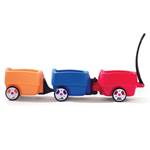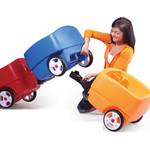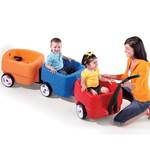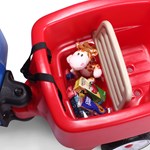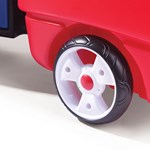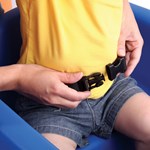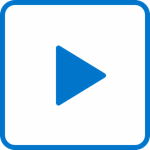 Complete Choo Choo Train Combo
Out of stock
$179.98 $159.99
+ FREE Shipping! (via FedEx)
This Step2 Multi Seat Wagon and Trailer Combination is the ideal wagon for kids that like their space during rides to the park, or around the neighborhood!
IS THIS A GIFT? DON'T SPOIL THE SURPRISE!
This item ships with an image of the product on its outer packaging.
Rated 5 out of 5
by
Anonymous
from
This is what I call a "Swagger Wagon"
We use the choo choo wagon almost daily for our walks. We have taken it out occasionally to run errands. Each child has their own car so that they have their own space. I wish that every car had storage under the seat rather than just one car. The cup holders are neat because they also hold a rectangular base juice box. I was very impressed with the wheels. I thought they were rubber, but they are a hard plastic, not like the old plastic ones that are loud and rough riding. I purchased the Radio Flyer clip on umbrellas for each car. It makes the ride comfortable for the children since they can be adjusted to avoid direct sunlight.
Date published: 2012-07-17
Rated 5 out of 5
by
cf3
from
best money ever spent
this is a great wagon. We have a 3 1/2 year old, a 2 year old and a one year old and was looking for a way to get them to the pool and playground since they grew very fast and out weigh their strollers but are too young to be comfortable to walk on their own. This was perfect- they all have their own space(no kicking or touching each other) and their was three seats so nobody was left out. My kids live it and don't fight goning into it and each seat hld up tpo 50 lbs so even my largest kid still has 15 lbs before they won't fit. It i easy to pull and my kids weigh about 100 lbs together. I would suggest this to anybody who has kids.
Date published: 2012-05-31
Rated 5 out of 5
by
Anonymous
from
Great multiples mover
We were hitting the upper weight limit on our Foundations Quad stroller and were looking for something to move our triplets around with. This is wonderful! Each toddler has his or her own compartment which means no more kicking the person in front in the back or the head, no more hair pulling, and no more stealing toys or blankets. (Hey, what's a baby to do when bored and overcrowded?) Each baby can see and interact with surroundings so much better than in a stroller and they all really seem to love it. The turn radius is pretty wide, but its easy enough to compensate for. This is a great outdoors toy for my little ones and tool for me.
Date published: 2013-04-21
Rated 5 out of 5
by
Brianne
from
A must have for multiples!
We have a 3 year old and 18 month old twins. I cannot say enough wonderful things about the Choo Choo Train. The kids loved it from the second they saw it and climbed right in. We strapped them in the belts and headed out for our first ride. It was easy to pull (hills are a little tough but that's expected when you're pulling 100 pounds!) The train is light-weight and manuevers pretty well. It has a very wide turn radius but you can just lift up the first cart and drag it around if you prefer. Love that each car is a different color so the kids know which is theirs. Also, when seated they cannot touch/kick each other which Mama loves!!! :)
Date published: 2013-06-02
Rated 3 out of 5
by
Freise80
from
Damaged and missing parts
The first one I received was misshapen and could not be fixed, it was a mounding error so I called and when my second one got there there were parts missing that I thankfully not thrown away from the broken one I had received. No one told me I needed to keep them so they were in the trash. The seatbelts need to be a three point seatbelt because my two year old leaned forward and the screws that hold the belt on both sides (in a terribly weak location) stripped out the plastic as they ripped through the plastic. They should be anchored to a steel support within the seat instead of just the plastic. So. Ow I have a brand new broken 180 ish dollar wagon.
Date published: 2020-03-01
Rated 5 out of 5
by
SUPER MOM!!
from
I have WAITED FOREVER for this WAGON!
I have WAITED FOREVER for the CHOO CHOO TRAIN to come back for sale! I had the last one years ago, and was sad when a family member sold it without telling me. I now have 7 children, they are very hard on things, and this is very sturdy, my kids LOVE to go in the wagon, they also are not touching each other in it! They take the wagon around the house and play in it. We're looking forward to taking it to the park tomorrow for my sons birthday. This is just a FUN wagon! It's different, and the kids LOVE playing a CHOO CHOO TRAIN!! I would recommend this wagon then any other wagon that is out there. The kids and I, just LOVE it!
Date published: 2012-01-20
Rated 5 out of 5
by
Family of Seven
from
"Perfect for Large Families/Small Children"
After looking at all available options for transporting three children 2 and under, we finally found what we were looking for. Strollers that fit 3 are pricey and the reviews were not that enticing. This item was perfect for our family of 7. If you are looking for an item that's easy to assemble and that your children will love...this is it. We use it regularly for neighborhood walks and trips to the zoo, etc. While it is rather large and somewhat difficult to transport (will fit safely in minivan disassembled and with a little creativity), we are happy with our decision and would recommend to other families.
Date published: 2015-04-21
Rated 5 out of 5
by
Anonymous
from
Best wagon EVER!
I purchased the two car set and an extra car for my daughter who has triplets as well as a 5 car set for our grandkids. Both are used constantly. My daughter has completely given up any type of stroller and uses her wagon for everything. The kids are now two and a half and she's been using it for over a year. People stop her all the time and ask where she bought it.We use ours whenever the grandkids visit and they all love playing train and being all together. We couldn't be happier with this product. I highly recommend it for anyone with multiples, grandkids, or anyone who has friends who visit.
Date published: 2017-01-10
Do each of the seats have storage under them or just the first one?
Only the first seat has added storage underneath.
Date published: 2020-06-16
I wanted to know if all 3 pieces came with this wagon and what shipping cost would be  
All three pieces came for the one price but they arrived in 2 boxes.  The shipping was free when I ordered mine.
Date published: 2020-02-23
How long will the sale be on
Our sales are based on inventory.
Date published: 2020-02-20
I'm trying to order online but it doesn't give a Canada option. Is there a Canadian site I can go on.
Step2 Direct ships within the Contiguous United States only. A wide range of Step2 products are available at Amazon.ca, Costco.ca, Walmart.ca and Toysrus.ca. Additionally, Step2 products are available at, Costco Canada, Buy Buy Baby, Wal-mart and Toys R Us Canada retail locations. You can also contact: Play Value Toys at 613-722-0175 Thank you for your interest in Step2
Date published: 2020-06-09
hi i know it comes as three seats but can i hook three more on to make it six seats i have six children thanks
Does anyone even bother reading the description? It clearly says you can hook up 3 more total of 5. You can actually hook up as many as you want. It will just be difficult to pull. And the last cart is exactly that. Take last cart off, hook up additional cart and put last cart back. Not very difficult
Date published: 2019-10-29
Hello. Can you send to South Korea? Please check and reply me! Thank you
Step2 Direct ships within the Contiguous United States only. Thank you for your interest in Step2 product retailers in Korea. Specific products and quantities vary by retail location, please contact The Gunica Company with your specific request. The Gunica Company 011-82-2-592-0614 (p) 011-82-2-592-0613 (f) www.igunica.com (w) gunica@igunica.com (e)
Date published: 2019-09-25
Do the wagons come in together or do you have to buy 2 separately? 
Separately 
Date published: 2018-10-04
What colors do these all come in?  Looking for yellow, green, purple.
The Complete Choo Choo Train Combo is currently offered in red. blue and orange or red, white and blue. The purple and green has been retired.
Date published: 2018-07-31