Complete Choo Choo Train Combo - USA Edition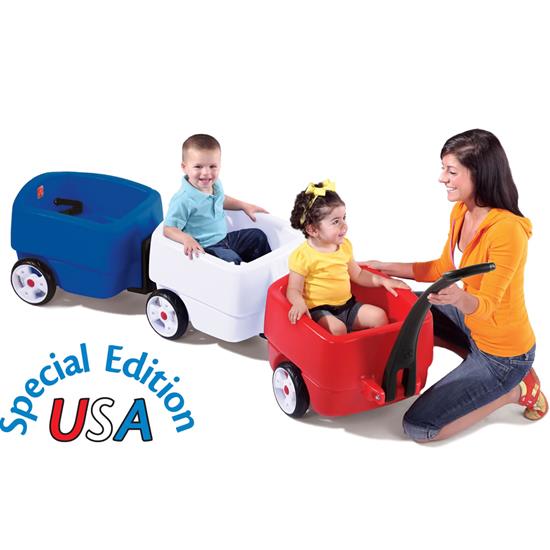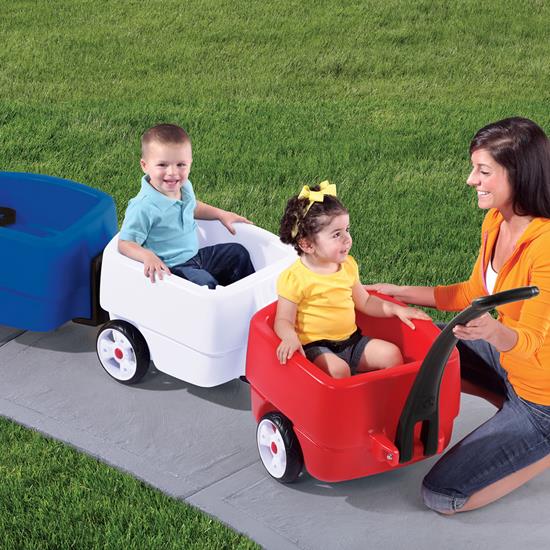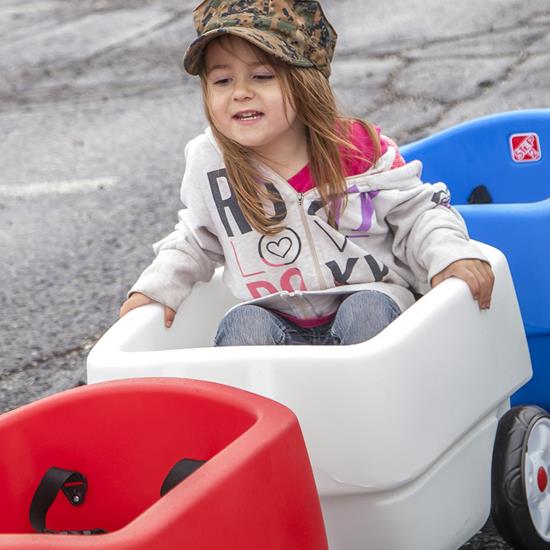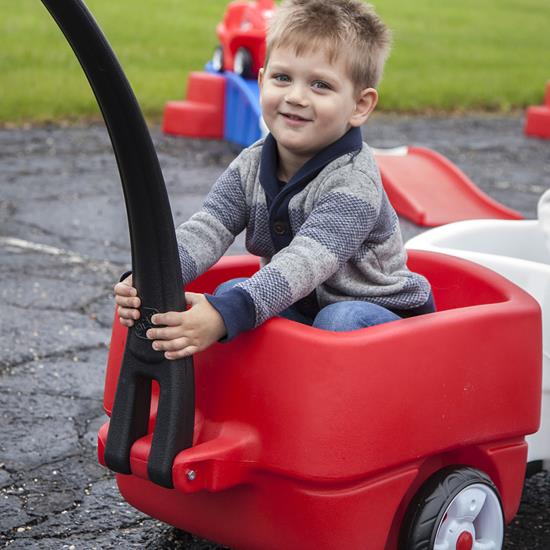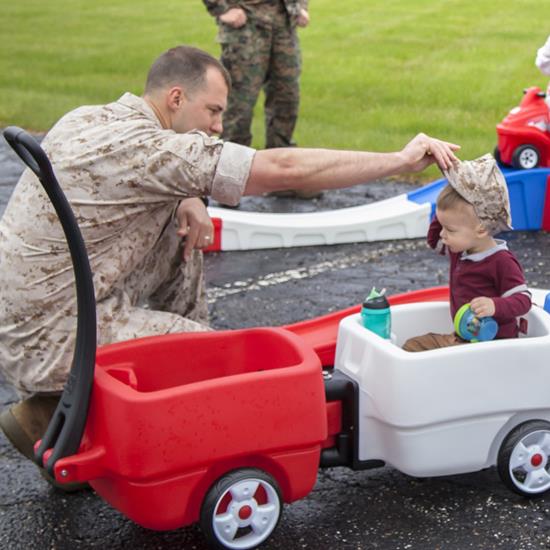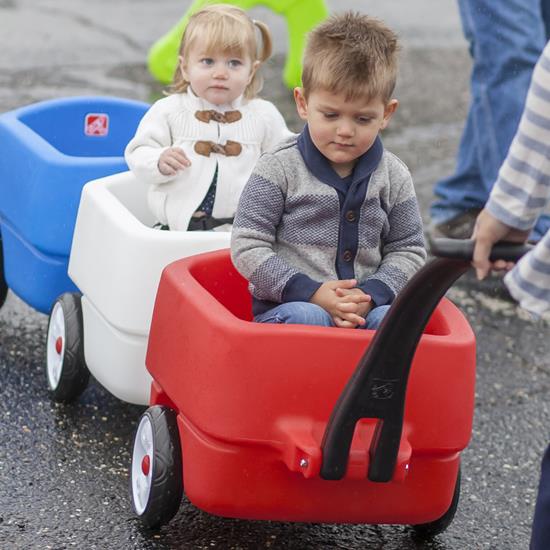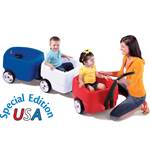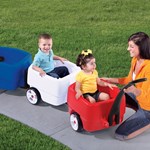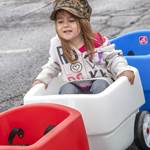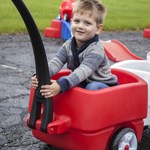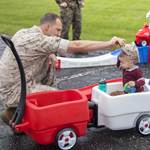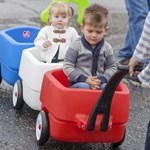 Complete Choo Choo Train Combo - USA Edition
Out of stock
$182.96 $152.93
+ FREE Shipping! (via FedEx)
The Complete Choo Choo Train Combo – USA Edition is the perfect patriotic wagon!
IS THIS A GIFT? DON'T SPOIL THE SURPRISE!
This item ships with an image of the product on its outer packaging.
Rated 4 out of 5
by
Michelle the Choo Choo Engineer
from
My family loves the Choo Choo Wagons!
I am a mother of two young children and an aunt to four little ones. My family had the old choo choo wagon and when the new style came out this year, we ordered it along with an extra trailer. When my husband saw the USA colors we had to get this one too. We use our wagons at all family functions to pull the kids, they just love it! I use this for my kids on our weekly trips to the zoo and walks to our neighborhood park. The kids prefer to be in this wagon rather than their stroller. The wagon is easy to pull and fits in our Escape. We receive compliments everywhere we go and I'm often asked where I purchased it. Thanks Step 2!
Date published: 2011-07-17
Rated 5 out of 5
by
SLB
from
Great Purchase!
This wagon is great! I love that you can pull three kids at a time with it and they each have their own seat. I added the extra wagon to this one so I can pull four at a time. It is very easy to pull and turn even with four cars. I like the Patriotic colors! Great for 4th of July parades! Also this allows all the colors of the cars to be different when you add the additional wagon that comes in orange. The other set already has a orange car in it. My only complaint is that the seat belts should have a strap for between the child' s legs. This would keep the littler ones from slipping down off the seat. Still this is the best wagon by far!
Date published: 2011-08-25
Rated 5 out of 5
by
Anonymous
from
I Love This Wagon!!!
With 3 young kids (4,3,2 years old) this has made a huge difference in our ability to enjoy trips to the zoo, parks, mailbox, and just walks around the neighborhood. I have even on occasion brought the wagon inside the house so that they can play Choo Choo, take turns pulling each other around. The best parts of the wagon are that each kid has their own space with cup holder, so there is no fighting! The sides are low enough that they are able to safely climb in themselves. We get comments everywhere we go. Plan on getting an extra seat for storage or wearing a backpack because the storage bin is pretty tiny, but if I am not carrying kids anymore I don't mind wearing a backpack.
Date published: 2012-08-29
Rated 5 out of 5
by
Jason
from
Great product!
I have 4 kids 5 and under with another one due in October, so I purchased the red/white/blue choo choo, and added a trailer to it, so all 4 of my kids can ride at once. The choo choo is well made, assembly was not difficult, and the kids love going for rides. My only complaint would be the lack of choices for a trailer color - I had to go with the yellow/orange trailer, but would have preferred to get something that was red, white, or blue... especially since I am going to add a 5th trailer next year.
Date published: 2018-04-26
Rated 4 out of 5
by
Anonymous
from
Good quality & customer service
We have twins and purchased the Choo-Choo and a trailer. Have not used the trailer yet. Assembly was simple, but may require two people due to size. Works great in stores and outside as it allows the kids (18mths) to see all around. Customer service was also great. One of the parts was damaged and we had a replacement in 3 days. Only down-side is the size. We have a Sequoia and have to have the 2nd row seats all the way up to get it in and there is not much room for anything else. For this reason, we will probably not be able to travel with it. It would help if the 2nd car would detach.
Date published: 2011-10-01
Rated 4 out of 5
by
rrivetto
from
My kids don't have to touch each other
I love the wagon. It is fun and I always get comments from people about how cute it is. I bought it because my two older children have autism and one elopes. The description states that the max weight for each individual sitting area is 50 lbs. My oldest son is 40 lbs and average height for his age. His legs are cramped when he sits in it. That's the only problem I have with it. But I do love that each seat has it's own cup holder and that my kids don't have to touch each other which means less fighting. :)
Date published: 2012-07-06
Rated 4 out of 5
by
Theycallmemom
from
My children love it
We purchased the step 2 Choo Choo Wagon as an alternative means of transport for our quadruplets. We love that each toddler has their own space free from the poking and pulling of one another. The Turning radius isn't great but that should be expected of a wagon of such magnitude. I would suggest that the company consider placing an extra wheel cap nut in the kit... just in case. I found myself in a bind while assembling the wagon at 2 am the night before Christmas eve. It was completely my fault but I think anyone could find themselves in that position and it would have been such a relief to have an extra on hand. Overall, we are very pleased with this wagon and can see many happy walks in our future.
Date published: 2018-01-05
Rated 4 out of 5
by
Anonymous
from
Great value!
We use this wagon every single day. I have a four year old and a 10 month old that both enjoy riding in this. We live in the country, so it is a great mode of transportation that also gives us an extra trailer for carrying things. The little storage compartment under the seat and the cup holders is like putting the cherry on top! I love how well made it is. It feels very sturdy. The only downfall would be that it is bulky if you are thinking about taking this on the road (vacation for example).
Date published: 2011-07-18
Can any canopys or any kind of sun protection be added to these? 
The Choo Choo Wagon is not designed for an umbrella.
Date published: 2018-08-23
How does it ride in grass?
We pull it in our grass all the time. It does pretty good! Of course it's always better on the sidewalk but It isn't that difficult to pull through grass.
Date published: 2018-04-16
I have the complete 3 seat choo Choo in my cart however I would like to purchase more wagons to add on. What all would I need? 
The Complete Choo Choo Train Combo (three cars) will accommodate up to two Choo Choo Trailers™. The Choo Choo Trailer™ arrives with everything needed to add it to your existing Choo Choo Wagon™.
Date published: 2018-03-19
Hi, may I know what's the shipping dimension & weight please?
The packaging dimensions for the USA Edition Choo Choo Wagon™ are as follows: Box 1) 51.75 x 18.75 x 17 inches and weighs 27.75 lbs. Box 2) 22 x 19.25 x 15 inches and weighs 13.5 lbs.
Date published: 2018-03-19
Can you connect a caboose to the red, white and blue choo choo wagon?
Yes, the Choo Choo Combo is designed to be added onto. You may add up to two Choo Choo Trailers.
Date published: 2018-02-12
My Granddaughter is 4 and is 30 pounds, would she be too big for this?
The recommended weight limit for each car of the Complete Choo Choo Train Combo - USA Edition is 50 pounds.
Date published: 2017-08-14
How does this handle going down hills? Does it have any type of braking system?
The Complete Choo Choo Train Combo does not have a breaking system and is not recommended for going down hill.
Date published: 2017-06-30
I would love to get this for the grandkids. Can you add more 'cars' or is 3 the limit?
Yes, you can add additional trailers for more than 3 cars.
Date published: 2018-03-27