Complete Choo Choo Train Combo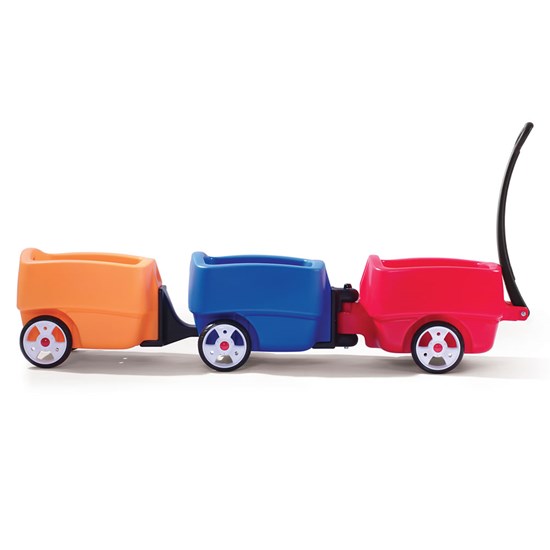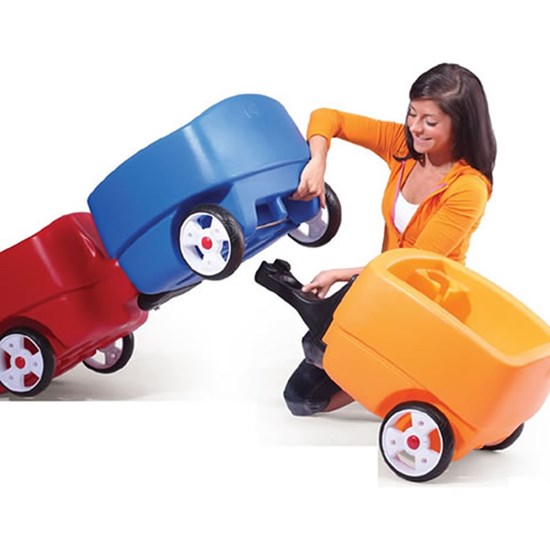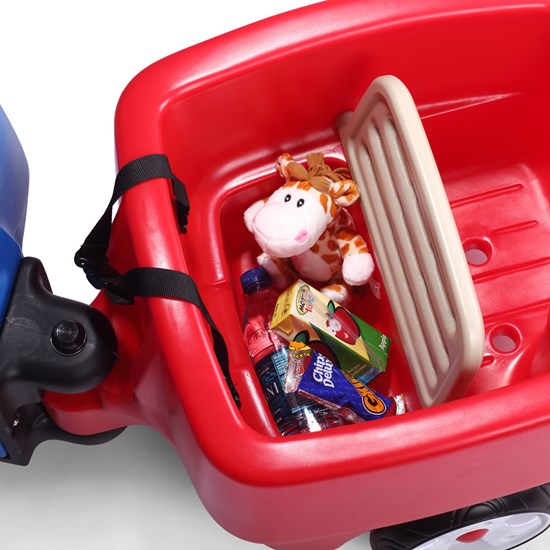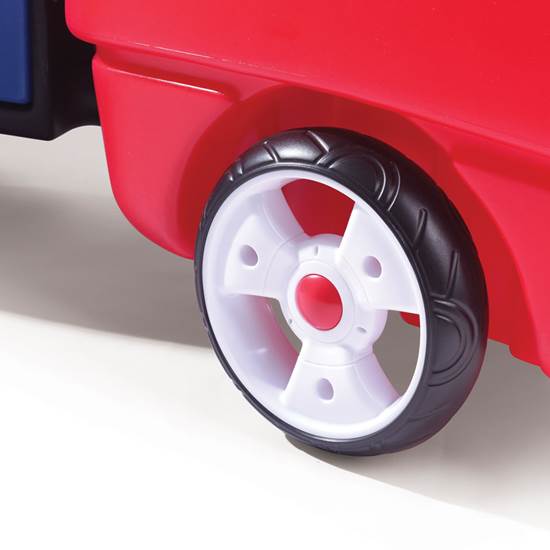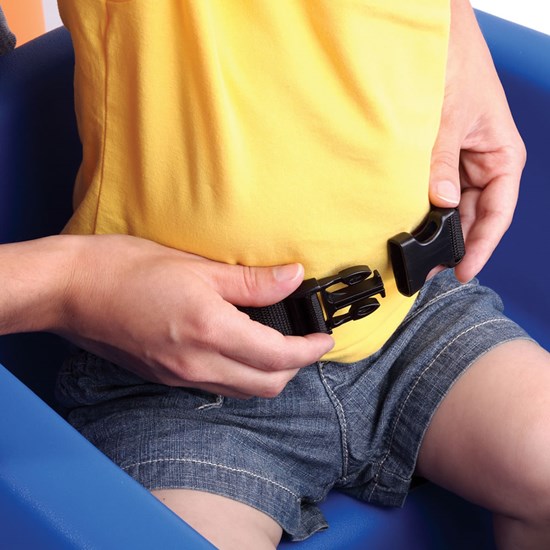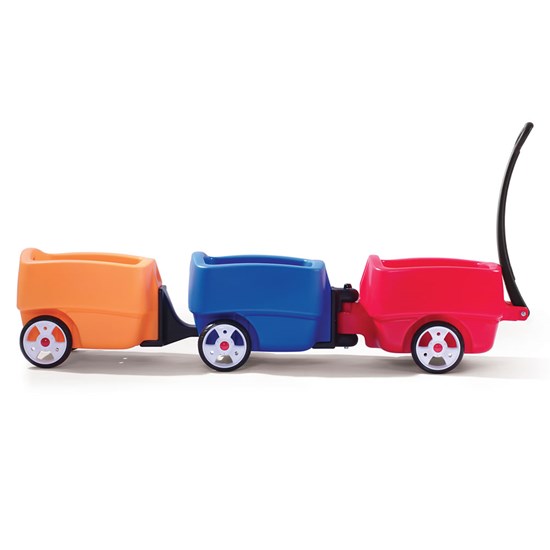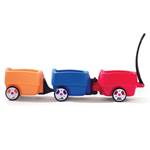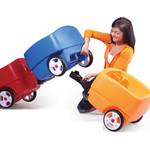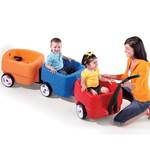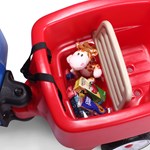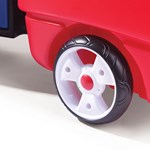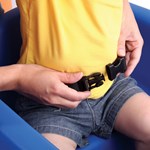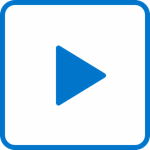 Complete Choo Choo Train Combo
In stock
$172.96 $149.99
+ FREE Shipping! (via FedEx) When will my item arrive?
This Step2 Multi Seat Wagon and Trailer Combination is the ideal wagon for kids that like their space during rides to the park, or around the neighborhood!
IS THIS A GIFT? DON'T SPOIL THE SURPRISE!
This item ships with an image of the product on its outer packaging.
Rated 5 out of 5
by
One Happy Triplet MaMa
from
LOVING our CHOO CHOO Train Combo!!!
We are parents to 18 month old GBG triplets and we are absolutely Loving our Choo Choo Train Combo! it is great for us to take the kids on walks and if i want i can take the kids by myself (which is normally no easy feat) i can and its no problem! only 2 downsides it has is that it is a bit heavy but it's not that big of a deal as it is easy to pull, and i wish the backing was a bit higher and more comfy for them, otherwise it is perfect! i wish i would have gotten it MUCH sooner! i was also very surprised the price was as low as it was since normal trailers are at that price if not more expensive.
Date published: 2011-11-18
Rated 5 out of 5
by
Mama o
from
Everything I hoped for!
Love this! This is my second purchase of the same train. This one I bought for my sister because she has three kids who always want to ride in our train. We go everywhere in this. The zoo, parades, farmers markets and the park. Everyone asks us where to buy it. It's so durable and bright and the seat belts are a great feature. With three kids it helps to have separate areas so no one fights and gets annoyed if someone's leg is touching someone else like in a traditional wagon. I'm a small person 5'4 and 110 pounds and I can pull this easily with three kids aboard. Definitely recommend it.
Date published: 2014-01-04
Rated 5 out of 5
by
Anonymous
from
Love it!
I absolutely love how each trailer has its own seat and own cup holder. As a mother of two boys they like to fight so having their own space in these wagons was a big selling point for me. It's so easy to put together and very durable- the plastic is thick and heavy duty. The only down side for me was that it's not easy to transport. Because I have the trailer in addition to the choo choo wagon, this definitely won't fit into a car or an SUV (unless seats are completely folded down). This is perfect for walks around the neighborhood and great for when taking the kid trick-or-treating.
Date published: 2014-10-26
Rated 5 out of 5
by
tiny toes daycare
from
LOVE our choo choo wagon
I have 2 boys 2 and 4, i also use our choo choo wagon for the home daycare. I love it, it is a nicer ride then our 2 seater, and quieter because of the better wheels. It gets heavy with more kids but thats to be expected. I did a lot of research before spending this amount of money on it, but i am so happy!! I would suggest it for anyone and everyone. Even if you have only 2 kids. This gives them their individual space and foot room. In our 2 seater the kids were fighting because they didnt have enough room for their feet and someones feet would have to be on the others.
Date published: 2012-02-14
Rated 5 out of 5
by
Red Nosed Mama
from
Could have resold mine over and over!
The Choo choo was a hard find when it was off the market...when it came back on I immediately purchased it for my triplets. We started using it from the time they were 18 months - 3 years. We only stopped using it frequently because they are 36 pounds each. I take off the third wagon and the two parts fit perfectly in the back of my Tahoe. We take it to the beach, the zoo, the mall, trick-or-treating, walking....they are able to get in and out easily on their own. They even like pushing each other around in it. Having a seat for each of them has saved many fights from erupting and I know each are safe with their drinks. I am asked by daycare owners and parents of multiple children when I am out where to get it.
Date published: 2011-11-01
Rated 4 out of 5
by
Alli Marie -- Mother of Three
from
Choo Choo Wagon Combo - A Must-Have!
I've had my eye on this for a while. When it went on sale, I knew I had to grab it! We have twin boys who are 1 year old and a daughter who's almost 3. We tried stuffing them all in a wagon, but it wasn't very comfortable for them...and our daughter would always want to get out (not a good thing if you're taking a walk on the street.) The Choo Choo Wagon Combo solved all of our problems! Each child has a seat, and they're all buckled in so no one can "escape!" You just can't take it around any sharp curves...needs plenty of room to turn. We love it, though!
Date published: 2011-08-05
Rated 5 out of 5
by
Anonymous
from
One of the Best Toys Around
Great Product. Easy to assemble and the kids love it. My kids wanted to keep it after we put it together but it was a present for their cousins upon the arrival of their third baby. All of my neighbors thought this was the best wagon set up ever. Each kid has their own space, cup holder, seat belt and they feel like they are on a train. Even with two kids having the third car would be super useful to carry extra stuff to the playground or around the neighborhood. To my surprise, the turning ability of this wagon is excellent. Highly recommend this product.
Date published: 2015-07-09
Rated 4 out of 5
by
Anonymous
from
Worth every penny!
We got this as a gift last Easter and we love it! We have 2 year old twins and a 3 year old. I was never able to lift our heavy triple stroller in and out of our van, but this (although bulky) is much lighter and MUCH less expensive then triple strollers. I leave it outside year round (I live in NY) and it hasn't rusted or faded at all. We get lots of attention everywhere we go with this awesome wagon! The only problem we have is that when our kids get out of it, strangers' kids tend to hop in it and want to go for a ride!
Date published: 2012-02-25
Rated 3 out of 5
by
Anonymous
from
No room for little feet!
My grandkids took their first ride in this yesterday. It's colorful and very cute. They loved it.Each car is supposed to hold up to 50 lbs. I'm sure that is true. However, my 2 grandsons, weighing 39 lbs. and 29 lbs., have no room for their feet! They squirmed constantly trying to get comfortable because of the lack of feet room. I'm hoping when the weather warms up, they can take their shoes off and the ride will be more comfortable.The design seems to be very good, but apparently no one gave thought to the fact that kids have feet! Right now it's new and the problem seems minimal to them. I'm hoping that in a few months when it's not new anymore, the lack of feet room still won't be a problem.I would recommend this to a friend, with a warning about the design.
Date published: 2013-03-27
Rated 5 out of 5
by
Mom of 5 kids under age 5
from
my triplets LOVE this train!
The train was easy to assemble and seems very durable. I have 11-month old triplets and they absolutely LOVE their individual wagons! We even use it inside just to get them to stay put in one place. The third car is removable and I can fit the entire three pieces in the back of my van. We have a triplet stroller and I like this wagon SO much better! Although it is long, it fits through doors and turns easily. There are seat belts and cupholders in each car. We will be using this for a LONG time. We love it!
Date published: 2014-05-27
Rated 2 out of 5
by
disappointed in Vancouver!
from
disappointed!!
It looks super cute, and the kids love being in it, but once you fill it with 3 kids and all their gear for your outting it is very heavy and hard on the hands to pull. Exhausting on long walks. Does not fit in elevators or reverse well. Super cute though and needs storage under all seats not just one!
Date published: 2012-06-05
Rated 5 out of 5
by
Anonymous
from
Awesome buy for triplets!
We have 8 month old triplets and we bought this for an option other in addition to a stroller. It's a great "baby train"! As long as your kids can sit up without flopping over its a great and fun. We intend to use it on daily walks and vacation i.e boardwalk. It's surprisingly light and easy to pull. Big plus is seatbelts. Two cons are only the first seat has the storage compartment and the first and second seat are bolted together. I would prefer to have three separate pieces, esp for storing purposes only.
Date published: 2012-01-29
Rated 5 out of 5
by
Clo Allen
from
I just love Step 2
I recently purchased the Choo Choo Train Wagon for my home daycare, I just love it, it was easy to assemble, I just love the colors. It was just what I needed, when we go on walks, and when we go on field trips. The children just love it, but not as much as I do. I even had people stop and say that is so cute, I need something like that for my kids. I just love step2. I know I'll be making more purchases in the near future. Thanks Step2 for making great products.Claralyn AllenMama Bear's Home Childcare,LLC
Date published: 2014-05-14
Rated 5 out of 5
by
TrumbleMommy
from
Love the choo choo
We have had our wagon for a few weeks now and my kids love it. They have plenty of personal space which is the reason why I chose this wagon My twins are 2 years old and don't like to share such close quarters. The wagon is great for trips to the park and the mall. We have parents asking all the time where can I get that! The wagon is light enough that my two year can pull it around the yard by himself. It does take up a lot of space but all three seats fit in my murano. Choo choo!
Date published: 2012-04-27
Rated 5 out of 5
by
Anonymous
from
Choo Choo
We had the OLDER version of the Choo Choo wagon and needed the trailer for more storage. We gave our older wagon to my sister and nephew and purchased the Choo Choo combo with trailer as the older version is not compatible with teh NEW trailer. We love it! We have two daughters, each has their own compartment and cup holders, no FIGHTING (she touching me or her cup is in my spot). And we have a trailer for the backpacks and all the goodies we take with us to the zoo and beach, etc.
Date published: 2011-07-12
Rated 5 out of 5
by
Anonymous
from
I love it!
I use this product everyday at my daycare. I let my 3 younger daycare kiddos ride it while we walk the older two to preschool. It is invaluable to me. It was less expensive than most of the 3 or 4 seat strollers I was looking at, plus the little ones LOVE riding in it. It looks fun and I always get compliments on it from people that we meet on our walks. It is very sturdy, the seat belts/bucket type seating provide safety, it is easy to pull, it even corners fairly well for being a 3 seat wagon. It would be nice if the weight limit was 50 or 60 pounds instead of 40 as my older two get jealous over the fun choo choo wagon. :). I did say it was a little difficult to assemble, I had my husband do it and noticed he had some trouble with the wheels, but it wasn't that hard, took him 30 minutes or less.
Date published: 2015-08-18
Rated 4 out of 5
by
neal537
from
Choo Choo choose this one for Multiples
We purchased this in anticipation of our third child. Our first set of twins are almost two and after ordering we found out we are having a second set of twins. Needless to say we are ordering another trailer. Our choo choo arrived with only one axle but the replacement was sent immediately after a short easy phone call to Step 2. I only wish another color was available with the trailer, to prevent battle royales. Great product, easy to assemble, and the kids love it
Date published: 2012-05-03
Rated 4 out of 5
by
Choo Choo Mama
from
Love, Love, Love the Choo Choo Wagon
I bought the Choo Choo Wagon for my 21 month old. We often have additional kids coming over for walks or going with us to the zoo. My son loves to go from car to car and try out each one. Downfalls: very large and would be hard to transport for anyone with a car ( i have a minivan and it works just fine)- also the wheels are made from plastic and i would really prefer if they were rubber tires that you air up. Overall: Love it- great for the park, walks, zoo, etc.
Date published: 2012-05-17
Rated 5 out of 5
by
Austin, Levi and Logan's grandma
from
Perfect for grandmas boys!!!
I love the choo choo train !!! I have 3 grandsons and I love to take them for walks around the neighborhood the boys are not big fans of strollers so I'm thrilled that they love their choo choo train they each picked a color and that's their personal car each car comes with a drink holder and seat belts and on the front car the seat lifts up for extra storage . I've had so many people stop me and ask where I got it and to let me know how cute it is !
Date published: 2014-07-29
Rated 5 out of 5
by
Anonymous
from
LOVE LOVE LOVE this wagon!
This is a fantastic wagon! The kids love it and automatically choose it over our other wagon. I had 3 people try to buy it from me right after I got it set up! The kids love to have their own space and each seat has a cup holder and belt! I dont know why i waited so long to get this wagon! I take care of 6 kiddos plus my own - One of the kids isnt big enough for the wagon yet, so i push him in the stroller and with the other hand, pull the wagon!
Date published: 2012-07-13
Rated 5 out of 5
by
Anonymous
from
OUTSTANDING
Love Love Love this product I can't say enough positive things about it. I purchased 2 choo choo trailers and 5 additional cars to go with it. Being a childcare provider I love having the availability to have all the children in one train, its easy to pull, has excellent features such as the seat bets, cup holders which makes it a great product. I wish it had under seat storage under all the seats and not just the first one. other wise LOVE it!
Date published: 2012-05-30
Rated 5 out of 5
by
oshtash
from
I love this product.
I have nothing bad to say about this wagon. I love it my kids love it to they never want to get out of it. It's so much better then a stroller for toddlers. It's so easy to put together. And the trailer comes on and off so easy I love it. It has great storage to. It's so easy to pull as well the safety straps are great I don't have to worry another my toddlers bailing out of the wagon. There is nothing bad about this wagon. The price is great!
Date published: 2012-03-05
Rated 5 out of 5
by
momof3boys
from
Great wagon, fits all three
With three small children, one wagon doesn't cut it. This gives us the ability to fit all three, or use one section for a cooler/bags and two can ride. The end car comes off, so you can use it as a double. The separate cars keep them at a distance from each other and make it harder for them to fight with each other while riding. Beware, we have a mini van and can just fit it in the back with one seat down. It does take up a lot of space.
Date published: 2012-06-04
Rated 5 out of 5
by
ChuggingAlong
from
Perfect for our family!
We bought this for our twin boys first birthday. We also have a 3 year old so we knew we would want the caboose. This product not only looks adorable but pulls easily ( my 7 and 5 year old pull them around). I'm so glad it has seat belts too! The assembly is pretty easy but does require some time ( I put it off until the day of their birthday). We just got it and I hope it holds up because we plan to use it almost everyday this summer!
Date published: 2014-03-20
Rated 5 out of 5
by
shoppamom
from
GREATEST RIDE EVER!!!!
I used to use the little buggy, but this is Choo choo Wagon is fantastic, I can bring both grandsons for a walk at the same time. They keep each other company on their walks. One is 2 yrs old the other is 9 mos old and it is great for both of them. You have to get used to the turns though, a little hard around turns. I purchased the 3 seater, hopefully it will get filled one day. But otherwise this is just the GREATEST wagon EVER!!!!
Date published: 2011-08-05
Rated 5 out of 5
by
Anonymous
from
Great wagon for triplets!
I saw the complete Choo Choo Train Combo and bought it right away. Being the mother of triplets, it is difficult to put my children in a place where they are together but not on top of each other. When the wagon came I was completely surprised. The adjustable seat belts and cup holders are great. There is even a small storage compartment under the seat of the first car. Going to the zoo has never been more fun for us and our children.
Date published: 2011-10-30
Rated 5 out of 5
by
Anonymous
from
LOVE LOVE LOVE this cute Choo Choo Wagon
Excellent quality. Love it - this is actually a quiet ride. Some outdoor plastic toys are extremely noisy - this is wonderfully quiet - you can hear neighborhood noises! It's great how the 3rd caboose part easily detaches to transport the wagon in your car. Note: I never know whether to designate items like this as a gift or not. YES, it was a gift I gave, instead of receiving. Is that the right answer? Best Wishes Always!
Date published: 2013-01-08
Rated 4 out of 5
by
Anonymous
from
Great idea for triplets!
We are very excited to see our beautiful, triplet grandchildren enjoy their new Choo Choo wagon and trailer.. From what we can see it will be just what is needed to get them out & about rather than being in their strollers. They can be somewhat on their own, yet be all together at the same time. We have heard only positive comments from those we have met that have it. Reasonable price, great colors, and fun for all!
Date published: 2012-07-01
Rated 4 out of 5
by
Anonymous
from
Fun way to cart 3 little ones around the neighborhood!
The choo choo wagon is great fun! Each car has a seatbelt and drink holder! We were able to put 2 9 month olds and a 3 year old in the wagon and go for rides around the neighborhood! Each car has 2 small holes in the bottom so water does not collect if left outside. It would be great if the handle was longer or had a rope attached to it; this would make it easier when pulling 3 children. Colors are great. Easy assembly.
Date published: 2016-10-28
Rated 4 out of 5
by
Anonymous
from
My kids love it
I love this wagon I have two small children, one with special needs that has a fear of being in things (stroller, swings, shopping carts) it took 1-2 tries to put him in the wagon but once he was in it and moving he really loved it. We are able to do so many more outings with this wagon then we were before. My only con is that the wheels seem to be really soft and impressionable, any little rock indents the tires.
Date published: 2013-09-11
hi i know it comes as three seats but can i hook three more on to make it six seats i have six children thanks
Does anyone even bother reading the description? It clearly says you can hook up 3 more total of 5. You can actually hook up as many as you want. It will just be difficult to pull. And the last cart is exactly that. Take last cart off, hook up additional cart and put last cart back. Not very difficult
Date published: 2019-10-29
Hello. Can you send to South Korea? Please check and reply me! Thank you
Step2 Direct ships within the Contiguous United States only. Thank you for your interest in Step2 product retailers in Korea. Specific products and quantities vary by retail location, please contact The Gunica Company with your specific request. The Gunica Company 011-82-2-592-0614 (p) 011-82-2-592-0613 (f) www.igunica.com (w) gunica@igunica.com (e)
Date published: 2019-09-25
Do the wagons come in together or do you have to buy 2 separately? 
Separately 
Date published: 2018-10-04
What colors do these all come in?  Looking for yellow, green, purple.
The Complete Choo Choo Train Combo is currently offered in red. blue and orange or red, white and blue. The purple and green has been retired.
Date published: 2018-07-31
The plastic nob that the trailers attach to is starting to crack, I am scared it is going to break off! What can I use to fix them? Without having to order a complete new one! :(
Please contact our Consumer Service Specialists at step2-company@step2.net or 1-800-347-8372 Monday through Friday, 8AM -5PM Eastern Standard Time and we will be happy to help you.
Date published: 2018-05-23
Do you sell replacement wheels?
We do offer wheels and other replacement parts for the Choo Choo Wagon™, please view the following link: https://www.step2.com/parts/p/choo-choo-wagon Or if you prefer you may also contact our Consumer Service Specialists at step2-company@step2.net or 1-800-347-8372 Monday through Friday, 8AM -5PM Eastern Standard Time and we will be happy to help you.
Date published: 2018-03-12
Can you only connect a max of 3 trailers or can you connect more to accommodate more children? I need something for a minimum of 6 children....
you can connect as many as you would like
Date published: 2018-08-07
I have an older step 2 Choo Choo wagon and want to know if I were to get another trailer will it still fit?
Please contact our Consumer Specialist Staff at 1-800-347-8372, Monday through Friday, 8am-5PM Eastern Standard Time for assistance with your Choo Choo Wagon.
Date published: 2017-08-14