Contemporary Chef Kitchen™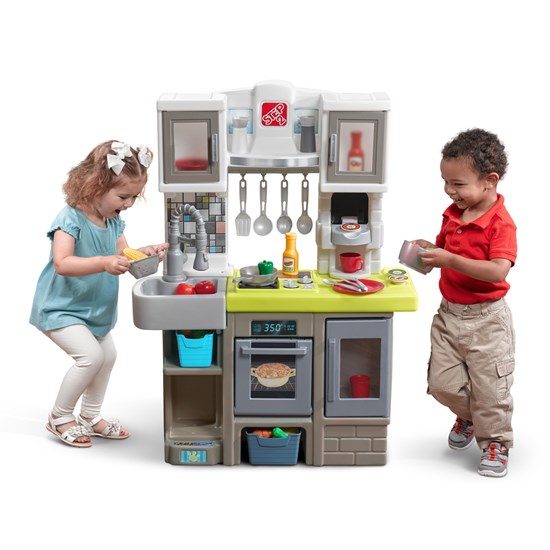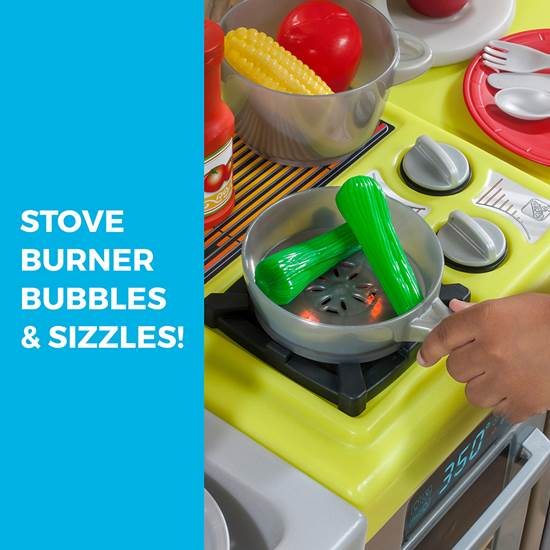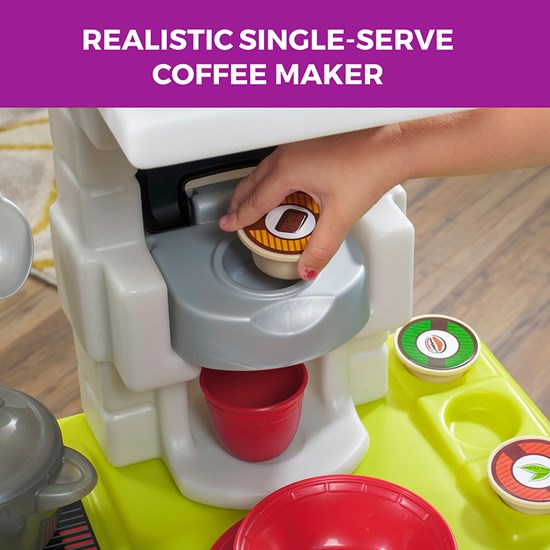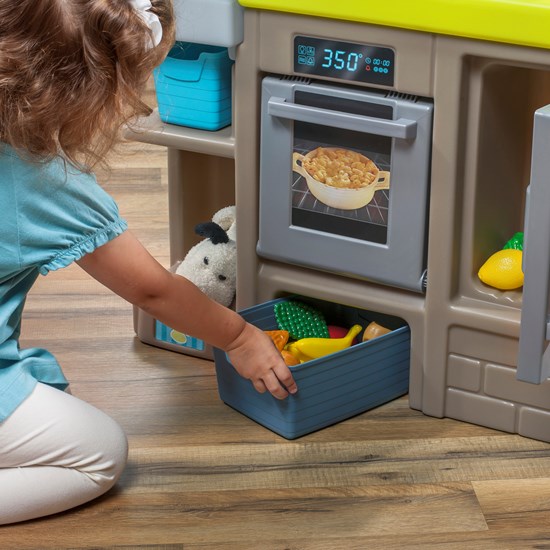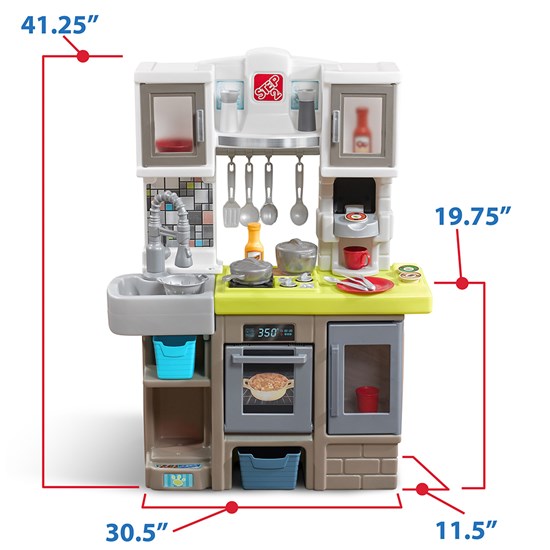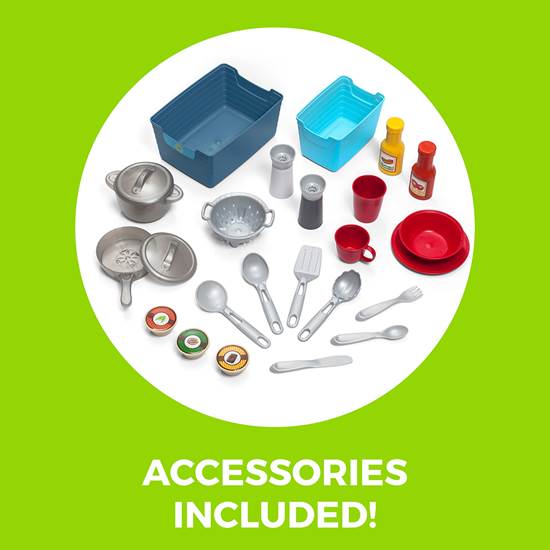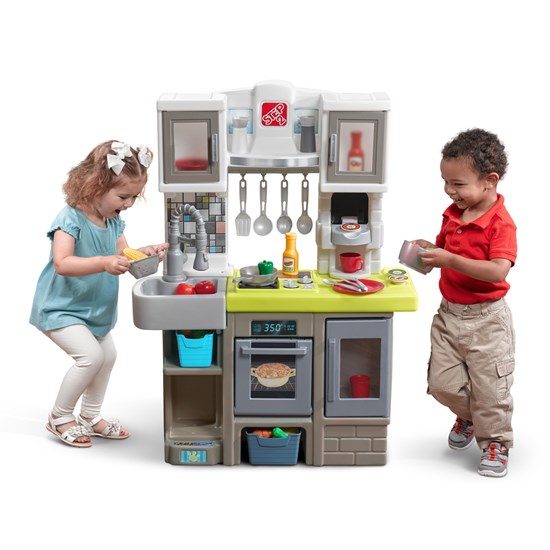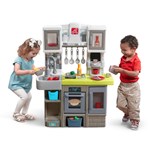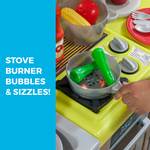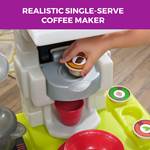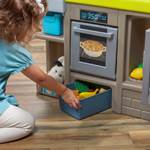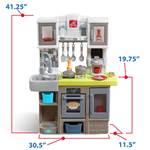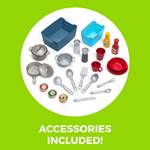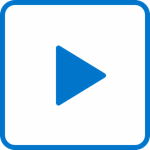 Contemporary Chef Kitchen™
In stock
$129.99 $117.99
+$12.99 shipping (via FedEx)
Junior chefs will love to cook, create and play with the Step2 Contemporary Chef Kitchen™.
IS THIS A GIFT? DON'T SPOIL THE SURPRISE!
This item ships with an image of the product on its outer packaging.
Rated 4 out of 5
by
Anonymous
from
Perfect for our little one!
We caught this on a great sale from step2 and it was well worth the price! The design is cute and our little boy loves how the utensils hang from hooks over the stove. The colors are fun and we love the noises that it makes. I love that it also comes with a little starter set of a bowl, plate, cup, mug, and utensils. My one complaint is pretty minor- at the bottom left side there is a cubby for a dog/cat along with a sticker of a food and water bowl. I guess it's cute if you have a certain sized stuffed animal that will fit but I would have preferred it be another cabinet or something to store accessories.#sweepstakes
Date published: 2017-04-05
Rated 5 out of 5
by
Anonymous
from
More than expected!
We picked this out as a gift for our daughter from the grandparents. My daughter is 14 months and on the petite side. This kitchen is way more than we expected! The knobs, faucet and salt and pepper shakers all have moving parts! Great for fine motor development. Our daughter LOVES the sound the stove makes. The sound isn't too loud and turns off after a few rounds. We also love how the oven door opens down all the way to the floor. No issues with her trying to climb it as we have heard from other friends with other kitchens. It took longer to put together due to the many screws, however, it was simple and increases the durability and sturdiness.She can reach most of the items on the stove and below yet there's plenty of room for many many many years of growth.
Date published: 2017-02-28
Rated 4 out of 5
by
Anonymous
from
Perfect kitchen for little ones!
This kitchen is perfect for our two children (3 and 1). We love the contemporary style, which looks similar to our own kitchen. I would have given this 5 starts if it would have been easier to put together. It does not have pre-drilled holes, and trying to put this together on my own was a bit difficult. One of the burner knobs was broken during transit, but Step2 Customer Service took care of this immediately and sent us a new one. Excellent service. #sweepstakes
Date published: 2017-03-06
Rated 4 out of 5
by
Z Turner
from
I would buy this product again
First of all, Thank you to Step2 for letting me test this item as part of the Step2 toy tester program. My kids are having so much fun playing with this kitchen. All the little areas make it more interactive and invites them to play pretend cooks and restaurant hosts and hostesses!! It was easy to set up but very light and a bit on the smaller side. This makes it easy to move around and easy to fit in small corners. My kids are 5, 3, and 1 so it is perfect for my 1 and 3 year old. But it's a bit too small for a growing 5 year old. In addition, it is suitable for only one or two small children at a time because it is a bit narrow. All in all, the kids love it and they play with it on the daily.
Date published: 2016-11-10
Rated 5 out of 5
by
Gramma Smoochies
from
Dream Kitchen
Our granddaughter loves this modern kitchen design. She's a bit younger than the recommended age, but is fascinated by everything about this. And she's able to entertain herself for hours, with us just keeping a watchful eye. Of course, it's even more fun to join her in pretending! She'll grow into this in no time, and will be able to enjoy this for many years to come.
Date published: 2017-09-27
Rated 5 out of 5
by
Anonymous
from
A kitchen with lots to offer!
After working in the toy industry for 43 years, I know a great product when I see one. This Step 2 kitchen is definitely great! It is made of quality materials and has lots of play value. My granddaughter uses it at our house and never stops playing with it. When her parents bought the "deluxe" Step 2 kitchen, I was afraid that she wouldn't play with ours anymore. But I was wrong. She plays with both and enjoys hours and hours of fun at both houses.
Date published: 2017-02-19
Rated 4 out of 5
by
Anonymous
from
Small size, hours of fun
Kitchens have always been my children's favorite type of large-scale toy and this one is another winner! To start, I love the compact size which is great for small spaces, but it still includes all the major activity centers like a stove/oven, fridge, a sink, a coffee maker, and plenty of storage. My son's favorite part of this set is that it has a little dog "bed" which was one of the things he missed when we moved up from his first kitchen.Another great part about this kitchen is that it features a window like many of Step2's other kitchens do as well, and my kids use it frequently to "order" through while the other prepares the food. This is a great first kitchen set for toddlers, and it has plenty of extras that come with it like pots/pans, plates, bowls, sauce bottles, k-cups, and utensils but it lacks the food itself (which is an easy fix).The colors are modern and appealing, and it would fit well in either my son or daughter's room. This is a great set for the price!
Date published: 2016-12-12
Rated 5 out of 5
by
Barbara
from
Great kitchen
Have been using your product since my kids were little now grown and buying for my granddaughter Arabella she loves the kitchen set and only nine months old it's so amazing
Date published: 2017-10-16
The video shows the fridge as having a "ice maker" the stock photos show it as an open see through door. Which is it?
Open see through door!  It is still adorable! 
Date published: 2020-12-23
What is the height of the counter? I have a 2 year old that's the height of the average 4 year old and I'm worried about him out growing it too fast.
The height of the courter is a little over 19 1/2 inches.
Date published: 2020-08-12
What makes this for ages 2+ instead of younger kids?
The Contemporary Chef Kitchen™ may be difficult for a child under two to reach high enough for playtime.
Date published: 2019-12-02
Can I buy the pans that sit on the stove that makes sound. I bought step 2 kitchen second hand. No dishes or pans came with it.
Yes, contact customer service. You can purchase these. Make sure the batteries in the "burners" are good. These require changing every 3-5 years.
Date published: 2019-03-20
Where does the recycle sticker go?
The recycle stickers are to be placed on the blue basket.
Date published: 2019-01-18
I am trying to choose one for my child. what is the height from floor to counter top? Thank you.
The counter top of the Contemporary Chef Kitchen™ is approximately 19 inches in height.
Date published: 2018-12-04
Can you tell me the dimensions and weight of the product packaged please? I need that to call the airline and ask them if i can take this beautiful kitchen with me. Thanks
The box weighs 22 lbs. I am not sure what the dimensions are.
Date published: 2018-11-28
does this include the dog?
No, it doesn't include the dog.
Date published: 2018-10-15