Corvette® Bedroom Combo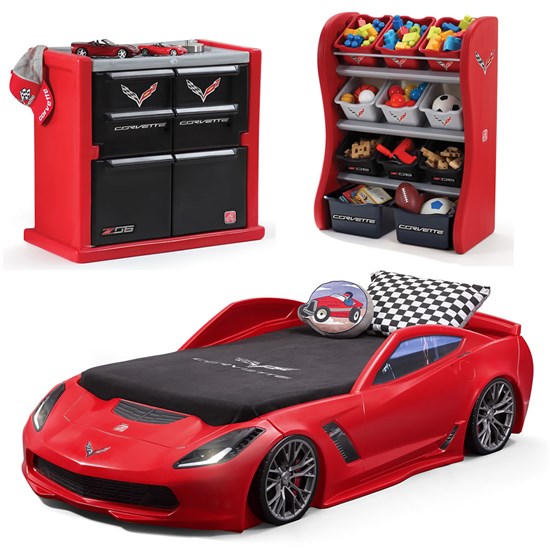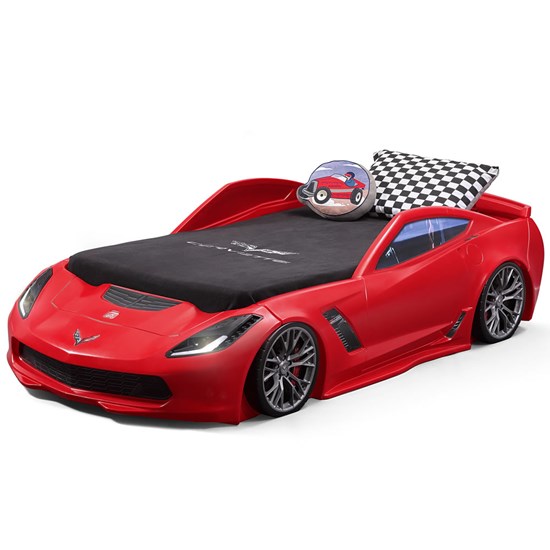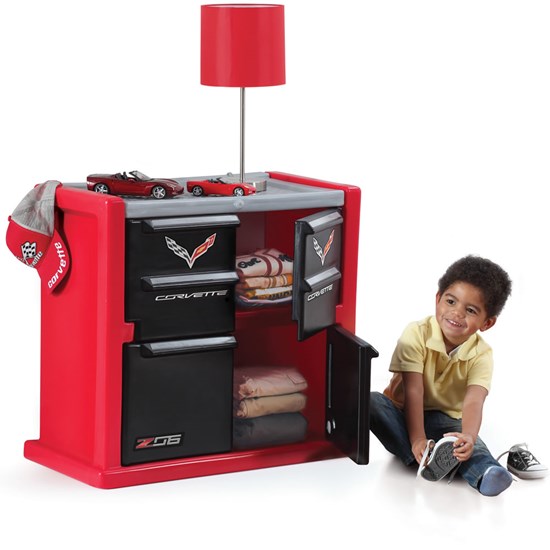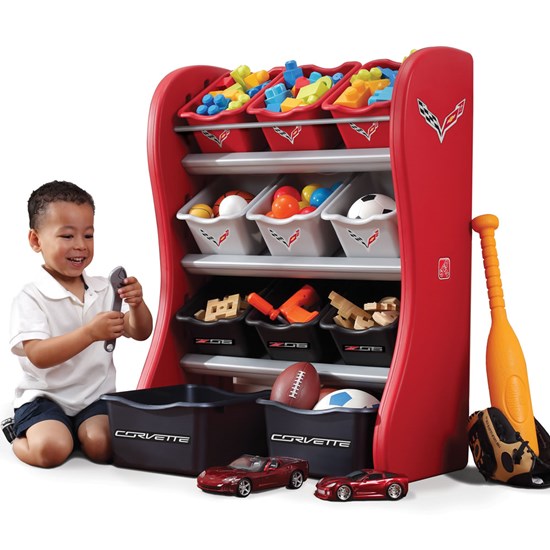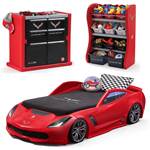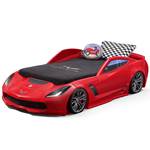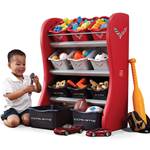 Corvette® Bedroom Combo
In stock
$649.95 $589.99
+ FREE Shipping! (via Truck) When will my item arrive?
Race off to dreamland with the Step2 Corvette® Bedroom Set!
IS THIS A GIFT? DON'T SPOIL THE SURPRISE!
This item ships with an image of the product on its outer packaging.
Rated 3 out of 5
by
Anonymous
from
Liked some parts of the "package" and not others.
My son loves his little Corvette bed. He'll be good with it for at least a couple of years, until ready to transition into a big boy bed. I think this is an interim bed between crib and regular bed. We needed to buy a twin mattress as the crib mattress really doesn't fit right as suggested. As for the other two pieces in the "collection" I would not buy them again. The toy storage is like many others available, but it is not stable like others....very tippy. As for the "dresser" this piece was a disappointment as it is nothing more than a cheap plastic cabinet.....not really a way to store clothes or toys in any organized fashion.
Date published: 2016-07-20
Rated 1 out of 5
by
Meri
from
big disappointment :(
Hopefully Step2 will read this and make some changes. The product has little to no quality control, the pieces were stuck in a box without being cleaned or checked prior to leaving the factory. Even the driver couldn't believe how bad it was, especially for how much we paid. Everything is covered in dust and needed to be wiped down. We have never received a product in worse shape, especially at this pricepoint. We are local in Ohio, about 30 minutes from their factory so it would be very difficult to blame this one on shipping. big buzzkill of a purchase, still cool and all, but an expensive product for a poor experience, especially since we waited over a year to buy this having our son save money from gifts etc.
Date published: 2013-08-30
Rated 3 out of 5
by
Anonymous
from
Awful packaging and shipping care.
Let me start off by saying this is a great product. It's well-designed and inspires imagination and creativity for kids.BUT the packaging (or lack there of) and transportation care really bring down the quality. Initial excitement turns into disappointment as you find scratch after scratch and scuff after scuff. Quality control would do wonders for product and the accompanying accessories that go with it. Proper packaging and care for the products, so they're delivered in brand new quality is a basic requirement.I would gladly pay a little extra to cover additional packaging support and quality control to ensure that a better product was delivered to me. It's shame, because this bed is a one-of-a-kind.
Date published: 2012-11-14
Rated 5 out of 5
by
MideeBlessed
from
Can't Buy Better!!!!
We are foster parents. There is nothing safer or stronger than Step2 products. This is the 2nd Step2 bedroom unit we have bought, after recently replacing an older group. We know that our children are safe and secure when we put them to bed. The edges are soft, children are secure within the bed (no falls), and it's a breeze to clean up when there's an accident. In addition, they are bright and cheery and give the bedroom area a spectacular look! I love Step2!
Date published: 2014-01-01
Rated 5 out of 5
by
Matt the Ruler
from
Amazine Bedroom Set
The Corvette bedroom set is a dream come true for our child. The bed is high quality, the dresser is easy to use and the storage bins are a favorite. All the decals look great and my son loves the lights on the bed. He is always turning them on and off at night. The bed looks exactly like a C6 Z06 and sets the room off with an amazing racing theme. All pieces are high quality and came in great shape. The only piece we didn't really like is the storage chest. It's a bit to big and bulky for our room size. Great work Step2 I hope you keep up the great work. Most of the car beds don't look anything like a real car!
Date published: 2013-01-28
Rated 5 out of 5
by
Mother of 21 month old
from
21 Month Old Loves It!
Purchased for my 21 month old son. He loves it! I purchased the set because he loves cars and it's a Step 2 Product. Step 2 makes durable, sturdy, and fun products. My son slides down the front of the bed like a slide. I used it to encourage my son to give up his pacifier. I allowed him to keep it one week and then explained that big boys leave their pacifiers in cribs. We have been pacifier free over a week. The set was dusty upon arrival, but cleaned with a dust cloth during assembly. I'd also recommend an electric drill for easier assembly. Shipping was fast and delivery was excellent! So far we love everything about this set!
Date published: 2015-11-09
Rated 4 out of 5
by
manny13
from
Grandson in Awe!
This is a very cool bed set. My grandson is 5 years old and this will work for many years. Bed is a little larger than I imagined. Stickers were very difficult to put on and I tore one. They are very difficult to put on straight. I could not get the grill stickers even. You cannot just pull the stickers off and replace them. Some of the boxes were severely damaged luckily the product wasn't. They need to do a better job packaging the bed. I read other reviews that complained of the same problem. We did receive the bed quickly once we purchased it. Easily assembled for my husband but I couldn't have put the bed together. We used an electric screwdriver. You have to drill through the plastic.
Date published: 2018-11-13
Rated 5 out of 5
by
Anonymous
from
Best Car bed on the market
This set meets all our expectations. The quality is always there with Step2. Everything is nicely made and when you try and compare this car bed to the others on the market there's really no comparison it's very detailed and more realistic then the others and the fact you can get the add on to make the lights work which my son loves! Also it's not just a toddler bed but converts to twin mattress which most on the market don't do. So my son can stay in his big boy bed for a couple years! Very happy with this product. I've always gotten top quality with all my Step2 purchases.
Date published: 2017-03-28
Does the set come with the corvette sheet pictured?
No. If you purchase the combo, you only get the bed, dresser (cabinet), and toy rack. It will have the stickers you can put on everything, but other than that, nothing else. You don't get sheets, mattress, or any other items in the picture.
Date published: 2020-01-25
Hello! Do you ship to Brazil? I really want to get the combo. Thanks
Step2 Direct ships within the Contiguous United States only. Thank you for your interest in Step2 product retailers in Brazil. Specific products and quantities vary by retail location, so please contact Gregory Tyszka with your specific request. Americo Vespucio Norte 1940, Conchali, Santiago, Chile Email address: gregory.tyszka@hobbymarket.cl Telephone number: +56226416616 Your website www.step2chile.cl
Date published: 2019-10-17
I WOULD LIKE TO KNOW IF CORVETTE® BEDROOM COMBO BRINGS THE BED MATTRESS
No, it does not come with the mattress 
Date published: 2019-04-09
Do the front lights on the car turn on at all? Are there any lights on this frame ?
The front lights on the car are LED and manually turn on. They stay on until manually switched off. There are no other functional lights on the car.
Date published: 2019-03-24
Does this come with the mattress if not what mattress size does it fit ?
It doesn't come with the mattress. The size is Twin.
Date published: 2019-03-19
You show a comforter and pillow case for the blue corvette, but where can I find it to purchase for the blue corvette I already purchased ??     And the throw pillows ?? Also is there a corvette sheet set ??
There is no specific sheet or comforter set or pillows. You can purchase any twin size comforter and pillows at your local retailer.
Date published: 2019-02-11
This item shows a 4 piece set in the actual illustration on Pinterest. So why does it not have the same illustration on Step2???? That's false advertising!!!!
We apologize for the confusion. At one time we did offer a four piece set for this combo. Evidentially there is older imagery on Pinterest.
Date published: 2019-01-14
Hello, Why doesn't t his combo come in Pink.
I'm a customer and received an email to provide an answer. There's a another combo (not a car) which comes in pink. I'm not sure why they email out questions that can't be answered by customers.
Date published: 2018-11-09