Corvette® Bedroom Combo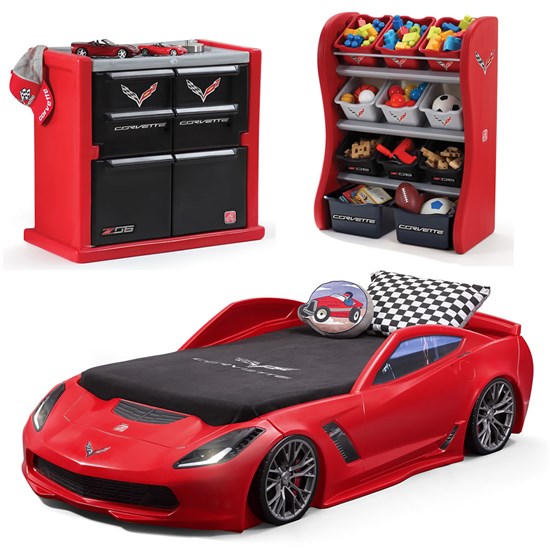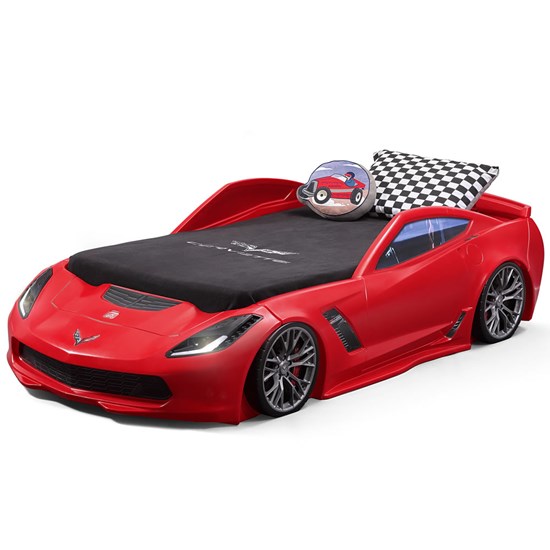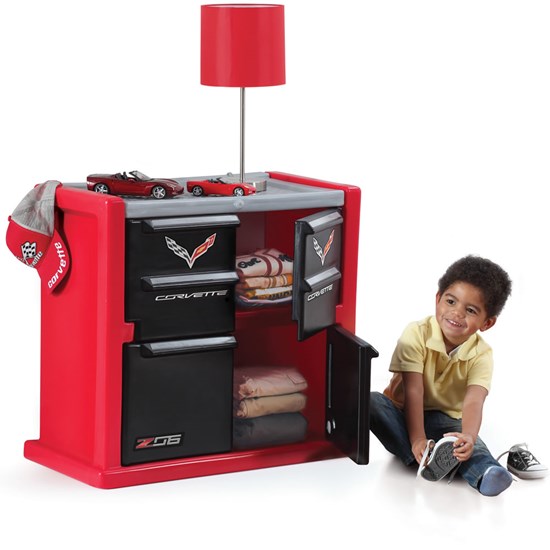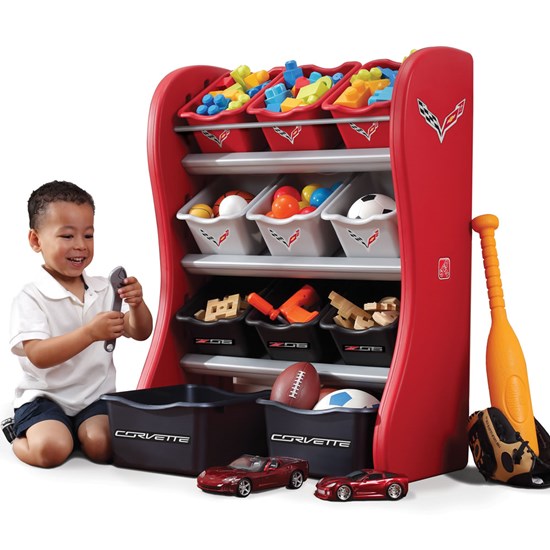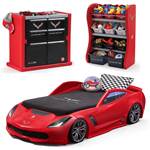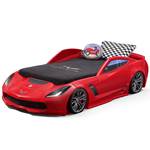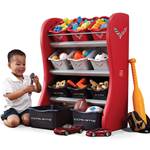 Corvette® Bedroom Combo
In stock
$649.95 $589.99
+ FREE Shipping! (via Truck) When will my item arrive?
Race off to dreamland with the Step2 Corvette® Bedroom Set!
IS THIS A GIFT? DON'T SPOIL THE SURPRISE!
This item ships with an image of the product on its outer packaging.
Rated 5 out of 5
by
Anonymous
from
I ended up buying 2 sets for both my sons
I bought the completed set for my son that's 5 at the time totally in to cars and thought he this was perfect and boy it was I ended up buying another complete set for my 3 year old and they love it I do as well it is very awesome looking doesn't look cheap it's tough and they both love the how head lights go on and I love it as well it's there night light and even better it has a timer the lights will automatically turn off in 20 minutes definitely helps to save on battery very smart idea couldn't be more impressed I even get complements from adults when they see my boys room thank you so much for this great idea can't wait to see more products send me anything I will give my opinion I get things from this company all the time I'm a fan
Date published: 2017-05-23
Rated 5 out of 5
by
bobbinbernie
from
Wonder bedroom combo
This is a wonderful combo that will grow with my son. It has a toddler mattress in it now, but in a year will convert to a twin frame. He loves cars as all boys do, so I am sure he will love this bedroom combo for a long time.The toy box, toy sorter and dresser were all extremely easy to assemble. I did thos by myself in under an hours time. The bed does require 2 people and took about 1.5 hours, but it was still not difficult. This is a great set at a cost less than what we found shopping for a bed alone at furniture stores. What a great deal.
Date published: 2013-03-19
Rated 5 out of 5
by
Anonymous
from
Perfect Toddler Bed
There were multiple parts missing when my order arrived but I contacted their customer service & they were able to ship them out within a few days. My 2yr old son absolutely loves his new bed. I no longer have to worry about him bumping his head against anything because it is completely made up of plastic. I wish the headlights could be plugged in instead of battery operated but not that big of a deal.Instructions say to have 2 people put this bed together but I was able to do it by myself. Take in consideration that assembly will take you a few hours but it's worth the wait when you see the smile on your child's face.I would definitely recommend this bed set to any child out there. Wish I would've had this bad boy when I was growing up!
Date published: 2016-12-28
Rated 4 out of 5
by
Msha500
from
covette bedroom Combo
I got this set for my son. Since his birthday is in november the bed was for his birthday and the rest of the set was a christmas gift. He loves the bed and it got him out of mine. It was a bit hard to assemble. The toy chest was great and very spacious. I am unable to review the room organizer because when I went to set it up christmas eve, the box had two (R) parts and the (L) part was needed to complete. I have been trying to call Step 2 for 2 days now without success. So I must say that I am not happy with the customer service. We have not put the dresser together yet...but I will do that sometime this week..so I can make sure it has all the right piece to successfuly put it together. Overall the set is great and worth the price.
Date published: 2012-12-27
Rated 5 out of 5
by
Anonymous
from
3 year old loves it!
We got this for my son's 3rd birthday. He loves cars and when we put this together he was in heaven!! He takes everyone to his room to show off his car and makes sure they see that the headlights work. I like that it will accomodate a twin mattress so that we don't have to buy another bed in 2 years when he outgrows the toddler mattress, just have to get the mattress. We looked all over for a bed that we wanted and would grow with him and this is the best choice. He also likes to "organize" all his cars and stuff in his new toy chests.
Date published: 2012-12-14
Rated 5 out of 5
by
Anonymous
from
awesome race car bed!!!
I bought this race car bed for my 7 year old Autistic son, I actually bought the full bedroom set and it was sold for a great price. My son loves his bed and doesnt get up in the middle of the night anymore. He even stays in his room playing with his bedroom set all day after school. I love the led head lights they are a bright white color temp of a 6000k to 8000k. There are 3 led light bulbs in each head light. The car is a nice red color. Looks even brighter when you wipe it down after arming It. The only thing I didnt like was that the rear wheels seemed very flimsy even after putting the bed together properly, the wheels in the front are very sturdy after installing them. Other than that I am very happy with it I only wish I could have bought it sooner.
Date published: 2013-03-25
Rated 5 out of 5
by
Anonymous
from
Big boy bed was a big hit!
We purchased this bedroom set for our son after his best friend got one. Our son loved it at his friend's house but was reluctant to get rid of his crib (he's just over 3). We started with the accessories and put the bed together last. I was able to assemble everything except the bed without my husband. The bed is very sturdy and looks so authentic with the stickers. The stickers were much easier to apply than I thought they would be. Overall, we think this is a great bedroom set that is well made and looks very cool.
Date published: 2013-02-25
Rated 5 out of 5
by
Anonymous
from
GREAT PURCHASE!!!!
This was a wonderful purchase for us. We purchased this package for our soon to be, two year old. I love the bedroom set and so does our son. I would recommend this to anyone wanting a bedroom set that is going to with stand those tough boys. The packages arrived just five days after they shipped how amazing. The only bad thing I have to say is the boxes for the bed could be a little more durable, ours had a big hole in one side when it arrived. All in all a very good purchase and well worth the price.
Date published: 2013-02-26
Rated 4 out of 5
by
little strike
from
My son LOVES going to bed now!
Our son LOVES going to take his naps and go to bed at night now. It's so much fun to him that he sometimes goes on his own without us having to tell him. The only negative thing I have to say is the the packaging could be better. We ordered this set direct from the manufacturer so of course it went through a lot of hand to be delivered to us. One of the bed frame cartons was completely ripped open during shipping and scratched the product inside. There is no packing material other than the box itself.
Date published: 2014-07-25
Rated 5 out of 5
by
Haja
from
Love love love this car, so cute and easy to assemble.
this car bed was boxed very well, there was no stretch on it. It's easy to assemble and my son love love love it. The shipping was so fast thank God for that cause he was getting impatient for it. Overall we are very pleased with it and will do it again.
Date published: 2017-04-03
Rated 5 out of 5
by
Gavin's Momma
from
Better than I thought.
This set is more substantial than I thought it would be. Parts are injection molded and are much sturdier than expected. My son, 3, loves the "red car". The storage chest, toy box and dresser were bigger than they look and the storage bins are really nice. The assembly was a cinch. The packaging was downright disgraceful, the boxes were beyond flimsy, all the big parts were just banging around in them. I would bet most shipping damage is caused by the lack of packaging engineering. Seems as though these quality pieces would be packed in a way to protect them. These arrived about 5 days after I ordered them and the driver was incredibly nice, he insisted I open and check each box for damage and then commented on the thin cardboard. We really are pleased with this set and can't beat free shipping.
Date published: 2012-12-15
Rated 5 out of 5
by
Anonymous
from
Perfect for race car themed rooms
I purchased this set for my boys after searching the web for race car beds. I was sold on the set because it was very reasonably priced and I needed two of the beds and storage containers. I am very happy with the style, color, durability, and most of all, my boys love it. My oldest son is 2 years old and had been sleeping with us until we assembled this bed. He has willingly slept in his own room ever since. I have gotten so many compliments on this set since I've finished the room.
Date published: 2013-06-17
Rated 5 out of 5
by
Alexander
from
Kids Love It!
I bought this product about a month ago and couldn't be happier with my purchase. My children love it. I bought this for my little boy to transition from a crib to a "Big boy bed" and he has made the switch a little easier now. My daughter also was extremely excited about it and has played with my son in it a ton. It was all extremely easy to put together and the instructions were very precise. Even the stickers that I usually dread putting on weren't a problem with this!
Date published: 2017-03-06
Rated 5 out of 5
by
best dad
from
BEYOND COOL!!
This setup is amazing, so realistic compared to other car beds. sturdy, and easy to assemble. Stickers were the worst part, i suggest warming them up with a hair dryer they stretched around the curves better. we got the whole setup. we made the room a "garage" and even made the door look like a garage door with a sign saying Dayton's Garage with one of the extra corvette logos.shipping was fast and professional he even used his pallet jack to wheel it all the way to my house.
Date published: 2012-12-06
Rated 5 out of 5
by
Jordan's Mommy
from
Underestimated my sons bedroom
We bought the corvette bedroom combo for our son for an early 2nd birthday present. We were unable to track where our packages were until we requesting tracking info. When the packages got here the delivery guy was nice and brought our packages all 5 to our door step. The two boxes for the actual car bed were ginormous and about 6ft to 7ft tall. Anyways assembly was extremely simple and easy! The whole combo was put together within a couple hours. The decals were placed securely in the smaller boxes (dresser,organizer and toy chest). But in the second box of the car bed the decals for the car bed were folded and sort of crinkled. But when we put them on the car there wasn't a problem. The whole construction of the car was easy and my son loves it! I would reccomend this to anyone ith a toddler that loves cars :)
Date published: 2013-03-01
Rated 3 out of 5
by
Anonymous
from
Electronic signature
Great bedroom set! Looks great once setup. I thought ok away 2 stars for the carrier this company uses, ABF. While I appreciate the notion of signing for packages to ensure delivery, I do not work in a position that will grant me the flexibility of leaving work to go sign due a package. ABF should consider having an electronic signatures option. I live in a safe neighborhood and as heavy as this shipment was, no one but a super hero would steal this package.
Date published: 2017-05-07
Rated 4 out of 5
by
Jackson
from
Great Product
Everything was in the boxes and directions were easy to follow. Only thing I would like to see changed and I know it use to be this way was a timer on the headlights. Our son likes to turn them on but we dont need to wear the batteries out all night. Would be nice if turned off after so long. Do believe older versions of this product use to do that. We had thought this one did to and found out didnt. Fits crib mattress good. Son loves playing on it.
Date published: 2019-10-07
Rated 5 out of 5
by
PFlip
from
Awesome set
I bought the set for my 20 month old son to transition into his BigBoy room! He loves it!!! Slept in it the 1st night from the crib with only a little fussing! Been great ever since! He can get in and out of it easy. I put all but the bed together myself... Had Dad help with the bed as it really needs 2 people for some assembly! We got it all together very easily! I am excited at how cute the room turned out and know he will enjoy it for many yrs!
Date published: 2013-01-28
Rated 5 out of 5
by
T. Smarr
from
Love It!
I loved this bedroom set the moment i laid eyes on it. I am a 27 year old single mother of a 16 month old son. I put the entire bedroom set together by myself and i couldn't even put the bedding on the mattress before my son had already figured out how to climb in and out of the bed on his own and laid on the mattress and told me night-night. He has a crib that he NEVER used but last night he slept in his new bed with no problems. He even showed his grandma how to turn the headlights on and off on his own. The only down side I can speak of is when putting in the screws on the rear end be careful of the angle you screw in; i accidently angled 2 screws slightly off and had to unscrew them about 3 turns because the tip of it came through the bumper. Other than that it's great! Even the delivery guy was great at assisting with the unloading of the bed.
Date published: 2012-09-26
Rated 5 out of 5
by
Anonymous
from
Worth the price and highly recommend
My son loves his Car bed, he was co-sleeping with me but with him turning 4 we needed to migrate him to his own space.This bed made the transition effortless, he was so excited he didn't care he now sleeps by himself.The quality was excellent and the delivery was on time. The decals were easy to apply, and best of all it was made in USA. For the price, quality, and quantity (3 piece set) we more than satisfied customer.#Sweepstakes
Date published: 2017-05-04
Rated 5 out of 5
by
Anonymous
from
Super awesome set, durable and solid. My son loves it!
I purchased this combo for my 8 year old autistic son. He absolutely loves it. It is very sturdy, my son jumps on the bed and stomps on the hood/trunk. The lights are a nice touch as they provide enough light to check on him during the night. My husband and I put the bed, dresser and storage together in 30 min. It was incredibly easy, a drill is not needed as the plastic easily receives the screw and by not drilling out a hole, you preserve the integrity of a solid, tight fit because the screw bites the plastic and holds it in the groves. If you drill a hole, there is less plastic for the screw to hold on to. The dresser is more of an enclosed bookshelf, there are no drawers. The storage unit is really nice with bins that are sturdy and a decent size. Over all this bed has suffered extreme abuse and still looks great and is structurally sound. I would purchase again.
Date published: 2017-03-24
Rated 5 out of 5
by
gio the learner
from
the wow factor
I bought this as a transitional bed for my 2yr old son. It was the best decision i had ever made!!! My son absolutely loves this bed, and transitioning him was super easy. He loves going to bed at night, and the headlights are also helping the potty training as well. He can easily turn on the headlights and head to the bathroom all by himself. I highly recommend this product, definitely worth every penny we spent.
Date published: 2012-12-15
Rated 4 out of 5
by
Pop Pop Dave
from
Corvette Bedroom, fast and friendly!
I bought this product for my Grandson. My daughter loves it and told me that it was easy to set up, it is durable, easy to clean, and no small parts to worry about with toddlers. Her only issue was that the bed did not come with a toddler mattress included. When I purchased it online, I thought that the toddler mattress was included and that the twin mattress would need to be purchased seperately at a later date.
Date published: 2013-01-07
Rated 5 out of 5
by
Anonymous
from
No regrets here!
Assembly was easy but could have been made easier if screw holes were predrilled. Definitely want to use a power drill when putting this together. Bed and furniture all look great and my 2 1/2 year old son loves it. We were worried about the transition from crib to bed because we didn't want him leaving his room to come to us and we figured this was the bed for him because of his love for cars and it has worked!
Date published: 2015-03-05
Rated 4 out of 5
by
Racer Joshua's Mom
from
Our little racer loves it!!!
Our 19 month old started climbing out of his crib. We decided it was time to upgrade, but wanted something he could use for more than a couple of years. He absolutely loves his bedroom set. He plays in his room more now than ever. He loves the little track and the headlights. I finished out his room with red, light blocking curtains, a red clothes hamper and a race track carpet. He's really liking everything!
Date published: 2015-05-11
Rated 5 out of 5
by
Anonymous
from
excellent
I bought this for my soon to be 5 year old son, and my husband and I surprised him with it when he came home from daycare. his face was priceless, he adored his new bedroom. he spend 20 minutes playing with the bed alone. I was impressed of how fast it was delivered, it only took 8 days from the time i ordered it to the time it was delivered. great price for such a great bedroom package. im extremely pleased.
Date published: 2013-03-14
Rated 5 out of 5
by
Matt R.
from
The Best Bang for the Buck, Impressive
I bought this bed for my 2year old son. I have to admit I am impress with the setup. after hours of shopping retail stores in town I was not able to find anything that even looked like it could be fun. The bed looks like a real Corvette, and by setting up as toddler, I didn't have to worry about my son falling off the sides, since the sides are slightly higher and it's perfect. The room looks awesome with the entire package, and my son has been sleeping in his own room ever since it was setup. I would strongly recommend it, and if I had to shop for a fun bed again, I would buy this in a heartbeat again.Parental Recommendation: If you are setting it up for a toddler, don't let your child see you are putting on the stickers. There are lots of stickers to put on. As soon as my son found out they are stickers, he wanted to peel them off.To conclude: Money well spent! Don't doubt it.
Date published: 2013-03-21
Rated 4 out of 5
by
"Maw Maw"
from
Im getting two more!
My grandson who is 5, loved this! The headlights turn on for a great night light. He loves corvettes so this is perfect for him. It was fairly easy to set up..Be very careful when attaching the tires...the plastic bolts drilled right through the plastic on the frame leaving it very loose..thankfully my son rigged it. I have 2 yr old twin grandsons who love it also! Guess I will be getting 2 more sets!
Date published: 2013-11-25
Rated 4 out of 5
by
BlakeF
from
Love the Corvette combo!
We love this set! We ordered the Corvette combo thinking it looked like a great set but weary of the reviews saying the shipping beat up the product during transit and that the bed was dusty as if it had been sitting on a factory. Well, after deciding to take the risk we went ahead and ordered it. I'll keep this shirt. Bed: easy assembly, great looking and good quality Separate storage units in combo: easy assembly, look great, matching set, plastic so decent quality but won't hold a lot of weight Shipping: bad. Plastic car bed was dirty and needed wiping down, boxes were damaged during shipping, bed had some minor scratches, support boards for bed were damaged but useable, not happy overall but the bed sirvived at least and it was worth it still. Overall: Love it! Son loves it! Looks great! As long as it gets to you in one piece it's winderful and worth the buy!
Date published: 2018-08-10
Rated 5 out of 5
by
Anonymous
from
Best Value, High Quality Products.
We bought this bed for our 4yo, and He absolutely love it. We bought also a memory foam mattress for it 8 inch tall and looks great. He can't stop talking to all his friends and almost anyone about his new car bed. We look on a lot of places and here we found the best price for the bed, and buying it on a kid gave us the best value.Building it wasn't hard, we did use a electric drill to make it faster.
Date published: 2017-01-13
Does the set come with the corvette sheet pictured?
No. If you purchase the combo, you only get the bed, dresser (cabinet), and toy rack. It will have the stickers you can put on everything, but other than that, nothing else. You don't get sheets, mattress, or any other items in the picture.
Date published: 2020-01-25
Hello! Do you ship to Brazil? I really want to get the combo. Thanks
Step2 Direct ships within the Contiguous United States only. Thank you for your interest in Step2 product retailers in Brazil. Specific products and quantities vary by retail location, so please contact Gregory Tyszka with your specific request. Americo Vespucio Norte 1940, Conchali, Santiago, Chile Email address: gregory.tyszka@hobbymarket.cl Telephone number: +56226416616 Your website www.step2chile.cl
Date published: 2019-10-17
I WOULD LIKE TO KNOW IF CORVETTE® BEDROOM COMBO BRINGS THE BED MATTRESS
No, it does not come with the mattress 
Date published: 2019-04-09
Do the front lights on the car turn on at all? Are there any lights on this frame ?
The front lights on the car are LED and manually turn on. They stay on until manually switched off. There are no other functional lights on the car.
Date published: 2019-03-24
Does this come with the mattress if not what mattress size does it fit ?
It doesn't come with the mattress. The size is Twin.
Date published: 2019-03-19
You show a comforter and pillow case for the blue corvette, but where can I find it to purchase for the blue corvette I already purchased ??     And the throw pillows ?? Also is there a corvette sheet set ??
There is no specific sheet or comforter set or pillows. You can purchase any twin size comforter and pillows at your local retailer.
Date published: 2019-02-11
This item shows a 4 piece set in the actual illustration on Pinterest. So why does it not have the same illustration on Step2???? That's false advertising!!!!
We apologize for the confusion. At one time we did offer a four piece set for this combo. Evidentially there is older imagery on Pinterest.
Date published: 2019-01-14
Hello, Why doesn't t his combo come in Pink.
I'm a customer and received an email to provide an answer. There's a another combo (not a car) which comes in pink. I'm not sure why they email out questions that can't be answered by customers.
Date published: 2018-11-09