Corvette® Z06 Toddler To Twin Bed - Blue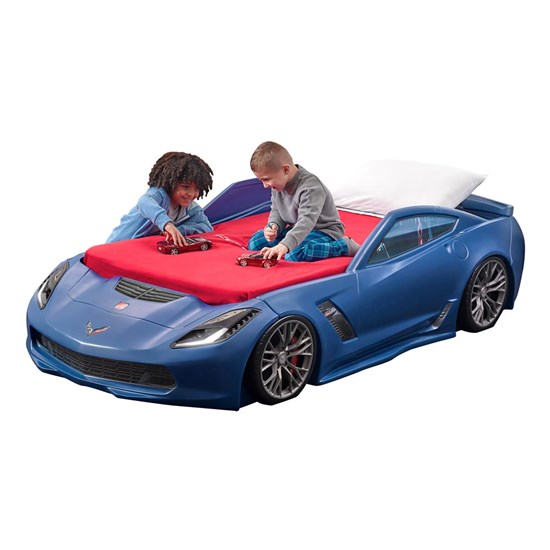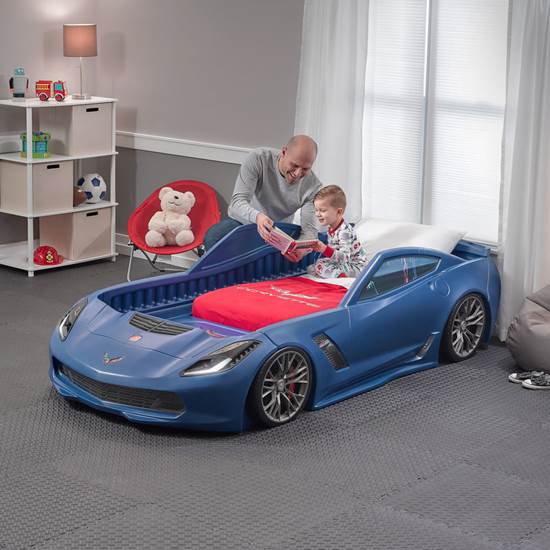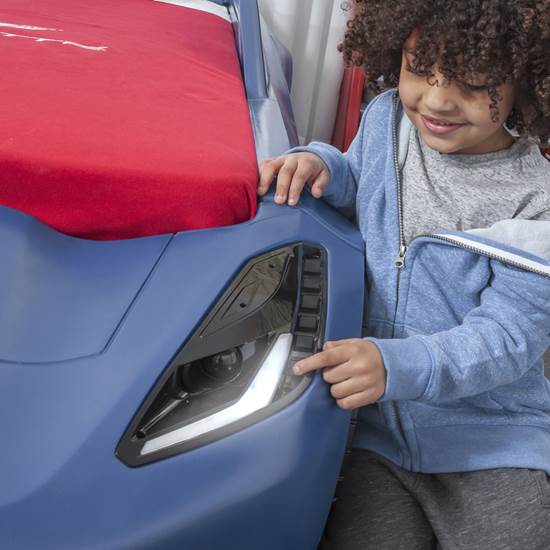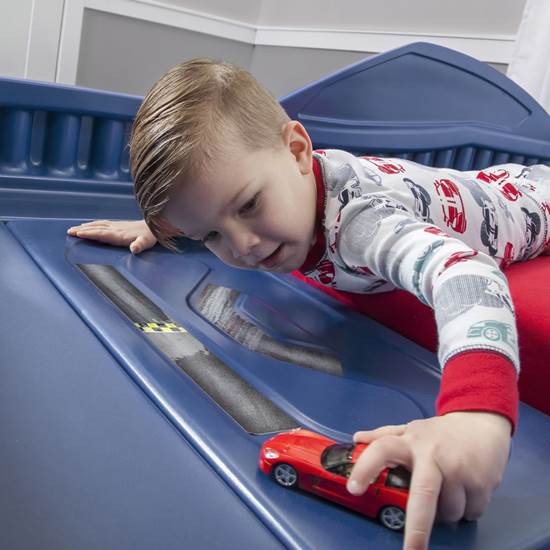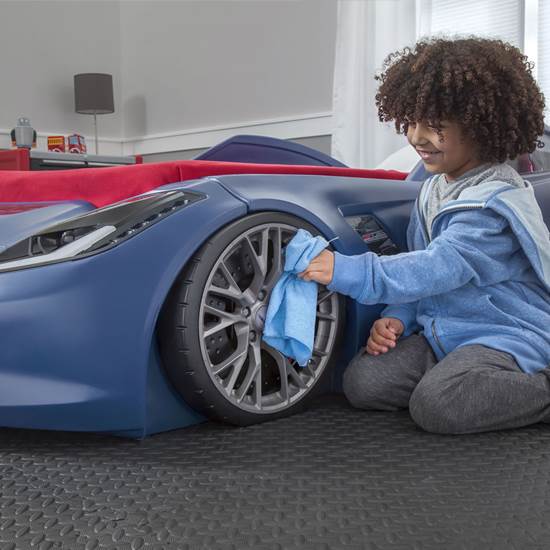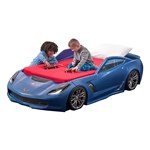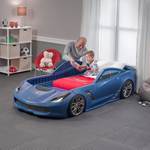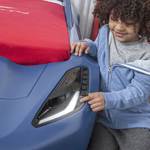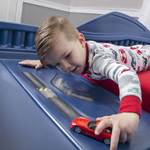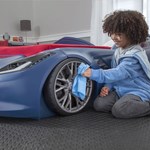 Corvette® Z06 Toddler To Twin Bed - Blue
The Corvette® Z06 Toddler to Twin Bed - Blue by Step2 will have every junior car enthusiasts revving their engines.
IS THIS A GIFT? DON'T SPOIL THE SURPRISE!
This item ships with an image of the product on its outer packaging.
Rated 1 out of 5
by
Alexander S
from
Color rubs off the plastic to sleepwear
Step 2 Corvette color rubs off on my son's sleepwear. I am very concerned with the quality of this product. Color from red plastic transfers on to the antibacterial towel, soft paper towel and soft toilet paper as I wiped it clean. I tested the same cleaning approach with other plastic toys and none of them transfer the color. Now I see the red color on my son's white sox and white sleepwear every time he wakes up. Any detailed safety and chemical composition information about the color and plastic will be highly appreciated. At this point I plan to return this bed due to poor quality.
Date published: 2014-11-02
Rated 5 out of 5
by
dominik_dg
from
LOVE IT!! EXCELLENT BED!!
My son loves this bed! I love it too! It's beautiful! Everybody that has seen it, are in love with it. My son was just 2 when I got it and he couldn't stop admiring it, took him just one night to do the transition from crib to bed. Since then, he always has to go upstairs to his bedroom to jump on it and play on it. Love the headlights that work as nightlights. Another advantage is that the sides are kinda tall, so your toddler or kid won't fall off the bed and of course, the best thing is that it converts from a toddler bed to twin bed, so they can enjoy it for many years. Highly recommended. Super happy with it!!
Date published: 2013-04-09
Rated 5 out of 5
by
Bonni
from
Steps 2 has amazing quality products and delivery service!!!
I ordered this a week before Christmas and it was the Santa gift for my nephew and he wouldn't tell us until last minute because he told Santa..yay know how that goes....well Steps 2 made his wish come true, they said it would be way after Christmas before they could deliver because of the overwhelming delivers this year...but they made it happen on Christmas Eve..I was thrilled when they called me and said they were on the way to my sister's house with the bed!!!I love Steps 2 and the bed is so far above our expectations, and my nephew loves it...hugs it all the time and washes it like it was a real car ...lol :)Happy Customer
Date published: 2016-01-07
Rated 5 out of 5
by
Mom of 1 Girl & 3 Boys
from
SuperBed
I did weeks of research, reading reviews & took my time making my decision to get this bed- My 3 year old got this bed and I absolutely love it... My 5 year old son got the CARS- Disney little tykes carp- im not half as happy with it... plastic on that is misshaped... was harder to put together and is less durable-This bed surpasses all of my expectations and my child LOVES IT-A con about the product: -The bed doesn't have a steering wheel, which would have been a really nice add on... my 3 year old seemed like he expected it, and was asking why he does not have one! I am going to try to make him one... when i get the time
Date published: 2013-06-15
Rated 4 out of 5
by
BigBoyBeds
from
Beautiful bed!
My 2 year old goes to sleep without question now, he LOvES this bed. This plastic bed is sturdy although i wish it was a little stronger as he would climb up over the "door" part and it gives a little. We taught him not to do that :). I bought the organizer and "dresser" from Walmart.com because they were cheaper separately.... then Step2 has this GREAT SPRING SALE on the combo. I didn't like the fact that the bed organizer and dresser are three different shades of red.... not a deal breaker but they were all made by Step2 so what's up with that? I also took off one star because the "window" stickers are a grainy/blurry photo of the inside of a real corvette. Otherwise this is a great bedroom set and has completely captured us and our sons heart! Ps: shipping surprised us, we did not receive a call prior as the emailed instructions detailed. The boxes are huge, but not heavy :)
Date published: 2018-04-18
Rated 4 out of 5
by
Dad of twins
from
Diffidently recommend w/ twin mattress
21 month girl-boy twins. Both love it. Lights are a big hit. Already thinking of ways to add more lights. Stickers were not packaged properly from creasing or wrinkling. Would have liked to use our crib or toddler mattress but when installed it creates large gaps around it, 5"+,. Some would take the time to roll up towels or bedding to fill the gaps. We found a twin 7" low profile mattress that fits good. Even though the mattress cost same or more than the bed itself I would still do it again. Quality of the bed isn't perfect but I think still higher than others in the same price range, and much cooler looking.
Date published: 2012-11-13
Rated 3 out of 5
by
James1704
from
My son loves the bed
My son loves this bed, although he prefers to play in it rather than sleep in it. Upon assembly of the bed I noticed a good size scratch on the front (hood) part of the bed it's not worth the time or hassle to send it back considering the size of the product and my son doesn't seem to mind. Another issue I have noticed is the red coloring on the plastic seems to be rubbing off onto the bedsheets. I would be weary putting this product on carpeting for that reason. Overall my son is happy with it so I am happy with it.
Date published: 2019-03-04
Rated 4 out of 5
by
Kathy, comonly known as Grandma
from
Fun Little Bed
The Crib mattress doesn't extend to the sides and top of the bed, so I made checkerboard foam cushions that fit on both sides of the mattress and top, so the child wouldn't roll onto hard plastic while sleeping. I also made a black minky sheet and a Pixar Cars quilt with a checkerboard lining and black blanket binding. On another note: when putting the bed together and attaching the rear wheels, the plastic portion of the bed gives in and is not very sturdy, so we had a hard time screwing those screws to the bed. Overall, the bed is adorable, and I know our little grandson will have lots of fun visiting us!
Date published: 2013-02-19
Where can I buy the blessings shown in the picture? The corvette sheets? For the corvette bed.
Please contact our Consumer Service Specialists at 1-800-347-8372 Monday through Friday, 8AM -5PM Eastern Standard Time and we will be happy to help you.
Date published: 2019-10-14
Well do the light turn off after amount of time? A night lite. My corvette lights have been on for a hour now. Thought they would turn off in 15 min. 
No it does not..
Date published: 2019-10-05
I am needing a set of replace stickers for the pink Corvette bed. 
Please contact our Consumer Specialist Staff at 1-800-347-8372, Monday through Friday, 8am-5PM Eastern Standard Time for assistance.
Date published: 2019-09-10
What is the size of the two boards for the Red Corvette ? I need Length, Width and Thickness
The bed boards of the Corvette® Z06 Toddler to Twin Bed measures 29 1/2 X 37 1/2 inches.
Date published: 2019-08-22
Does the corvette bed comes with the boards that goes under the bed ?
Yes it does
Date published: 2019-08-19
Can this bed handle bed rails - he is not quite trendy for no sides on the bed 
We do not recommend using bed rails with the Corvette® Z06 Toddler to Twin Bed™.
Date published: 2019-05-31
Are there plugs or screws to assemble the wheels or do they just pop in like the bed does kind a like a puzzle?
Everything attach with the screws
Date published: 2019-05-29
I need to get replacewood wood boards that the mattress sits on could you give me the measurements to get the pieces cut to the right size thank you 
There are two bed boards for the Corvette® Z06 Toddler to Twin Bed and the measurements are as follows : 29 1/2 X 37 1/2 inches.
Date published: 2019-04-23