Crabbie Sandbox™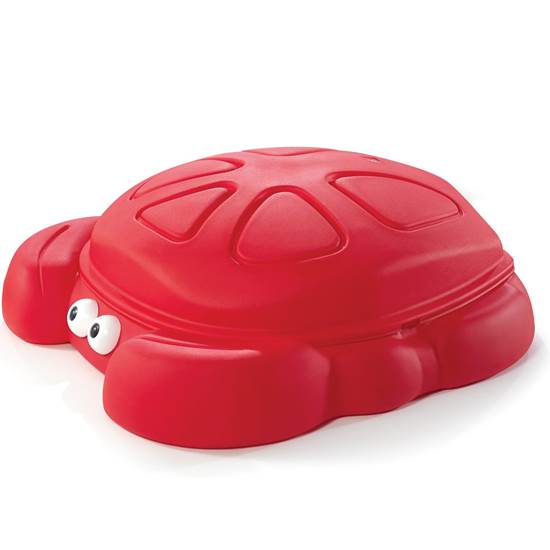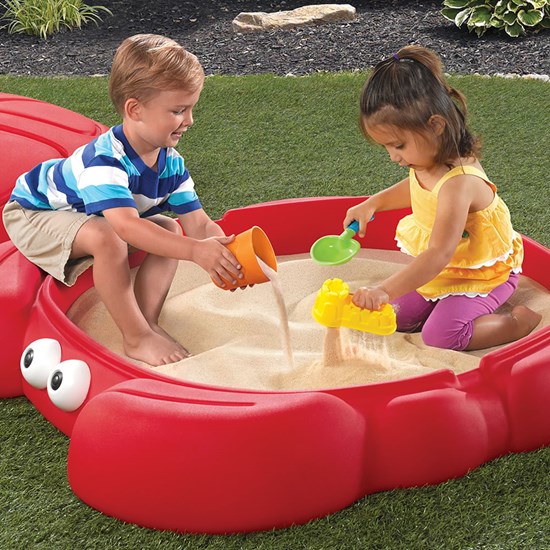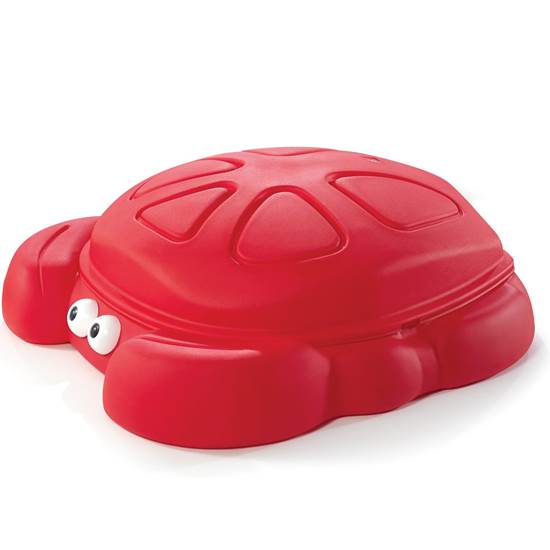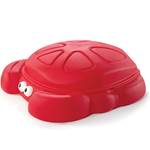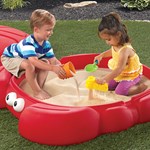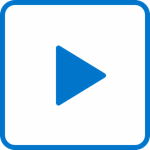 Crabbie Sandbox™
The Step2 Crabbie Sandbox is a brightly colored crab character sandbox for outdoor play fun.
IS THIS A GIFT? DON'T SPOIL THE SURPRISE!
This item ships with an image of the product on its outer packaging.
Rated 5 out of 5
by
TexasMommy76
from
Great, Versatile Product!
My son received this crab sandbox for his first birthday and we have used it almost non-stop. He is 20 months old, and still adores his sandbox.It is very easy to clean, it is covered so it will protect the sand from being contaminated with neighborhood cats using it for their potty. We have filled it with water and used it as a kiddie pool and we have filled it with sand and used it as a sandbox. It could also be filled with those plastic balls and be used indoors, if needed. I love Step 2 products, because they are so sturdy and the plastic is such high quality! HIGHLY RECOMMENDED PRODUCT!!!
Date published: 2008-12-22
Rated 5 out of 5
by
Anonymous
from
So cute and so much fun!
We purchased this sandbox for our 2 year old daughter. We picked this particular one because it has built-in seats (the crab's claws), and it's really cute! Our daughter enjoys playing in this sandbox. We are especially happy with this particular product because the lid stays on perfectly, even in high winds. Our neighbors weren't so lucky, as they purchased a different sandbox and their lid blows away every time the wind blows. This is a good sandbox. It even got hailed on once and shows no damage. (and the lid stayed on, too!)
Date published: 2007-08-24
Rated 5 out of 5
by
Anonymous
from
KIDS LOVE IT!!
This is a good sand box...We had bought the turtle sand box which is only a couple dollars less and both boys couldnt fit in it and play at the same time... The second day we had it we had a awful storm and the winds were outrages and the lid stayed on... Which surprised me... We also have a lot of cats in the neighbor hood and I was afraid of it becoming a litter box but they cant get the lid off of it...
Date published: 2009-05-16
Rated 5 out of 5
by
Utilitarian Mom
from
Just Perfect
I love this sandbox. It's very sturdy but I can still move it from place to place while I finish landscaping our backyard. Second, I've also been able to use this as a wading pool for him by dumping the sand onto a tarp until I'm ready to convert it back. I was initially concerned that the cover didn't snap into place and that I would open the sandbox to find it filled with debris, but I was pleasantly surprised every time I uncovered a clean sandbox.
Date published: 2007-05-31
Rated 5 out of 5
by
Anonymous
from
I'm Sad to See Crabbie Go!
My soon-to-be 12 year old received this for her first birthday. It has been dearly loved for many years by both my daughter and my son. However, they've lost interest in playing in a sand box...much to my dismay! We are thrilled to be able to hand down "Crabbie" to my two year old nephew...and despite some fading of the lid, the sand box is STILL in durable shape! I would recommend this to everyone...enjoy! :-)
Date published: 2009-05-31
Rated 5 out of 5
by
Mrsheslar3
from
Used as a pool
This sandbox is great, we've used it for so many other things than just a sandbox. We've used it for drinks and filled it with ice and we've also used it as a kiddie pool for the kids. Gives the kids a bunch of fun weather filled with water or sand.
Date published: 2019-11-15
Rated 4 out of 5
by
Sanali16
from
So adorable
I'm always a little put off by public sandboxes, not knowing what is in there so I love that this small sandbox can be placed in my backyard with ease. I love the little crab and the fact that it comes with a cover to protect from rain and just generally when not in use. Plus I can clean it whenever I need and refill the sand. Also this is the perfect size for my toddler to play in and when he's older I can repurpose it to hold outdoor toys and such.
Date published: 2020-03-12
Rated 5 out of 5
by
WendyInABQ
from
Durable, Fun Outdoor Toy!
We bought the Step2 Crabbie Sandbox when my son was almost 2 years old to help give him some relief from the heat wave that was happening at the time. He's always loved water, so we filled it with water at first with no problems, and then in the fall, we put in sand and "buried treasure" for him to find. In the summer, we just packed up the sand and turned it back into a pool! Because it can be used for 2 different things, my son has not lost interest in it (he's almost 5 now) and he enjos it all year round. I especially like the lid that keeps dirt, leaves and bugs out of the sand and water.We store it in the garage during the colder months and use it almost exclusively in the shade to protect my son's skin and to add to the longevity of the sandbox, so it still looks and works perfectly with absolutely no cracks in the plastic or leaks. We expect it to look great for many more years before we pass it on to a younger friend.Added bonus: We dump the water in the yard once a week - it's covered when not in use, so it doesn't get very dirty - and the sudden influx of large amounts of water brought our sickly-looking Asian Pear tree back to life, yielding 50-60 pounds of fruit by the end of this summer! We hate to waste water because we live in the high desert, but I feel like giving our family fresh, dried and canned pears for the rest of the year makes up for it. :-)
Date published: 2015-11-12
Where to buy in wichita ks
This product is sold on Amazon and at Walmart, in addition to other retail sites. Please use our website to check local availability.
Date published: 2020-06-16
Can I paint mr crabby? We love it ,but it is faded out
I spray painted 2 of them. 1 Red and 1 blue. I'd stick with Red in the future as it came out looking almost new. The blue was so so. I used Rustoleum Painters Edge 2x I think it's called and the color was Apple Red I think.
Date published: 2020-05-18
how tight is the lid? will it keep the sandbox free of bugs?
Its not that tight. There are 2 openings which are intended to make removing the cover easier (like handles) but bugs could get in. I've had it for a couple of months and havent had a problem with bugs though. Mixing in cinnamon with the sand is supposed to help as well.
Date published: 2020-05-18
Do you sell just the top lid? Mine has cracked from one side to almost the other.
Regretfully we do not offer replacement lids for the Crabbie Sandbox.
Date published: 2020-03-18
My lid doesn't fit! Already have 200lbs of sand in it. How can I get a lid that fits?
Please contact our Consumer Specialist Staff at 1-800-347-8372, Monday through Friday, 8am-5PM Eastern Standard Time for assistance.
Date published: 2019-07-29
Can it be used as a pool instead of a sandbox?
The Crabbie Sandbox does not have a plug to release water.
Date published: 2019-07-12
Is there any way I can purchase a replacement lid? It didn't occur to me to secure it during a wind storm, oops
Unfortunately, we do not offer replacement lids for the Crabbie Sandbox.
Date published: 2019-01-21
What are the internal dimensions for the Crabbie Sandbox? Also, what is the height of the sandbox from the ground to top of actual sandbox WITHOUT the lid?
The interior dimensions of the Crabbie Sandbox™ are as follows : 7.5 inches in Height X 36.5 inches in Length X 36 inches in Width
Date published: 2018-08-13