Crabbie Sandbox™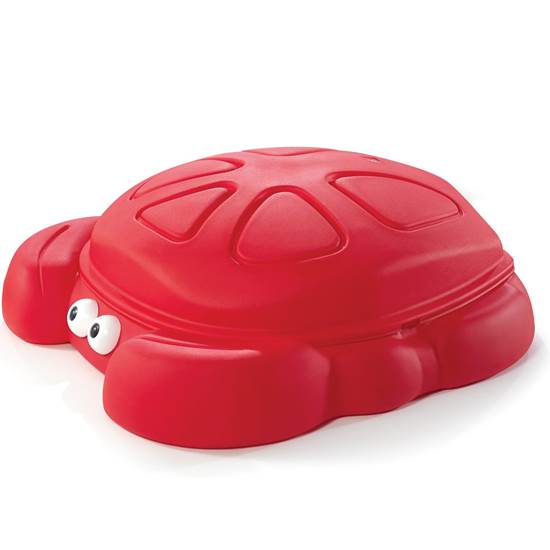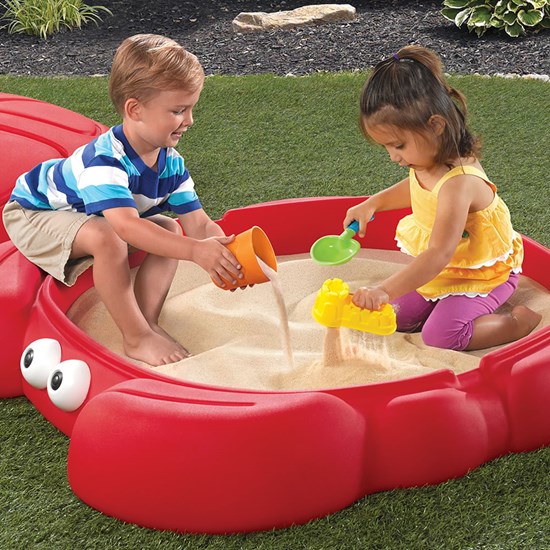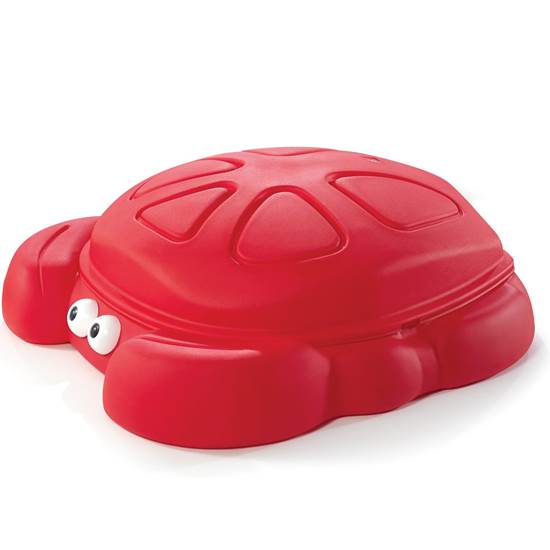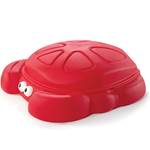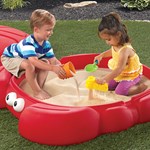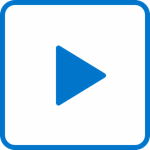 Crabbie Sandbox™
The Step2 Crabbie Sandbox is a brightly colored crab character sandbox for outdoor play fun.
IS THIS A GIFT? DON'T SPOIL THE SURPRISE!
This item ships with an image of the product on its outer packaging.
Rated 5 out of 5
by
TexasMommy76
from
Great, Versatile Product!
My son received this crab sandbox for his first birthday and we have used it almost non-stop. He is 20 months old, and still adores his sandbox.It is very easy to clean, it is covered so it will protect the sand from being contaminated with neighborhood cats using it for their potty. We have filled it with water and used it as a kiddie pool and we have filled it with sand and used it as a sandbox. It could also be filled with those plastic balls and be used indoors, if needed. I love Step 2 products, because they are so sturdy and the plastic is such high quality! HIGHLY RECOMMENDED PRODUCT!!!
Date published: 2008-12-22
Rated 5 out of 5
by
Anonymous
from
I'm Sad to See Crabbie Go!
My soon-to-be 12 year old received this for her first birthday. It has been dearly loved for many years by both my daughter and my son. However, they've lost interest in playing in a sand box...much to my dismay! We are thrilled to be able to hand down "Crabbie" to my two year old nephew...and despite some fading of the lid, the sand box is STILL in durable shape! I would recommend this to everyone...enjoy! :-)
Date published: 2009-05-31
Rated 5 out of 5
by
Anonymous
from
So cute and so much fun!
We purchased this sandbox for our 2 year old daughter. We picked this particular one because it has built-in seats (the crab's claws), and it's really cute! Our daughter enjoys playing in this sandbox. We are especially happy with this particular product because the lid stays on perfectly, even in high winds. Our neighbors weren't so lucky, as they purchased a different sandbox and their lid blows away every time the wind blows. This is a good sandbox. It even got hailed on once and shows no damage. (and the lid stayed on, too!)
Date published: 2007-08-24
Rated 4 out of 5
by
Sanali16
from
So adorable
I'm always a little put off by public sandboxes, not knowing what is in there so I love that this small sandbox can be placed in my backyard with ease. I love the little crab and the fact that it comes with a cover to protect from rain and just generally when not in use. Plus I can clean it whenever I need and refill the sand. Also this is the perfect size for my toddler to play in and when he's older I can repurpose it to hold outdoor toys and such.
Date published: 2020-03-12
Rated 5 out of 5
by
Mrsheslar3
from
Used as a pool
This sandbox is great, we've used it for so many other things than just a sandbox. We've used it for drinks and filled it with ice and we've also used it as a kiddie pool for the kids. Gives the kids a bunch of fun weather filled with water or sand.
Date published: 2019-11-15
Rated 5 out of 5
by
Anonymous
from
KIDS LOVE IT!!
This is a good sand box...We had bought the turtle sand box which is only a couple dollars less and both boys couldnt fit in it and play at the same time... The second day we had it we had a awful storm and the winds were outrages and the lid stayed on... Which surprised me... We also have a lot of cats in the neighbor hood and I was afraid of it becoming a litter box but they cant get the lid off of it...
Date published: 2009-05-16
Rated 5 out of 5
by
Utilitarian Mom
from
Just Perfect
I love this sandbox. It's very sturdy but I can still move it from place to place while I finish landscaping our backyard. Second, I've also been able to use this as a wading pool for him by dumping the sand onto a tarp until I'm ready to convert it back. I was initially concerned that the cover didn't snap into place and that I would open the sandbox to find it filled with debris, but I was pleasantly surprised every time I uncovered a clean sandbox.
Date published: 2007-05-31
Rated 5 out of 5
by
Anonymous
from
Perfect Sandbox!
Got this for my son's 1st birthday and 2 years later it still looks brand-new even after the harsh Wisconsin winters. I love that the top stays put no matter how windy it gets but yet it's light enough my son can take it off and put it back on by himself. I'm sure this will be a fixture in our backyard for years to come.
Date published: 2013-08-01
Are these in stock to buy at store. Step2 store
The Step2 Company Store has been closed for over 5 years now. This product should be available on walmart.com.
Date published: 2021-05-17
Do you have replacement eyes for the crabby sandbox?
Replacement parts and decals can be ordered by calling our Customer Service team at 1-800-347-8372, Monday - Friday, 8:00 am - 11:00 am and 12:00 pm - 5:00 pm EST. Please have your product close by during your call so that we may quickly assist you to answer your question, find a resolution and or provide product or part pricing and lead-time(s).
Date published: 2021-05-12
I would like to buy this item. Do you sell it online?
To find retailers that offer the Crabbie Sandbox™. please view the following link and click on Find Retailers Near Me: https://www.step2.com/p/crabbie-sandbox
Date published: 2020-08-07
What kind of plastic is this made of, and is it ASTM certified?
Thank you for contacting Step2. HDPE is the plastic. All our products are tested to the proper ASTM standards. Regards, Step2 Consumer Service
Date published: 2020-07-28
Where to buy in wichita ks
This product is sold on Amazon and at Walmart, in addition to other retail sites. Please use our website to check local availability.
Date published: 2020-06-16
Can I paint mr crabby? We love it ,but it is faded out
I spray painted 2 of them. 1 Red and 1 blue. I'd stick with Red in the future as it came out looking almost new. The blue was so so. I used Rustoleum Painters Edge 2x I think it's called and the color was Apple Red I think.
Date published: 2020-07-30
how tight is the lid? will it keep the sandbox free of bugs?
Its not that tight. There are 2 openings which are intended to make removing the cover easier (like handles) but bugs could get in. I've had it for a couple of months and havent had a problem with bugs though. Mixing in cinnamon with the sand is supposed to help as well.
Date published: 2020-05-18
Do you sell just the top lid? Mine has cracked from one side to almost the other.
Regretfully we do not offer replacement lids for the Crabbie Sandbox.
Date published: 2020-10-08