Creative Projects Table™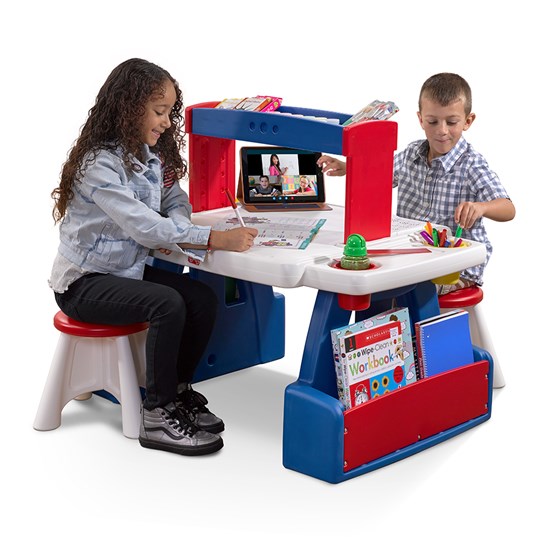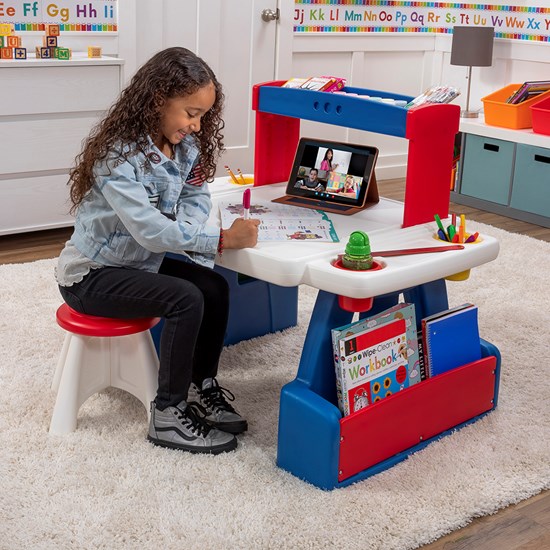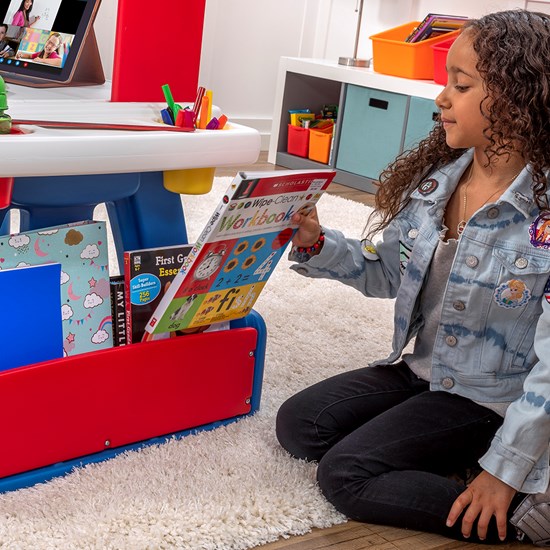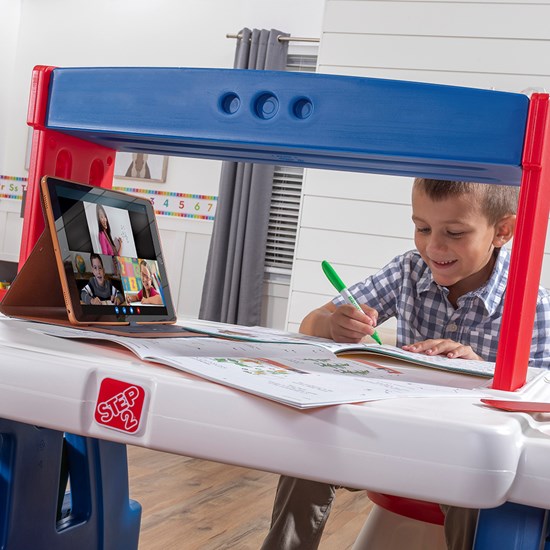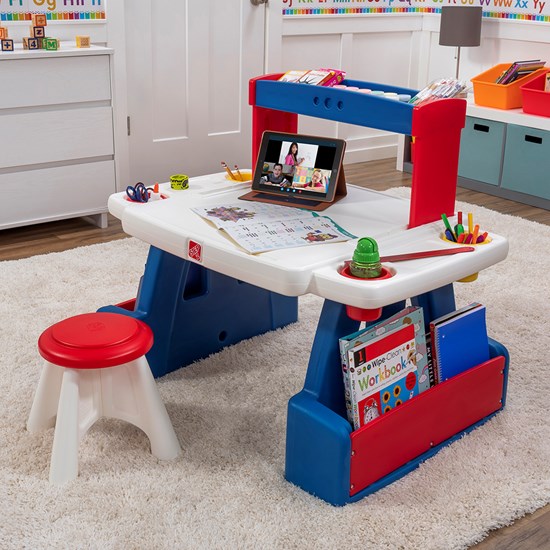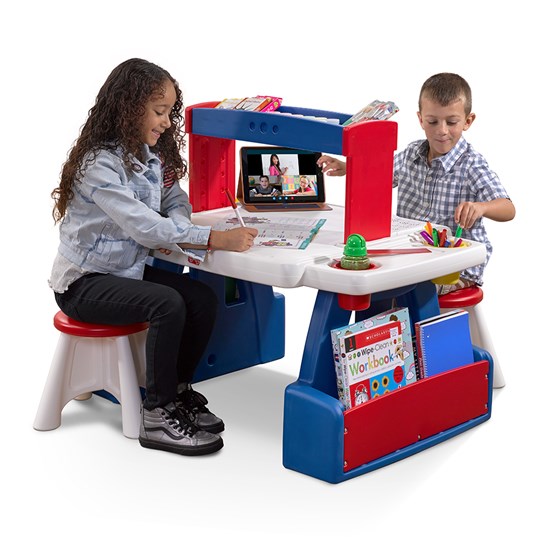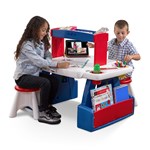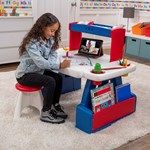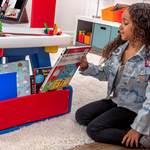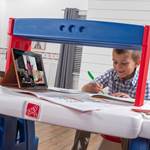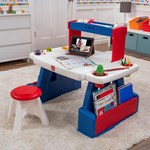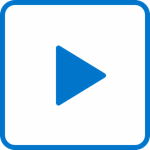 Creative Projects Table™
In stock
$139.99 $129.99
+$12.99 shipping (via FedEx)
The Creative Projects Table by Step2 will help enhance the imaginations of your toddlers and preschoolers through creative play.
IS THIS A GIFT? DON'T SPOIL THE SURPRISE!
This item ships with an image of the product on its outer packaging.
Rated 4 out of 5
by
TC Thor's Mom
from
Thor very happy with desk!
Our 5 1/2 y/o son uses the desk as a place to draw, do homework, cut, tape, etc. He thinks he's pretty big and cool! I love the storage and sturdiness of the unit. I wish more storage could have been incorporated into it like under-the-arch area and into the sides of the top. I anticipate him using it for at least a couple more years! When he starts to outgrow the leg room, we plan to raise each side up on something so he can continue to use it! We also plan to add a light under the arch but right now he uses a lantern! When he has a play date, we move the over head arch to the middle so each child can have their own side. Great product!
Date published: 2011-02-28
Rated 5 out of 5
by
ND Mommy
from
Great for 2 kids & Cleans Easily
We often have a friend over to play with our little girl and this it great to have for both of the kids to play with the desk. NO FIGHTING! We also have another baby on the way and this will be great to have when they are both wanting to write, read & color.The desk is built very well and I put it together without my husband being home. Hardest part was finding all of his tools!It also cleans very easily. The first time my daughter colored off her paper I about panicked, thinking "Well, that didn't last long". Some mild soap and water and it cleaned up good as new. We haven't had markers on it yet, but I am not too worried.
Date published: 2009-11-09
Rated 4 out of 5
by
eatonlm
from
Nice addition to the house
Overall this is a great work station. The table top is large enough to do puzzles, paint, and use as a regular old desk. We were able to set up all of the art supplies in one space. I do wish the removable top storage shelf was just a little bit wider. This is not a huge deal though.The desk was extreamly easy to put together. The screws go right through the plastic with very little effort. There is a spot on the desk where the screw holes are pre-drilled. This is the only spot we had problems with. On both sides of the desk the screw holes did not line up with the boards. We had to pre-drill our own holes to get it together. Other than that it was a piece of cake!
Date published: 2012-12-31
Rated 5 out of 5
by
angelize
from
A Great Gift
Whenever I visit my grandchildren, they are always playing with their crayons, markers and other art materials on their dining room table. The Creative Products Table allows them to have their own space with all their art supplies at their fingertips and because it is all built into one unit, it encourages them to put things back where they belong. Having two stools is perfect and having them sit across from each other rather than side by side is even better. This is the second large item I've purchased from Step 2 and both products are sturdy, attractive and a big hit with my grandkids.
Date published: 2012-09-10
Rated 4 out of 5
by
Anonymous
from
Absolutely wonderful !!
Bought this for our 5 yr old grandson for Christmas. He LOVES art & this was perfect for him for all of the reasons listed above & then some ! He loves his table & uses it EVERY day !! He's on the smaller side of avg ht (24" frm waist to foot) so I can see where some taller than avg kids may have a problem w/ leg space. I've already figured out how I'm going to fix that issue if/when the time comes :) Found this table via online search, and since I couldn't find it in a store anywhere to actually SEE it I was a little nervous about what I'd be getting... I was thrilled to get exactly what the online ad promised !! I've never been disappointed w/ Step2 products.
Date published: 2012-01-13
Rated 5 out of 5
by
Anonymous
from
A great desk
This is a great desk. My daughter uses it practically everyday from eating at it, doing homework, coloring, combing her big barbie doll head, to painting on it. It is very well constructed and sturdy. It is on the large size, so be sure to have plenty of space to place it, but it really is a nice activity table. We bought it last Christmas when she was 4, yet a tall 4. It is a little short for her, but she can still sit at it comfortably. We really like this table and it is great for storing all of her art stuff like paints, colored pencils, coloring books and large drawing pads. I also like the fact that it came with 2 stools so we didn't have to search for chairs to fit it.
Date published: 2009-10-20
Rated 2 out of 5
by
chdmom
from
Not enough room for 2
This was a Christmas present for my 2 children, ages 3 and 5 at the time. Although my children are taller, they did fit at the table, but could not work together b/c there is not enough room to keep your paper straight when two kids are at the desk. They argued and eventually stopped using it at all. The overhead storage is OK but takes up a good portion of the usable table space. Overall we found it too small and poorly designed for 2 children to use it creativly at one time. The stools are sturdy though and have held up to my childrens abuse quite nicely!
Date published: 2013-07-18
Rated 5 out of 5
by
Anonymous
from
Her favorite Christmas gift!
We got this so that hopefully both our kids (currently 3 yrs and 19 months) will have a place to sit and color, play with playdough, etc. So far, the 3 yr old loves it. She makes it a priority everyday to work at her "craft table." She has even used it as a surface to work puzzles on. Our 19 month old seems interested, but really isn't at the stage yet to sit down for very long. I think this is a great little table that should grow with them. My only concern is that we had a little trouble with the stools sliding out from under my kids when placed on our hardwood floors. Maybe when they get a little more used to sitting on a stool, this won't be a problem. Overall, a great product!
Date published: 2010-01-04
Does this item ship to the uk 
Step2 Direct ships within the Contiguous United States only. We suggest checking amazon.uk and Costco Wholesale.
Date published: 2019-11-06
What are the dimensions of this table?
Please visit the following link to find more information on the Creative Projects Table ; http://blog.step2.com/2016/07/art-desks-easels.cfm
Date published: 2019-05-01
what size paper is used to replace when you run out
Please contact our Consumer Service Specialists at step2-company@step2.net or 1-800-347-8372 Monday through Friday, 8AM -5PM Eastern Standard Time and we will be happy to help you.
Date published: 2019-12-15
Hi. What is the height of the table? I mean from the floor to the table, excluding the shelf. Thanks.
The Creative Projects Table™ table top is 19.5 inches from the floor.
Date published: 2017-12-05
I need the 4,cups. Mine didn't have any in the box. Where can i purchsse the cups?
You can order replacement parts through our Customer Service Department. Please call toll free 1-800-347-8372 Monday - Friday, from 8-5 ET and we will be happy to assist you further with this request.
Date published: 2018-03-27
Can you buy more stools?
You can order replacement stools through our Customer Service Department. Please call toll free 1-800-347-8372 Monday - Friday, from 8-5 ET and we will be happy to assist you further with this request.
Date published: 2018-03-27
What age children can sit and work comfortably at this table ?
Children 2 1/2 years through 5 years of age. Depending on the size of the older child.
Date published: 2018-03-27
Do you ship to uk?
Regretfully we cannot however, you can check with our UK website at <a href="http://www.step2uk.com" target="_blank">www.step2uk.com</a> to see if they may be able to assist you.
Date published: 2018-03-27