Creative Projects Table™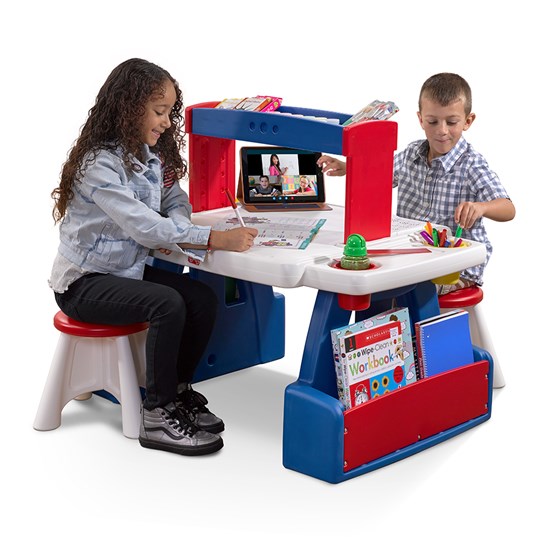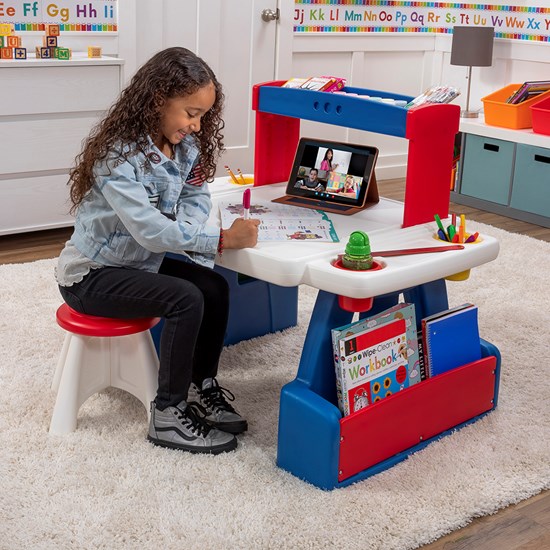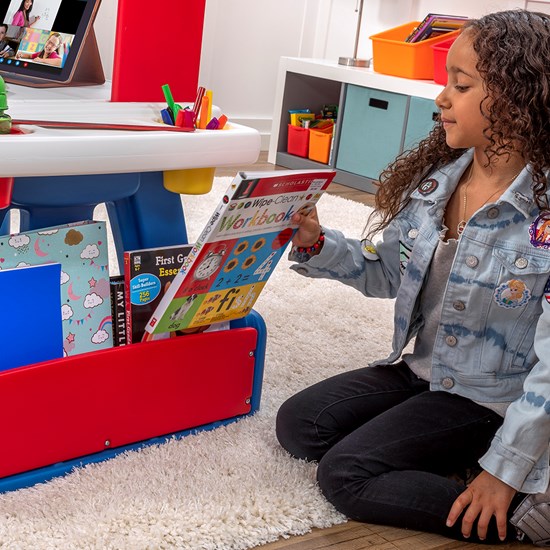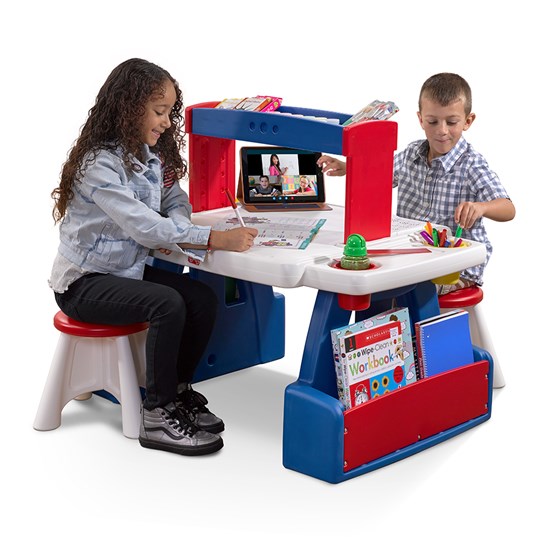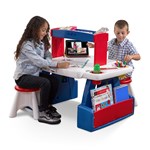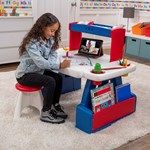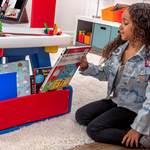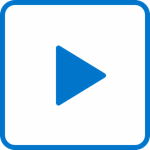 Creative Projects Table™
In stock
$129.99
+4.99 shipping (via FedEx) When will my item arrive?
The Creative Projects Table by Step2 will help enhance the imaginations of your toddlers and preschoolers through creative play.
IS THIS A GIFT? DON'T SPOIL THE SURPRISE!
This item ships with an image of the product on its outer packaging.
Rated 5 out of 5
by
Betty G
from
Step 2 never dissappoints me.
I purchased this item on line for my 3 year old grandson and 5 year old granddaughter as one of their many christmas presents. They have been delighted with it. The assembly was quick and the construction is very sturdy. My daughter is a first grade teacher and highly reccommends this. The last item I ordered from step 2 was the diner. Another well constructed, easily to assemble product. I highly reccommend step 2 to anyone who wants to purchase a well constructed, reasonably priced, great quality product. I have purchased many items from step 2 and will continue to do so.
Date published: 2009-02-02
Rated 5 out of 5
by
Anonymous
from
We love this table!
After looking at this and other tables for toddler/preschool age kids, and reading lots of reviews, we bought this for our almost 2 yr old son for Christmas. It was easy to assemble and we love it as much as he does! The top shelf above the table is a little too tall for him right now, but we knew it would be and we wanted something he could grow into. It's a great place to keep crayons and fingerpaints for now - easy for me to access, but out of his reach. He loves the storage cups and the bottom shelves for storage. We are looking forward to many years of use from this!
Date published: 2008-12-29
Rated 5 out of 5
by
Anonymous
from
Great product!
This craft table is great. I have a 5yo and 3yo who love to 'create' all the time. This table has enough storage on both sides to hold the paper, coloring books, craft supply bins and any other larger items. There is also storage on the top and 4 cups to hold the markers, colored pencils, scissors and glue. There is enough work space for both kids to be 'creating' at the same time. It is lightweight enough to be easily moved and the construction of it is quality. I myself have also sat on the stools to color with the kids! I would recommend this to anyone with kids.
Date published: 2014-01-13
Rated 5 out of 5
by
Anonymous
from
great playmate
Our daughter is 3 1/2 now, prior to this purchase we got for her the single school chair style craft table. She used that a lot from about age 1 1/2 to recent. With having more and more friends come over and she is getting more and more into craft, drawing and painting. This seemed to be the best next step...and it was. Great space for two kids to play at one time, has a nice foot rest for them. lots of storage to keep crayons, paper, books and craft items. If she is working on her own, we just move the middle bar and gives her even more space to work. Great item!!
Date published: 2012-04-29
Rated 2 out of 5
by
chdmom
from
Not enough room for 2
This was a Christmas present for my 2 children, ages 3 and 5 at the time. Although my children are taller, they did fit at the table, but could not work together b/c there is not enough room to keep your paper straight when two kids are at the desk. They argued and eventually stopped using it at all. The overhead storage is OK but takes up a good portion of the usable table space. Overall we found it too small and poorly designed for 2 children to use it creativly at one time. The stools are sturdy though and have held up to my childrens abuse quite nicely!
Date published: 2013-07-18
Rated 5 out of 5
by
TwinzMom13
from
Love this table!
We got this for the twins' 3rd birthday. I had been wanting to get it for some time because my daughter just loves to draw and color. It was easy to assemble and works great to organize all of their "stuff". They like to sit and have their snacks there as well. The only problem is that they seem to think it's a climbing toy - but everything is because I think they are half monkey! This is really cute and durable and I just love it! One desk - two kids - perfect! They will get years of use out of this; and the resale value of Step2 products is amazing!
Date published: 2011-02-10
Rated 5 out of 5
by
Anonymous
from
Great Purchase
I ordered this desk for my daughter for Christmas a few years ago. I was worried it might be too small for her, but she is currently a tall 8 year old and should be able to use this desk for years to come. She would rather spend her day crafting than playing with toys. This is a great space for her to start a project and leave it out for a day or two with out it taking up my kitchen table. Easy to move across the room if need be. I would buy this table again and again....well made and looks new even though it is three years old.
Date published: 2012-12-05
Rated 2 out of 5
by
Jayden's Mom
from
Not the best experience...
I purchased this for my 27-month-old son so I had somewhere to store all his art supplies instead of my tupperware cabinet. My bad planning meant I was assembling this on Christmas Eve. The instructions are horrible. It was missing all of the plugs it showed on the instructions and half of the screws. When it tells you to screw something in to "secure" it, the holes don't line up quite right, making it difficult to screw the piece in.Finally, it suggests the use of a drill, but says a regular screwdriver is just fine. Turns out, you have to drill holes through the plastic to secure the legs to the face of the table.Now I might not be an engineer, but I've assembled enough toys in my life, and this was ridiculous. I spent 3 hours and it still was partially in pieces.I will say that this table feels VERY sturdy and is a cool concept overall. I have always loved Step 2 Products, and not had a problem with them, so I hope it's just this one time.
Date published: 2010-12-25
Rated 5 out of 5
by
Proud Mom of One
from
Best Art Table Out There
GREAT Product! Our niece (3 years old) has the stand-up double sided Art Easel by Step 2 and our son (2 years old) enjoys doing his "art" so we wanted to get something that they could both enjoy for our house...this art table was the perfect solution! The table is a good size for one or two children, the storage is wonderful and it is very easy to clean. Our son LOVES the table and so do we. My sister is now wanting to replace the easel with this table for my niece...a little more expensive but well worth the money!!
Date published: 2008-06-16
Rated 4 out of 5
by
5-year-old's Mom
from
Great art center
We got this for our daughter's 5th birthday and she loves it. This table has a much more generously sized work surface than Step2's smaller art center, which we got for her a couple years ago and recently donated to Goodwill. I wish they'd had this larger art center back then!One con: the work surface is white in color, so it gets "dirty" quickly and some art medium cannot easily be "erased" (colored pencils, in particular). But this is a minor con. All in all, this table is a great art center and a super value.
Date published: 2009-02-12
Rated 5 out of 5
by
JessRose the Office Chick
from
Best Art Idea We've Seen in Awhile!
There aren't many options for art centers on the market so I was elated to find this. This item went together in a snap and is very sturdy. We set it up for two students to use in a 4 year old classroom and the children adore it... and the teachers love the storage for markers, crayons and other art supplies. It is a great piece. My only change I would make is to use chairs with backs. The stools are okay but we traded them out for real chairs and then there is not a chance of someone falling off or bumped heads!
Date published: 2008-09-08
Rated 5 out of 5
by
midell
from
Love this art table.
I absolutely love this table and so does my daughter. The "pockets" on the side provide plenty of storage for her coloring books, art and construction paper. The upper shelf holds her colored pencils, markers and paints. The cups are perfect for holding paint brushes or anything else she may be using. I also love how easy it is to clean. One or two clorox wipes will clean up the table (all paints and markers are washable in our household.) The movable upper shelf is a nice feature, when it is just my daughter she has more than enough room to spread out, and when she has a friend over I can easily adjust the shelf so all of the art supplies can be reached easily from both sides, no more fighting. My daughter hasn't complained, but I think chairs would have been better than stools.
Date published: 2010-01-10
Rated 5 out of 5
by
proud mom of 2
from
Great table for kids!!!
Bought this as xmas present for my 7 year old and 3 year old girls.They do arts and crafts all the time and once they saw the table they couldnt stay away from it. The girls love playing together and it is so nice thay each have their own side to sit at as well as storage for all their supplies. Plenty of room for them to sit. After reading some of the previous reviews I was a little concerned about the table being to small for my 7 yr old but she has plenty of room and sits comfortsbly at the table.
Date published: 2012-01-02
Rated 5 out of 5
by
Anonymous
from
Great table!!
We bought this table for our 20mo and 6 yr old kids. Both kids love this table! The little stools are very sturdy (they have even been using them around the house for other activities) and store neatly under the table when not being used. The table offers penty of storage with large bins on either side for books and paper. The best thing about this unit is the fact that each side can be assigned to a child so no one is fighting for space or arguing over whose items belong to whom.
Date published: 2013-01-03
Rated 5 out of 5
by
Anonymous
from
Awesome!
I bought this desk for my two and a half year-old twin daughters for Christmas. After taking 15 minutes to assemble it, they each sat on their side and had more than enough room for coloring and playing! I would guess that they have at least 2 or more years of use for this desk. I was nervous about the size at first, but after recieving and assembling, I realized it was perfect, and exactly what I was looking for! Easy maintenace and very light too! Absolutely so pleased with it!
Date published: 2012-12-31
Rated 2 out of 5
by
MAS
from
Not what we expected
This table is cute online but in person it wasn't made with quality materials and wasn't nearly large enough for an almost 5 year old girl. The stools are uncomfortable and very light plastic, the wood that supported the shelf was splintered and ended up breaking before use, and there is no way our daughter's knees would fit under the table. It is much smaller in person in regards to height. I liked the storage but she couldn't even spread out an art project if she wanted to.
Date published: 2011-12-23
Rated 5 out of 5
by
KaKa
from
I would buy this product again and again
My 2 year old is writing on walls and anything she can find. I told my nephew she is ready for an activity table. I searched around and when I saw this product I knew it was the one for her. I bought all her art supplies and can't wait till Christmas to see the look on her face. I like the book shelves on both sides of this table, they will hold all her coloring books, and the big cups for hold crayons and markers. This table is adorable. My little one will get years of use.
Date published: 2012-12-12
Rated 5 out of 5
by
Fort Worth Aggie
from
Perfect for the young preschool artist
We purchased this for our 3 year old who needed a desk for his "homework" like his older siblings. It has ample storage for the crayons, markers, pencils, books, and papers. It easily adjusts from a bigger table for 1 to a shared table for two. I see it being useful through about age 6 and would definitely recommend it. I set out to buy a small wooden table and am so glad I found this instead. Like all Step2 products, it seems to be well made and has a thoughtful design.
Date published: 2008-09-10
Rated 5 out of 5
by
Mary the new mom
from
My 17 month old loves this!
I bought this several months ago for our baby. She is 17 months and into everything. She does artwork and crafts at daycare, so we figured we would break it out. I decided to purchase the one with 2 seats, so if she has a friend over they can work together. ( We can't have any more children:( ) I am so glad I did. it is big, but it is also roomy for them to work. It is sturdy enough that if she climbs on it WHICH ALL KIDS WILL, it won't collapse. You won't be sorry
Date published: 2010-12-27
Rated 5 out of 5
by
DEVOTED GRANDPARENTS
from
JUST PERFECT
THIS WAS A CHRISTMAS GIFT OF OUR 5YR OLD GRANDSON. IT WAS JUST PERFECT FOR HIM. HE LIKES TO COLOR, DRAW AND PAINT. HE ALSO LIKES TO PLAY WITH PLAYDOUGH. BUILD AND CONSTRUCT MODELS AND MANY ACTION FIGURES. THIS DESK WAS ALL WE COULD HAVE HOPED FOR. EVEN THO, IT DOES HAVE LIMITED STORAGE FOR CRAYONS, MARKERS AND COLORING BOOKS ...YOU CAN ALWAYS USE MORE STORAGE, RIGHT? ORDERING [...]WAS SO EASY. EVERYTHING WORKED OUT NICELY. WE ARE VERY PLEASED WITH THIS PRODUCT AND COMPANY.
Date published: 2009-12-31
Rated 5 out of 5
by
Anonymous
from
Creative Projects Table by Step 2
I lived for years with a messy kitchen table, clearing it up just before dinner and sometimes, just letting the whole family sit in front of the t.v. so I wouldn't have to clean up the kitchen table. I saw this desk on someone's blog and bought it. My kitchen table is now free for us to eat dinner again and everything stays organized for my daughter's art projects and supplies. Hard to believe one little product can make such a difference in the life on one family.
Date published: 2009-01-10
Rated 5 out of 5
by
April the proud mom of two.
from
The best Art desk money can buy!!!
My six year old daughter had an easel that she broke, so we went looking for something to replace it with for Christmas. I came across this online. What a wonderful desk. It has ample storage and my kids LOVED it. They can color, paint, and have their snack at this table. My two year old loves it, too. I know that we will get lots of use out of this for years to come. A perfect place to do homework and it only took 10 monutes to put together. Great desk step2.
Date published: 2009-12-28
Rated 5 out of 5
by
Anonymous
from
Awesome product
I Bought this for my five year old twins for Christmas. They love crafts and we had plastic bins everywhere. Everything was so unorganized and my kids would always make a mess getting stuff out to color or do any art craft. NOW there is an organized space for both of them to sit and color, draw, or do a craft. They can even do homework. I was hesitant to buy because of their age thinking they might be too big but it is perfect. So glad I made this purchase.
Date published: 2012-12-30
Rated 5 out of 5
by
PA Stay-at-Home Mom
from
A must have for crafty kids!
This was a gift for my soon to be 2 year old daughter because she absolutely loves to color. I put it together myself without any problems. She is able to sit down and color at any time without me having to get out the crayons and coloring books. It is a little bigger than some of its competitors but has plenty of room for future crafts and playdoh. Her washable crayons wipe right off of table and chair with a paper towel and water. A terrific buy!!!
Date published: 2009-07-19
Rated 4 out of 5
by
Mom of two tiny Texans
from
Good table for two to share
We really like this table for coloring, finger painting, and other crafts. The stools that come with it are not the greatest quality, but it is no problem to pull up other chairs. Both kids really enjoy having their own separate workspace. I would like it more if the top shelf were a little sturdier. It is able to move from one side of the table to the other, but tends to tump over if one child pulls on it at all. Great bookshelf spaces below, too.
Date published: 2008-10-12
Rated 5 out of 5
by
ebertowskis
from
Worth every penny
We have two little girls who are really close in age. They are 4 and 3. We needed a spot to hold all of their crayons, markers & tons of coloring books and pads. This is fabulous. They use it every day. We have it out in our living room and they love it. It has plenty of storage space. I love that it can be adjusted for only one child, but we have yet to use this feature since there is plenty of room as is for 2. Another great Step2 product!
Date published: 2011-02-11
Rated 5 out of 5
by
Anonymous
from
I would buy this product again!!
We bought this awesome art table for our granddaughter (almost 2 years) as a Christmas gift. Her mom assembled it for her. We visited a few days later, and the table was covered with paper and crayons, chalk, supplies were everywhere. She loves it!! Sturdy, and able to hold most of her art supplies. And her cousin will be sharing it when he comes for playdates, having 2 stools is an excellent idea!! Thank you for making a great product.
Date published: 2016-12-30
Rated 4 out of 5
by
Anonymous
from
Review of Creative Projects Table
This table is being used by my 20 month old, and so far he is enjoying it a lot. He is able to sit on the chair and reach the table surface with ease, which allows him to play with arts and crafts while we cook dinner, etc. When he got crayon marks all over the surface, we were able to easily wipe them off due to the washable plastic materials used. We've only had this table about a month, but so far it has been a hit in our household!
Date published: 2011-08-09
Rated 5 out of 5
by
Anonymous
from
My kids love this!
My husband and I bought this for our daughter's 3 year old birthday. She absolutely loves it. Her almost 2 year old sister and her sit and color for hours. They love having their own personal space, their crayons and colored pencils in their own cups. All of their coloring books are nicely stored on the sides. I love it for the fact all their craft and art supplies are in one spot now instead of all over the house! Good job Step 2!
Date published: 2008-10-03
Rated 4 out of 5
by
Tired Mrs. Claus
from
Ample Space & Promotes Supply Sharing
We have a 4 year old boy and a 2 year old girl whom always fought over craft space. This visually creates "assigned space" and both kids love it. The cups come out for easy cleaning. Surface cleans easily. Design could be better if a light was under the overhead storage bridge. But this is not enough of a drawback for us to not like it. I expect the chairs (barstool style with no backs) to go before the table. We'll use it daily.
Date published: 2008-12-26
Does this item ship to the uk 
Step2 Direct ships within the Contiguous United States only. We suggest checking amazon.uk and Costco Wholesale.
Date published: 2019-11-06
What are the dimensions of this table?
Please visit the following link to find more information on the Creative Projects Table ; http://blog.step2.com/2016/07/art-desks-easels.cfm
Date published: 2019-05-01
what size paper is used to replace when you run out
Please contact our Consumer Service Specialists at step2-company@step2.net or 1-800-347-8372 Monday through Friday, 8AM -5PM Eastern Standard Time and we will be happy to help you.
Date published: 2019-04-15
Hi. What is the height of the table? I mean from the floor to the table, excluding the shelf. Thanks.
The Creative Projects Table™ table top is 19.5 inches from the floor.
Date published: 2017-12-05
I need the 4,cups. Mine didn't have any in the box. Where can i purchsse the cups?
You can order replacement parts through our Customer Service Department. Please call toll free 1-800-347-8372 Monday - Friday, from 8-5 ET and we will be happy to assist you further with this request.
Date published: 2018-03-27
Can you buy more stools?
You can order replacement stools through our Customer Service Department. Please call toll free 1-800-347-8372 Monday - Friday, from 8-5 ET and we will be happy to assist you further with this request.
Date published: 2018-03-27
What age children can sit and work comfortably at this table ?
Children 2 1/2 years through 5 years of age. Depending on the size of the older child.
Date published: 2018-03-27
Do you ship to uk?
Regretfully we cannot however, you can check with our UK website at <a href="http://www.step2uk.com" target="_blank">www.step2uk.com</a> to see if they may be able to assist you.
Date published: 2018-03-27