Deluxe Art Master Desk™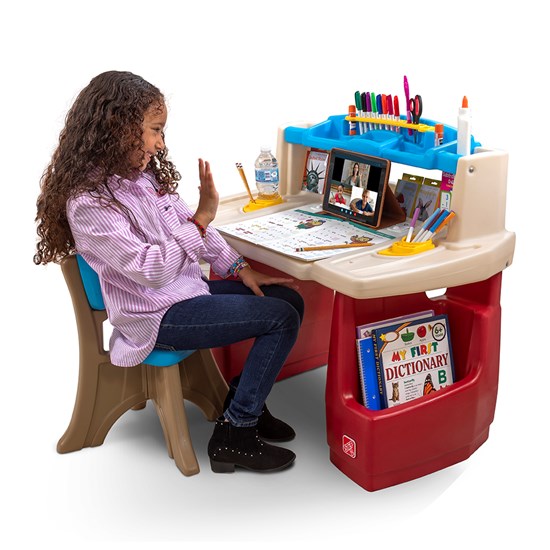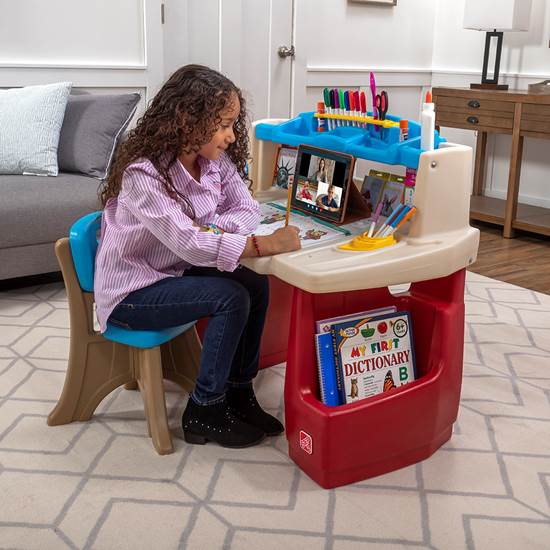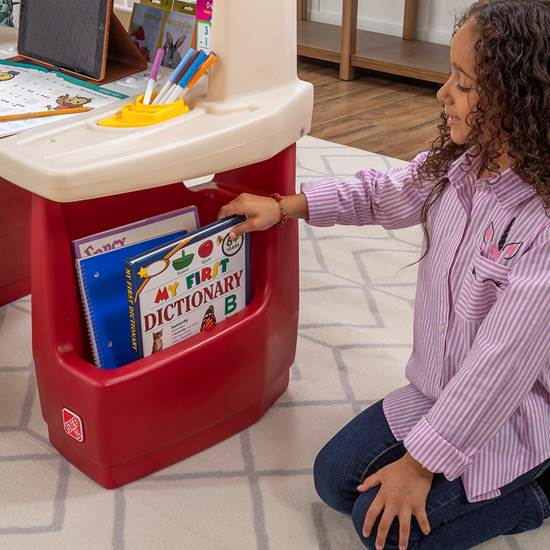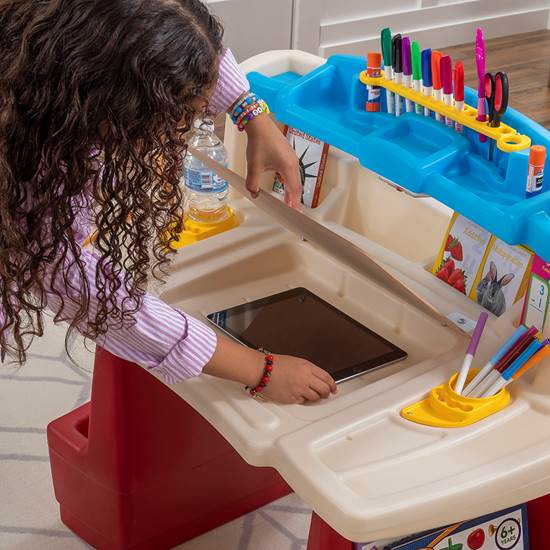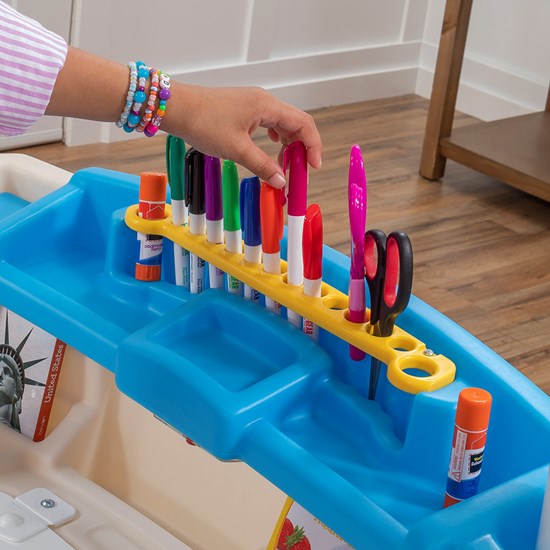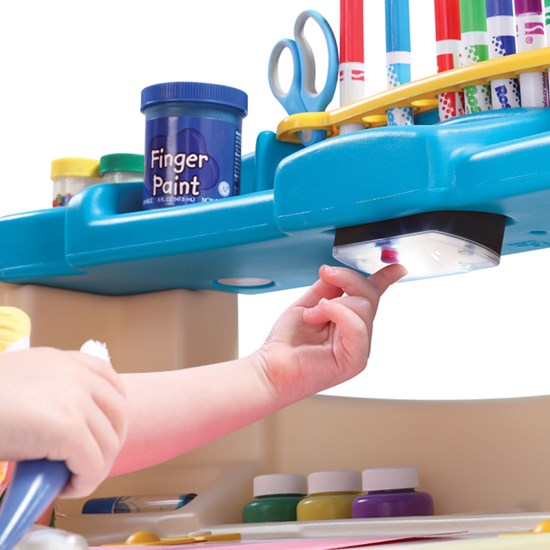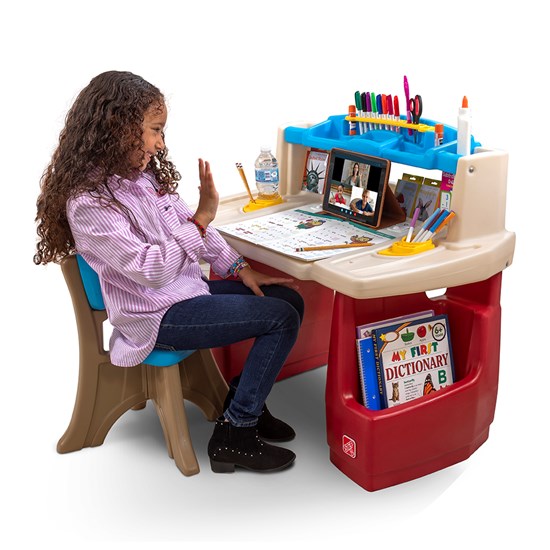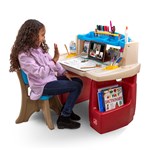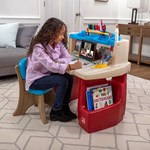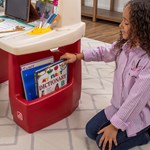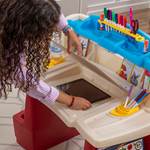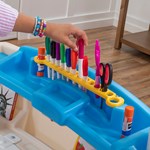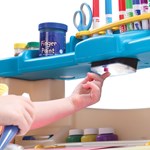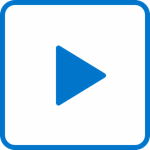 Deluxe Art Master Desk™
In stock
$109.99 $99.99
+$12.99 shipping (via FedEx)
IS THIS A GIFT? DON'T SPOIL THE SURPRISE!
This item ships with an image of the product on its outer packaging.
Rated 4 out of 5
by
Anonymous
from
Perfect for my little Picasso!
We recently purchased the Deluxe Art Master Desk for our 4 year old's birthday and totally love it! It was relatively easy to put together, although you'll need a drill since there are no pre-drilled holes. The light is bright enough to light up what she is working on and the desk is the perfect height for her. It fits great in our living room and I love that it has lots of storage. The only thing I think it's missing is a clip to hold paper in place when she's drawing/painting. The white board is great, but it makes for a slippery surface when she colors so a clip would have been nice. Other then that it's wonderful and we love it. Worth the money!
Date published: 2013-09-19
Rated 5 out of 5
by
Brid
from
Love it!
My daughter and I absolutely love the art desk. I was a little worried it would be to small since my daughter is 7 but it's perfect! Only thing I would change is having the holes premade for the screws because I wasn't strong enough to put it together
Date published: 2017-12-29
Rated 5 out of 5
by
Minn
from
GREAT PRODUCT!!!
This desk is perfect for my 5 year old daughter who loves to play school and art. I was nervous when I first got it because I thought it would be too small for my daughter as she is pretty big for her age but I was totally wrong and she will be able to use it for quite some time to come. I love how there is so much storage...she not only has all her art supplies..markers, crayons..ect. but she has a lot of her baby doll stuff stored there as well. I would highly recommend this product to anybody whos child would be wanting a desk and loves art.
Date published: 2018-01-04
Rated 5 out of 5
by
Candy527
from
Wow what an awesome desk!!
I bought this desk for my 7 year old to use while she is remote learning this year from home. I thought it might be too small for a 7 year old but she actually fits perfect in it! She can get another year or two out of it. I also have a 2 year old that will get use of it as well as she gets bigger. It's so cute with all the storage compartments. The top rack has slots for markers, the sides hold books. The top is a dry erase board and opens for more storage. On the sides of the erase board are cup holders to store pens and pencils in a cup. There's even a light under the top part that shines down on the desk so you can have more light if needed. And it was so easy to put together, took about 15 minutes. I am SO happy I bought this desk!! It exceeded my expectations and I'll get years of use out of it!!
Date published: 2020-08-20
Rated 5 out of 5
by
runsonespresso
from
Great Buy
This was purchased for my 3 year old son. It's perfect for him. It will last a long time, I could see him still using this til approx age 5 then passing it on to my unborn child. Has lots of compartments to store crayons, books, paper, paint, etc. All within easy reach for him. Cup holders can hold markers or crayons, also great for holding cup of water so he can waterpaint. I ultimately chose this design because of the chair, I didn't like the stool option. This is a great buy and I'm glad I chose this over the other desks.
Date published: 2011-04-26
Rated 5 out of 5
by
Anonymous
from
Art Desk Perfection!
After an exhausting search, I ended up purchasing 2 of these for my 4 year old girl and 5 year old boy. Colors are perfect for either gender. This desk is very sturdy, has an amazing amount of room for supplies and the seating is very comfortable for the kids. It's a super easy clean up, everything wipes clean with very little elbow grease. Though the desk is a good size now, the kids have several years left to grow with them. My 8 year old who is big for his age is able to comfortable color at the desk as well which really made me happy to see that this is one of those purchases that we will be able to have around for quite some time and truly get our money's worth out of. *Side note, my 4 year old daughter thinks the little workspace light is just the coolest thing ever!
Date published: 2015-12-27
Rated 4 out of 5
by
Grandma Shirl
from
Great starter art desk
Desk is the perfect size for my 4 1/2 yr old granddaughter who has become very interested in drawing and painting. This desk is fairly simple to put together; however, there are no starter holes for the screws and it was very difficult to get them into the hard plastic pieces. The hinges for the dry erase lid are plastic and I'm not sure how well they will hold up to constant opening and closing by a young child. Other than that, I'm sure she will love to have a place to store all of her art supplies.
Date published: 2012-12-21
Rated 5 out of 5
by
Anonymous
from
Great Price - Great Quality!
This was a gift for my son's 4th birthday. He loves "doing art" and he LOVED this desk. He calls it his workshop. We have MANY Step 2 products and we are always so pleased with the quality, durability and usefullness of the products. The desk has many great features. Some of our favorites are: The liftable workspace that allows for storage, the large storage on both sides of the desk and the work light. This desk really is a great value and I know my son will use this for many years to come.
Date published: 2011-03-25
Can you just purchase one of the chairs that go with this art table
Regretfully extra chairs are not offered for separate purchase.
Date published: 2021-01-18
Hi, do you sell a replacement dryer erase surface? Ours got damaged. Thx
Please contact our Consumer Service Specialists at 1-800-347-8372 Monday through Friday, 8AM -5PM Eastern Standard Time and we will be happy to help you.
Date published: 2020-12-11
My daughter is 7 kind of tall for her age. I was thinking of getting this for her schooling at home but I was concerned more about the chair being to small but I am wondering if it will be to small over all now. She is 3.75ft(45in)
She will probably be too tall. The old style was higher but the newest design (we have both) is smaller yet and would likely not work the best. 
Date published: 2020-08-09
does the pens and colors and the items are shown in the picture are included. thank you
No! I ordered two tables & my lights for both the tables didnt work.
Date published: 2020-04-19
Do you know how long it will be before this item will be available again? Will we still be able to get the sale price?
Please contact our Consumer Service Specialists at 1-800-347-8372 Monday through Friday, 8AM -5PM Eastern Standard Time and we will be happy to help you.
Date published: 2019-12-23
How high is the seat?  I am trying to determine if my grandson could sit on his own, he is very petite.
The seat of the Deluxe Master Desk™ measures 11 inches from the floor to the seat,
Date published: 2020-07-03
Is the chair a part of the set?
The chair is included with the Deluxe Art Master Desk™ - Gray.
Date published: 2019-11-22
I cleaned the desk but water went into it how can I drain it?
Please contact our Consumer Service Specialists at 1-800-347-8372 Monday through Friday, 8AM -5PM Eastern Standard Time and we will be happy to help you.
Date published: 2020-01-17