Deluxe Canyon Road Train & Track Table™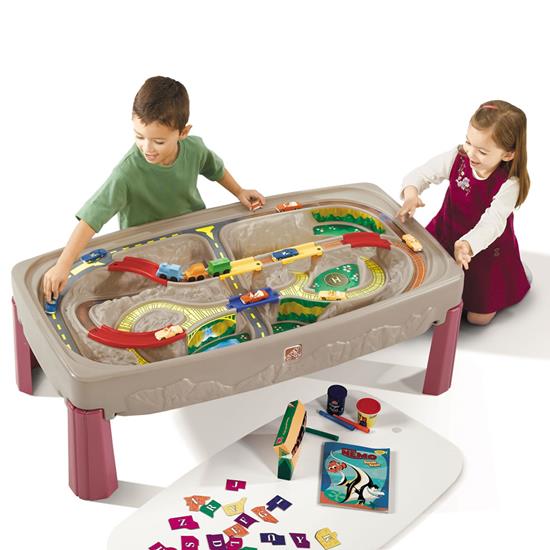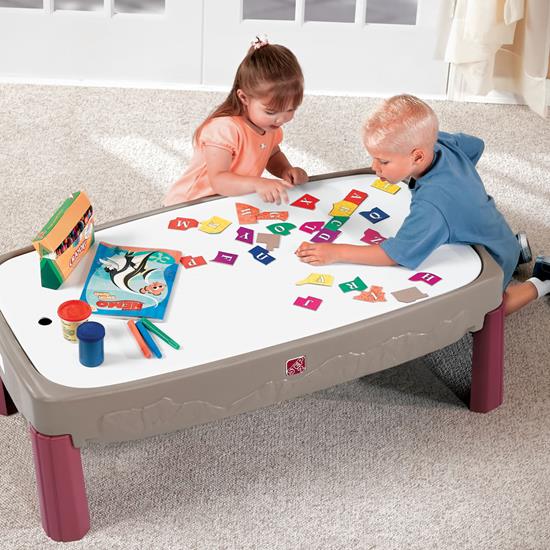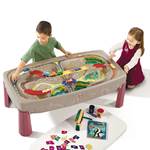 Deluxe Canyon Road Train & Track Table™
In stock
$119.99
+4.99 shipping (via FedEx) When will my item arrive?
All aboard for hours of pretend play fun with this Step2 Train Table!
IS THIS A GIFT? DON'T SPOIL THE SURPRISE!
This item ships with an image of the product on its outer packaging.
Rated 5 out of 5
by
Jeni mom of 3 under 3
from
NEAT for kids & NEAT/TIDY for parents
This was a gift for my 16 month old son and my 2 1/2 year old daughter. Both play with it and love it. It's large enough that they both can play and "share" nicely without any conflict, but yet it's compact enough to hold the extra cars and trains.Some features I like the best is that it acts like a safe coffee table in the playroom. Since it is plastic, there are no sharp edges that my toddler can fall into and get bruises. I like that fact that when the top is on they can enjoy a snack, draw and play games. I also like that it cooridnates nicely with my daughter's Step 2 kitchen which is in the same room.
Date published: 2007-11-09
Rated 5 out of 5
by
Anonymous
from
BEST PURCHASE EVER
I have purchased six Step 2 products in the past year and have been extremely happy with all of them. However, this is by far the BEST of all. I operate a preschool with six prekindergarten (4-5 year old) children and both boys and girls love playing with this car table. They enjoy making roads underneath it with wooden train tracks too. The car table is in constant use all day long. During center activities, we put the lid on it and use it for our puzzle center. My two-year old grandson received one as a Christmas gift and I decided to purchase it with Grant money I receieved for the school. A MUST HAVE!
Date published: 2009-04-19
Rated 5 out of 5
by
pavaomsw
from
Simply the best toy EVER! Mommy's dream!
This toy is hands-down our son's favorite toy. He got it for Hanukkah/Christmas last year and literally has played with it EVERY SINGLE DAY since.We especially love that you can use cars or trains on the toy, that it is compatable with the wooden trains, such as Thomas, and that when you put the lid on, you can use the table for art, more train play with wooden tracks, or even as a side-table in your livingroom!Our son loves the roads, how they have tunnels and different curves, and although it can be exhausting to play cars with him, this is a pure joy! It was the best gift we ever received and I wish that I could buy one for all of our friends!A great toy for girls and boys alike!
Date published: 2007-10-02
Rated 5 out of 5
by
MomU2fan
from
Awesome toy!! Worth the money!!
This toy is great because my 3 year old son can not only use his trains from his wooden piece together set but he can also use his billions of matchbox/ hotwheels cars with this as well. Also he has a plastic thomas car that does not fit on his wooden set but it works with this. Even though my son is starting to love putting his wooden tracks together in different configurations - this table is great in that the tracks are always together and dont fall apart. With the lid on the table my son has been using it as a pretend desk with his toy computer on top. I found it easy to put together - the only thing is that the decals can be time consuming. But I highly reccomend this toy.
Date published: 2007-07-04
Rated 1 out of 5
by
not happy
from
awful !!!
this is the second try at this the first one came with cracked in the track and second came and the track is warped in one spot,bent leg, needless to say my kids are upset the first one was given for christmas and they cried as we boxed it up to return it then i ordered the second they waited a week and and when fed ex showed up they were all at the door they couldnt wait for me to open it so i did and to my HORROR the track is warped in i spot and 1 bent leg so again i box it up and tell them they cant have it what a HUGE DISAPOINTMENT HUGE WASTE OF TIME AND HUGE WASTE OF MONEY IAM TRULEY ANGRY
Date published: 2008-01-03
Rated 3 out of 5
by
Anonymous
from
Just okay
We purchased this item for our son's 2nd birthday a few weeks ago because he loves playing with trains and cars. He has been really interested in other train tables that he has played with and we thought he would love this one. He's really not very excited about it yet. We're hoping he starts to play with it more. We were excited to find a model that serves as more than just a train table, but really as an activity table with the included table top. The table is easy to assemble, but found the quality to be somewhat flimsy[...] Overall, we expected the quality and appeal to be better than it is.
Date published: 2007-10-30
Rated 5 out of 5
by
Lady Kym
from
Very Convenient!
LOVE IT! Mom of three boys ages 8,4, and 3. This was a gift for my 3 year old's Birthday and all three boys love to play with it. I stear away from toys that have multiple parts (ie: normal train tables with tracks that must be assembled before each play) because with three seperate bedrooms parts are hard to track down. I dont have to worry about that with this table. And I love how light the table is. I can move it to the living room during the day for play or craft time and then back to the bedroom when we have company. The top is sturdy - hard to find these days. Overall, great product!
Date published: 2007-12-20
Rated 5 out of 5
by
MommyC
from
This beats those other train tables!!!!!
This is the ONLY train table I will own it is so wonderful!! I bought it when my son was 18 months old. He is now 3 and plays with it every day. All of the small cars fit on it. He has a million of these cars and loves to play with them. I haven't tried any other trains, but he loves the train that comes with the tracks!!! My favorite thing about this table and why I love it so much is the cover!!! I can put ALL of his cars in the table and put the top on and it is a nice clean surface and my son can sit on the floor and use it as a coloring spot. I also love how the tracks are permanant so unlike my friends house, I don't have tracks ALL OVER!! Great toy and one you won't want to live without!
Date published: 2008-05-27
Rated 4 out of 5
by
Evan's Mom
from
We like this table for toddlers
The directions should be revised because they tell you to attach the bridges before putting on the stickers. This makes putting on the stickers much more difficult that it would be if you did it prior to hammering the bridges into place. Other than that, it is easy to assemble. On the negative side, it is not very sturdy and my 1 1/2 year old son does not like it as much as he likes other train tables, such as the Thomas the Train Tables. However, I think it's good for his age because he cannot take the tracks apart and then ask for them to be put back together multiple times a day.
Date published: 2007-12-03
Rated 5 out of 5
by
Anonymous
from
ABSOLUTELY AMAZING SERVICE, sHIPPING,ETC
The train table is absolutely perfect in every way. The real reason I stopped to take time out to write this is because of the service I received with ordering this product about a week or so before Christmas. Not only was it in stock, it was also on sale. also, there was no tax which may be because of where it was shipped from and where it was shipped to--I live in New Jersey so maybe no tax doesn't apply to everyone. Also, there wasn't any shipping charge. But the craziest thing was how quickly I received the train table as obviously it's in a big box and weighs a lot.I just can't say how happy I was with ordering this from Step 2. I have been telling everyone of this great experience. Thank You!
Date published: 2014-01-03
Rated 5 out of 5
by
Kovasmomma
from
Great Decision, Great great great!!!
This was a great choice, its colorful easy to assemble, sturdy, and versatile. I have 3 boys, they climb on it, sit on it, eat on it, drive cars, and trains and play with little animals on this thing, They eat cereal , drop crumbs everywhere and its still intact. Easy to clean up. the only annoying thing is the lid, I wish it could just slide in on the bottom somewhere,and that they had little drawers under neath to store the cars, and maybe some crayons and some books but for [$] you can't beat it, they just love it, and use it at least once per day but usually more like 3 times a day, I keep the cars, trains and animals inside and just close them up inside the table LOL. definately worth the money.
Date published: 2009-01-21
Rated 5 out of 5
by
Autisim Mom
from
Perfect Boy Toy !!! Great For Autisim
I have a two year old boy and I purchased this for his birthday. I also have a five year old boy who is autistic and they both Love this table.This is going to be a classic toy. Perfect well thought out and well made. Do not have any doubts about this table it is perfect !!!!!!!!!!!It is very hard for me to get my older son to pretend play so anything he shows an interest in is great !!!!!!Love this Table. This is a perfect toy for an autistic child. A little patience while applying the stickers, but the stickers are very high quality plastic coated not cheap paper, made to last.
Date published: 2007-07-26
Rated 4 out of 5
by
Anonymous
from
Wonderful train table
Are you tired of stepping over wooden/plastic train tracks? Are you tired of having to clean up all the track pieces to clean up your room? Are you tired of mediating between multiple children who flight over who broke the track? If so, this is the product for you. Everything stays put so there is nothing to break or clean up. The table is neat and clean especially when you put the lid on. All matchbox/Thomas cars and trains work on it. As an added bonus, my kids use it as a table to play board games on or to draw pictures on. My boys (4 and 2 years old) play with it every day.
Date published: 2007-04-19
Rated 5 out of 5
by
Heather13
from
Better than expected!
I was very excited when I ordered this table for my 2-year old son for Christmas. It was bigger than I expected, which was a nice surprise. Assembly was very easy. I do recommend using a power drill and a hammer; made it a little easier. There was hardly anything to put together but a few tracks and the table legs. Putting on the stickers took only about 15 minutes and was easy. I love the molded-in tracks. No re-setting makes it a great toy that is always ready to be played with. The height is perfect. My son can reach everything with no problems. He plays with this all day, everyday! It has been a huge hit with other kids that have come over as well. Even the older kids have enjoyed it! Overall, a great toy!
Date published: 2009-01-03
Rated 5 out of 5
by
Sage
from
Affordable, functional, quality
We bought this for my nephew (he is 3 years old, and I also have a 3 1/2 year old boy.) My nephew is very into Thomas trains as well as Matchbox-style cars, so this table was the perfect gift for him. He can use either trains or cars on the table, as well as use it for storage. The option for the table top is wonderful too, because he also has Thomas "Early Engineers" tracks that we can set up right on top of the table.I see him enjoying this table for many different purposes for years to come. This is not my first Step2 purchase, and I have never been disappointed with anything that I've bought from this company.All in all, we are very happy with this purchase, and we will definitely be buying from Step2 in the future!
Date published: 2011-01-10
Rated 4 out of 5
by
Kids Stuff
from
Modifications Suggested
This table is a HUGE hit in our child care center. Two little problems, at least in our world. I am frustrated that the bridges are constantly being pulled off (kids think it's a challenge!) and that the table isn't a little taller. Adjustable legs would be awesome, so it could be used with older children, or "grow with" the child who has this at home. Replacement screws for the bridge problem was not a satisfactory resolution. New screws have not kept the kids from pulling off the bridges. But we DO LOVE IT! The table is always surrounded with chldren.
Date published: 2007-10-20
Rated 5 out of 5
by
BrayBrookMommy
from
Best Table Ever!!!!
Best train table ever!!!! My son 2 1/2 loves this, and my daughter 1 loves to stand holding onto it to watch. Great for both of them. Best thing I could have gotten him. Very easy to put together, the stickers really were not that bad to put on. We love this table.When Step2 mailed me this the top cover and one of the legs were broken. I called them up and they sent me out new ones right away. Great service. Thats why I buy everything Step2!I would recommend this train table to everyone. It just makes me so happy when you see your child having so much fun!
Date published: 2007-12-19
Rated 4 out of 5
by
Momof2boys
from
Great Product
My sons are 2 and 5 and they both play with this. There is enough room for them both to move around and play without getting in eachothers way or fight over it. It is big though so make sure you have room for it before you purchase it. I really love that it converts to a table as well. So far we have used the table for coloring and eating lunch. It's great and it fits most cars I do wish they tracks were a little wider though because their Disney CARS, cars don't fit. Matchbox and Hotwheels fit though and all the cars that are comparable to those.
Date published: 2008-03-21
Rated 4 out of 5
by
Anonymous
from
I Highly recommend
The push pins that come to assemble bridges are VERY hard to get in- should either come with bridges or a new way to put bridges on. Also it said that the color of the push pin would match the bridge it assembeled- not true all mine were black. I needed a thumb trasplant by the time I was done! Stickers not soo bad. My son has every matchbox and thomas train and this works for all- saves us room and money from having to buy all kinds of race tracks and train tracks- he uses everything right on this table- BEST [$] ever spent. My son is 19 months.
Date published: 2008-02-24
Rated 5 out of 5
by
AuroraAidensMom
from
Great for hotwheels lovers
I never write reviews but I couldn't wait to write something about this table! My 2yr old loves matchbox and hotwheels cars. I got this as a last minute santa gift, and I'm so glad I did! This was by far his favorite Christmas present. The hotwheels and matchbox brand cars fit on this PERFECTLY. He has been using it nonstop. It's so much more durable than tracks for the small cars. I like the tabletop option for when you want to hide the tracks or use it for crafts.We used a powerdrill for the legs. My only con on this table would be that the stickers provided aren't long enough (Some don't reach each other). However, once all put on it does not look unattractive and would not keep me from buying this. I am SO GLAD I got this for his room!
Date published: 2012-12-27
Rated 4 out of 5
by
TwinMomNYC
from
Very nice but would change one thing
This is a really nice train table - no doubt about that. My boys started playing with it right away and assembly wasn't bad. I put it together when my husband took the boys out for a little while.What I would change is the legs - either make them longer or make them adjustable so the table grows with the child.We love having the table top. Lately one of my boys has been playing more with the top on using his own toys than with the table tracks. However, because the legs are too short, my sons can't sit well at the table for crafts and such.
Date published: 2010-06-19
Rated 5 out of 5
by
bklyngirly
from
hours of entertainment
My 2 yr old son loves trains but I dislike clutter. I had one Brio set but before buying expensive add-on accessories and tracks I found this table. It is PERFECT. I put a 3x5 rug underneath it so it does not slide around, and he and his little friends GO TO TOWN. It is so much better than loose tracks and trains derailing and tracks coming apart during play. There is one place where I could not push a bridge peg all the way into the hole, but if I just get a little file and loosen up the hole it will fit in perfectly like the others did. I cannot say enough about this. Plus there is no losing any trains or cars or any little pieces you put in there, because at the end you just store everything inside and put the lid on top. Great table!
Date published: 2008-03-21
Rated 3 out of 5
by
DD
from
Not what I thought it'd be.
I wanted my twin toddlers to be able to use their Wheelies or Tonka cars on it. Looks like a table good for toddlers. The only cars that fit on it are the Hot Wheels or Matchbox size which are too small for my toddlers to handle. And my older child that has those cars is not interested in playing on this table. I like the top that comes with it to make it a table. Too expensive for actual product.
Date published: 2014-09-20
Rated 4 out of 5
by
DallasHeather
from
What a great investment!
Bought this for my son for his 3rd birthday. Had considered it off and on for about a year, but finally decided to spend the money on this train table. As opposed to the others I'd seen on the market, I liked this one because of the built-in track (no track parts to get lost around the house). What I didnt expect was that it was made to fit most of the major train sets (like Thomas) PLUS the major small cars (like Matchbox etc). My son ~ and all of his playdate friends ~ have thoroughly enjoyed it! We have gotten a lot of use out of it as a regular toddler table as well by putting the sturdy white top on.Overall... I would definitely recommend this to anyone with kids who love trains and cars! They'll enjoy endless hours of playtime with it.
Date published: 2008-11-21
Rated 4 out of 5
by
Play Room Crazy
from
Great Toy, but.......
This is a great toy. My 2 year old really likes it, but I could suggest a few changes. First I wish there were a tray or something under the table for holding the cover/top board while not in use. Second, the bridges do not make for a smooth track. When you push (freely) the cars over the bridges, they bump or crash. Lastly, The stickers do not line up as well as I would have liked. None of these items seem to take away from the joy my little boy seems to get out of this toy though. I would recommend this to anyone with young children.
Date published: 2007-11-28
Rated 5 out of 5
by
Mom to a car lover
from
Perfect train table!
We wanted to get our 2 yr old a train table for his birthday and had a tough time deciding. He loves Thomas and has a lot of the wooden tracks and trains, but he also loves his Matchbox/Hot wheels, etc. And I hate having to put the track together over and over and over for him to have any fun, just so he can destroy it again. This solves that problem by being ready to play with first thing in the morning. It fits all the Thomas/Brio/Hot Wheels/Matchbox-sized vehicles perfectly and has lots of hills to play on. The table top is sturdy, and we can use it to build his wooden tracks on if we're up for it. It's great to play on top of, and we even use it for our coffee table since it's in our living room at the moment.Can't say enough good about this one!
Date published: 2009-05-24
Rated 5 out of 5
by
Cheerful Christmas Mom
from
Santa's Gift was a treasure for both!
This was a gift for our eighteen month old son for Christmas. My daughter, who is almost four, was as excited as he was. They have played with it all day.Construction of the product took about 30 minutes for my husband and I, but it wasn't too dificult. The stickers were a little tricky, but they pulled up fairly easily so that didn't feel like a problem.We look forward to watching our kids enjoy this for years, just as they have done with the other Step2 products that we have purchased.Thanks again for the great customer service[...]
Date published: 2008-12-25
Rated 5 out of 5
by
Nikki43
from
Absolute must have for boys!!
This product is wonderful. It's extremely durable, well built great for active boys or girls who love imaginative play!! We bought it for our son for Christmas when he was 1 as my nephew had one and he always was drawn to it when visiting. He's now 2 and he has loved it since the first day he laid eyes on it and it's still the first thing he has to use and last thing before bed. He drives his cars his trucks his animals climb it and so much more.we have been very pleased and would highly recommend it for a gift for a large age range.
Date published: 2013-10-28
Rated 5 out of 5
by
CAT
from
AWSOME GIFT FOR A SWEET LITTLE BOY!!!
My grandson is 3 years old and loves cars and trains, he has an older brother who is 5 and a sister who is 1, and they all love this toy. It is well constucted and easy to assemble. Some of the stickers were not long enough but we made it work and they were playing with the cars while we were putting the whole thing together and have continued to play with it ever since. Creative, not messy or parts falling off - the perfect toy. My sister loved it so much she is buying one for her grandsons for Christmas. Great Job Step 2!!!
Date published: 2009-11-02
Rated 5 out of 5
by
Anonymous
from
Exactly what I was hoping for....
My kids enjoy cars more than trains....while there are a ton of train tracks and tables, I struggled to find anything that would handle cars and also was not battery operated. When I saw this, I thought that it could be perfect....and now that we have had it over a week, I am now happy to say, my boys (4.5 and 2.5 old) love it!! It is extremely durable and the best thing is that you do not have to re-build the track or find missing pieces god forbid someone messes it up! Really recommend for the hot wheels/match box car users.
Date published: 2008-01-02
Does the magnetic Thomas trains fit this track ? 
They should, I have two different sizes of Chuggington trains on mine. One is magnetic and the other snaps together.
Date published: 2018-12-13
What size or brand of small cars / vehicles to purchase for this particular step 2 table as extra since it only comes with one - 3 piece train set & no cars ? 
All Hot Wheels cars will work with this table.
Date published: 2018-12-06
My table is missing two of the bridge pieces, is there any way to get replacement parts?
Thank you for contacting Step2. Please contact at us 1-800-347-8372 Monday - Friday, 8:00 am - 11:00 am and 12:00 pm - 5:00 pm EST, and ask for a Customer Service representative who will assist you in order to find a resolution to your satisfaction including sending replacments. Regards, Step2 Consumer Service
Date published: 2018-11-20
I am trying to order from Australia but there is no drop down box
Step2 Direct ships within the Contiguous United States only. Thank you for your interest in Step2 product retailers in Australia. Specific products and quantities vary by retail location, please contact Little Smiles Pty Ltd. with your specific request. Little Smiles Pty Ltd. PO Box 6685 Point Cook VIC 3030 Australia 61 3 9395 5015 (i) 1300 665 882 (p) 1300 665 883(f)
Date published: 2018-11-08
Can the lid be purchased separately!
Please contact our Consumer Service Specialists at 1-800-347-8372 Monday through Friday, 8AM -5PM Eastern Standard Time and we will be happy to help you.
Date published: 2018-08-13
I would like to buy the train set that comes with the table. Is it possible to buy the train set separate?
A quick Google says no, I don't think they sell it separately. Honestly though, your kid will get much more enjoyment out of a good little Brio, Hape, or Thomas wooden train with magnets. At first they get frustrated when they try to connect the magnets and they chose the negative instead of the positive side, but it makes them use their brains to figure it out. Maybe try the Brio starter kit. They love the rainbow bridge. I got mine on Amazon. The little Brio steam train with the moving wheel bars was a huge hit with my train lover too. Good luck. This train obsession can get expensive.
Date published: 2019-01-20
Hello. We have been enjoying this train table for years. Through 3 kids now : ) But the plastic screws have loosened. We have many that just pop out and consequently lost 1 bridge. Can I order some replacement screws and 1 bridge? 
Please contact our Consumer Service Specialists at 1-800-347-8372 Monday through Friday, 8AM -5PM Eastern Standard Time and we will be happy to help you.
Date published: 2018-04-03
hello I would like to buy from Peru I am in the city of Lima what is the additional cost, we love your products
Step2 Direct does not ship outside of the contiguous United States of America. Thank you for your interest in Step2 product retailers in Mexico and Latin America. Specific products and quantities vary by retail location, please email Amee Pable with your specific request at apable@new.rr.com.
Date published: 2018-01-08