Deluxe Creative Projects Art Desk With Splat Mat™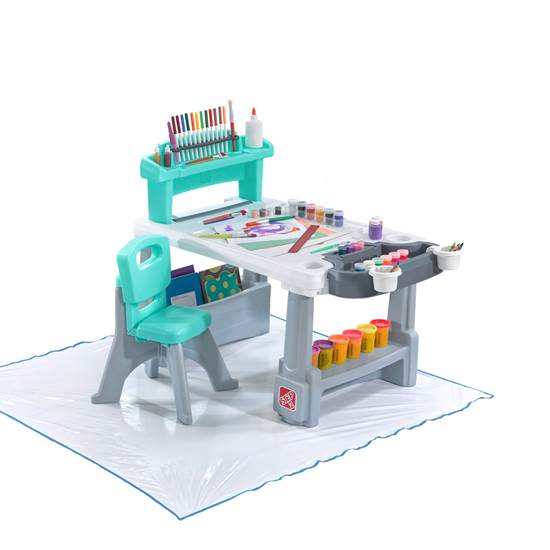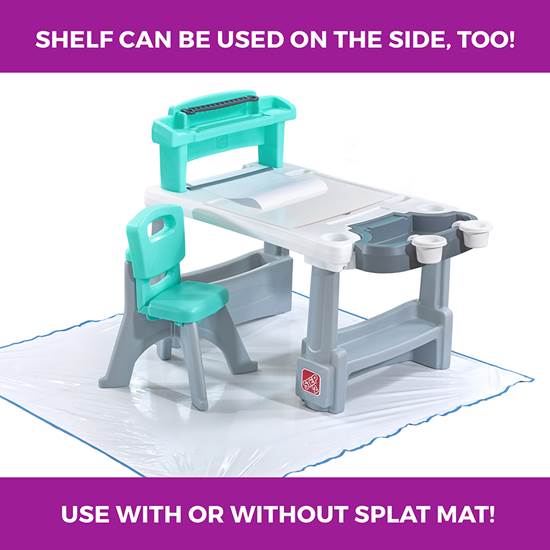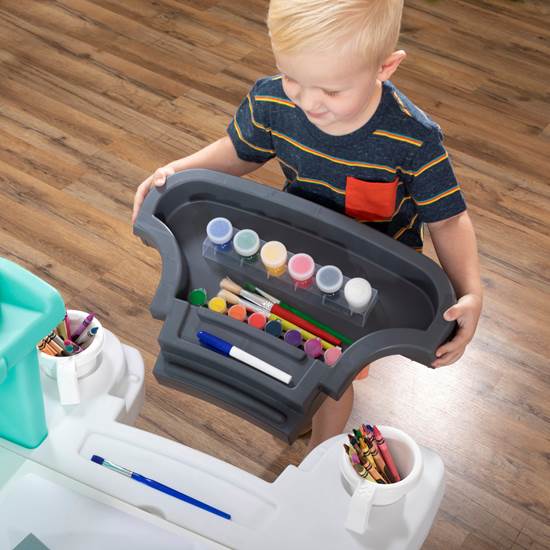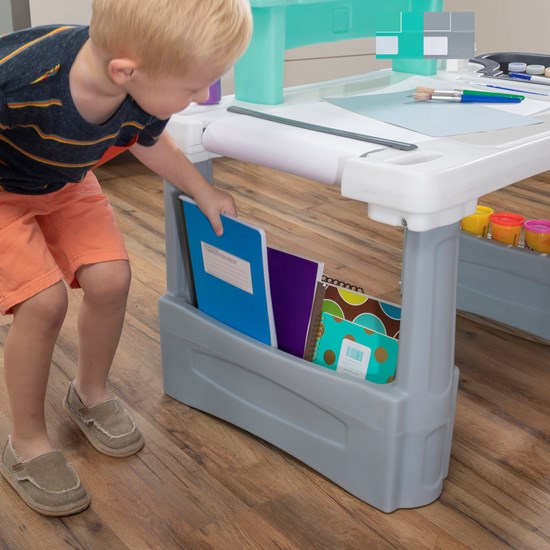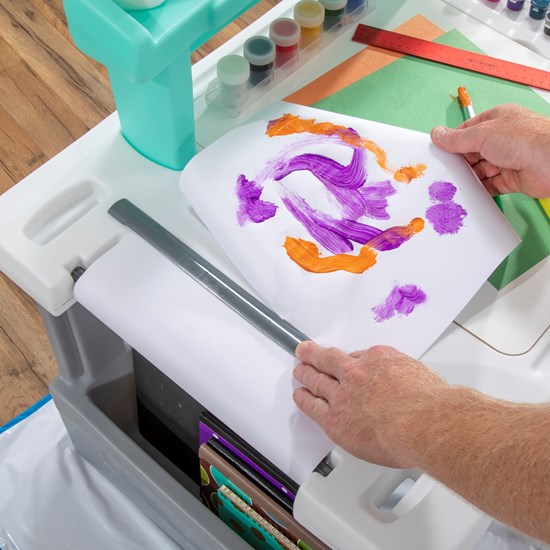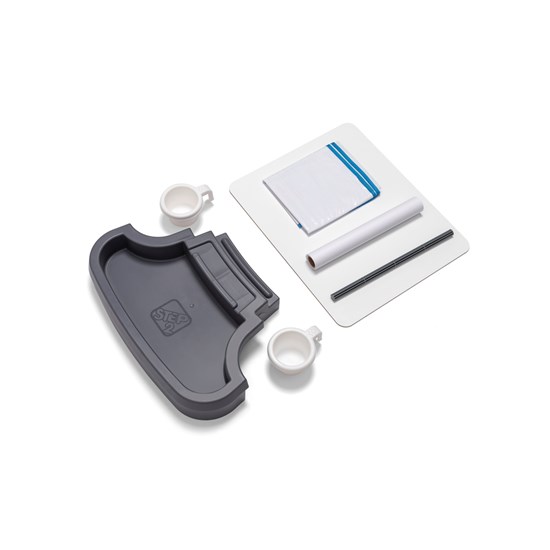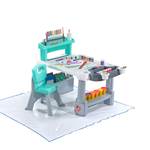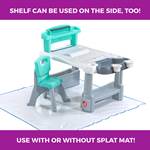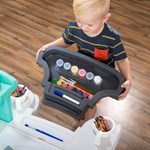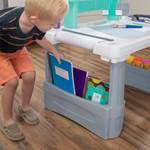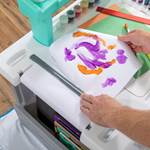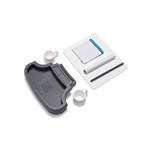 Deluxe Creative Projects Art Desk With Splat Mat™
In stock
$99.99 $74.99
+$12.99 shipping (via FedEx)
Little artists will enjoy hours of creative play with the Deluxe Creative Projects Art Desk With Splat Mat™.
IS THIS A GIFT? DON'T SPOIL THE SURPRISE!
This item ships with an image of the product on its outer packaging.
Rated 5 out of 5
by
Lindsluv
from
Great desk!
My daughter was so excited to receive this desk. Thank you Step2 for letting me test this item as part of the Step2 Toy Tester Program! The desk was easy enough to put together but did take some time. It seems very sturdy which is great when dealing with toddlers! I love that the desk has so many storage compartments for coloring or activity books, markers, paper, crayons, paint or whatever craft your child is into. My daughter could barely wait for me to finish putting it together before she started coloring on the included roll of paper! It's so nice to have a place for her to be creative and not worry about the mess on nice furniture. I definitely recommend!
Date published: 2019-06-18
Rated 5 out of 5
by
Sunniside
from
Great addition for educating at home!
The Deluxe Creative Projects Art Desk with Splat Mat has been a welcome addition to our home amidst returning to schooling in a hybrid schedule. It took around 15 minutes total for me alone to put together, with minimal effort. In fact, it was pretty self- explanatory and directions were an added bonus. The kids immediately sat down and started playing, and it has become THE PLACE to go as soon as they wake up in the morning. I am impressed with the various parts they can use- the included white board, roll of paper, lots of storage for crayons and markers, and even space for some coloring books! My older son is especially looking forward to using it as part of his Kindergarten remote learning. Thank you Step2 for providing this item for review as part of the Step2 Toy Tester Program.
Date published: 2020-08-17
Rated 5 out of 5
by
Mary
from
My girls love this art desk!
My girls were so excited to play with this art desk the minute we received it. My 14 year old son and my husband put it together in a matter of minutes and then it was time to create... My 5 and 7 year old daughters love the paper roll that was included. They use it to make birthday signs and banners for the family. They also really like to organize their markers in the marker holder. I like that this holder can be moved to the side so that they both can enjoy the desk together. The large mess tray is useful for supplies that roll and fall easily. My children stored their small sticker sheets, popsicle sticks, and glue in this tray which was perfect for completing a project that required a lot of supplies. Thank you Step2 for letting me test this item as part of the Step2 Toy Tester Program.
Date published: 2019-07-08
Rated 4 out of 5
by
mamafox
from
Such a fun space for creative minds!
This product is perfect for the little artist in your life. I have a 5yr old an 8yr old and they both love this little desk. The chair is a bit small for them both, but the desk is a decent size to fit their needs. My favorite thing would have to be the paper roll though, as well as the amount of storage and organization it has. It gives my kids enough responsibility to keep their area nice and clean and not be so overwhelmed by it being too much. I do wish the desk was made a little more durable like Step2 used to be back in the day though. My kids are rough with their toys so for the price I would like to know it's going to be durable and last awhile. Overall though, we're happy with this product.
Date published: 2020-09-13
Rated 4 out of 5
by
Erin
from
Great Art Organizer
From the beginning this toy has helped our family with our organizational needs being that it is capable of storing the kids art supplies and paper all in one convenient location. It is big enough for both of my kids to use at the same time. I love the splat mat, it makes for an easy clean up.
Date published: 2020-08-29
Rated 5 out of 5
by
mrsdu
from
Amazing for all ages
I love this! All 3 of my kids play with it and they range from ages 3-9. they have convenient storage trays and areas for all their supplies and have plenty of room for at least 2 but honestly all 3 to use the easel at the same time. Its awesome too bc they can grow with it and continuously use it
Date published: 2019-09-13
Rated 4 out of 5
by
MagAttack
from
We Love This!
I have a 4 year old and a 2 year old who both love this art desk! The splat mat does a great job keeping messes off the carpet. The desk and chair and very sturdy and are set at a good height for the kids. My 4 year old can sit up straight with her feet on the floor. We are hoping to be able to use this art desk as her school desk this year during online learning. I was able to set up a second chair and both kids can use this at the same time. We have used the desk for things like painting, coloring, sand, sensory items, writing, reading, computer games, and so much more. There is storage for books and art supplies. Everything is very easy to clean up. There is a great white board that we use by itself to practice writing. The reason I am giving the desk 4 out of five stars is because you needed a drill to put it together. On the instructions it said just a screwdriver. However, the pilot holes are not actually holes, they are divots in hard plastic and I was unable to actually screw this desk and chair together by hand. That being said, once I got the drill and assembled the desk it is super sturdy! I also wish one of the storage areas had some sort of lid to close the supplies in. My younger child likes to come and tries to take everything out of the table so it would just help a little for organization.
Date published: 2020-08-20
Rated 5 out of 5
by
CVords63
from
Great for back to school!
With the school year starting, I thought this was the perfect set up for my 1st grader. He has his one space to complete his virtual learning with the hybrid school season starting. The item is very sturdy and has great storage space for back to school items. It was fairly easy to put together. My only recommendation would be to have a slot for an electronic device since a lot of school programs will have zoom sessions.
Date published: 2020-08-30
Does it have a light ? 
No it does not
Date published: 2021-01-28
My daughter is 43 inches tall at 3 years old.  Is this too small?
The Deluxe Creative Projects Art Desk With Splat Mat™ is a perfect choice for a three year old and should provide at least two years of use.
Date published: 2020-08-21
Can you flip the whiteboard over so kids don't ruin it with marker or crayon? Or will it just inevitable get ruined? 
My grandson is 18 months and he has gotten crayon on it and it does come off. Hasnt had real markers yet. Has the ones that only mark on special paper not hands or clothes. The back side of the white board is plain Not sure if markers on that side would leave marks behind.  I always have little pictures on his desk so he hasn't even paid any attention to what's under his coloring pages. 
Date published: 2020-03-08
Is the splat mat machine washable? My son has Spilled some colors on it and I tried cleaning it up with water but it's not going off. How do I clean it ?
We recommend trying a half and half vinegar and water solution for cleaning the splat mat.
Date published: 2020-02-24
How many chairs?
This comes with 1 chair
Date published: 2019-12-28
Does this come in a different color?
No.  
Date published: 2019-12-22
Hello how can I order a the chair that comes with this item 
Please contact our Consumer Service Specialists at 1-800-347-8372 Monday through Friday, 8AM -5PM Eastern Standard Time and we will be happy to help you.
Date published: 2020-04-03
Can the height of the table be adjusted? Or is the 30in the only height? How do you become a product tester/ product reviewer? There are so many amazing toys I would love to review.
The table of the Deluxe Creative Projects Art Desk™ is not adjustable. Thank you for your interest in working with Step2 to test a toy! We search for toy testers approximately two times per year, once in the spring and once in the fall to test items that are new to the market. Please use the link to fill out the form below, and we will send you an email when the next toy tester application has been posted: https://step2.wufoo.com/forms/step2-toy-tester-notification-sign-up/ Please note, this program is currently only open to residents of the 48 contiguous United States and District of Columbia (DC).
Date published: 2019-10-08