Deluxe Package Delivery Box™ - Elegant Black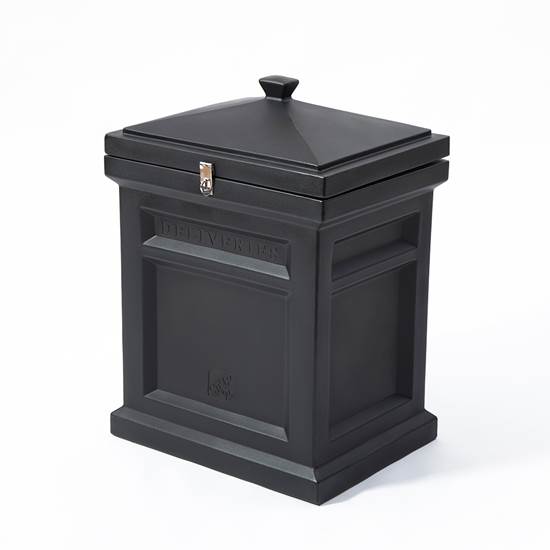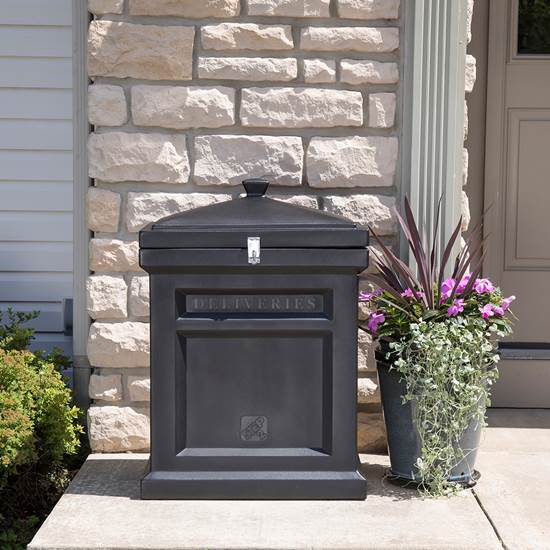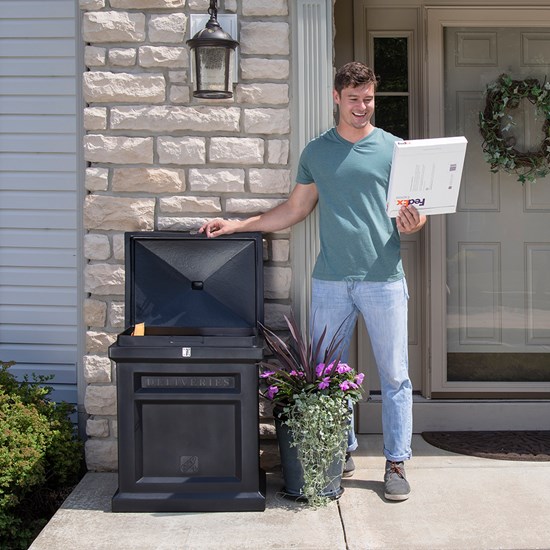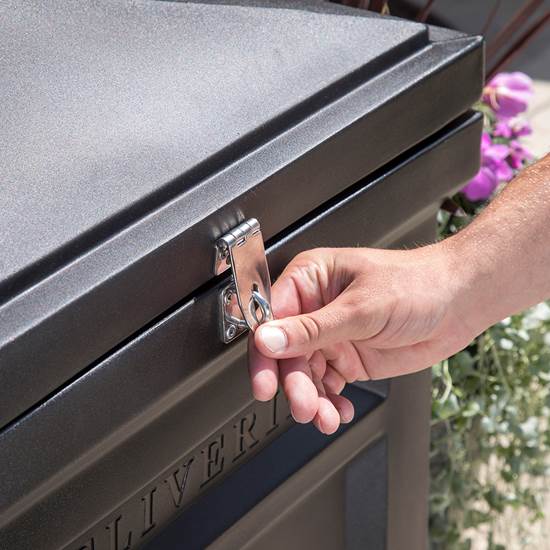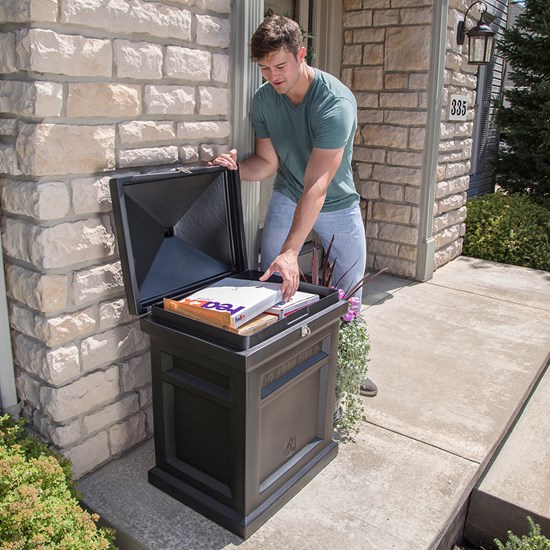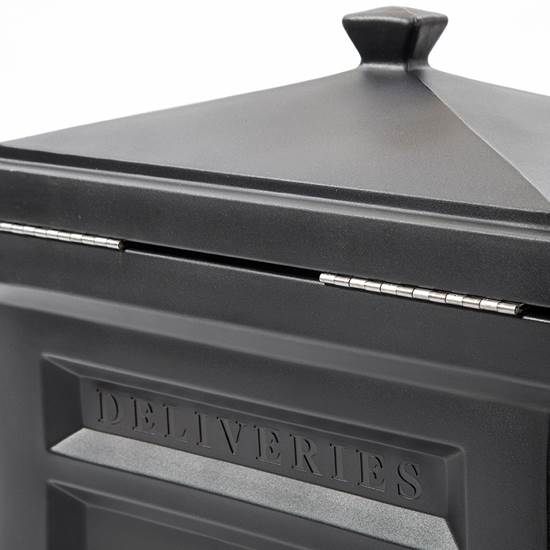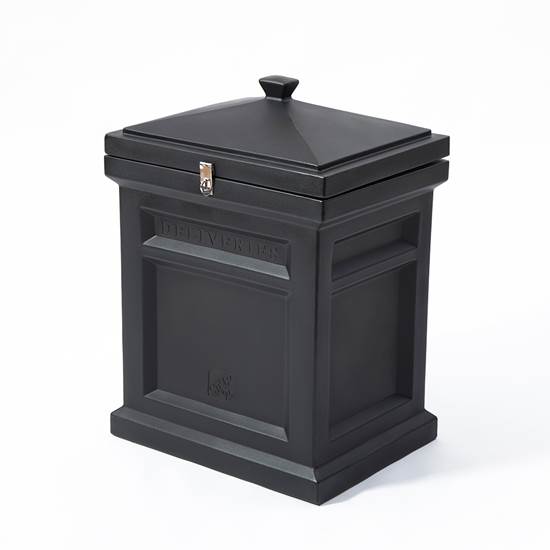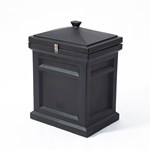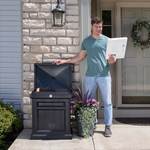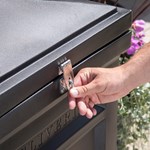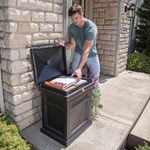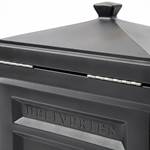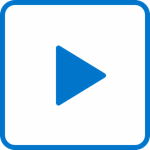 Deluxe Package Delivery Box™ - Elegant Black
Out of stock
$104.99 $99.99
+$12.99 shipping (via FedEx)
The Step2 Deluxe Package Delivery Box in Elegant Black will keep your deliveries out of sight, safe and secure while you are away.
IS THIS A GIFT? DON'T SPOIL THE SURPRISE!
This item ships with an image of the product on its outer packaging.
Rated 4 out of 5
by
daijahsmom
from
Clever Product
I really like this product, especially in this day where packages often go missing from your porch! This gives you the piece of mind knowing your packages are safe! It's more aimed towards smaller or medium packages advice large bulky ines won't fit. I used 2 paver blocks inside to keep it from being taken off my porch and so far it's doing just that!
Date published: 2019-09-09
Rated 5 out of 5
by
LoriC123
from
Quality item- will last forever!
This product is ideal for keeping all of my packages safe from the elements and together. I have 2 little boys so shopping online for almost everything is just easier. It also means that seldom a day goes by that I don't have a package on my front porch. This delivery box keeps all my purchases dry and in one place out of sight. There is also a latch that you can use a lock on if need be. The word "DELIVERIES" is bolder right on the front. It's the same color as the box as to not me an eyesore, I assume. It's a decent size so larger packages fit as well. It's made with the same durable, weather resistant plastic step2 is known for. This box is super cute and adds to any decor. Perhaps a little too well. I've had this box on my front porch for 5 weeks and have only had it used 3 times. I've informed my mail lady and I hope the other carriers catch on as well. I'd love to use it to its potential!
Date published: 2019-08-24
Rated 5 out of 5
by
CassieC
from
Very convenient!
The product looks classy and lovely. It is simple to use and leave instructions for delivery. Most delivery workers know to leave packages in the box even without instructions. Packages have been inside the container during rain and did not get wet. It's convenient to not have to be home for packages or go to the facility for pick up! I really love having the product.
Date published: 2019-09-09
Rated 5 out of 5
by
Alyssajoelle
from
Looks great on my porch!
This package box is a great addition to our porch decor! It is very sturdy and has a latch for the lid. Our porch is covered so it wouldn't get directly rained on, but even in our bad storms (sideways rain) there was no water inside. Now if I could just get all my delivery guys all on the same page to put deliveries in the box labeled deliveries! haha
Date published: 2019-08-20
Rated 5 out of 5
by
Britwimmer
from
Peace of mind
I love this package delivery box. It's aesthetically pleasing while serving a great purpose. I frequently have Amazon packages delivered and now I dont worry if they are sitting unattended on my front porch, or making it look like nobody is home. Its waterproof and has a lock so I know my belongings are safe and secure until I can retrieve them.
Date published: 2019-09-24
Rated 5 out of 5
by
LM334898
from
So fun!
I love this little box! Its so exciting to look in the box for my packages. The only problem is getting the delivery drivers to use it consistently. I have actaully had them lean the package against the outside of it. It does not leak during rain! Great product!
Date published: 2019-09-17
Rated 5 out of 5
by
Evanwitjc1
from
Great product!
This is a very nice box for package delivery. I was very surprised at the rigitity and durability. This seems very well made and looks like it will last for a very long time!
Date published: 2019-09-09
Rated 5 out of 5
by
chasitie
from
Great Delivery Box
Love this package box! It has kept my packages dry and out of site! Love the design and the fact that it can hold larger packages.
Date published: 2019-09-17
Does this 'bundle' include the BoxLock? The description appears contradictory, stating "includes BoxLock" but later saying "Recommended for use with BoxLock". Is BoxLock included?
No, the BoxLock is not included. It must be purchased separately
Date published: 2019-04-19
When do you anticipate having the DELUXE PACKAGE DELIVERY BOX™ in ESTATE WHITE available?
Unfortunately, we do not have an estimated time of when the Deluxe Package Delivery Box™ in White will be available. Please view the following link to click the notify me button and enter your email to be notified when these are back in stock : https://www.step2.com/p/deluxe-package-delivery-box-estate-white
Date published: 2019-02-07
Any chance you could build a box that allows for a security camera to be installed on the outside of one of these? We don't want to have an obvious camera on teh front of our house, and I think hiding one in one of these boxes would be great
Thank you for your suggestion, we will be sure to pass this on.
Date published: 2020-03-28
If a padlock is used, how does the mail carrier put mail in the box?
he doesn't. unless mail carrier has access to key or combination, padlock will only cause this item to be used to safeguard items from others.
Date published: 2020-03-28
Can this be bolted to my concrete porch?
Please contact our Consumer Service Specialists at step2-company@step2.net or 1-800-347-8372 Monday through Friday, 8AM -5PM Eastern Standard Time and we will be happy to help you.
Date published: 2020-03-28