Deluxe Workshop™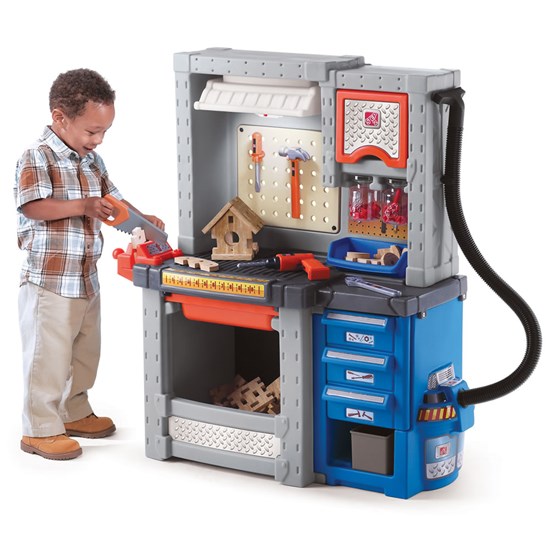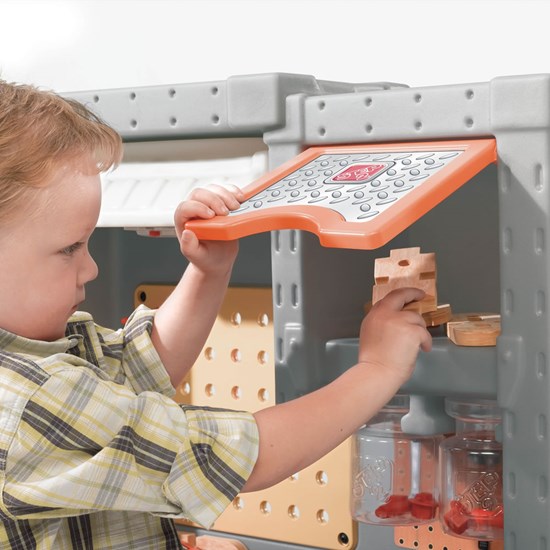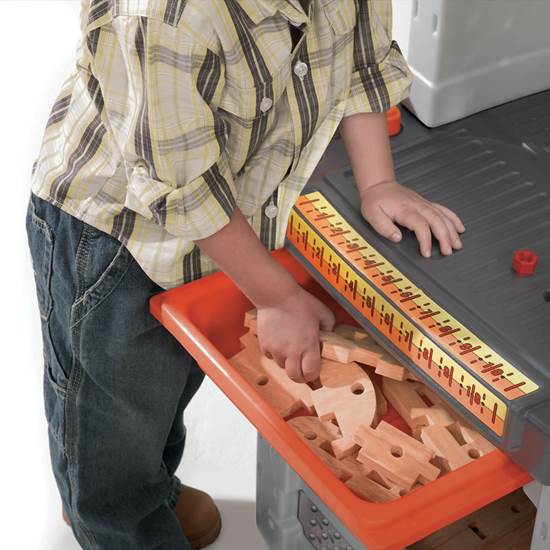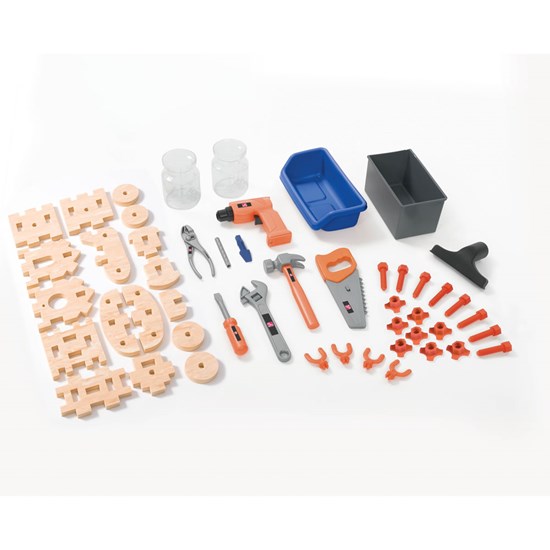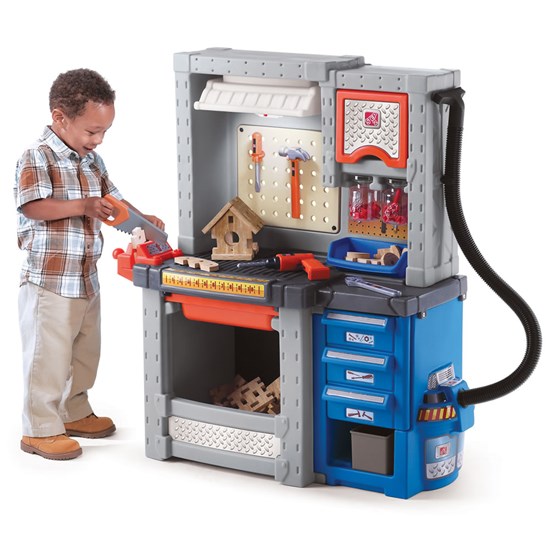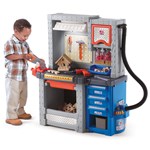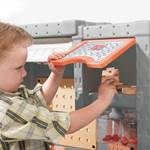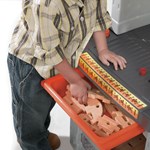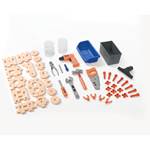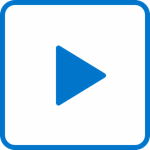 Deluxe Workshop™
Out of stock
$159.99 $149.99
+$12.99 shipping (via FedEx)
IS THIS A GIFT? DON'T SPOIL THE SURPRISE!
This item ships with an image of the product on its outer packaging.
Rated 4 out of 5
by
Mary Poppins
from
Just a Bit Disappointed
Always have been happy with Step 2 products. Just wish that you would have included enough of the foam wood pieces to be able to make all 4 projects shown, and not only three of them. You have 8 bolts and 8 nuts, but there is no use for them except to put the tires on the car project. To use them on the workbench you have to remove the orange drawer. A more powerful power screwdriver would havwe been nice. Otherwise very happy with it and my daycare children will be excited in the morning when they see it. The old one finally gave up after having it for more than 12 years. The Texas sun finally killed it. Money well spent for a home daycare provder. :)
Date published: 2013-02-06
Rated 5 out of 5
by
Hockey Pux
from
...And Cue Imagination!
My 4 1/2 year old son LOVES this workshop! It is durable, has a working light, a vacuum (although it does not have a real function or make noise...we wish it did.), a working drill, ample space for storing tools, 2 different storage-like removable trays, removable jars that have their own built in place AND the wood foam pieces are so much fun! It is quite a joy when you have a happy child. We have so much fun playing with this workshop together every day creating not only fun things, sparking limitless imagination and laughter but also memories that will last a lifetime.I absolutely recommend this! It's perfect.
Date published: 2013-01-02
Rated 5 out of 5
by
DMama
from
Sturdy for the little craftsman!
We bought this for our son's first birthday (he has too many baby toys), he LOVES to walk around and fix thing on this little shop. He used the tool shop for a lot of his balance support, it barely moved on him.Our 3 year old daughter loves it too, she can actually make the items, which she's very proud of.Great toy for both genders! Tools are nice. Drill works and comes with a bit. My son's favorite tool is the saw that makes a cutting sound when drug across the "boards". Very cute! The HUGE box it came in was a big hit too! ;)
Date published: 2011-10-11
Rated 5 out of 5
by
MommySoto
from
FANTASTIC TOY
We were looking for a toy that our 2yr old son could play with that was comparable to a kitchen for a girl. WE FOUND IT!My son absolutely loves all of the different tools and there are many things to keep him busy. It is also a wonderful "daddy and me time" toy, as he learns how to use all of the different tools. IT IS PERFECT!My husband put it together in 30 minutes and it was ready to go! He did find that he needed his drill, though.You will NOT be disappointed with this toy!
Date published: 2011-08-14
Rated 4 out of 5
by
Shak
from
Awesome
Nice toy. We bought it for our son's 3rd birthday and he enjoys playing with it. I only wish the drill worked a little better because I have to help screw things on while he's using the drill. We love putting the durafoam pieces together as well but I would like to find more so he can use more of his imagination. Overall it's been a great toy, now if I can't find him elsewhere in the house I can always look for him in his bedroom playing with this toy.
Date published: 2011-10-30
Rated 5 out of 5
by
Kitchen Kelli
from
Sturdy Quality and Child Safe
We bought this for our grandson for Christmas. There's a light that can be used as a nightlight if you have it in the bedroom. Our grandson is thrilled with it and sometimes, when it is very quiet (does not happen often when he's here) we find him quietly playing with his tools that are just like PaPa's. I cannot recommend it highly enough - especially since it is made in the good old U.S.A.
Date published: 2015-01-08
Rated 5 out of 5
by
LKN Mom
from
Deluxe Workshop - My son loves it!
We got the Deluxe Workshop for my son's 2nd birthday. He loves it and it will grow with him as he grows. Within minutes he had put the screws in the holes and was using the electric screwdriver to pretent to attach them to the table. We waited until the night before his birthday to put it together. My husband is an engineer and was a little frustrated at the instructions but was able to put it together with only a little grumbling! The tools are great and lots of storage to put his tools away (we are still working on that!). The light works great and adds some quality and detail to the unit. He's a little young to use all the tools properly and to put all the projects together but Grandpa is teaching him more and more everyday. Fun for adults too - I found his Grandpa playing with the tools and projects when my son was not around!
Date published: 2012-11-20
Rated 4 out of 5
by
Anonymous
from
Grandson Loves His Deluxe Workshop
I purchased this for my 2-year-old grandson. He loves to play with the tools. They are fairly authentic for toys. The bolts that screw in the workshop table top do not screw in and out very easily. Why add the vacuum if there was not going to be any noise to simulate a vacuum? It would have been better off without the vacuum hose. Overall, it is a very good product, although a bit pricey.
Date published: 2011-01-09
Can I purchase the tools and accessories it came with. I have the workshop but we lost all the accessories it came with 
Please contact our Consumer Service Specialists at 1-800-347-8372 Monday through Friday, 8AM -5PM Eastern Standard Time and we will be happy to help you.
Date published: 2021-05-12
Can I purchase just the items that are included in this step 2 ?
Please see link for available parts. https://www.step2.com/parts/p/deluxe-workshop
Date published: 2021-01-19
Do the tools actually screw the bolts etc? Many just make noise but don't actually DO anything to the nuts and bolts etc 
Yes they do work just like the real thing! It's so cool! We got this for my son when he was 2, he is 4, and it is still his favorite thing because "it is just like Daddys!" :-)
Date published: 2019-09-03
Can I order the vacuum separately? I bought a playset 2nd hand and it's missing the vacuum.
Please contact our Consumer Specialist Staff at 1-800-347-8372, Monday through Friday, 8am-5PM Eastern Standard Time for assistance with ordering replacement parts.
Date published: 2018-12-07
Do you ship to england if so how long for delivery
Thank you for contacting Step2. We do not ship to international countries at this time like England. We apologize Regards, Step2 Consumer Service
Date published: 2018-11-20
Is there a supplemental accessory set available? My Grandson would like more wood and bolts/screws.
We do offer replacement accessories for the Deluxe Workshop™. Please contact our Consumer Service Specialists at 1-800-347-8372 Monday through Friday, 8AM -5PM Eastern Standard Time and we will be happy to help you.
Date published: 2018-01-30
Does the vacuum make noise?
Step 31 and 32 show a part that connect to the vacuum, did anyone receive it in their box?
Date published: 2018-03-27
What is the height measurement from the floor to the work surface? I want to make sure my little one is tall enough. Thanks!
The work surface of the Deluxe Workshop™ is approximately 20 inches from the floor.
Date published: 2017-12-04