Dino Rocker™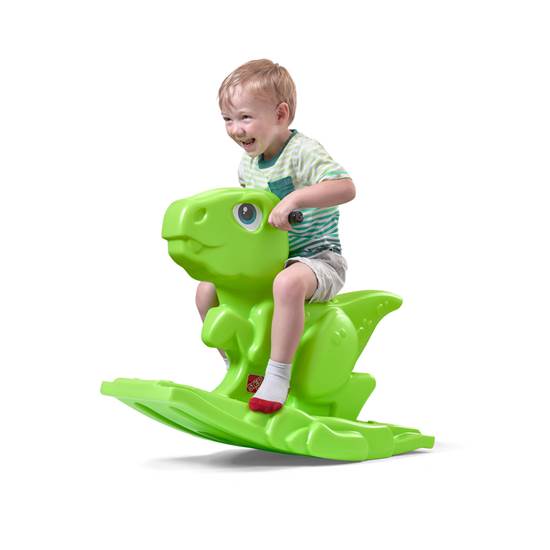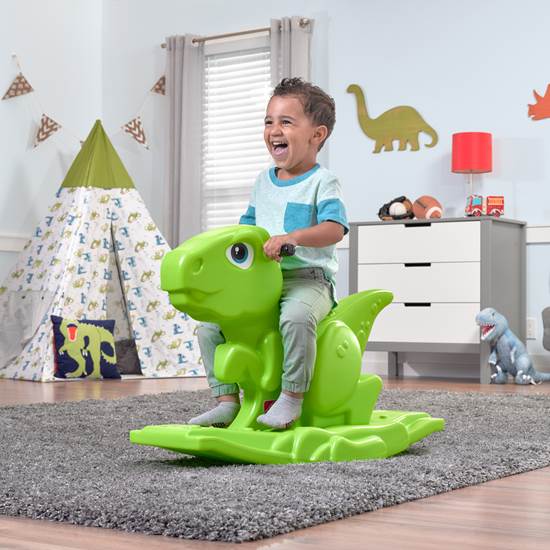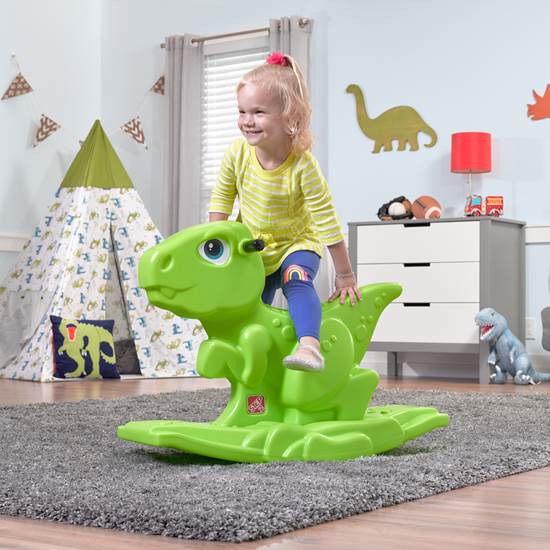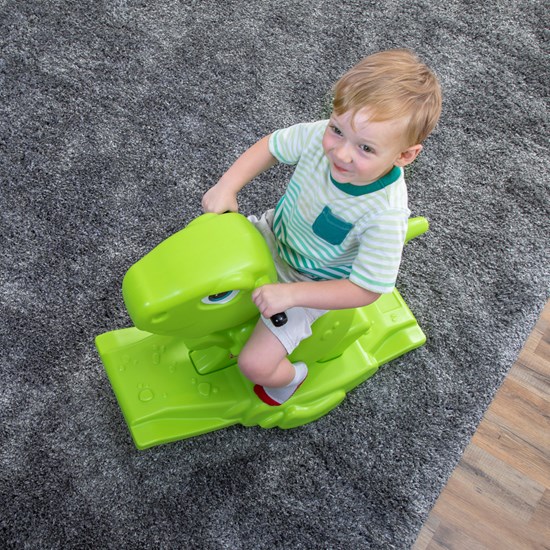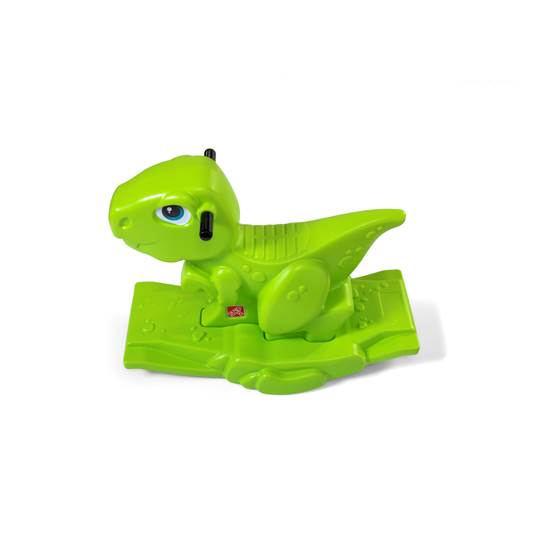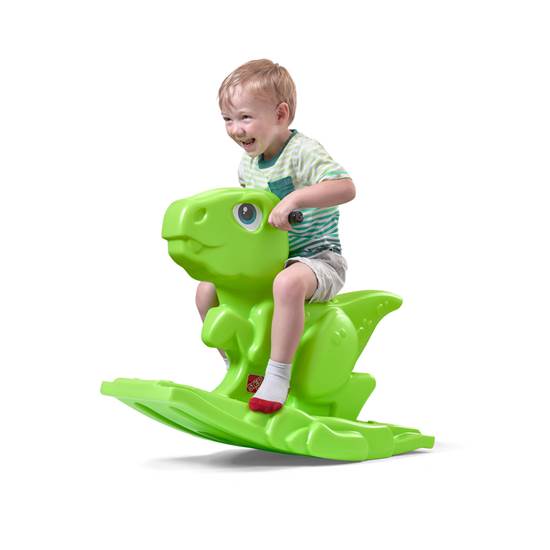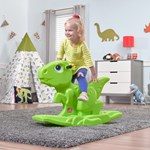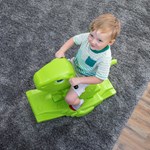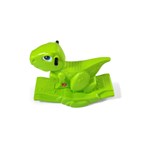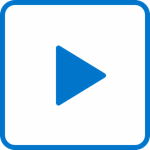 Dino Rocker™
In stock
$54.99 $49.99
+$5.99 shipping (via FedEx)
IS THIS A GIFT? DON'T SPOIL THE SURPRISE!
This item ships with an image of the product on its outer packaging.
Rated 5 out of 5
by
Chere25
from
Tons of fun
My children were so excited to see this when we got it in. They were ecstatic about the realistic dinosaur. The rocker was easy to put together it was actually very simple I was able to put it together within a few minutes with no hassle. The kids so far have loved it and will not stay off of it I will actually have to but another one so they can all have a turn. They loved to place the stickers on it and wished for more just for them. I like that it's a hard plastic and that I can let the children play with it indoor or outdoors and if it gets dirty it's as easy as wiping it down with a wash cloth and it's good to go. The bright green color makes it stand out and the kids live it even more.
Date published: 2019-10-09
Rated 5 out of 5
by
amcdonald27
from
Rawr-ing good time
I opened and put the product together and my son loved it! My son isn't even two yet, but the dinosaur is very stable and my son can get up and down without any issues. He loves playing and it so does his older sister. She just turned 4 and she can ride it without any problems as well. It keeps them busy and active. The only problem I had was that I didn't receive any decals for the eyes and the handles were a little difficult to slide on. Thank you Step2 for letting me test this item as part of the Step2 Toy tester program!! It's a toy that my children can enjoy and have fun together.
Date published: 2019-10-01
Rated 5 out of 5
by
TaylorC
from
Instant Favorite!
The Dino Rocker was an instant favorite with my 2.5 year old! My son played with it for hours after taking it out of the box. The product is sturdy and very easy to assemble. There are only two main pieces and then the handle bar with handle grips. The only difficult part during assembly was trying to get the grips onto the handle bar, other than that it was a piece of cake! I like that this product could be used for indoor or outdoor play. This product is a must have, and I definitely recommend it. Thank you Step2 for letting me test this item as part of the Step2 Toy Tester Program!
Date published: 2019-09-08
Rated 5 out of 5
by
Betsy
from
Prehistoric fun!!!
The Dino rocker is great for my 28 month old. He was excited to try it. He loves rocking on while watching his favorite shows! We loved the bright green color and the fact that it is so light weight. My son was able to move it from the family room to the kitchen without any problem. It was so easy to put together-my 9 year old did it in no time! It was nice that they weren't 9 million pieces needed to assemble it. The rocking motion does have a slight range of motion, but it didn't take away from the fun! The Dino did not come with the eye stickers but we called Step 2 right away and they sent them to us at no charge! We love this little dino addition to our playroom of toys! Thanks Step 2 for another great product!
Date published: 2019-09-26
Rated 4 out of 5
by
JacksMom17
from
Fun Product
This product is fun for the active toddlers that LOVE dinosaurs and to be on the move. The DinoRocker is great for gross motor and the sensory input that some kids need to self-calm. It keeps them busy and active. This is a great gift for a first or second birthday! The assembly of this product was easy for the most part. Placing the caps on the end of the handles was very challenging (photo included). Other than that it wasn't too bad! We also did not receive the decals for the eyes. Every time I tried to call for parts, the company was closed. I am a working mom and the times did not coincide with my available times. All in all, my son LOVES this toy and yells "yeehaw" when riding it. Thank you Step2 for letting me test this item as part of the Step2 Toy Tester Program!
Date published: 2019-09-17
Rated 5 out of 5
by
2BoyMom
from
Perfect for 2 yr old!
My 2 yr old son loves the Dino Rocker! The style and durability makes this a great toy for his age group. He is able to get on and off on his own. I would recommend this toy to any parent. Assembly was fairly easy. I would recommend using an electric screwdriver to make it easier. There are no pre-drilled holes for assembly making it difficult to use a standard screwdriver. Thank you Step2 for letting me test this item as part of the Step2 Toy Tester Program!
Date published: 2019-09-09
Rated 5 out of 5
by
Bree819
from
Amazing kids Rocker
This product exceeded my expectations and I love that it was the perfect size for my 2 year old son. It was very easy to put together. It called for a screwdriver but we used a drill to make it an even easier process. The caps on the handle bars were a little tough to get on but we sprayed it with Pam to make it go on smoother. Once the product was put together (5 minute process) it was so much fun for the kids. It glides back and forth very smoothly. We love how easy the process from unboxing to putting together was and the joy our kids get from riding. We love the look and color of the rocker and overall our kids love it too. If you're looking for a rocker, this is it. An easy way to keep the kids busy and active. It is now a staple toy in our living room. Thank you Step2 for letting me test this item as part of the Step2 Toy Tester Program!
Date published: 2019-09-18
Rated 5 out of 5
by
Christy16
from
Love!!
We LOVE our Step2 Dino Rocker!! My almost 3 year old son loved it from the second his dad and I pulled it out to put together. He kept saying "cool.. cool.. cool" the whole time, and he's not even a big talker yet. The fun bright color , and super cute design is absolutely amazing! Very minimal assembly, and only one downside to putting this adorable guy together. The handlebar grips.. They were so hard to get on (even with trying the soap and water tip the instructions give, and a couple other things I tried) my fiancée and I started to debate how necessary they were.. Answer to that is very necessary, so we persevered. I will say though, the grips took the most time to put this guy together, which isn't bad, and the grips are definitely not going anywhere once you get them on. I would recommend the Dino Rocker to any little guy or gal who loves their dinosaurs! Thank you Step2 for letting me test this item as part of the Step2 Toy Tester Program!
Date published: 2019-09-23
What is the weight limit?
I purchased the Dino Rocker from JC Penney's in December for my grandson. I just noticed that the stickers for the eyes were not in the box. Can you mail them to me?
Date published: 2021-01-12
Any tips to get the rubber on the handles?
I apply a little dish soap to my finger & put it on the inside of the rubber handle & on the plastic tube itself.  It allows you to twist the first tube on.  Don't push it all the way in.  Then put the plastic tube through the unit & do the same to the other side.  As your twisting & applying pressure both handles go further into the rubber handles & you can adjust the pressure to make the rubber ends go on evenly so that one doesn't have a lot of extra room at the end.
Date published: 2020-07-21