Downtown Delights Kitchen™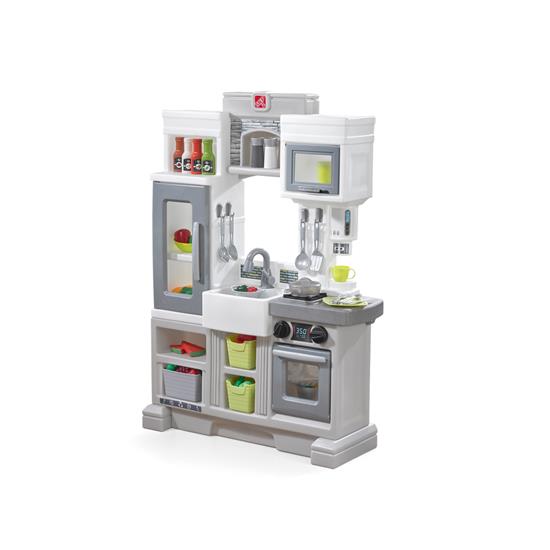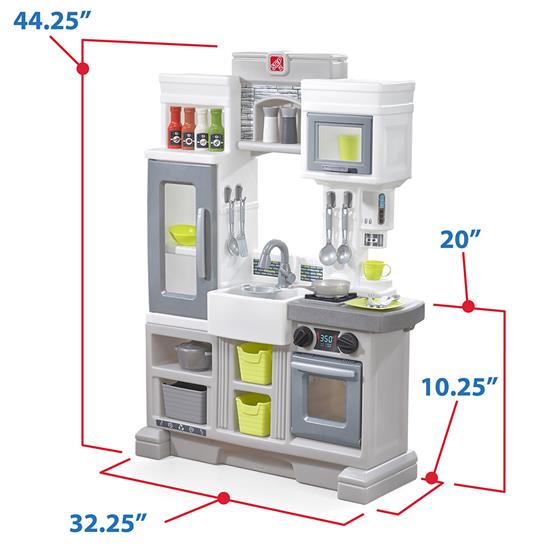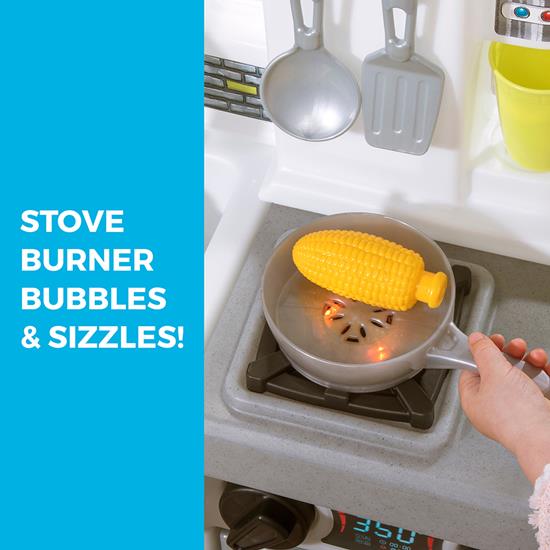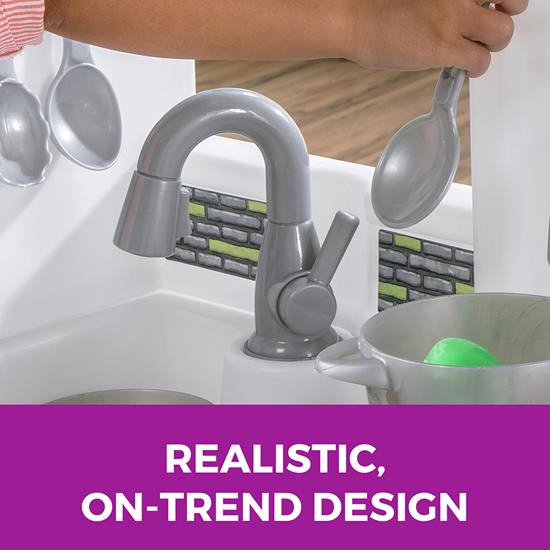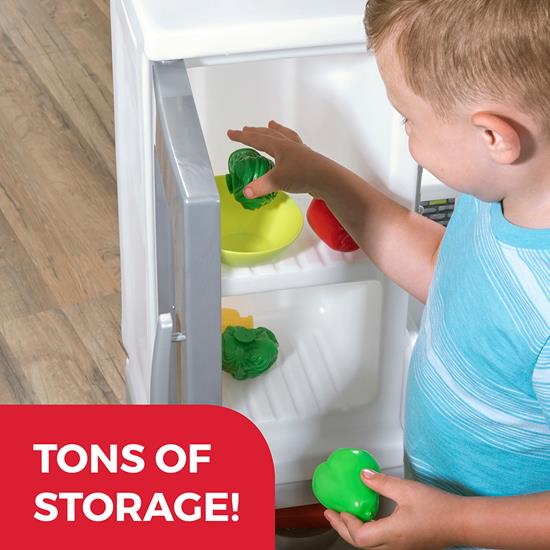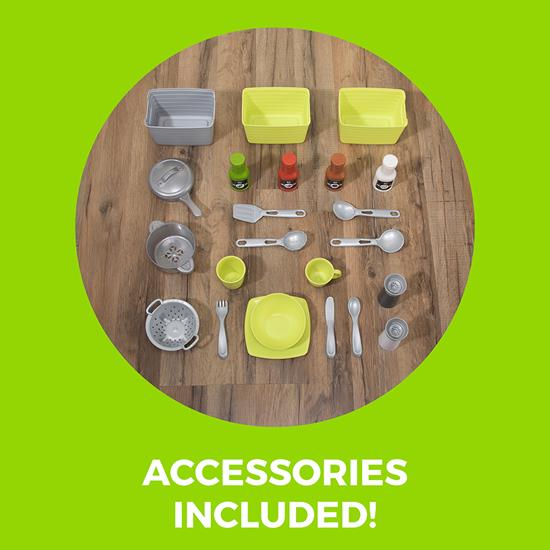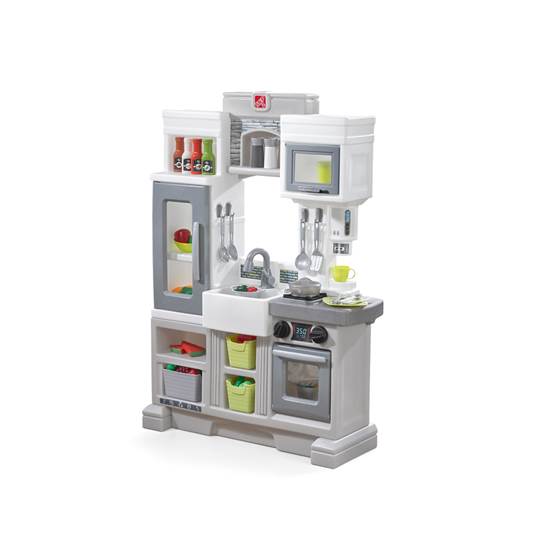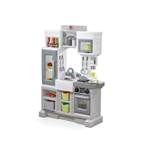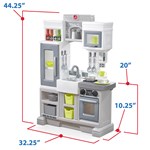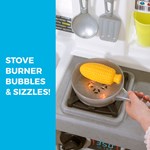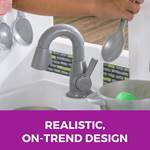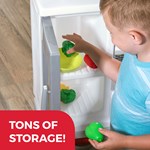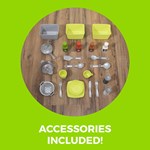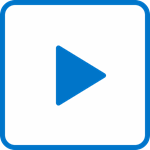 Downtown Delights Kitchen™
In stock
$99.99
+4.99 shipping (via FedEx) When will my item arrive?
Your mini chef will thank you for getting them started with the Downtown Delights Kitchen by Step2!
IS THIS A GIFT? DON'T SPOIL THE SURPRISE!
This item ships with an image of the product on its outer packaging.
Rated 5 out of 5
by
KCC05
from
Keeps kids busy for hours
My kids are loving this kitchen set. It was so easy to assemble. I like that it isn't bulky but it is very durable. The size is perfect it isn't too large which makes putting it up so much easier. This kitchen has all the bells and whistles that will keep a kid busy for hours. The lights and sounds really makes my kids feel like they are actually in the kitchen preparing food. I was surprised at how many accessories this kitchen came with. The little storage bins are great. It's teaching my kids how to stay organized. You can definitely tell that this kitchen set is heavy duty and will last for a long time. I highly recommend this product.
Date published: 2019-07-14
Rated 5 out of 5
by
Aidajulie1
from
We love this downtown delight kitchen
I so excited because today 07/08/19 I received The Downtown Delights Kitchen through the Step2 Toy Tester Program. My toddler (baby natalie) she loves this kitchen is very big and very comfortable for play 2 to 4 kids, but I can lie probably love it more. The good this about this kitchen is very nice big sink and the one she like and have more fun is the water boiling sound on the burner. Tomorrow we think to go buy some fruits and vegetables to go with it. I love the way Fits nicely into his play area in our apartment without taking up too much space. My 12 year daughter help me with assembly since there are no actual holes for the screws. But is very easy to assembly this kitchen nontake no more the 30 min, we love this product because is very safe to leave my toddler by her self play with this kitchen. We can wait to test morw products with my kids.
Date published: 2019-07-09
Rated 4 out of 5
by
MichelleP
from
A Modern and Compact Kitchen!
Thank you Step2 for letting me test this item as part of the Step2 Toy Tester Program! The Downtown Delights Kitchen is sleek, modern, and compact. Despite being compact, it has everything necessary for kids to fully engage in imaginary food prep and cooking. We had no issues with assembly, which took approximately 30 minutes. The extra large sink has been an attraction to my kids and they love the fact that it is deep enough to "wash" the pots and dishes. The large, see-through refrigerator has also been a bit hit and is large enough to hold/store several pieces of food. The one drawback to the kitchen being compact is that it is not wide enough to allow 2 kids to play comfortably next to each other. There is only one burner on the stove and has very little counter space. However, this does allow the kids to learn to take turns and teach different roles in food prep and cooking.
Date published: 2018-10-01
Rated 5 out of 5
by
KimeaAnnG
from
☆ ☆ Fun. For. Hours. ☆ ☆
☆ I received The Downtown Delights Kitchen through the wonderful Step2 Toy Tester Program in exchange for my honest and thoughtful opinion. ☆ My children absolutely lost their minds when we arrived home around 7 o'clock at night on a friday to see this huge box sitting patiently beside the front door of our home. My daughter and son wanted nothing more then to tear into this box and start playing their little hearts out. Sadly it was just a bit too late in the afternoon so my husband and I decided to crack this sucker open in the morning. ☆ When we finally get everything out of the box the next morning we lay out all of the pieces in an organized manner. The instructions were very easy to read and understand but I do advise you to drive about three cups of coffee and take some advil before hand if you'd like to forego headaches you are FOR SURE going to get by the time you are done putting this kitchen together. I also advise you to make a rule with whomever is helping you set this up that anything said during the time spent building the kitchen is to be automatically forgiven and never to be brought up, EVER. This was the only part I disliked about the kitchen. There are no pre-drilled holes so unless you have extra arms its imperative that someone is there to hold the kitchen while you drill the screws in. *USE AN ELECTRIC SCREWDRIVER* You honestly don't need a big, fancy, expensive one just something that is automatic so you dont burn yourself out by the third screw. I have a cheap, super small drill from Walmart that I bought a few months ago and it worked fine with a bit of elbow grease. ☆ After putting the kitchen together I was surprised at how adorable and chic it looked. My daughter and son are really loving the stove top burner that actually lights up and makes cooking sounds when you place one of the included pots on top of it. I love the fact that there are many places to store other toys and food items. Doors that open and the cute little window above the sink. My daughter just loves that! ☆ The Downtown Delights Kitchen is a huge hit in our house! I am so grateful to Step2 for giving my family and myself an opportunity to test out one of their amazing products. We have never had a toy like this, well that wasn't brand new that is, so to see how excited, happy, and entertained for hours on end my daughter and son are is priceless to me. I am extremely appreciative to Step2 for this opportunity. Thank you so much! ♡ ♡ ♡ T H A N K Y O U Step2 for letting me test this item as part of The Step2 Toy Tester Program! ♡ ♡ ♡
Date published: 2018-10-11
Rated 5 out of 5
by
Adri0311
from
Cooking up some Fun
The Step2 Downtown Delights Kitchen is compact and practical. It is the perfect size for both of my boys to play and use their imaginations together. They take turns picking out the food, prepping the food, cooking the food and washing the dishes. My 2 year old enjoys the large farmhouse sink that allows him to wash the dishes which I found to also be a great feature. Both boys love the visual and sound effect of the stove. There is plenty of storage with multiple storage bins as well as the large refrigerator, oven and microwave areas that can also be used to store items. My favorite part is watching my boys being creative, using their imaginations and role playing. Not to mention watching my 5 year old use the spice and sauce bottles to season his food like mommy does is also a highlight. The only draw back is that no food items are included, but they can easily be purchased separately. Thank you Step2 for letting me test this item as part of the Step2 Toy Tester Program!
Date published: 2018-10-02
Rated 5 out of 5
by
mrsbethanymarshall
from
Stylish Play Kitchen!!
This kitchen is beyond words amazing! So stylish and has a lot of modern features. The translucent doors for the fridge, microwave, and stove are my 3 year old daughter's favorite part! I love the big farmhouse sink so she can actually pretend to wash dishes with enough room. I was nervous that this kitchen would be narrower than their old Fun with Friends Step2 kitchen, but it is about the same width and both my 3 year old and 1 year old can comfortably play with the kitchen! I love the stone "backsplash" and the pop of lime green color! My daughter has tons of fun making me coffee at the built in coffee maker. The realistic sounds of the stove top are also adorable! I really love that there are 4 spots to put the included storage baskets or to store play food and that there are 4 included small hooks to hang utensils, cups, etc. I really have nothing negative to say about this kitchen! It is super cute. It took me about 30 minutes to put together by myself, the instructions are simple. Thank you Step2 for letting me test this item as part of the Step2 Toy Tester Program! My children absolutely adore their new kitchen.
Date published: 2018-09-21
Rated 5 out of 5
by
ARobinson
from
Great Toy for Imaginations
We are really having fun with this kitchen! My husband and I assembled the product in just under an hour. It was fairly simple to do with the instructions included. We did feel like some of the pieces could have been pre-assembled in the box. Our toddler was extremely excited as soon as she saw the box and our son was interested while we were assembling it. We love that the burner lights up and makes different noises when you put the pot or skillet on it. It looks like there is actually a flame underneath which is a very cool feature. My toddler loves using the sauce bottles, salt, & pepper to season the food she makes. We also think the built in coffee pot is a fun addition. The Step2 Downtown Delights Kitchen is big enough for my two kids to play together and have a fantastic time. We put ours against the wall because our son is pulling up on everything and we were afraid he might be able to pull the kitchen down on himself. A little more weight in the kitchen might help it not seem as unstable. The kitchen is light enough to move around the house so you can play wherever. All the doors are easy enough for both kids to open. The kitchen is a good height for our 3 1/2 year old to play with for many years to come. Our kids are loving their kitchen and letting their imaginations run wild! Thank you Step2 for letting me test this item as part of the Step2 Toy Tester Program!
Date published: 2018-09-30
Rated 5 out of 5
by
Kimberbee7
from
Trendy, Functional, FUN Kitchen!
I received this toy kitchen through the Step2 Toy Tester program in exchange for my honest, thoughtful review. The directions have large pictures which show you exactly how to put everything together, and it is very easy to follow the steps. The assembly (at least for us) was a two-person job; unfortunately, we do not have an electric screwdriver, so we had to manually screw each screw in. There are no holes in the plastic in which to line up the screws, you have to line up the screws and create the holes with the screws yourself - this was fairly difficult to do without an electric screwdriver because the plastic is relatively thick. It took us approximately 90 minutes to put the kitchen together because there are a LOT of screws. If you have an electric screwdriver, your time will be cut significantly down and be much easier. It was also a little difficult to put the hooks in the walls to hang the utensils on; there are small holes to line up the pieces of plastic that keep it in place, but they're much, much smaller than the plastic that goes in. We had to twist our screwdriver in it to open up the holes a bit more to get the pieces in. Don't be scared off of purchasing this product because of our difficulty; I know it was only so difficult because we didn't have the correct tool, that's not Step2's fault. Once it's put together, it's absolutely worth the effort. Plus, with all the screws holding the kitchen together, I'm confident that it will never fall apart! Once the kitchen was put together, it was absolutely adorable. Its features include a large fridge that opens with 2 shelves, a spacious farmhouse sink, stove top that makes noises when a pot or pan is placed on it, an oven with an opening door, microwave that opens, and a ton of storage for play food. It comes with salt and pepper (not included in my pictures, sorry, my kids decided those were bath toys now!), 4 various sauce bottles, plate, bowl, cup, teacup, fork, knife, spoon, pot, pan, lid, colander, 4 cooking utensils, and 3 bins. I love how spacious the fridge is and how deep the sink is - you actually have enough room to wash dishes in it! My kids have played with other play kitchens at friends' houses and church, and the sink barely had enough room for a plate. I also enjoy the contrast the lime green pops of color give to the grey and white design. My only complaints were the difficulty of assembly (which would have been alleviated if we had the proper tool), and I wish it came with ketchup and mustard in addition to the other sauces. I also wish the different types of screws had been separated by type instead of all jumbled together in the same bag. All things said, I'm extremely happy with this kitchen, and if I did not receive this for free, I would certainly purchase it. My kids (5 year old and 3 year old) have spent hours cooking with this kitchen since we received it, and I know it will bring them years of joy in the future. Thank you Step2 for letting me test this item as part of the Step2 Toy Tester Program!
Date published: 2018-10-05
Is there a way to anchor this or add water to the feet to steady it? 
Please contact our Consumer Service Specialists at 1-800-347-8372 Monday through Friday, 8AM -5PM Eastern Standard Time and we will be happy to help you.
Date published: 2019-05-13
Ordered this for Christmas for my daughter and was wondering if it was possible to get extra matching dishes for this set?
Please contact our Consumer Service Specialists at 1-800-347-8372 Monday through Friday, 8AM -5PM Eastern Standard Time and we will be happy to help you.
Date published: 2019-01-16
What is the box dimensions? I want to take it with me to kids overseas and need to know if it would fit in a suitcase.
The carton/box dimensions for the Downtown Delights Kitchen™ are as follows : 30 x 9 x 43.5 inches
Date published: 2019-01-14
I am trying to choose one for my child. what is the height from floor to counter top? Thank you.
The counter top of the Downtown Delights Kitchen™ is approximately 20 inches in height.
Date published: 2018-12-04