Dream Kitchen with Extra Play Food Set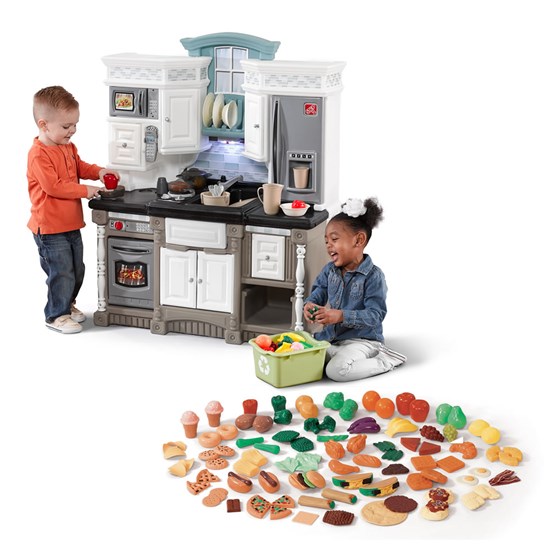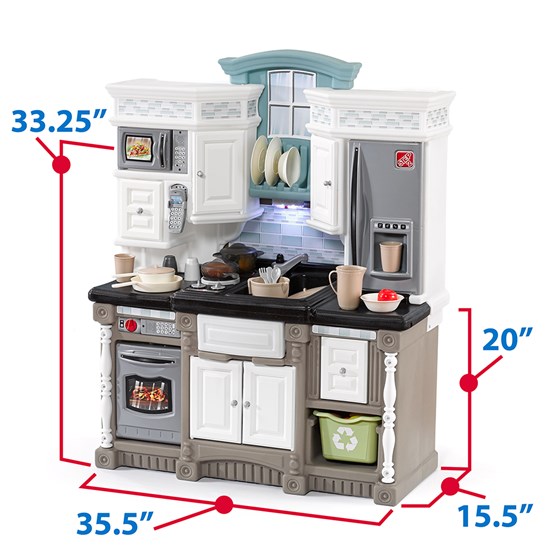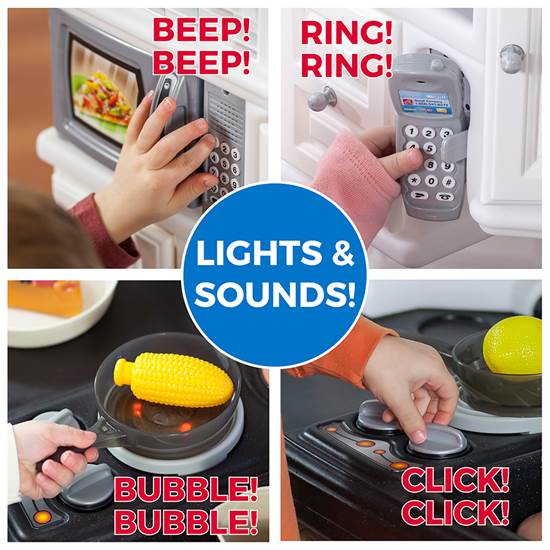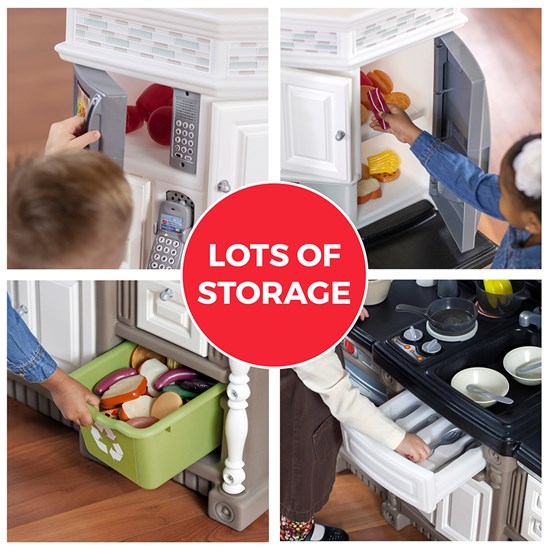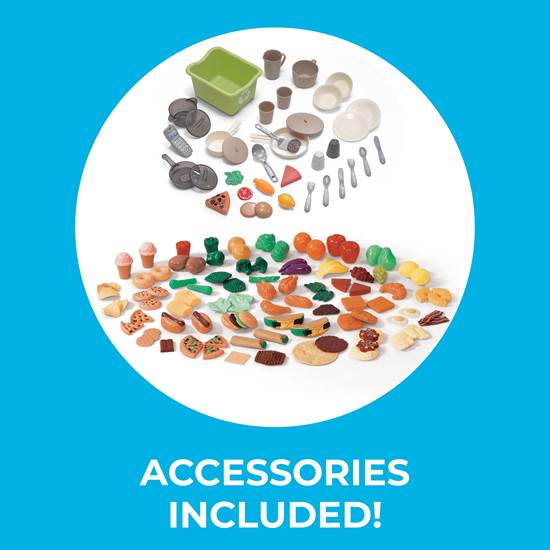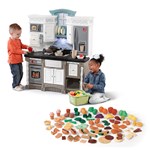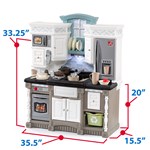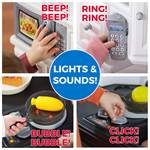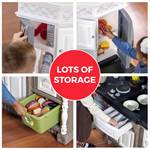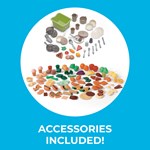 Dream Kitchen with Extra Play Food Set
In stock
$204.98 $182.99
+ FREE Shipping! (via FedEx)
This Step2 pretend kitchen play set is perfect for little chefs that like to pretend to cook with tons of play food!
IS THIS A GIFT? DON'T SPOIL THE SURPRISE!
This item ships with an image of the product on its outer packaging.
Rated 4 out of 5
by
B Mama
from
Great product but with a flaw
Love the storage and counter space that comes with this kitchen. After looking at a lot of other people play kitchens I found that this one had offered counter space and a good bit of storage as well as noise making functions for the oven, microwave, and stove (which my child really enjoys). The reason I gave it only 4 stars is the fact that some of the cabinets do not close properly. These cabinets that do not close we're already attached to the larger part of the kitchen at the manufacturer. Therefore, it wasn't an error that I made when trying to assemble at home. Despite the cabinet doors, I do think my child will enjoy this for several years.
Date published: 2020-08-23
Rated 5 out of 5
by
dianesewtoomuch
from
DREAM KITCHEN
OH MY GOSH - This product is AMAZING - I just purchased this for a Christmas gift for my Grandson and his sister . I have the same one at my house for the past several years - and it is so sturdy and still looks brand new. It is made so well, the light over this sink is adorable and the kids have so much fun with this set that I own. And this will make my grandkids day getting this on Christmas. Everything I own that is Step 2 (which I still have from raising my 4 children), still look brand new and the grandkids are now enjoying these items that were used by their parents. Your company makes solid well made toys, and I can't thank you enough. This kitchen set is THE BEST - just so fun and made so well !!!!!!!
Date published: 2020-10-20
Rated 5 out of 5
by
Anonymous
from
Cutest kitchen ever!
My husband put the kitchen together in well under an hour which was less than I expected for assembly. Our daughter absolutely loved the kitchen when she saw it on the morning of her 2nd birthday! It replaced a smaller kitchen she had and it was a big hit, especially with all of the cool sounds! The light over the sink was a great idea! The only thing I would change would be to have larger cabinets for more storage. Overall, I would definitely recommend this kitchen!
Date published: 2017-04-08
Rated 2 out of 5
by
Liv1
from
Disappointed
We ordered this kitchen for our daughter for Christmas and as we are opening it to put it together we see tons of dirty marks on the kitchen doors:( it is gross! What is this? I hope the phot attached to this comment!
Date published: 2018-12-25
Rated 4 out of 5
by
sheena0910
from
Great for many ages
My daughter is two and plays with this everyday. All the different doors and accessories are a bonus for keeping her interested. Even her older cousins (4 and 6) love playing with this kitchen and its large enough for them to all play at once but doesn't take a huge amount of space at the same time. Biggest disappointment is that the doors dont close all the way and the drawers don't sit level all the time.
Date published: 2017-09-23
Rated 5 out of 5
by
megrand
from
grandson loves plays on it forever
My grandson loves play kitchens so I got him this one for Christmas. He plays on it all the time. They set it up next to the real kitchen and play with him while they cook dinner. I think it is the best present ever. THe kitchen has a lot of details, lights and sounds that make it a delightful experience for him.
Date published: 2018-01-04
Rated 4 out of 5
by
Herba317
from
Very nice set
My daughter loves this kitchen set. The microwave and oven have buttons with noises and the stove burners make it seem very realistic. Ours arrived with a slight dent that I didn't notice until a few days later and the doors don't close all the way, which is why I'm not giving it five stars. I would also skip the 100 piece food add-on. My daughter likes it but there's not enough room for it plus the cookware. I'd rather buy a smaller set for food.
Date published: 2017-10-31
Rated 5 out of 5
by
Sykesville Grammie
from
Dream Kitchen with extra food
This is a fantastic kitchen . Bought for my 14 month old granddaughter and 5 year old grandson enough to keep them both happy . Love the sounds I went online and ordered an extra phone and extra pot and skillet that sizzle ... much easier then thier fighting over . Great size and only took me a couple hours to assemble . Which is always a bonus if I can do it alone ...
Date published: 2018-06-28
Can I purchase new stickers? I bought the kitchen used and it's smells like cigarettes. I'm afraid if I scrub it down the stickers will come off.
Please contact our Consumer Service Specialists at 1-800-347-8372 Monday through Friday, 8AM -5PM Eastern Standard Time and we will be happy to help you.
Date published: 2020-03-05
How can I find replacement parts? We bought the kitchen second hand and I'm looking to clean it up 
We now offer replacement parts online. Please view the following link : https://www.step2.com/parts/ Or you may also contact our Consumer Specialist Staff at 1-800-347-8372, Monday through Friday, 8am-5PM Eastern Standard Time for assistance.
Date published: 2019-07-08
May i know the exact dimensions of all the boxes as shipped?
The LifeStyle Dream Kitchen™ packaging dimensions are as follows: Box 1 ) 17.25 x 9.625 x 35.75 inches Box 2) 20 x 17.5 x 36 inches The 101 Piece Play Food Assortment packaging dimensions are as follows: 11 x 7 x 6 in
Date published: 2019-06-18
can the kids press the buttons on the microwave, fridge? do they make sounds?
Yes, they can push buttons that make sounds on the microwave and stove. Unfortunately, not on the fridge. My little one makes pretends sounds for the water on the fridge. This is a fabulous unit, buy it! The one toy that they never get tired of and grows with them.
Date published: 2018-10-10
Does this item pack in 1 package or 2 seperately?
Two boxes, not to large, and surprisingly not to heavy.
Date published: 2018-04-25
Boiling sounds and lights?
The burner lights up and makes a boiling sound when you put the pot on and a sizzling sound with the frying pan. There's also a light over the sink.
Date published: 2017-12-14
Does this come with the dishes shown in the picture or are those sold separately?
I bought  this for my granddaughter's 5th Birthday in September, who lives in another state. I heard from a step 2 representative that it comes with everything you see. Please note that I purchased the extra food. I heard my Granddaughter loves it.
Date published: 2017-10-10
I want the Step 2 dream kitchen with extra food, but site won't let me add the combo kit to order