Duck Pond Water Table™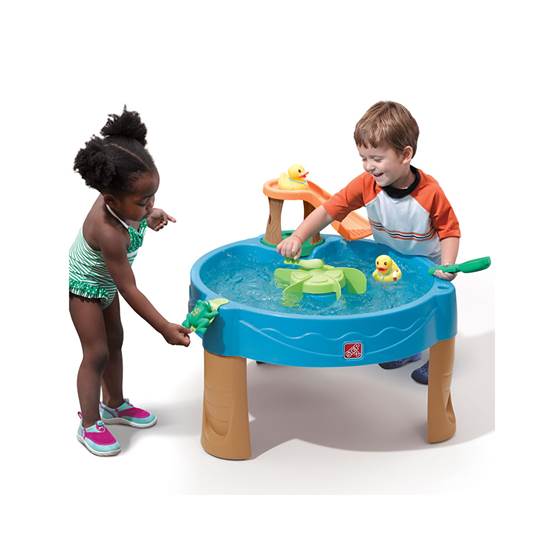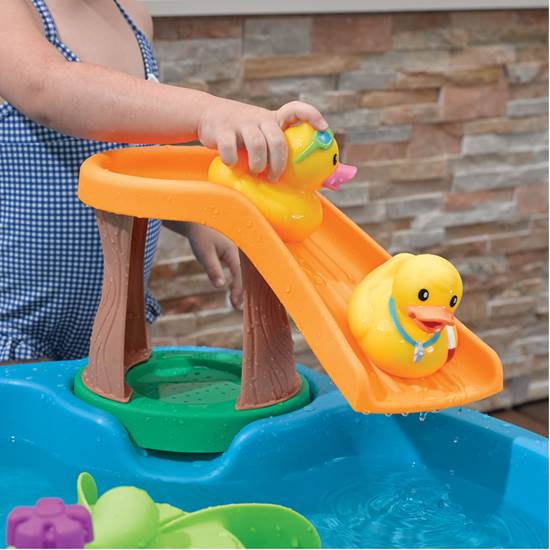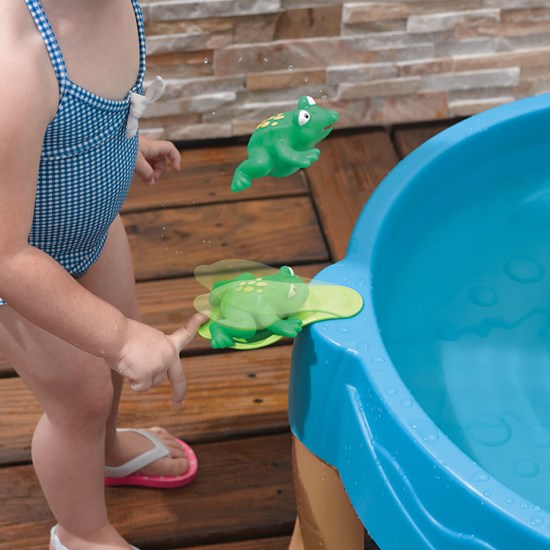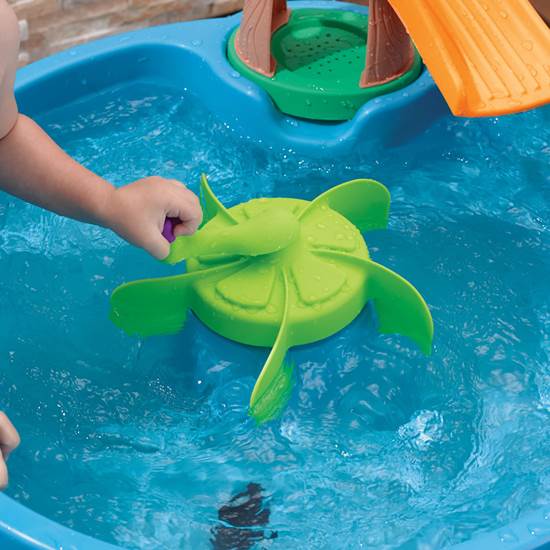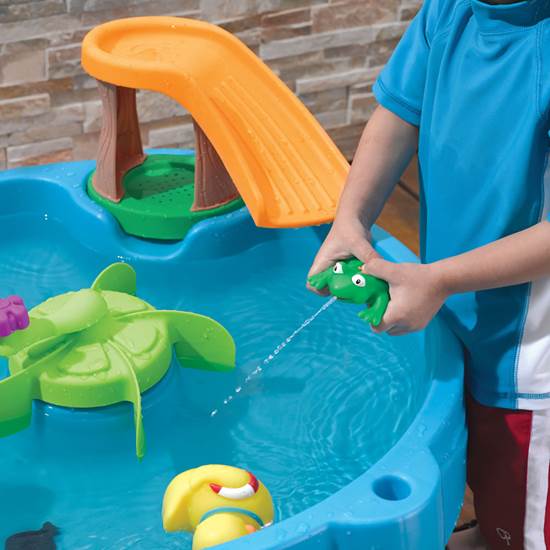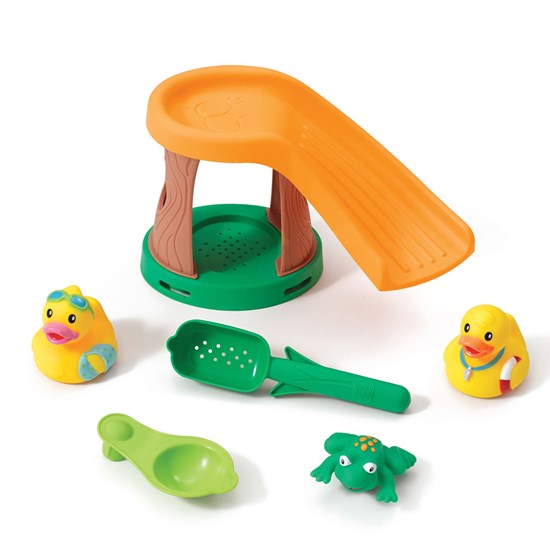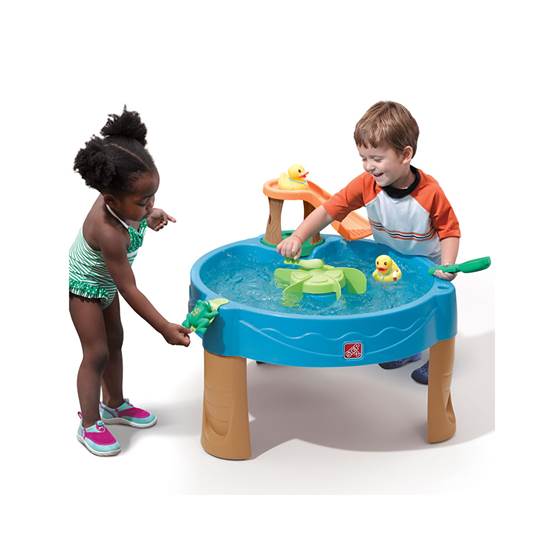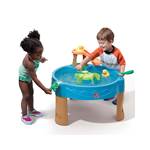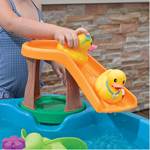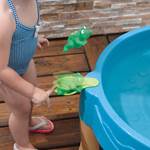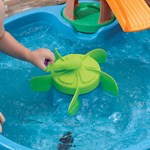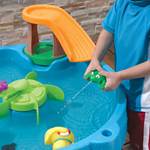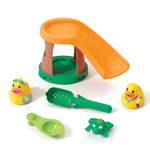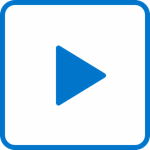 Duck Pond Water Table™
In stock
$49.99 $39.99
+$5.99 shipping (via FedEx)
IS THIS A GIFT? DON'T SPOIL THE SURPRISE!
This item ships with an image of the product on its outer packaging.
Rated 5 out of 5
by
WhatDoesSheDoAllDay
from
Splashes of fun for my two girls
Thank you to Step2 for letting me test this item as part of the Step2 toy tester program.The Duck Pond was very easy to assemble except the drain plug. It was very difficult to get it seated all the way down, but once you get it in there it keeps water from leaking. All the other pieces snap in easily. The ducks and frog that come with are the perfect size for little hands. My 1 year old and 3 year old love flinging them into the water and sending them down the slide. The table is at a great height for both girls, so we'll get many years of use out of the table. The only downside is that the slide doesn't stay snapped in so it can be bumped out of place and into the water.
Date published: 2014-02-28
Rated 4 out of 5
by
NurseMom
from
Endless entertainment.
My 18 month old loves this water table! We have it outside on the patio, and it's the only thing he wants to do when he's outside. He loves sending the animals that come with this down the slide. He hasn't been able to get the hang of the flipper to fling them into the water, so we help him with that.I chose this water table because my kiddo can reach all the features here, which was not the case with many of the other tables we looked at.We haven't had any problems with leaking since my husband seated the plug properly. When I first set it up, it was too hard for me to push the plug in all the way. He got it in no problem.Very good value for the price, and easy to clean, too.
Date published: 2016-11-06
Rated 3 out of 5
by
Grandpa.
from
Drain plug a useless pain.
Drain is needless, and plug is extremely difficult to install. Why doesn't the company install the plug? I see many reviews complain of 'leaking' - I'll take a guess that the plugs are not properly seated. I ended up using Vaseline on the plug, and a blunt tipped screwdriver, and finally succeeded in getting the plug in place. Very frustrating, for no good reason.
Date published: 2015-05-13
Rated 1 out of 5
by
Meg96
from
Dissapointed
I was excited for my 1 year old to be able to play with this now that it finally warmed up! However the slide part will not stay in. You can bump it ever so slightly and it falls right off. Othet then that its great but if you want the slide part I recommend buying a different table.
Date published: 2019-05-15
Rated 4 out of 5
by
The Crazy Mom
from
Good enough...kiddo is happy
Perfect for what we bought it for, a backyard water toy so we wouldn't have to go to a pool every day for her to get her water play fix. It does leak in two spots- the center and by the drain plug, but we got it on sale so for the price we paid- feel it was still worth marking it four stars since she absolutely loves playing with it and keeps her entertained for a couple hours at a time. (We added other floaty friends from the toy box so hence the extra time of enjoyment.)
Date published: 2016-03-21
Rated 4 out of 5
by
Sanali16
from
Nice!
I've been wanting to get a water table for my toddler for a while now and have been on the lookout for a good one. The duck pond water table is a great value compared to other larger tables that are available. It has plenty of room to splash and play with cups and other small toys we already had, in addition to the accessories it comes with. It is also pretty quick to clean up with drainage built in. We plan to use it a lot in the upcoming spring and summer months!
Date published: 2020-05-03
Rated 5 out of 5
by
Sandy81882
from
Very happy!
Liked this product very much. Very easy to put together. We have it set up in the house since it is so cold out and my daughter (17 months) loves playing with it even without water in it! Very happy with it and love the spiny thing in the middle. Only wish the slide and flapper would stay in a little better. Comes out a little to easily. Even given that I would still recommend this water table.
Date published: 2015-03-31
Rated 3 out of 5
by
Sam L
from
My son loves it.
At first it leaked, when I called customer service. The lady was nice and knowledgable of the product. Wish it included that you need to put Vaseline around the plug as a sealant.
Date published: 2016-03-21
Was the plug supposed to be packaged with the other parts or toys or loose by itself?
If I remember correctly it was in its own bag. I would call Step 2 if yours wasn't included. They have really great customer services and will replace the missing plug fast. Good luck :)
Date published: 2018-03-27
How do you get the table to stop leaking? Pushed the plug in as far as it will go.
Was just having this problem. Remove plug, open, and reinsert (while open). Be sure to press firmly all the way around. You'll notice a difference. Close the plug and fill.
Date published: 2018-03-27
What is the diameter of the bottom circle the slide is attached to that sits in the table?? We have a water wheel already and I would like to know if I might be able to interchange the two...
Could anyone tell me if the area where the slide sits can be interchanged with other pieces from other water table and if so which ones work
Date published: 2018-03-27
Some of our pieces got lost, is there a way to replace them?
You'll need to contact customer service. The number should be on their website.
Date published: 2018-03-27
Can the legs be removed for storage?
I think they might but very hard to get off so I just leave them on.
Date published: 2018-03-27
Can this table be taken down/apart for storage? Trying to take the legs off and not having much luck. I don't want to waste any more time if they aren't supposed to come off! :)
We do not recommend removing the legs from the Duck Pond Water Table™.
Date published: 2018-03-27
I need a replacement part for the duck pond water table. I need 2 of G In the instructions #10. Was left out how can I get the replacements parts ? Thank You Eunice Ramsey.
You can order replacement parts through our Customer Service Department. Please call toll free 1-800-347-8372 Monday - Friday, from 8-5 ET and we will be happy to assist you further with this request.
Date published: 2018-03-27
Can this table be used for sand as well as water?
I do not see why it could not hold sand.
Date published: 2018-03-27
Are any of the Umbrella's that you sell on your site compatible with this item?
Unfortunately, the Duck Pond Water Table™ is not compatible with our Step2 umbrellas.
Date published: 2018-03-27
I saw this product in the store along with another one called DUCK AND FROG water table. They both looked exactly alike but had different model numbers. Are they the same product and one is just a newer model?
The one I purchased was called Duck Pond Water Table but it did come with a frog. If they are made by the same company and look the same but have different model numbers, I agree with you that one must be a newer model. Sorry I couldn't be more helpful.
Date published: 2018-03-27
Is the Duck Pond Water Table made of High Density Polyethylene? Excluding the animals, what kind of plastic are the other parts (center spinner and crank, slide, side flipper, and scooper) made out of? Do any of the aforementioned contain BPA or PVC (phthalates)?
The slide, spinner, scoop and side flipper are molded from polypropylene, not PVC and it does not contain BPA. While the components are not manufactured from PVC plastic they are tested for phthalates by a CPSC accredited test lab and comply with the CPSIA and ASTM F9630 Children's toy standards.
Date published: 2018-03-27
Are all the accessories shown in the pictures included or sold separately? The pictures show a center spinner and crank, slide, side flipper, two rubber ducks, squirting frog and scooper. Are all of these items included? Carol S
Yes they are all included with the table.
Date published: 2018-03-27
is This table customizable to use with the other accessory packs