Easel for Two™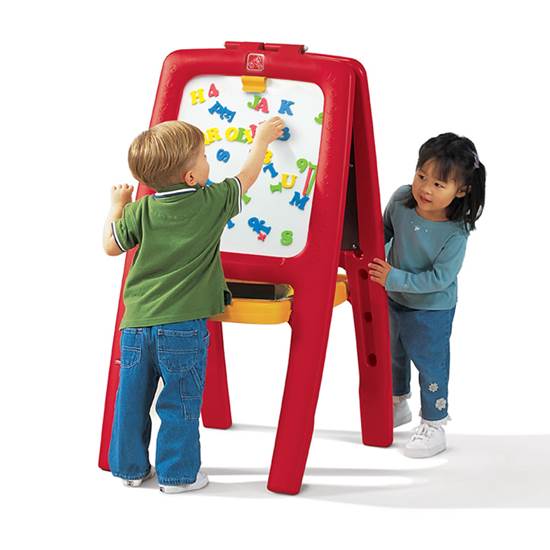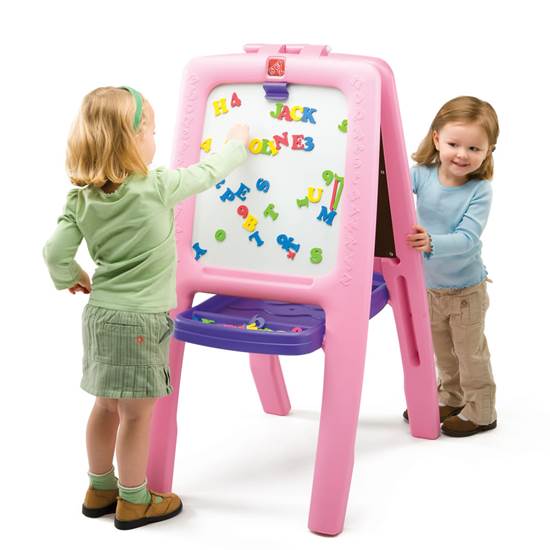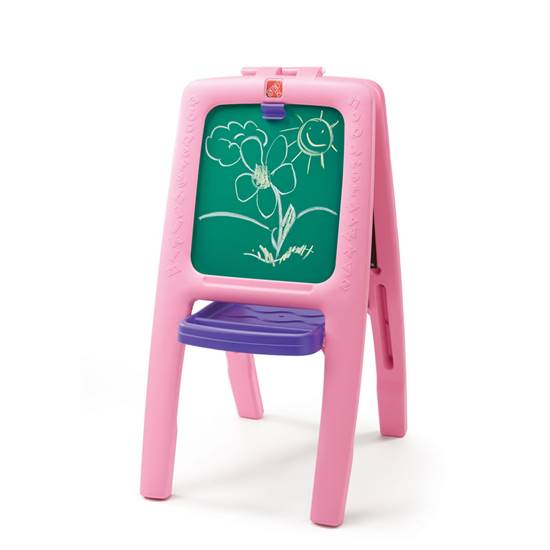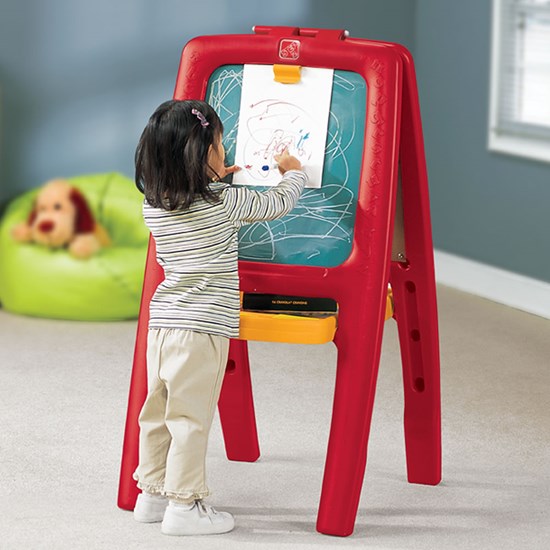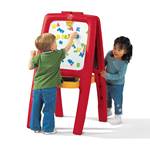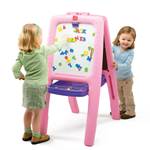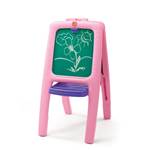 Easel for Two™
In stock
$54.99
+4.99 shipping (via FedEx) When will my item arrive?
The Step2 Easel for Two is multi-functional and perfect for little artists during play dates!
IS THIS A GIFT? DON'T SPOIL THE SURPRISE!
This item ships with an image of the product on its outer packaging.
Rated 4 out of 5
by
hanscarlet
from
Great value
I have the Imaginarium double sided easel and then bought this one for my parents' house. This one is better in terms of the big, nice looking magnets, my 3 y.o daughter loves to play with them vs Imaginarium's which are a little too small. On the cons side, this easel is a green chalkboard that doesn't dust off as well as the traditional black chalkboard of the imaginarium easel. The Imaginarium easel was about $65 compared to this one which was about [$]. They are both about the same size and durability of construction is equal with a slight lean towards Step 2 being a stronger structure but it's a bit bulkier too. If I had to pick just one I would purchase this Step 2 easel one over the imaginarium because of the price since they are basically the same thing.
Date published: 2011-09-06
Rated 5 out of 5
by
Bama the grandma
from
Kids enjoy this everyday!
When I bought this for Christmas for my two grand daughters, ages 5 and 3, I thought the 3 year old would play with it the most. She does love it but the 5 year old uses it everyday to play school and then leave notes for her parents and any other neighborhood children who come in her room. We have watched her learn to spell and develope great penmanship with this board. The tall children who come to play, just sit down and write. It is very popular with everyone. I am waiting for free shipping to get another one :-)
Date published: 2009-02-09
Rated 4 out of 5
by
Momma of 2
from
Fun for Hours!!
My 19 month old Daughter LOVES to color but she was having a hard time keeping the paper on the table, so we picked up this easel for her, from the time we got it out of the box she was playing and coloring with it. We bought some disney princess easel papers that work perfectly for it as well, I am impress with how well it holds onto paper even for a very active toddler using it. The ONLY wish I would have for this is if they had little compartments for crayons and places to put all the magnets that come with it. something that would maybe close so when it's bumped they won't fall out. the tray is nice and really durable but a small compartment would be nice too. Other than that this is PERFECT! We got around this by giving her some resealable gladware, works perfectly!
Date published: 2011-03-15
Rated 5 out of 5
by
Anonymous
from
Great for Young Artist
I purchased this for my almost three year old son. He loves the chalkboard and playing with his magnets on the white board. The clips on the top of the board are sturdy and hold the paper securely when he is painting. Clean up is a breeze... The tray can be removed for easy cleaning. I also love that the design is molded into the plastic... No sticker decorations for little fingers to pry off! He likes his so well that we are giving one to his three and four year old cousins for Christmas. Great toy!
Date published: 2008-09-24
Rated 5 out of 5
by
MrsMuffin5
from
Better in Person
I bought this for my 2yr old daughter & we both LOVE it! i was worried that the tray would not be deep enough,(so far so good)but i bought it anyway because the dry erase board was magnetic, it had extra storage in the middle,the letters/numbers, it was pink & $20 cheeper than the one i was going to buy from little tikes that didnt have any of those things. the foam letters are not the best but they are not as bad as some of the reviews say they are. the only problem is that if you want to keep it folded up when your not using it you have to take the tray off (unless i am doing it wrong). but i planned on leaving it open anyway so that's not a problem for me. they only way it could be better is if it came with some chalk, paper & an eraser but for the price i can not complain!
Date published: 2011-12-08
Rated 4 out of 5
by
SH
from
Really Like the Easel
This easel seems to be quite sturdy, yet lightweight. The foam magnetic letters, though thin, are safe for our 18 month old to play with, but unlikely to injure him. This is a great teaching tool to explain letters and numbers. However, not impressed with the chalk board side, where the green surface appears to be simply painted on, rather than more of a true slate surface (maybe that's expecting too much...). In any case, we are certain our son will have several more years of fun with this.
Date published: 2009-02-25
Rated 4 out of 5
by
Anonymous
from
Very safe and fun
My soon to be four yr old daughter had this toy since last Christmas and she is tall for her age. She still has lots of time to outgrow it and trys to put together words that she recognizes on educational channels. But as you and I know as parents round soft edges and a stability makes for a safe toy. My daughter is action packed and never came close to tipping it over or smashing her fingers in it. I store the letters and numbers away so I can supervise her because they are a choking hazzard
Date published: 2008-09-27
Rated 4 out of 5
by
add5227
from
Easel for Two
We bought this easel for our 2 year old son. He likes it and uses it almost every day. The magnetic letters were missing from the box but I contacted Step 2 via email and we received the magnetic letters [...] later! My only con is that the chalk board does not wipe off. We have to use water each time. I'm not sure why everyone has expected supplies to be included (chalk, markers, eraser,etc). We ordered ours online and the description seemed clear that these items were not included.
Date published: 2010-01-02
Rated 1 out of 5
by
Stephen
from
Ok I guess.
Bought one at Costco that is very similar to this one. When my grandaughter opened it for Christmas I was very disappointed that it didn't come with markers, eraser and paint that is shows on the box. Looking at the box it shows "accessories included". My grandaughter couldn't do anything with the easel and was a very disappointed little girl. The box also shows that is requires a screwdriver to put together but it didn't, which is a good thing. Does anyone from this company proofread? Yes, the website here does show that markers and erasers are not included, however it's ashamed that the box itself is not more clear on this. Had I known that the markers and stuff were not included I wouldn't have bought it. I told my son & daughter in-law that I would take it back but they decided to keep it.
Date published: 2018-12-30
Rated 4 out of 5
by
Anonymous
from
My daughter loves it!
My three-year old daughter is thrilled about this easel. Nowadays she is using the chalkboard to draw letters (because she is learning the ABCs) and the magnetic board to attach the magnetic letters or to hold paper to draw (I haven't bought dry-erase markers or crayons yet).As other people say, the clip is fixed so it is not much of use, unless you put a good amount of paper, to prevent them from falling off.I am also teaching her the letters and numbers that come with the easel and I don't think they are bad, they don't fall off the board or something like that, so for me they are very useful.I would have liked for this product to come with chalk and eraser, but for the price I paid I think it's okay.All in all, a really good, sturdy product, but one that my child can move from room to room without a problem.
Date published: 2011-12-30
Rated 5 out of 5
by
safetymom
from
Best Easel Ever!
This easel is used by my 4 year old daughter. She is tall for her age and this height on the easel is great. The pale pink is a nice color. I like that it is 2 sided. She loves using this easel to draw and practice letter writing as well as painting. The magnetic letters and numbers made of foam were not quality and did not have enough. They need to triple the letters and numbers so when you are doing math or spelling a name, you will have all that you need.
Date published: 2012-08-29
Rated 4 out of 5
by
Doting Mom
from
Great product!
I bought this product based on many positive reviews from this and other sites. I am very happy with the quality and size of the easel, and know my 2 1/2 year old will get at least a few years of use from it.My only complaint is that the magnets were missing from the box, but based on other reviewers complaints that the magnets were flimsy and a bit unsafe, I planned to toss them anyway.All in all I would recommend this product to others.
Date published: 2009-01-05
Rated 5 out of 5
by
MommyW
from
Best one we've seen
Our daughter loves this product and drawing on the chalkboard. Easy to assemble and easy to fold up and store away. Love the magnetic letters and numbers included with the easel. Fun for two children to play on it at once. We loved how you can have two children playing on it and one side is chalk and the other is a white board. Also both sides have clips for paper and a nice storage tray underneath. Great product.
Date published: 2009-01-01
Rated 5 out of 5
by
Anonymous
from
Two at a Time
I just let my 3 yr old nieces (and a 5 yr old) loose on this easel. They love it and it keeps them entertaining theirselves for a couple of hours. The only problem I have is my 18 month old grandson. Keeping him away from the easel is a task because I don't want to keep taking it down and putting it up. He keeps loosing the letters and numbers. So far I haven't been able to find these particular letters.
Date published: 2008-07-18
Rated 5 out of 5
by
Island Girl
from
A must for every kid
All in all this is a great item to have. My son can draw on it with his crayons since the clip will hold the paper. He also puts all of his magnets on it. I have not given him chalk though b/c I think it'll get too messy with the dust. I don't think that dust would be great for kids to inhale either. I think a doodle pad that you can erase and redraw would be great on the other side. Just a suggestion!
Date published: 2012-01-01
Rated 5 out of 5
by
momma#4
from
Easel for Two
I bought this for my 4 y/o for her to practice learning her letters. I love that the easel has two sides since I have 4 children, more than one can share with her. She has so much fun using both sides and the magnetic letters are pretty well constructed. The easel itself is very sturdy with no flaws that I've discovered yet and it's standing up to her abuse so far... I've always been a Step 2 Fan!
Date published: 2009-01-28
Rated 5 out of 5
by
GiannasMommy
from
My daughters FAVORATE and most loved toy!
Hands down, this easel is the BEST thing I have ever purchased for my daughter! Grandma bought one for her house too! It is surely her best loved and most used toy! The assembly was a breeze. It came out of the box almost ready to go. It is very studry and incredably durable. It is also easily moved from room to room without hastle or stress. (My parents are in thier 70's and have no problems moving this). The strong, scratch resistant plastic has all the letters of the alphabet framing the work areas, making a reference always near by. The easel is easily cleaned without chemicals. (I have removed permanent marker and crayon dozens of times using just a Melamine sponge from the dollar store and water!) The height is perfect for any size child to either stand, or sit in a play chair and work. One side is a very easily cleaned whiteboard. The other side is a nice chalk board. The chalkboard is real- not painted, so the chalk nicely glides on and doesn't scratch. Both sides have a slide under studry clip on the top so adding papers or pictures is easy to do without using tape. Both sides are also magnetic. The middle insert makes a nice holding tray for markers or chalk on both sides. While the inside has a nice amount of room for storage. (My daughter likes to keep her "Teaching" supplies in a caddy in the middle so they are always close by). I wound definately recommend this easel for any parent, grandparent, or educator. Watching little minds at work, creating and playing is truly incredable. *We take pictures of almost every "work of art" my daughter creates, so I tried my hardest to choose photos that not only show the love, but the positive aspects of the easel. (Size, both sides of easel, storage, and how it is easily wiped clean) **Markers, chalk, and erasers are purchased separately.
Date published: 2018-03-05
Rated 5 out of 5
by
KRISANN
from
Great product
I got this to use in my home for when my grandkids come to visit. They are three, four, and five. All have enjoyed it. It is sturdy. I would have liked the magnetic letters to also have lowercase. Not a problem however, I will go get some. I love having a chalkboard and whiteboard. I love that the whiteboard is magnetic. And I love the clip to hold papers on the chalkboard side. Great toy.
Date published: 2016-12-23
Rated 5 out of 5
by
In love with this product
from
I would buy this product again and again
I can't say enough how much we & our 6yr old daughter love this Easel!! I had previously bought her this easel in red when she was 2yrs old and have since bought the pink/purple easel and she still loves it! She can draw with chalk on one side, dry erase markers on the other. It comes with foam letters & numbers (magnetic) which are perfect for this easel. After punching out the letters/numbers u can still stick what's left up on the easel and use it as stencils. She plays "school" with it and we both love the large storage area in the middle for paper, magnets, eraser, etc. It is a great easel and the price couldn't be any better! I have also bought a Step 2 Artist Desk for my daughter & all three Step 2 Products have remained in "like-new" condition. I don't think it's possible to tear them up or get hurt by them. I would highly recommend this product (or any of the Step 2 products) :D
Date published: 2010-03-08
Rated 5 out of 5
by
Anonymous
from
LOVE IT
I have a 1 1/2 and 2 1/2 that play with this everyday. We've had it for a week and they are now drawing shapes and people with out me teaching them. The letters and numbers that come with it are not the best. My 1 1/2 year old tries biting them and most of them have been thrown in the trash. The kids aren't too interested in them anyways. They just love using the chalkboard.
Date published: 2009-01-07
Rated 4 out of 5
by
kman68
from
all and all a good productive.
Just open and set up my 3 year old easel last night. Was surprised how easy it set up. Just opened the legs and pressed in the storage tray. Am a bit disapointed with the letters that came with it. Since they're foam little ones might try to eat them, (as in the case of my little girl last night). Plus since they are only "2D" there isn't anything for little fingers to grab onto.
Date published: 2010-02-18
Rated 3 out of 5
by
NmArtMama
from
Magnets are disappointing
I found the magnets to be flimsy. There are not enough of them to spell basic words. There are however, math symbols which a three year old would not need (division, multiplication). I like the overall product but the magnets leave alot to be desired. I would not recommend this to someone looking for a portable board for magnet letters. There are better products out there.
Date published: 2011-10-05
Rated 5 out of 5
by
Anonymous
from
Great product
I love the step 2 easel for two. My 2 and 4 year old play with it every day. They use it to draw, paint, and practice letters and numbers. The magnetic letters and numbers are great! My 4 year old even uses it to practice spelling. It is easy to clean and stores away easily (it folds up). Once again, step 2 has provided me with a product that exceeds my expectations!
Date published: 2009-02-22
Rated 4 out of 5
by
Former school teacher mother
from
I wish I would have bought this earlier!
My 2 yr old son uses this every day. He organizes the A-Z magnetic letters in order as well as organizes the 1-10 magnetic letters in order as well. He is also spelling small words. He loves to write on the white board as well as use different colored chalk on the chalkboard. The tray is perfect to store the eraser, markers and chalk. Perfect for our son!
Date published: 2009-01-07
Rated 4 out of 5
by
Anonymous
from
Easel for Two
I bought this for my 15 months old baby. I bought one for my nephew when he was 3 and he still enjoys it at 8. It's a little too tall for my baby so she has to be on the step stool to draw things. I wish it was adjustable. Otherwise, it's great and very durable. The tray in the middle is very large. If it had some drawers, it would've been better though.
Date published: 2009-02-26
Rated 4 out of 5
by
mommyofalilprincess
from
i love it
this product is great i love everything about it the only thing i dont like is that when you close it up the storage compartment isnt attached so you have to be sure to keep them together. other than that minor issue its very sturdy, i have the pink n purple one and it fits my little princess just right. i would reccomend this product to anyone.
Date published: 2009-06-20
Rated 4 out of 5
by
Anonymous
from
Nice easel, BUT READ THIS BEFORE YOU BUY
Like the look and quality of the easel, HOWEVER, the containers that hold the letters and chalk are not attached to the easel well. It takes but a mere touching of the containers (4 of them), and they fall, and all the contents are all over the floor. This happens daily. I've asked my husband to construct something to keep them stationery.
Date published: 2010-02-21
Rated 3 out of 5
by
Jill in VA
from
Letters are flimsy, easel is sturdy
The actual easel is very sturday and nice looking. However, I was really disappointed with the quality of the magnetic letters. I would have expected them to be plastic and not cloth like. My son has a difficult time getting a grip on the letters, even I have a hard time taking them off the board. I had to buy new letters for the board.
Date published: 2008-10-09
Rated 5 out of 5
by
Anonymous
from
We are raising Picasso's!
I love this easel. My 3 year old loves to paint and draw and this gives her a great place to work. My 16 month old loves to color too and with the double sides they can both play at the same time. We do not have much space so it is wonderful that it is easy to fold and put away when not in use. Thanks Step 2 for another great product!
Date published: 2009-01-03
Rated 5 out of 5
by
Gramma Tana
from
Excellent Product - Excellent Buy
I purchased this for my 7 year old granddaughter as a Christmas gift and she loves it!! :):) It's very easy for her to use and because it's a double easel she can share it with her sisters and brother and even another friend.The middle tray is wonderful for holding all her art supplies and allows her to keep her area nice and tidy.
Date published: 2009-01-03
Can I order replacement chalk board and white board
Please contact our Consumer Service Specialists at 1-800-347-8372 Monday through Friday, 8AM -5PM Eastern Standard Time and we will be happy to help you.
Date published: 2019-10-03
What are the best crayons, chalk, markers to use?
We recommend non-toxic chalk and dry erase markers Easel for Two™.
Date published: 2019-07-15
The dry erase board has residue from some of the markers.  Is there a product to use to completely clean it?
I have used either rubbing alcohol or a cleaning spray called White Board Cleaner from Bazic products.
Date published: 2019-03-12
If you snap the legs in wrong (before assembling the tray) how do you remove it.  One side came off but the other won't budge..
Please contact our Consumer Service Specialists at 1-800-347-8372 Monday through Friday, 8AM -5PM Eastern Standard Time and we will be happy to help you.
Date published: 2019-01-18
After writing on the white board with dry erase markers they are not wanting to erase, and the chalk board is hard to write on also. I assume one of the kids used the wrong wipe/cleaner on it, is there anyway to restore them to work?
Please contact our Consumer Service Specialists at 1-800-347-8372 Monday through Friday, 8AM -5PM Eastern Standard Time and we will be happy to help you.
Date published: 2019-01-16
I'd like to buy red one. But it's out of stock on most websites. Is it discontinued? If it's just temporary, i'd like to know when it would be back in stock. 
Please pardon the delay in response. The Easel For Two™ is now available in red.
Date published: 2018-10-23
Do I have to treat either side? If so with what?
There is no need to treat or prep the chalkboard or dry erase board of the Easel for Two™.
Date published: 2018-09-17
Can I purchase a purple tray for my granddaughter's step 2 easel for two? Her easel is pink. I think it is part number 7999.
Please contact our Consumer Service Specialists at 1-800-347-8372 Monday through Friday, 8AM -5PM Eastern Standard Time and we will be happy to help you.
Date published: 2018-08-06