Easy Turn Coupe™ - Pink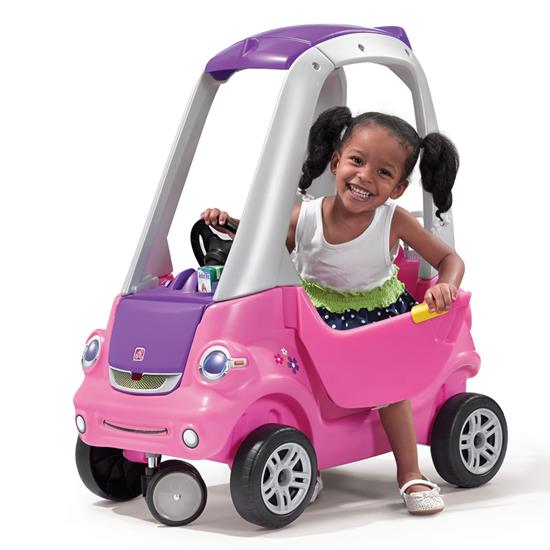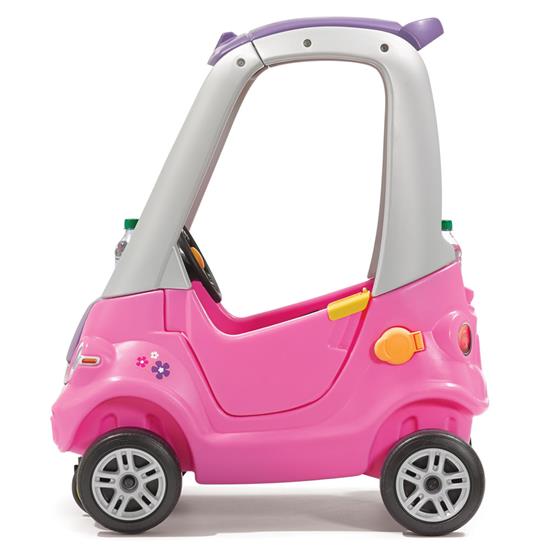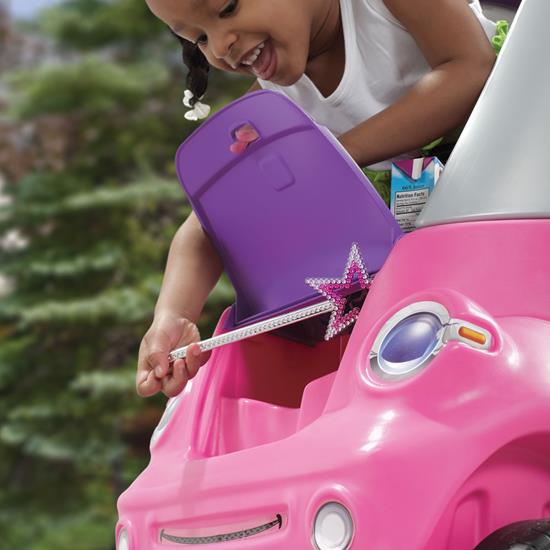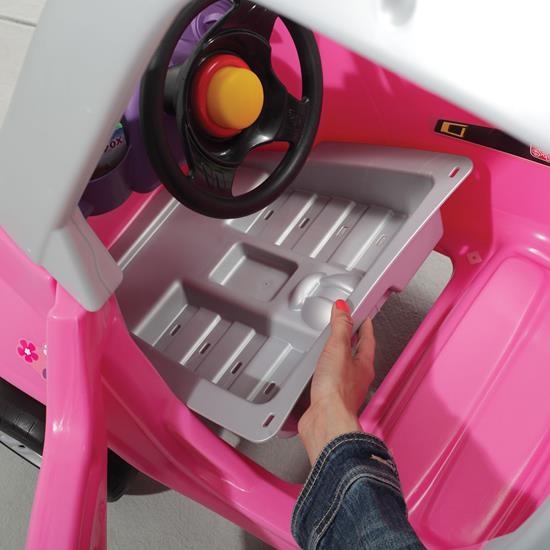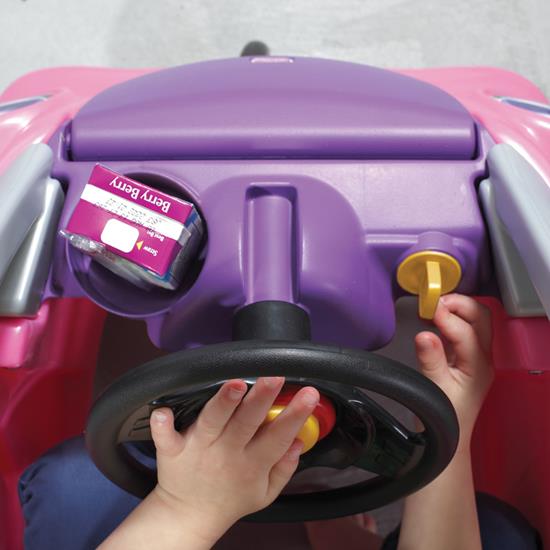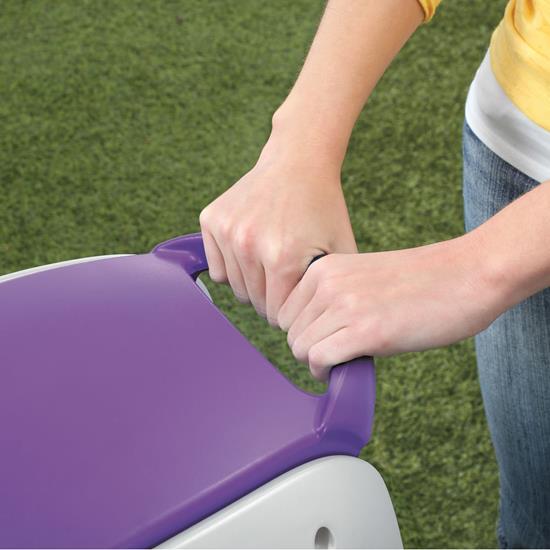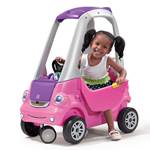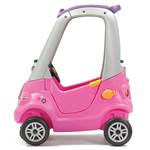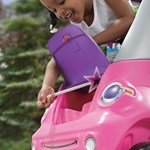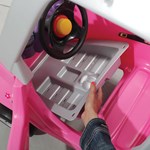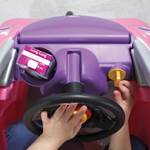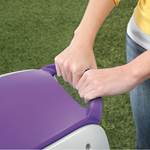 Easy Turn Coupe™ - Pink
In stock
$69.99
+4.99 shipping (via FedEx) When will my item arrive?
The Pink Easy Turn Coupe by Step2 is a durable ride-on that provides little drivers with a comfortable ride around the block.
IS THIS A GIFT? DON'T SPOIL THE SURPRISE!
This item ships with an image of the product on its outer packaging.
Rated 5 out of 5
by
Mama Lissa
from
Crusin' in her new coupe!
This coupe is so much fun! My daughter is 2.5 yrs old and spends some amount of time playing in her new car nearly every day. She's still getting the hang of turning it but loves to get in and out, lock and unlock the door, honk the horn, and turn the ignition. Our favorite thing about it, right now, is that we can insert the floor board whenever we want and I can push her fast along the sidewalk. For that reason, I'm glad she doesn't have control of the steering! At home she often tells me she's "going to the grocery store," so I'm pleased she's finding such productive uses for her new coupe! Thank you to Step2 for letting me test this item as part of the Step2 toy tester program.
Date published: 2015-03-22
Rated 5 out of 5
by
Anonymous
from
Cruizin in Style
This coupe is awesome and my youngest daughters new favorite ride. It has so many amazing features that it is hard to pick just one.* The entire top of the car has a see through roof.Yep you heard it right. Basically a sunroof for your little ones.* Cup holders in the front and back for lots of storage room* Real squeaky horn* Clicking turn key* Swivel front wheel for easy steering and allows you to rotate car 360 degrees* Hood that opens up* Handle on the back of the roof so it can be pushed* Removable floorboard* Stylish rims like mom and dadsand so much more.Thank you to Step2 for letting me test drive this item as part of the Step2 Test Drive Blogger program
Date published: 2013-04-11
Rated 2 out of 5
by
Stay at home mom of Active 2 year old
from
Not so easy Coupe
I chose this over the other Coupe Step 2 has to offer because of the name "easy turn". It actually is terrible. The 4 main wheels aren't even real solid wheels. They are thin wheels with only one side to them, making them very flimsy. The two "turning" wheels do not turn easily on pavement or the grass. Haven't tried it inside. I push my son in it and it takes a lot of force to push while turning. My husband does not easily maneuver it either. It takes some muscle work. Also, the floor board has to be removed with unscrewing it. It would have been nice if after I was done pushing him if I could easily remove it so he could try to push it on his own. Although I am not sure how successful he would be with the turning issue. And unfortunately the steering wheel has no bearing on the way the wheels turn. Not sure how this got good reviews.
Date published: 2013-04-24
Rated 5 out of 5
by
Anonymous
from
Easiest car to maneuver!
We recieved one of the Easy Turn Coupes as part of the Step2 Test Drive Program. I am highly impressed with the imporvments they've made from their other cars with the Easy Turn Coupe. It really lives up to it's name, it's VERY easy to turn, push and isn't a strain on the kids when trying to push with their feet. The coupe has a nice tall roof, letting my almost 3 year old fit well inside and allowing me to push it using the handle without bending over. I love that it has 3 cup holders and that the roof is see through. The colors are bright and removable floor board is perfect for transitioning between my infant and my toddler. This is by fay the easiest to push and move around car toy I've ever used!!
Date published: 2013-02-09
Rated 5 out of 5
by
Anonymous
from
Great toy!
We love this product. My 1 year old got this for Easter from her grandparents and she NEVER wants to get out of it. She is not a huge fan of her stroller and this is going to work GREAT during our walks and other outdoor trips like the zoo and park. I love how easy it is for a parent to push and move this car. Also, we love that you are donating to Saving tiny Hearts Society. Our daughter was born with a congenital heart defect and has had 3 open heart surgeries. We love this product!
Date published: 2013-04-01
Rated 5 out of 5
by
Anonymous
from
No more frustrated drivers!
I am a Step2 Test Drive Blogger so I received this product from Step2 for a review. That being said you can see that we own a TON of Step2 products and this one is a winner. Nearly every child has had a little ride on car toy and the same problem plagues them all - they are very difficult to maneuver and it's frustrating to the child and causes plenty of bumping into furniture. The Easy Turn Coupe eliminates that with it's extra swivel wheel and allows great control of the car with lots of snack, beverage and toy storage, a great parent push handle and a clear roof to see your child inside. The removable floor board is great for transitioning with age or switching back and forth between older and younger siblings!
Date published: 2013-02-04
Rated 3 out of 5
by
KayKay
from
Disappointed
I purchased two of these for Christmas gifts. Both of them were missing parts! The instructions are awful which makes it even more difficult to put together. Overall, the car is cute, but, it would be a lot better if my children actually get to use them! So much for a Christmas gift with missing pieces. I just have half a car waiting to be finished. Not a happy mother! I can only help with the "cons" of this car. I can't tell you "best uses" or "pros" since we are unable to use them! Even after I do receive the parts, I don't know how well I'm going to like the cars. If they weren't already halfway put together, I would definitely be returning for something else! It's frustrating to receive something with missing parts even though someone signed the papers that said all parts were in there. Someone isn't doing their job!
Date published: 2013-12-22
Rated 5 out of 5
by
Anonymous
from
Would recommend this to all my friends!
We are absolutely thrilled with our Easy Turn Coupe! Step2 thought of everything - my son loves the cup holders for his sippy cup and the trunk so that some of his little cars can ride with him. I couldn't be happier about the floor tray and the push handle so that I can push him when his little legs are too tired. The Easy Turn Coupe moves so well and the front wheel makes it so easy to push it all around both our driveway and basement!
Date published: 2013-02-07
The steering wheel isn't moving when you turn the steering wheel, is it meant to be like that?
The steering wheel for the Easy Turn Coupe™ is meant to be stationary.
Date published: 2018-07-31
I have seen on other same carts that there is an arm attachment that could be assembled in the rear side between the bottle compartment. This handle extension is really nice to handle the cart and move it around. I would like to know where I could buy it?
At one time the Easy Turn Coupe™ arrived with an extension handle. That version has been retired and we no longer have this available.
Date published: 2018-06-04
Does the door lock, and does the clear top have UV protection?
The door of the Easy Turn Coupe™ features a door that latches, however it does not lock. The current model of this unit has a solid top.The clear top does have a UV protection to prevent the material from breaking down, however does not protect a child from the sun.
Date published: 2018-07-21
I was wondering if I can purchase a new canopy for my car. The car is in great condition but due to the sun the canopy has cracked
Please contact our Consumer Service Specialists at 1-800-347-8372 Monday through Friday, 8AM -5PM Eastern Standard Time and we will be happy to help you.
Date published: 2018-01-30
I just bought for my granddaughter for Christmas, and she has only used 3 times and the screws are falling out from the roof, we have tightened them down and come right back out. Have you had any other problems with this?
Her Grandfather ended up putting some glue in to and they have yet to fall out again
Date published: 2018-01-05
How can a get the gas cover for this product?  My daughter got it for Christmas and the gas cover was missing.  Thank you!
Please contact our Consumer Service Specialists at step2-company@step2.net or 1-800-347-8372 Monday through Friday, 8AM -5PM Eastern Standard Time and we will be happy to help you.
Date published: 2018-01-04
when & why was the roof changed? we purchased this car recently, it arrived today - one of the selling features was the clear roof so we are disappointed it is now opaque :(
The production of the Easy Turn Coupe™ began in 2013 and the roof was redesigned in 2014.
Date published: 2017-09-11
I purchased this product from fingerhut for my two yr or for Christmas and when I opened the box their was no instructions and no stickers to decorate the car lIke in the photos. Was all that left out and how do I request them?
Please call toll free 1-800-347-8372 Monday - Friday, from 8-5 ET and we will be happy to assist you further with this request.
Date published: 2018-03-27