Elegant Edge Kitchen™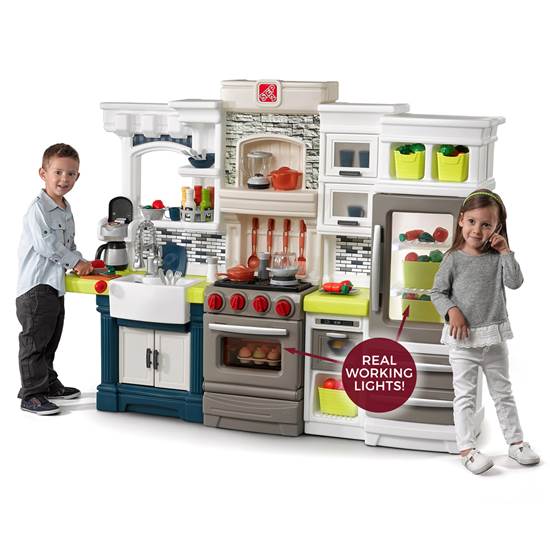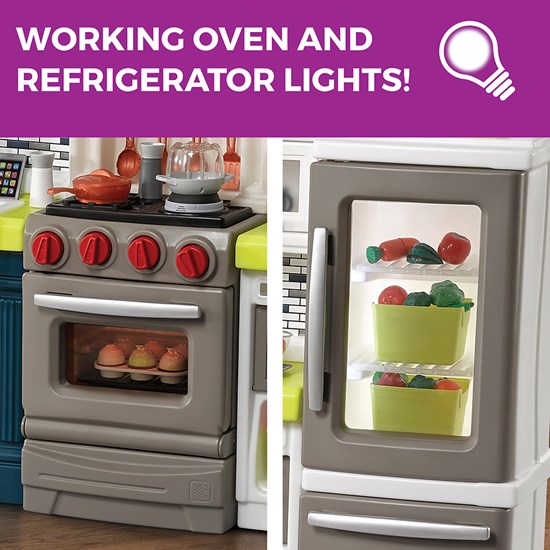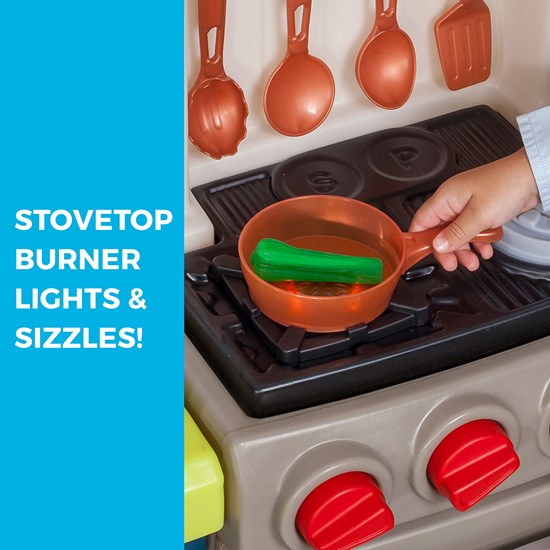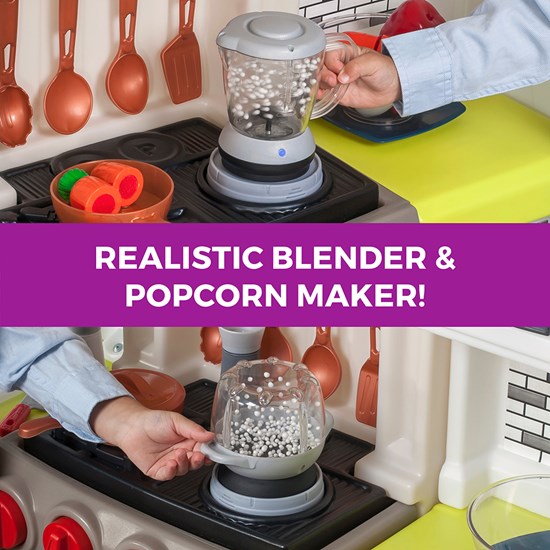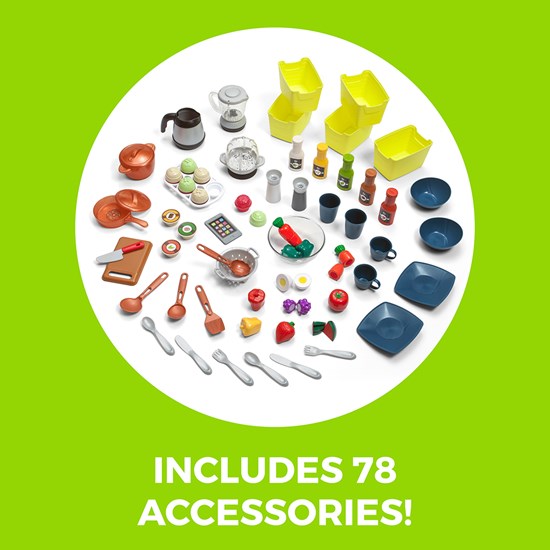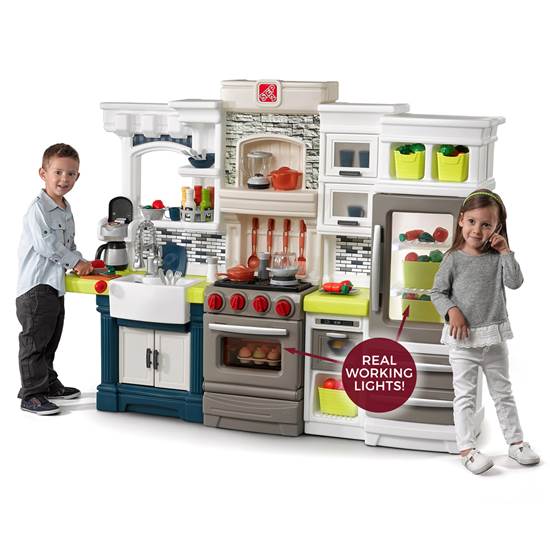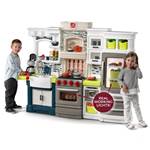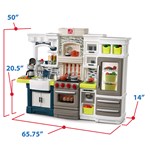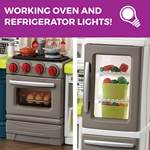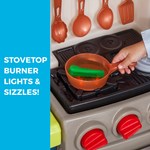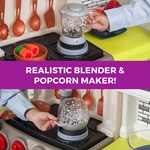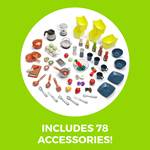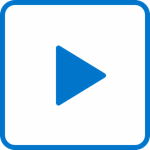 Elegant Edge Kitchen™
In stock
$349.99
+4.99 shipping (via FedEx)
The Step2 Elegant Edge Kitchen™ brings luxury and fun social play into any playroom!
IS THIS A GIFT? DON'T SPOIL THE SURPRISE!
This item ships with an image of the product on its outer packaging.
Rated 3 out of 5
by
Stephanie
from
It's a Beautiful Play Kitchen
We bought this for our Daughter for Christmas. Thank Goodness we decided to put it together before Christmas because it was missing pieces so I had to contact the company for replacement pieces. Then we didn't put batteries in it until Christmas morning and we are disappointed to find out the burner that is supposed to activate the popcorn popper and Blender doesn't work! My Daughter Loves it but when people come over she tells them that the Elves didn't make the kitchen right. For the amount of money we spent I shouldnt have to be on the phone for 45min-1hr to talk to customer service about missing pieces or products not working.
Date published: 2018-01-04
Rated 5 out of 5
by
Anonymous
from
A highly recommended purchase
Thank you to Step2 for letting me test this item as part of the Step2 toy tester program. I am so impressed with the realistic features of this kitchen. The oven and refrigerator lights, the back splash, the working blender and popcorn maker are all remarkable! I also love the storage space that this kitchen has for all the accessories that's included. My kids love this kitchen and got really excited when they saw the lights and heard the boiling and frying sounds. Seeing the smiles and excitement on their faces made the couple hours it took to put together worthwhile. I would definitely recommend this kitchen if your looking for a kitchen play set for Christmas or any other occasion.
Date published: 2016-10-13
Rated 4 out of 5
by
GJ_momma
from
What's with the oven rack and fridge shelves?!
My kids love this kitchen. There is definitely a lot to keep them entertained. With how well the kitchen is designed I am surprised at how poor the oven rack and fridge shelves are. They don't connect to the main part of the oven/fridge at all - at least nothing in the instructions said they should - so they just sit in there. Our rack/shelves came slightly bent in the package, so they sort of balance in there, not really touching where they should, and ultimately get knocked over by little hands trying to take food in and out. Really poor design in that aspect. The rack/shelves could have been made of heavier plastic and then the oven/fridge could have had spots where the rack/shelves snap in.
Date published: 2018-01-04
Rated 5 out of 5
by
hwelch
from
Great Product!
this is a Christmas gift for our daughter to replace her old step 2 kitchen that is really small.Since we moved to a big house and she has her own playroom now we wanted to get her something that fit her better, she is going to be 4 soon. She loved her first kitchen but saw the video for this one and is so excited for Santa to bring it to her. My husband put it together, it took a little while since it is so big and there are a lot of parts but it is a very cool kitchen. A lot of thought when into the design and i love the lights in the oven and fridge and the storage for all the play food. My daughter LOVES to play kitchen and i know she will love this kitchen and will have hours of fun cooking and baking and have party's!
Date published: 2017-10-10
Rated 5 out of 5
by
Anonymous
from
Such a fun product!
Thank you to Step2 for letting me test this item as part of the Step2 toy tester program. My son, age 4, absolutely loves this kitchen! It has so many fun features;from the lights in the oven and fridge, to the popcorn maker and skillet sounds. The only thing that was a con was how many pieces it had to set it up. It took about 2 hours by myself. But it would be much faster with a second person. And for such a big and detailed kitchen you have to expect it to take time to put together. I would highly reccomend this kitchen to anyone!
Date published: 2016-10-25
Rated 4 out of 5
by
SwellMichelle
from
It is pretty Elegant !
I love this kitchen, I just have 3 details, or the lack of, I'm disappointed with. I don't like the yellow/green counters (and I know the same kitchen is sold at a major toy store in different colors, with a different name...for $100. more). I thought about painting the counters but figured it would eventually scratch off. I wish you would have designed another inch or so into the depth of the oven and cupboards,, because we have kids play pizza in a pan and a cookie try which the oven door will not close against, even when these items are pushed all the way to the back of the oven wall. And you can't set the 2 plates into the cupboards (no wonder the plates are shown sitting behind the faucet in grooves designed for them). These are dimensions a buyer can't see because these super kitchens are not on display in stores, I'm sure because of their size. Lastly, why aren't there 2 oven racks, since there are 2 places for a rack in the oven? I just love details, and you people do also, because your products are full of details, but these are just details that I'm missing that seem would have been easy enough for you. Maybe in your future designs, you will consider these little details. Sincerely, Michelle
Date published: 2017-09-18
Rated 5 out of 5
by
Seph
from
Love this kitchen!!
Definitely made the right decision when purchasing this kitchen. Bought it for my 3 and 1 year old girls. It's a great size and they will be able to use it for years to come. Great quality with lots of little extras! All items in the pictures came with the set. The girls love the stove that has fun lights and sound. Was going to load a video but I don't know how to turn it into a YouTube video. The fridge and oven light up also. Has pods for the Coffee machine, fruits and veggies (and an egg) that can be "cut" in half. There is a spice rack the spins and knob on the faucet that they can turn. The knobs on the stove all turn and make clicking noise, as well as the salt and pepper grinders. Super cute! My only complaint is that the directions have you go back and forth between sections that didn't make sense concerning the order of putting them together but it does not interfere with getting the job done. It has good instructions.
Date published: 2018-01-04
Rated 3 out of 5
by
Peanut1481
from
excellent kitchen, horrible assembly
My toddlers and I both love this kitchen, however, had I known this would take 6 hours to put together, I would have opted for something else, perhaps a wooden kitchen. I ended up having to call step2 because I was missing a few items, and because j thought, perhaps I got a faulty kitchen as there were no holes where you are supposed to drill. Turns out, step2 no longer makes pre drilled holes, due to shavings hazard ( which makes no sense to me because it was more hazardous having a 3 inch screw fly out of my hand and bounce off the floor while trying to screw a hole in the hard plastic assembly pieces ) after the excruciating installation, however, my three year old and almost two year old had a grand time
Date published: 2017-12-01
The bottom of the coffee pot looks like it is also fit for a computer chip to make sounds. Is that true?
The coffee pot doesn't make sounds but it comes with a frying pan, boiling pot, popcorn maker, and blender thing that all make noise. Got this kitchen for our girls 2&3 and a year later they still play with it most every day
Date published: 2019-11-29
Will this kitchen set by available for purchase in Canada soon?
We suggest checking Walmart.ca for a large selection of our kitchens.
Date published: 2019-11-22
Does anyone have the width measurements of the cabinets. I see the total width but am needing just the width measurement of the cabinets so minus the overhang counter.
So, I'm a little confused on what measurement you need but am willing to check mine for you. I measured the blue cabinet under the sink and it is 18 1/4 inches wide and 18 1/4 inches tall.
Date published: 2019-11-11
What is the length of the product with just the cabinets? Not including the overhang counter. Trying to fit in a space with baseboard.
Please contact our Consumer Specialist Staff at 1-800-347-8372, Monday through Friday, 8am-5PM Eastern Standard Time for assistance.
Date published: 2019-11-07
I noticed that this kitchen has an age recommendation of 3 and up while most of the other ones have an age of 2 and up. Just wondering why this one has an older age recommendation? 
No idea, we got this for our son right before he turned 2 and he loves it. 
Date published: 2019-11-01
How do you replace batteries?
There are AA batteries in several spots. Just like any toy, you unscrew two screws , switch out batteries, and screw back in
Date published: 2019-10-26
How long is the October 25% off sale going on? The whole month?
Please contact our Consumer Service Specialists at 1-800-347-8372 Monday through Friday, 8AM -5PM Eastern Standard Time and we will be happy to help you.
Date published: 2019-10-18
Can I buy a replacement burner for the blender/popcorn? The one we have is not working. 
Please contact our Consumer Service Specialists at 1-800-347-8372 Monday through Friday, 8AM -5PM Eastern Standard Time and we will be happy to help you.
Date published: 2019-09-03