Euro Edge Kitchen™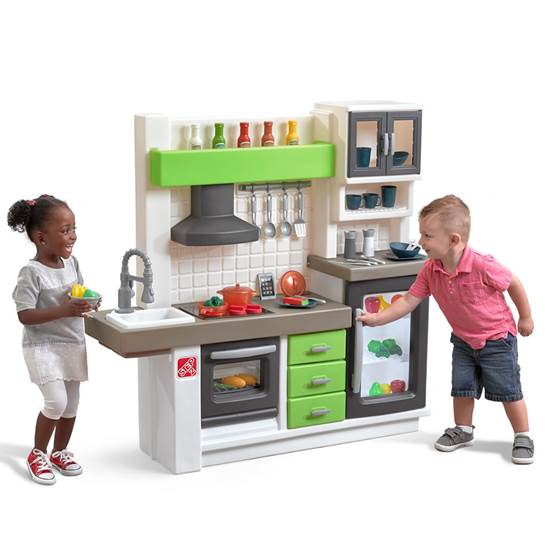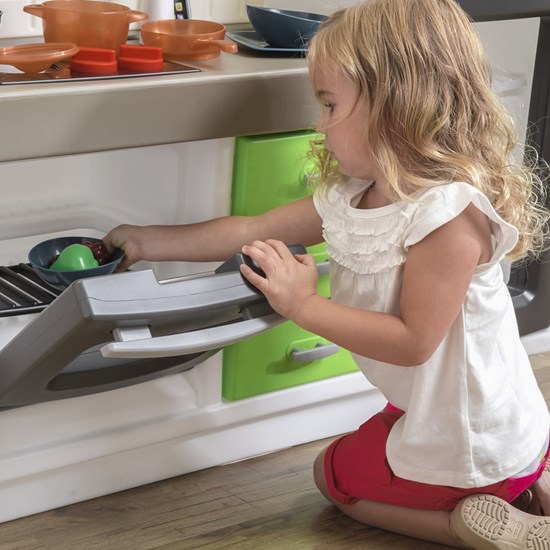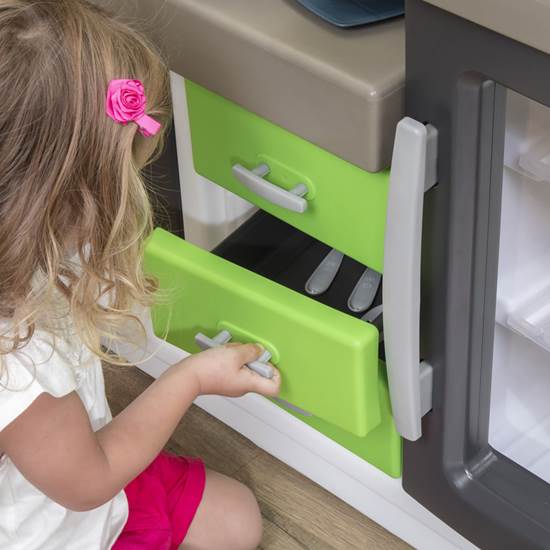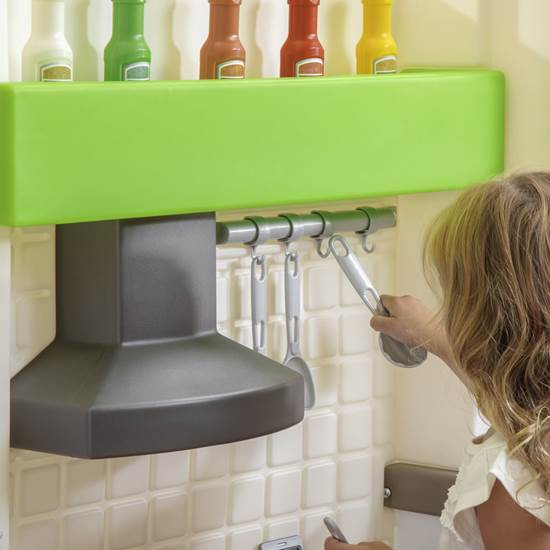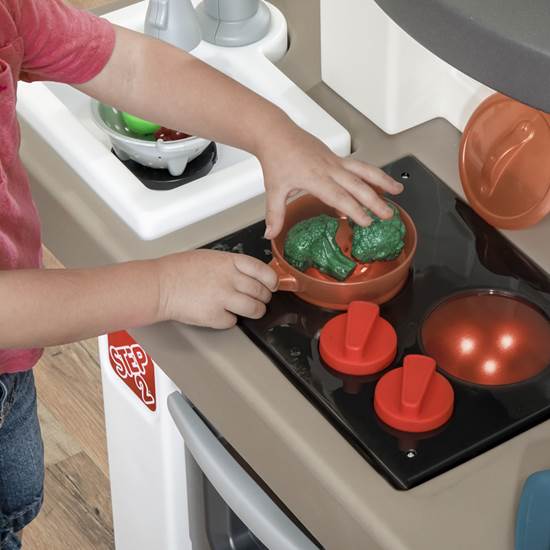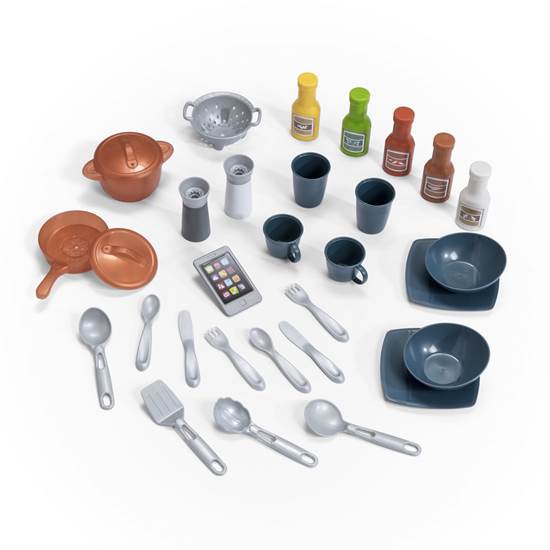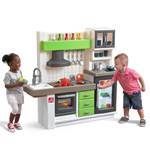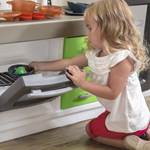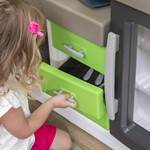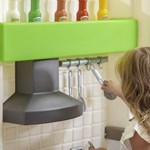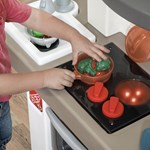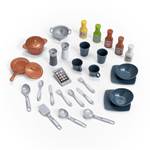 Euro Edge Kitchen™
In stock
$249.99 $239.99
+4.99 shipping (via FedEx)
IS THIS A GIFT? DON'T SPOIL THE SURPRISE!
This item ships with an image of the product on its outer packaging.
Rated 5 out of 5
by
Jess
from
Wow! Awesome product!
We love our EuroEdge Kitchen. The durable design makes it easy to assemble. The lighted stove top and refrigerator are so fun! My child loves turning the knobs on the stove to cook her meal. There is plenty of storage of all of the play food and dishes once they finish using them. The modern design makes it a fun addition or any space. We love this product and highly recommend it to anyone we talk to! We will be playing and making memories for years to come! Thank you Step2 for choosing me to review and test this awesome kitchen as part of the Step2 toy testing program!
Date published: 2017-12-18
Rated 5 out of 5
by
marie97
from
Awesome New Age Kitchen
This Euro Edge kitchen is phenomenal. I love how the stove top emulates a real stove. The refrigerator is huge & it lights up which is really nice. This kitchen is great for one child or multiple children, its over 3 feet tall so this kitchen will grow with your child.
Date published: 2017-10-30
Rated 5 out of 5
by
ahinton
from
Perfect Play Kitchen!
Thank you to Step2 for letting me test this item as part of the Step2 toy tester program. This kitchen is so much fun! I have a 4 year old and a 17 months old, and both love it equally. It is the perfect height for my toddler, but not too short for my big kid. They both love the lights on the burners and in the refrigerator. And the little design details are so fun, it is even better than my kitchen! It was easy to put together, the instructions were very clear and the pieces were well labeled.
Date published: 2017-12-18
Rated 4 out of 5
by
Alypill
from
Cool design
I love the design. The only think I don't like is the fridge shelves. They should be one piece of flat plastic, the slats make it hard to stand things up on them. My son gets very frustrated since all of his bottles keep falling over. I actually ended up wrapping them in clear packing tape to make a flat surface.
Date published: 2017-11-04
Rated 5 out of 5
by
Amanda
from
Sleek fun kitchen
Thank you to Step2 for letting me (my girls) test this item as part of the Step2 toy tester program. I have 2 girls, ages 2 and 4 and they both love this kitchen. It's a great height for both of them and there is plenty of counter space for them to both play at the same time. They love the salt and pepper shakers/spice bottles, the hanging utensils, light in the fridge/stove and the draws and cabinet. There is only two things I wished could be slightly different. 1.The shelves in the fridge and stove have slats which makes it a little harder at times for the kids to put stuff on it without it falling over and the shelves fall out and 2. I wish there was some more storage under the sink for food storage, maybe two baskets or such. With those two minor things I mentioned this kitchen is absolutely great and has kept my children entertained since the moment it was put together. I love just finding them playing together or bringing everyone the food they cooked for us to try. This is a beautiful design and it's very sturdy.
Date published: 2017-12-20
Rated 5 out of 5
by
twointow
from
Fun light-up fridge!
We've had this kitchen for about two weeks, and it gets played with everyday. Thank you to Step2 for letting me test this item as part of the Step2 toy tester program. For the kids, my 2 year old son loves opening and closing the fridge door with its snazzy light-up feature. The door is see through, so the modern light looks cool through the panel. He also likes putting toys in and out of the kitchen drawers and stacking plates and cups in the display cabinet. In fact, there's a ton of storage space in this kitchen, including a spice rack that holds all the little bottles and other things. There are however, two removable fridge trays that I wish were locked in because I keep finding them under the couch. The drawers also come out a little too easily. Meanwhile, my 4 year old daughter really digs that she can "heat up" food on the stovetop burners that light up red. For me, I really like that the set is both fun for the kids but not a giant eyesore in my living room. Instead, its colors are contemporary. I especially that the large bag of accessories comes with some super cute copper colored pots and some navy cups and dinnerware. Overall, this is a very solid kitchen that has some fun and modern features without being obnoxious.
Date published: 2017-12-20
Rated 5 out of 5
by
Honey
from
Wish I was a kid again!!
Great product. Took 1 hour 15 min to put together. Better with 2 people for the assembly. We glued our refrigerator and oven shelves in. They keep falling out. That is the only negative about this product. Would definitely recommend this kitchen though. Our 2 year old can't reach the taller cabinet and shelves. But I think she'll be able to play with it for a few years to come. There is also plenty of storage for all the accessories.
Date published: 2019-12-21
Rated 1 out of 5
by
Sheabnyc
from
Looks great from far - doesn't feels like step2
This is my 3rd step2 kitchen for kids. Quality going downhill. There is nothing functional about this kitchen. Soon check on YouTube for details.
Date published: 2017-12-16
Will you have this back on stock before Christmas?
Unfortunately, we do not have a date of availability to share. Please visit the following link: https://www.step2.com/p/euro-edge-kitchen and click on the notify me button to submit your email for notification of availability.
Date published: 2019-12-05
Can you ship to Ireland . How much in euro 
Step2 Direct ships within the Contiguous United States only. Thank you for your interest in Step2 product retailers in England/Ireland. Specific products and quantities vary by retail location, please contact Saber International Ltd. with your specific request. Saber International Ltd. Unit 1004, Great Bank Road Wingates Industrial Estate Westhoughton Bolton BL5 3XU 0844 8800 915 (p) 0844 8800 916 (f) sales@saber-international.co.uk (e)
Date published: 2019-08-05
What accessories are included?
Pot and pan, both with lids; two sets (fork, knife, spoon) of utensils; strainer; 4 cooking utensils; 5 colored bottles (we call them sauces); 2 place settings; and a salt and pepper shaker. The place settings and salt and pepper shakers seem a little out of place, both in color and quality, from the rest of the accessories, but this should not stop you from purchasing the kitchen. We've had it for a year now and it has given us a vehicle for communication, gross motor development, and imaginative play that we haven't gotten from any other toy. 
Date published: 2018-11-27
What are the exterior dimensions of the packages? I want to see if I can take it as a checked in luggage in a flight from the states.
Please open the following link to view product details of the Euro Edge Kitchen : https://images.step2.com/media/pdfs/8734KR_info.pdf
Date published: 2018-07-20
Can this be used outdoors in a backyard?
The Euro Edge Kitchen™ has battery operated features that may receive damaged if used outdoors.
Date published: 2018-05-08
What are the dimensions of the 2 biggest pieces, parts A and B ? Want to know if it will fit in a suitcase. Thank you 
Please see below for the dimensions of the two largest parts of the Euro Edge Kitchen™ : Part A) 28 X 31 inches Part B) 15 X 25 inches
Date published: 2018-02-23
Does the stove make noise?
The stove top of the Euro Edge Kitchen™ has knobs that make clicking sounds and lights up, the sounds are powered by pure imagination.
Date published: 2017-12-08
Can you ship to Canada?
Step2 Direct does not ship directly to our Canadian Consumers. A wide range of Step2 products are available at Amazon.ca, Costco.ca, ToysRUs.ca, and Walmart.ca. Additionally, Step2 products are available at Toys "R" Us Canada, Costco Canada and Wal-mart Canada retail locations. You can also contact: Mini Circuit at 416-240-1988 Play Value Toys at 613-722-0175 We appreciate your interest in Step2
Date published: 2017-11-17