Game Time Sports Climber™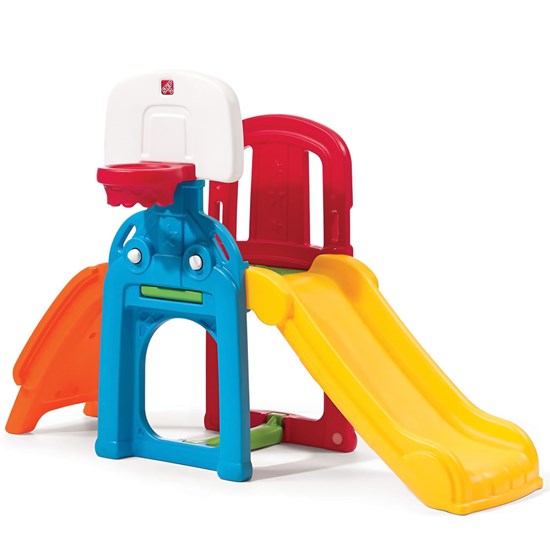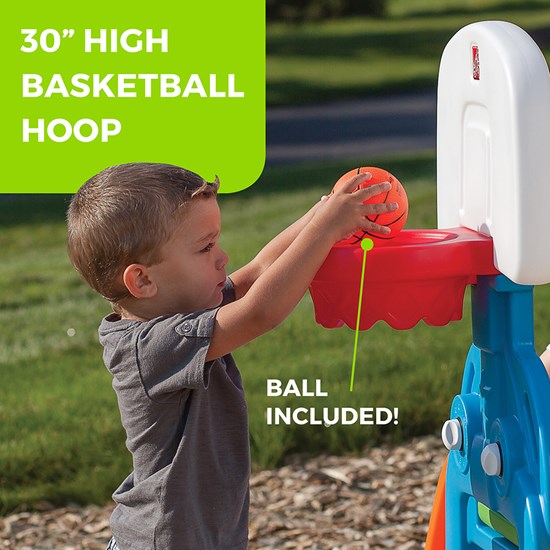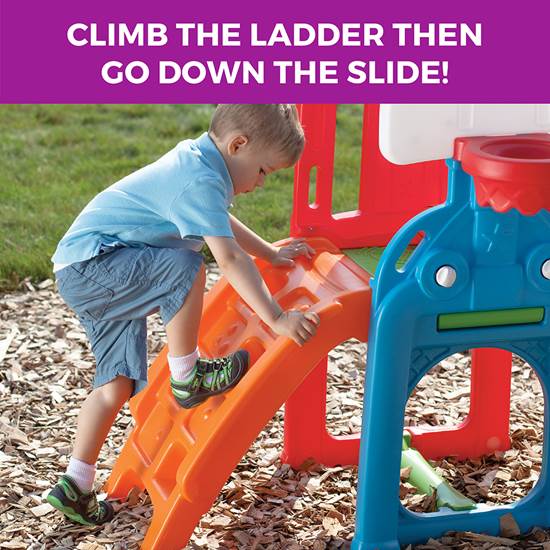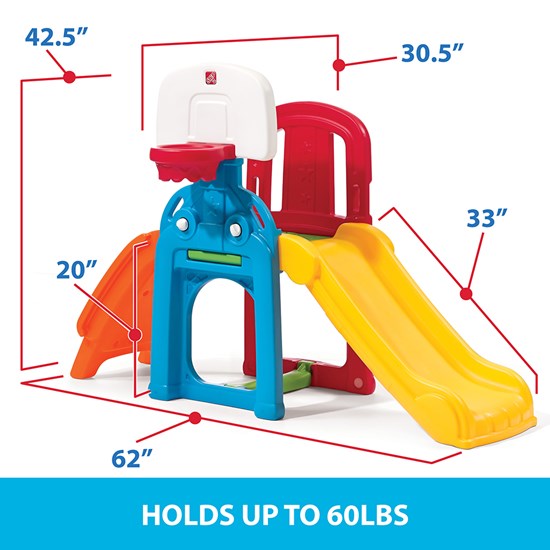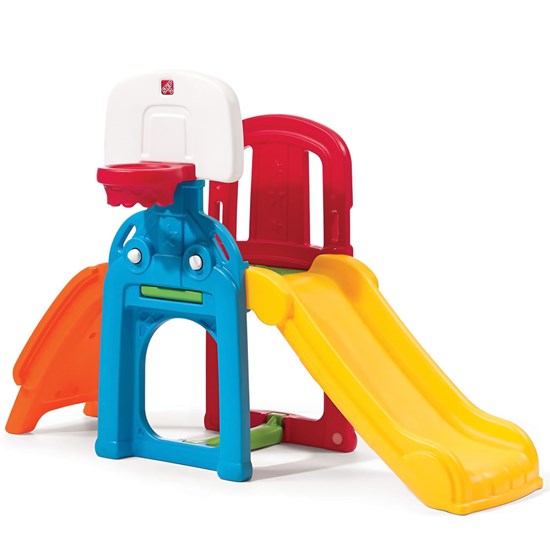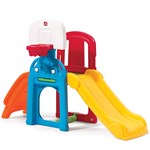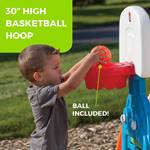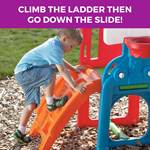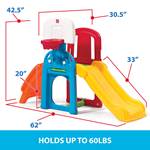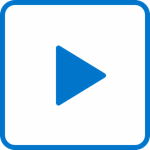 Game Time Sports Climber™
In stock
$129.99 $117.99
+$12.99 shipping (via FedEx)
Little athletes can climb, slide, dunk, and more with the all-in-one Game Time Sports Climber™.
IS THIS A GIFT? DON'T SPOIL THE SURPRISE!
This item ships with an image of the product on its outer packaging.
Rated 5 out of 5
by
Father of the Year
from
A great toy that has the kids lining up!
This slide in activity center was very simple to put together and while it's light, it's quite sturdy.My daughter loves climbing up the ladder, coming down the slide, and racing around to do it all over again. It's fun for older kids, but it's easy enough to climb for younger toddlers.I was pleasantly surprised when she repeatedly put the ball through the hoop, squealing with laughter each time and going back for more. The built-in score keeper is great as she loves to count along as she turns the dials.Thank you to Step2 for letting me test this item as part of the Step2 toy tester program.
Date published: 2015-03-19
Rated 5 out of 5
by
Anonymous
from
We Love Our New Game Time Sports Climber
Thank you Step2 for inviting us to try and review the Game Time Sports Climber. I received this item for free in exchange for a review as part of the toy tester program. The Game Time Sports Climber was easy to assemble and the kids even enjoyed helping dad put it together. Within just a short time they were able to play with it in the yard. My daughter loves the slide. It is easy to climb on and I feel like she is safe on the top of it with the side rails. Both children love using the basketball hoop.
Date published: 2015-03-07
Rated 5 out of 5
by
Anonymous
from
Best Slide Out There!!
I really can't say enough good things about this climber/slide. It is very well made... Smooth, thick plastic with good weight and excellent stability. The height of the slide is perfect for a toddler. Tall enough to offer a real thrill, but not so high as to be dangerous. Plus the side walls on the platform provide added safety. The colors are bright, cheerful and pleasing to look at. This has been my son's favorite toy for 6 months now! If you're thinking of purchasing this item, don't hesitate!!
Date published: 2016-05-12
Rated 2 out of 5
by
Emily20
from
So disappointed
We own several Step 2 products, but I have to say that I do not recommend this one. I read the dimensions and the recommended age before purchasing for my sons 2nd birthday. I thought it was going to be perfect, but were so disappointed when we put it together. It was much smaller than we have thought and the bottom piece does not stay in place. When on the climber, if my son leans too far to one side, it easily tips. I also have no idea how it can be used all the way to 6 years of age. He will definitely out grow this way before then. Plan to continue to purchase Step 2 products, but highly recommend passing over this one.
Date published: 2020-08-17
Rated 5 out of 5
by
Anonymous
from
Great Outdoor Toy for Multiples
Thank you to Step2 for letting me test this item as part of the Step2 Ambassadorship Program.The Game Time Sports climber is a perfect introductory slide for younger children. The "steps" are more of a climber. This makes it easier for children who are still struggling with stairs to use the toy. The slide is not too steep, so even youngsters who are not familiar with slides can utilize the toy.The basketball hoop is awesome and the score clickers are just plain fun to turn. Underneath the product, there is a crawl through tunnel that my boys enjoyed using as a clubhouse.Assembly is easy, and I was able to assemble it myself in about an hour.The Game Time Sports Climber is a great addition to an outdoor play area.
Date published: 2015-02-10
Rated 4 out of 5
by
Jurid
from
Hard to put together
I just tried to put this together on my own, 24 weeks pregnant. I looked at the instructions and it said only a screw driver was necessary. Well that's not true. No tools are required until you attach the slide and steps. It also says 2 people are required at this point. One to hold the structure together and one to screw in the screws. The screw "holes" aren't drilled out at all. On the sides of the structure there are clear spots for screws but the holes aren't drilled and then on the slide and step parts there are zero holes what so ever. You will be drilling through the thing yourself. Disappointed that the instructions make it seem much more simple than it is. You will need two people and a drill just FYI. I had to hide the half done toy in my closet until my husband gets home to help finish it. God forbid my toddler sees it and can't play with it. He's going to love it though, it's cute and not too big so can be used inside.
Date published: 2017-03-12
Rated 2 out of 5
by
Gma in MN
from
VERY SMALL
Bought this for my 19 1/2 month old grandson. Was easy to assemble. Is of good quality. Works great indoors and out. However, it is slated for use by 2-6 year olds. My grandson is not even 2, and already he is too big for it and got bored with it within the first hour. A lot of money to spend for 1 hours worth of entertainment.
Date published: 2017-06-01
Rated 4 out of 5
by
Anonymous
from
Would buy this product again.
Purchased this to have when our grandkids and great-grandkids came to the house for our family get-together. Those playing on it were ages 1 1/2 to 4. They all enjoyed it, but it seemed best suited for the younger ones. The 4 year old could have used one a bit larger. This is our 5th Step2 purchase, and we love this company.
Date published: 2017-04-06
How long is the slide? I'm trying to determine if it's bigger then what we have or if I should keep looking
I don't have the set in front of me but I bought it for my grands. The slide is approximately 3ft long.
Date published: 2020-06-04
How to disassemble Climber?
Please open the following link to view the instructions of the Game Time Sports Climber™ : https://images.step2.com/media/pdfs/850300_assembly.pdf You will want to follow the instructions in reverse to disassemble.
Date published: 2021-05-27
Are extra balls sold separately? 
This comes with 1 basketball. We purchased additional balls from the dollar store. 
Date published: 2019-11-28
Is the basketball hoop adjustable? thank you
No. It's just the right height 
Date published: 2018-11-11
What's the package dimensions for shipping?
The packaging dimensions for the Game Time Sports Climber™ are as follows: 20.5 x 18.13x 38.75 inches
Date published: 2019-05-04
We are stuck on level 7and8 the green bar doesn't go in
Please contact our Consumer Service Specialists at step2-company@step2.net or 1-800-347-8372 Monday through Friday, 8AM -5PM Eastern Standard Time and we will be happy to help you
Date published: 2019-03-29
The step 2 emblem is not above the goal and nothing came with it to put there.
Mine came with the logo on basketball hoop. Maybe you got a fake.
Date published: 2018-04-18
What's the difference between this one and the All Star sports climber? Is their a benefit of having the wall closed vs. open?
I bought this for my two granddaughters 2&3yrs and they would go through the open walls and chase each other. Second year using it.
Date published: 2019-01-25